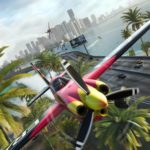 Dopo una lunga attesa, The Crew 2 è disponibile per Pc, PS4 ed Xbox One. Ubisoft ha diffuso il trailer di lancio e gli ultimi dettagli per il suo racing che permette di partecipare a sfide di terra, sull'acqua ed in cielo. Il prezzo consigliato al pubblico è di 69,99 euro.
Sviluppato da Ubisoft Ivory Tower, uno studio con sede a Lione, in Francia, The Crew 2 consentirà ai giocatori di vivere il vero spirito delle corse in un nuovo scenario degli Stati Uniti completamente riprogettato. La nuova ambientazione punta a superare ogni limite fisico per consentire ai fan dei giochi di guida e degli scenari open world di mettere alla prova le proprie abilità, da soli o con gli amici, in una competizione ed esplorazione costante.
I piloti esploreranno l'America da costa a costa per competere e diventare i più grandi campioni di sempre, ottenendo una vasta gamma di auto, moto, imbarcazioni e aerei per dominare la scena a terra, in acqua e nel cielo. Troveranno sfide e ispirazione in quattro diverse categorie di competizioni: corse di strada, fuoristrada, pro racing e freestyle, in cui potranno disporre di una vasta selezione di tipi di veicoli e opzioni.
Ecco il trailer di lancio:
"The Crew 2 permette ai giocatori di divertirsi in una nuova e avvincente esperienza di guida negli Stati Uniti – ha dichiarato Ahmed Boukhelifa, direttore generale di Ubisoft Ivory Tower – in questo episodio, abbiamo migliorato l'esperienza in ogni modo possibile, consentendo ai giocatori di realizzare il loro potenziale in uno scenario open world davvero emozionante, attraverso una serie di sfide mai così diversificate, un'ampia fase di esplorazione e una serie di intense competizioni, gare e folli acrobazie".
Oltre a ciò, i giocatori avranno la possibilità di cambiare qualsiasi tipo di veicolo istantaneamente, grazie alla funzionalità cambio rapido. The Crew 2 è giocabile con un massimo di tre amici sulla stessa piattaforma in modalità cooperativa per quattro giocatori, oppure in modalità giocatore singolo. Il lancio di The Crew 2 arriva dopo un periodo di Open Beta in cui i giocatori hanno potuto provare i primi due livelli di progressione del gioco.
Ma il lancio, fanno sapere gli sviluppatori, è solo l'inizio del viaggio per tutti gli appassionati di competizioni motoristiche: il team di sviluppo intende introdurre molti nuovi contenuti attraverso aggiornamenti costanti nei prossimi mesi, che includeranno nuove discipline, eventi, veicoli e molto altro grazie al season pass ed ai contenuti gratuiti post lancio.
L'articolo The Crew 2 sfreccia su Pc, PS4 ed Xbox One proviene da IlVideogioco.com.