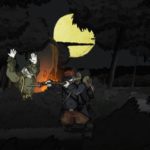 Le vicende di alcuni eroi comuni della Prima Guerra Mondiale approdano su Switch. Valiant Hearts: The Great War è disponibile da oggi. Il prezzo è di 19,99 euro. Lo ha annunciato Ubisoft, publisher e sviluppatore della particolare avventura già disponibile dal 2014 su Pc ed altre console.
Una storia di amicizia, amore, sacrificio e tragedia ambientata durante la Grande Guerra è un'avventura toccante, che attraverso la storia racconta le vicissitudini di cinque persone tra loro estranee e parla di un amore spezzato in un mondo dilaniato, riunito dagli orrori della guerra e da un fedele compagno canino.
In un viaggio pieno di ricerche, azioni e indovinelli, i giocatori esploreranno luoghi noti legati al primo conflitto mondiale come Reims e Montfaucon, e vivranno momenti cruciali, come la Battaglia di Marne e la Somme, mentre si impegnano con il loro fedele e fidato cane per risolvere diversi enigmi, furtivamente dietro le linee nemiche. Dalle verdi foreste della campagna francese, alle trincee scure e ai campi innevati, i giocatori viaggeranno attraverso la storia in questo emozionante gioco di avventura dallo stile unico.
Switch consente di giocare sempre e ovunque ed è  sensibile ai comandi touch permettendo di interagire con i personaggi e il mondo come mai prima d'ora. Inoltre, i giocatori della console Nintendo avranno accesso alla galleria d'arte e a una storia grafica interattiva, Valiant Hearts: Dogs of War. La storia grafica racconta le vicende di Walt il cane e sua sorella Cassie durante i primi anni della guerra, mentre si trascinano tra le pericolose trincee per consegnare messaggi importanti e soccorrere i soldati caduti.
L'articolo Valiant Hearts: The Great War porta la Grande Guerra su Switch proviene da IlVideogioco.com.
Fonte: Valiant Hearts: The Great War porta la Grande Guerra su Switch