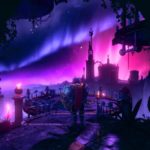 Trine 3: The Artifacts of Power, già disponibile su Pc, PS4 ed Xbox One, si dirige su Switch a fine mese. Frozenbyte ha confermato che l'action adventure in salsa fantasy, sarà disponibile sul Nintendo eShop dal 29 luglio, ossia da lunedì prossimo.
Inoltre, l'edizione retail (in cartuccia in questo caso) della raccolta "Trine Series 1-3" con i primi tre capitoli sarà disponibile in Nord America dal 20 settembre.
Ecco il trailer di lancio.
Trine 3: The Artifacts of Power sposta l'azione dal classico 2,5d dei primi due (fortunatissimi episodi), ad un 3d. Ovviamente si tratta sempre di un action platform con enigmi ambientali da risolvere e combattimenti da vincere.
I tre eroi cercano di restituire i loro straordinari doni all'Artefatto chiamato Trine, e così si immischiano con poteri oltre la loro comprensione: Trine si frantuma e un antico stregone senza cuore fugge. Con solo un artefatto rotto a guidarli, gli eroi devono cercare di riparare il danno che hanno causato … o il danno che potrebbe ancora essere fatto.
CARATTERISTICHE PRINCIPALI
Vivete in un mondo da favola fatto di scenari mozzafiato e affrontate una miriade di enigmi basati sulla fisica, meravigliosi aggeggi, nemici pericolosi e creature incantevoli.
Tre personaggi giocabili, e come sempre troviamo Pontius il Cavaliere, Zoya la Ladra e Amadeus il Mago, ognuno con le proprie abilità e abilità uniche.
Esplorate 7 capitoli guidati dalla trama e 11 pagine perdute incentrate sulla risoluzione di enigmi e abilità.
Multigiocatore cooperativo online e locale per un massimo di tre giocatori.
Tra le altre caratteristiche, troviamo anche due annotazioni tecniche.
La prima è che il gioco girerà a 900p a 30 fotogrammi al secondo in modalità TV. Mentre in modalità portatile Trine 3 girerà a 720p a 30 fps.
Modalità cooperativa locale fino a tre giocatori ed online.
L'articolo Trine 3 si dirige su Switch a fine luglio proviene da IlVideogioco.com.