Mancano poco meno di due settimane all'uscita di The Evil Within 2, previsto per venerdì 13 ottobre su Pc, PS4 ed Xbox One. Bethesda ha così pubblicato un interessante approfondimento per farci conoscere qualche particolare inedito e interessante che ci permetta di capire ancora più a fondo come è nato questo gioco, seguito dell'acclamato survival horror del 2014 creato dalla mente di Shinji Mikami?
Il publisher scava così fino alle radici del cosiddetto J-horror, per capire quali sono le sue caratteristiche e quali sono state alcune tra le più curiose fonti di ispirazioni del videogioco, in un viaggio tra tradizione e filmografia.
YOTSUYA KAIDAN
Da diversi decenni ormai, i prodotti d'intrattenimento giapponesi sono enormemente popolari anche in occidente. Se, da una parte, la creatività alla base della cultura pop giapponese sembra attingere da pozzi senza fondo, dall'altra i film horror giapponesi sono riusciti a imporsi su un'intera generazione grazie all'estetica originale, alla capacità di creare tensione psicologica e all'efficacia del prodotto finale.
Il «J-Horror» è parte integrante del DNA della saga di The Evil Within, non a caso prodotta da uno studio giapponese, Tango Gameworks, diretto da Shinji Mikami, noto come uno dei maestri dell'horror videoludico.
Parlando delle sue fonti d'ispirazione, Mikami racconta in particolare di una storia, letta a scuola da uno dei suoi insegnanti: lo Yotsuya Kaidan, una storia di tradimenti, omicidi e vendette avente come protagoniste delle creature simili a dei fantasmi tipici del folklore nipponico.
Yotsuya Kaidan nasce nel 1825 come dramma per il teatro tradizionale giapponese kabuki e ha subito nel corso del tempo diversi riarrangiamenti e adattamenti nonché trasposizioni cinematografiche nel 1949, 1966 e 1994. In italiano il titolo potrebbe essere reso come Le storie di fantasmi di Yotsuya dal nome del quartiere di Tokyo in cui le vicende sono ambientate.
In un piccolo paese in Giappone viveva una giovane e bellissima ragazza, la ventunenne Oiwa, fidanzata con un uomo estremamente povero di nome Iemon, ma che lei amava ugualmente con tutto il cuore. Iemon un giorno le chiese di sposarla e lei ovviamente ne fu enormemente felice Dopo il matrimonio i due novelli sposi si trasferirono e presto Oiwa restò incinta del loro primo figlio. La donna però incominciò a preoccuparsi del futuro che avrebbe avuto loro figlio dal momento che non avevano risorse per assicurargli una vita dignitosa.
Nel frattempo Iemon, vedendo la sua giovane sposa non più sorridente come una volta, incominciò a corteggiare con assiduità una donna ricca di nome Oume che dopo alcuni mesi si innamorò di lui malgrado non possedesse nulla e fosse già sposato. Un giorno, il padre di Oume, decise di incontrare Iemon, dicendogli che sua figlia lo amava molto ma era disonorevole che egli fosse già sposato. Per questo motivo Iemon non avrebbe mai potuto avere né le ricchezze, né la nobiltà di Oume. Iemon pensò a lungo alle parole dell'uomo e a poco a poco un'idea crudele iniziò a prendere forma nella sua mente: l'unico modo per sposare Oume ed entrare in possesso dei suoi avere era sbarazzarsi di Oiwa e del figlio che la ragazza portava in grembo. Il veleno sarebbe stato il mezzo più efficace in quanto non avrebbe lasciato tracce.
Inconsapevole di quanto stesse tramando il marito, durante una frugale cena mentre stavano discutendo dei preparativi per la nascita del piccolo, Oiwa si accorse che l'uomo era stranamente silenzioso e nervoso. Ovviamente lei le chiese cosa non andasse, ma lui le disse che era solo molto stanco e di non aver appetito, e che quindi lei poteva mangiare la cena senza preoccuparsi di lui.
Oiwa terminò la sua cena ma, poco dopo aver finito, iniziò a sentirsi male. Iemon, nel frattempo, la guardava con uno sguardo gelido senza soccorrerla, sperando che il veleno facesse subito effetto, ma così non fu. Il viso di Oiwa iniziò a bruciarsi dall'interno: il veleno le bruciava la pelle, e a poco a poco il suo bel viso si sfigurò e lei perse i sensi per il dolore.
Iemon, era troppo codardo per ucciderla con le sue mani così la prese e l'adagiò sul letto. Poco dopo Oiwa si risvegliò. Non ricordava nulla dell'avvelenamento e si preoccupava soltanto del bambino che scoprì subito di aver perso. Il suo viso, inoltre, era ormai diventato ripugnante e orrendamente sfigurato. Nonostante tutto questo orrore e sofferenza, però, la giovane continuò a vivere.
Iemon ovviamente era disperato e mentre fingeva di preoccuparsi della moglie, continuava a pensare ad un altro modo per sbarazzarsi della moglie. L'occasione non si fece attendere, Oiwa, una sera, volle uscire per una passeggiata. Arrivati nei pressi di una scogliera, Iemon si guardò intorno assicurandosi che nessuno li potesse vedere e, senza pensarci due volte, la spinse di sotto. Per assicurasi che fosse realmente morta e per non destare sospetti, recuperò il corpo raccontando a tutti gli altri del brutto incidente. Organizzò poi un suntuoso funerale senza badare a spese e con tanto di corteo perché tanto, a breve, sarebbe divenuto finalmente ricco.
Iemon pensando che i suoi guai fossero finalmente finiti, pianificò le nozze con Oume. Durante la notte prima del matrimonio, mentre era steso a letto cercando di prendere sonno, notò che la luce della lampada sul suo comodino si stava affievolendo e la osservò aspettando che si spegnesse. La lampada, invece, cominciò a cambiare aspetto. Improvvisamente la faccia sfigurata di Oiwa rimpiazzò la lampada, e la sua immagine spaventosamente si diffuse per tutta la stanza gridando all'uomo "Traditore!". Iemon spaventato afferrò un bastone e lo agitò contro il viso deturpato di Oiwa che finalmente scomparve, mentre la lampada con grande fracasso si infranse e cadde sul pavimento. Da lontano gli parve di udire la fievole risata di una donna provenire dall'esterno. Iemon ancora scosso si convinse di aver bevuto troppo e che la visione fosse solo un'allucinazione dovuta all'alcool, così torno a dormire.
Il giorno seguente, Iemon aveva già dimenticato tutto riguardo al fantasma della notte precedente. Lui e Oume celebrarono finalmente il loro matrimonio ma, quando Iemon le alzò il velo, il giovane e bel viso della donna scomparve e al suo posto si palesò il volto sfigurato di Oiwa che gridò ancora una volta "Traditore!". Inorridito dalla visione, Iemon sguainò la sua spada e decapitò lo spettro di Oiwa, La testa troncata rotolò sulla navata della chiesa, ma quando si fermò Iemon scoprì con orrore che era la testa di Oume.
Iemon sentì di nuovo in lontananza il suono di una risata prendersi gioco di lui. Cercando un posto dove nascondersi, Iemon tornò alla sua vecchia piccola casa dove un tempo viveva con Oiwa. Improvvisamente sentì bussare alla porta. Quando aprì vide Oiwa, di nuovo afferrò la spada e decapitò il fantasma, solo per scoprire che aveva appena decapitato il nonno di Oume. Ormai in preda della follia, Iemon corse alla scogliera dove portò Oiwa la sera in cui la uccise. Ormai la risata della donna lo seguiva dovunque. Si fermò davanti al dirupo guardando in basso indeciso se gettarsi nel vuoto. Tempo dopo alcuni passanti raccontarono di aver visto il fantasma di una donna spingerlo giù dal dirupo e gettarsi dopo di lui, ridendo.
Dal teatro kabuki alla filmografia horror: The Ring (Ringu, 1998), Pulse (Kairo, 2001) e The Grudge (Ju-on: Rancore, 2002)
Gli stessi temi presenti in Yotsuya Kaidan si ritrovano ripensati e rielaborati in tutte le opere di Shinji Mikami e in film oramai divenuti dei classici come Ring (Ringu, 1998), Pulse (Kairo, 2001) e The Grudge (Ju-on: Rancore) (2002) che, proprio come i giochi survival horror di Mikami hanno riscosso un enorme successo anche al di fuori del Giappone.
THE RING è un film horror giapponese diretto da Hideo Nakata e tratto dall'omonimo romanzo di Koji  Suzuki ispirato a una storia popolare giapponese intitolata Banchō Sarayashiki.  La protagonista è la giovane giornalista Reiko Asakawa che sta indagando sulla morte inspiegabile della propria nipote e di alcune delle sue amiche che, si dice, avessero visto il contenuto di una videocassetta esattamente una settimana prima della morte. Le ricerche condotte la conducono in una località di vacanza dove finalmente trova la misteriosa videocassetta. Visionando le immagini surreali in essa contenute anch'ella, però, diventa vittima della maledizione. Aiutata dal suo ex-marito Ryūji, Reiko, la giornalista scopre alcune informazioni sul misterioso contenuto misterioso della cassetta e capisce che la donna che appare nel filmato è Shizuko, una sensitiva deceduta molto tempo prima. La stessa figlia di Shizuko, Sadako, anch'essa uccisa trent'anni prima, si è trasformata in uno spirito vendicativo che ha dato vita a questa maledizione. Mentre la settimana sta per scadere, Reiko e la sua famiglia dovranno fare di tutto per spezzare questa maledizione e salvare le proprie vite.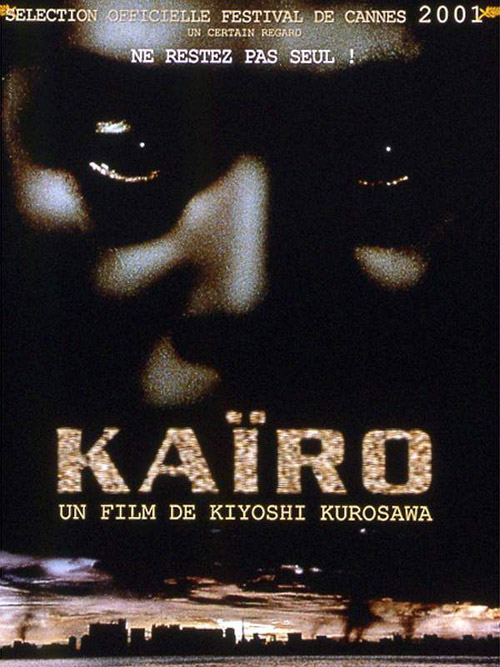 PULSE (nell'originale giapponese Kairo) è un film diretto da Kiyoshi Kurosawa e tratto dall'omonimo romanzo scritto dallo stesso Kurosawa che racconta la duplice storia di due ragazzi le cui vicende andranno a intrecciarsi. La prima parte si focalizza sulle vicende di Michi, una giovane che lavora in un vivaio. In seguito al suicidio di un suo collega cominciano ad accadere intorno a lei misteriosi e inquietanti avvenimenti che hanno a che fare con uno strano sito internet ai cui visitatori viene chiesto se vogliono vedere un fantasma. Anche un altro collega di Michi sparisce misteriosamente dopo essere entrato in una delle cosiddette "stanze proibite". Queste stanze sono degli ambienti la cui porta è stata misteriosamente sigillata con del nastro rosso. Mentre intorno a lei spariscono numerose persone, Michi cerca di aiutare l'amica Junko, diventata apatica dopo aver visitato una "stanza proibita". Ma Michi non potrà fare nulla e Junko si volatilizzerà letteralmente davanti ai suoi occhi, lasciando una macchia nera su una parete di casa sua.
Il secondo protagonisti è Kawashima, uno studente universitario che, nel tentativo di installare la connessione internet sul proprio computer, si trova a visitare un misterioso sito internet che gli mostra inquietanti immagini di solitudine e angoscia. Spaventato, Kawashima chiede consiglio ad Harue, una compagna di università, che incomincia a interessarsi morbosamente al sito. Mentre Kawashima viene a conoscenza di una inquietante teoria secondo la quale una volta riempito il regno dei morti, i fantasmi incominciano a riversarsi nel nostro mondo, Harue rimarrà impigliata fatalmente in una rete di solitudine, angoscia e visioni spettrali. Dopo essere sparita a lungo, Harue ricomparirà davanti a Kawashima solo per spararsi in testa.
Incontratisi casualmente in una Tokyo ormai praticamente deserta, Michi e Kawashima si mettono in viaggio alla ricerca di altri sopravvissuti. I due si troveranno costretti a fare una sosta per fare benzina. Kawashima si troverà faccia a faccia con un fantasma che sconnessamente chiederà aiuto dall'eterna solitudine della morte. Intanto un aereo cargo dell'esercito americano C-130 si schianta al suolo. Kawashima fugge e ritorna da Michi e i due riescono a imbarcarsi in una nave diretta verso il Sud America dove pare ci siano altri sopravvissuti. Però Kawashima non è più lo stesso e poco dopo anche lui sparirà davanti allo sguardo attonito di Michi.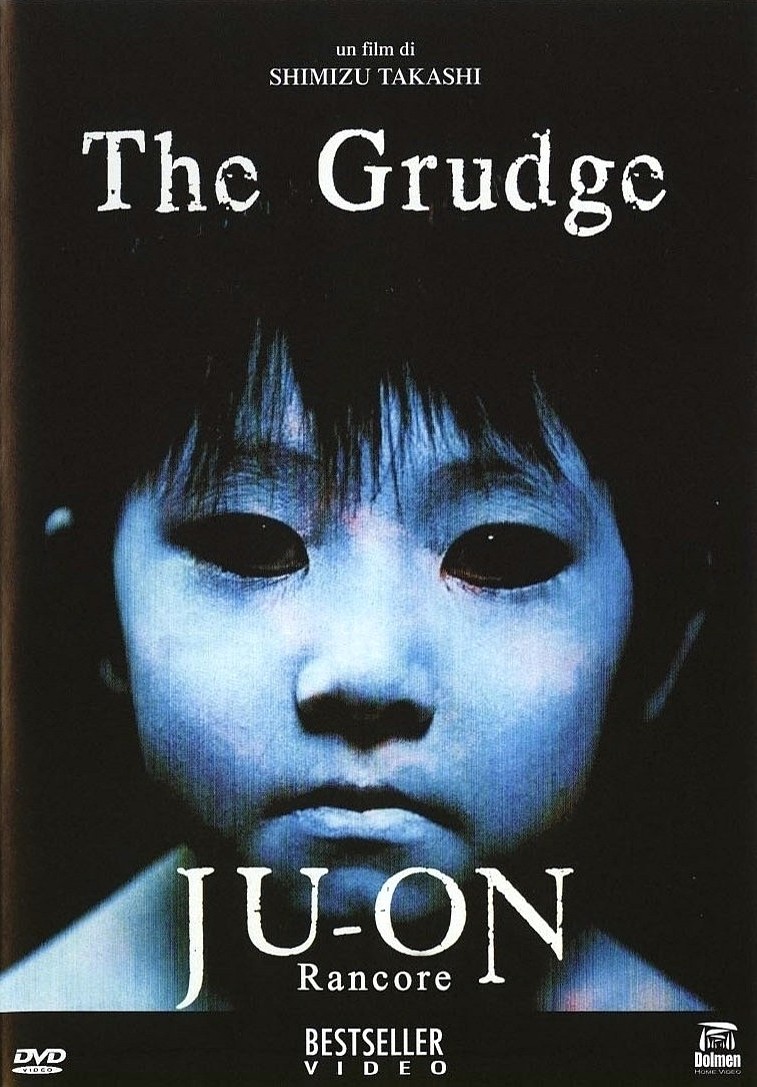 THE GRUDGE (Ju-on: Rancore) è un film scritto e diretto da Takashi Shimizu terzo capitolo di una saga molto famosa in Giappone. Il film si apre con delle scritte sullo schermo in cui viene detto che quando qualcuno muore in modo violento o rabbioso, le emozioni di quel momento possono restare a lungo nel luogo dell'omicidio creando una sorta di maledizione che si propaga su chiunque si avvicini a quel luogo.
Contemporaneamente vengono mostrate sullo sfondo e in modo poco chiaro, immagini di un omicidio. Come nei precedenti capitoli della saga, anche questo film è suddiviso in diverse "scene", non necessariamente strutturate tra di loro in ordine cronologico e intitolate al protagonista della scena.
Katsuya
Kazumi, moglie di Katsuya e nuora di Sachie, si lamenta col marito del fatto di non riuscire a dormire per dei rumori notturni, che lei attribuisce all'anziana suocera. Prima che il marito vada a lavoro, Kazumi gli ricorda che quella stessa sera attendono Hitomi, sua sorella, per cena. Rimasta sola a casa Kazumi sente dei rumori al piano di sopra. Si trova ben presto ad avere a che fare con un gatto nero e un bambino dalla carnagione bianchissima. Rientrato a casa, Katsuya trova la moglie Kazumi sdraiata sul letto, incapace di muoversi e parlare. Prima di essere in grado di chiamare una ambulanza, l'uomo avverte un'altra presenza nella stanza e vede un bambino che gira per la stanza. Hitomi arriva a casa di Katsuya per cena, solo per trovare il fratello seduto sulle scale e in stato confusionale. Quando la donna chiede a Katsuya cosa sia accaduto, lui dice che Kazumi lo ha tradito per un altro uomo da cui ha avuto quel bambino e poi la fa andare via senza spiegazioni.
Hitomi
Ancora confusa per quanto accaduto, Hitomi si sta recando nel proprio appartamento, ma prima si ferma nei bagni di un ufficio. Qui viene avvicinata da una inquietante figura femminile. Sconvolta Hitomi chiede aiuto all'addetto alla sicurezza, che si reca sul posto a controllare. Hitomi guarda dai monitor della sorveglianza, l'uomo davanti ai bagni, mentre viene letteralmente consumato dalla stessa figura vista da lei. Terrorizzata, la giovane fugge nel proprio appartamento, e da lì a poco suona il campanello. Hitomi controlla dallo spioncino, e riconosce la figura del fratello, ma una volta aperta la porta non vede nessuno. La ragazza si rifugia nel proprio letto, ma da sotto le coperte la figura spettrale di una donna la risucchia.
Rika
Rika è una volontaria dell'assistenza sociale, affidata alla cura dell'anziana signora Tokunaga Sachie. Rika trova la donna in stato catatonico e in una casa completamente nel caos. Dopo aver sentito dei rumori al piano di sopra, la ragazza trova chiusi in un armadio, un ragazzino, che dice di chiamarsi Toshio, e un gatto nero. Attirata nuovamente giù da altri rumori, Rika si ritrova davanti la signora Sachie sovrastata da una enorme figura oscura che scende dal tetto che fa svenire anche lei.
Toyama
Hirohasi, capo di Rika, non vedendo rientrare la sua dipendente, si è recato sul posto, per trovare la ragazza in stato di shock, e la signora Sachie morta. I due detective a cui vengono affidate le indagini, rinvengono i cadaveri di Katsuya e Kazumi nella soffitta, mentre non riescono a rintracciare Hitomi, la sorella di Katsuya. Anche Hirohashi viene trovato morto poco tempo dopo. I due detective si rendono conto che chiunque ha a che fare con quella casa muore, o svanisce misteriosamente, e decidono di chiedere la consulenza di Toyama. Toyama infatti aveva seguito le indagini su Takeo Saeki, che aveva ucciso la moglie Kayako e il figlio Toshio, proprio all'interno di quella casa. Toyama, vedendo le ultime immagini in cui compare Hitomi, decide che l'unica soluzione sia quella di dare fuoco alla casa, e con questa intenzione vi si reca con una tanica di benzina. Qui ha un visione sul futuro di sua figlia, Izumi, che attualmente è una bambina, in cui si sente la voce della leader Saori, comparsa nel precedente film. Subito dopo viene attaccato dal fantasma di Kayako, ma riesce a fuggire dalla casa. Non hanno migliore sorte i due detective che avevano seguito Toyama a sua insaputa.
Kayako
Rika si è più o meno ripresa dal trauma avuto nella casa di Kayako, benché sia spesso vittima di inquietanti visioni di cui è protagonista il fantasma di Toshio. Tuttavia scopre che la sua amica Mariko si è recata nella casa maledetta per visitare Toshio, come fece Kobayashi, e per tentare di salvarla si reca sul posto. Rika fa appena in tempo a vedere Mariko risucchiata su per la botola che collega l'armadio alla soffitta. Nel tentativo di seguire l'amica, Rika viene attaccata da Kayako. Rika riesce a fuggire, ma guardandosi in uno specchio vede il suo riflesso con le fattezze di Kayako. A questo punto, si rende conto che lei stessa è stata posseduta dal fantasma della donna, e di lì a poco le compare il fantasma di Takeo, che la uccide nello stesso modo in cui uccise la moglie.
Izumi
La scena si sposta a diversi anni dopo, e Izumi, la figlia di Toyama è una adolescente, mentre suo padre è stato trovato morto. Anche Izumi è entrata nella casa maledetta, ma a differenza delle sue due amiche morte all'interno, lei è riuscita a fuggire, anche se qualche tempo dopo condurrà una vita da isolata, nel terrore di essere presa dalle sue amiche morte. Tuttavia a sorprendere Izumi saranno i fantasmi delle sue amiche, che la trascineranno a Kayako. Poco prima della morte di Izumi, una scena mostra la televisione accesa sul telegiornale, in cui si sta parlando del ritrovamento del cadavere di Rika.
LA SEDUZIONE DELL'HORROR GIAPPONESE
Ma cos'ha di così seducente l'horror giapponese? Particolare attenzione viene data a elementi che normalmente verrebbero ignorati. Per esempio, la cura posta nel presentare progressivamente il carattere di un ambiente tramite le immagini o il suono.
È difficile dimenticare l'urlo prolungato in The Grudge o mantenere la calma quando si ascolta il rumore di sottofondo di una TV in The Ring.
Questa attenzione all'aspetto sonoro trova una corrispondente visiva nella stilizzazione dei mostri che popolano l'horror giapponese. La cultura giapponese è piena di credenze in merito all'esistenza di presenze sovrannaturali nel mondo degli umani. Tengu, yokai e onryō si nascondono in angoli bui di case comuni, in tronchi vuoti o sulle rive di un fiume.
Spesso le storie horror giapponesi si svolgono in un ambiente casalingo e familiare, innestando la paura in una vicenda dai toni intimi. È Sebastian Castellanos a farsi largo nell'incubo della figlia nel tentativo di salvarla e a ritrovarsi, per un brevissimo istante, nel familiare ambiente di casa sua un attimo prima che prenda fuoco. Si tratta di idee e luoghi in grado di risuonare nell'animo di ogni spettatore o giocatore e che contribuiscono a creare una paura ancora più viscerale, proprio perché legata a elementi familiari. Un concetto riassunto perfettamente dalle parole di un altro maestro dell'horror, Wes Craven: «I film horror non generano nuove paure. Liberano quelle già presenti in noi».…
L'articolo The Evil Within 2, uno sguardo alle radici dell'horror giapponese (J-horror) sembra essere il primo su IlVideogioco.com.
Fonte: The Evil Within 2, uno sguardo alle radici dell'horror giapponese (J-horror)