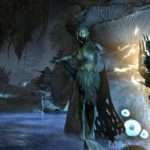 Torniamo a parlare di Summerset, la nuova espansione del mmorpg The Elder Scrolls Online. Bethesda, infatti, ci illustra dieci buoni motivi per esplorare i territori dell'isola ed approfondirne la conoscenza.
Ecco il "decalogo" con i consigli del publisher.
Viaggiatori di Tamriel, la regina Ayrenn tra pochi giorni aprirà i cancelli di Summerset, permettendovi di avere così accesso alla terra degli Altmer. Molti di voi si staranno chiedendo quali meraviglie mai celeranno queste verdi lande e cosa è rimasto confinato al resto del mondo per tutto questo tempo. Se cercavate risposte alle vostre domande prima di partire per questo nuovo viaggio, siete capitati nel posto giusto.
1 UNA BELLISSIMA REGIONE DA SCOPRIRE ED ESPLORARE
Quello che si aprirà dinanzi ai viaggiatori che oltrepasseranno i cancelli di Summerset sarà una delle più belle terre mai esplorate in The Elder Scrolls. Immersa nel verde e costellata da edifici imponenti sotto il punto di vista architettonico, la regione degli Elfi Alti è capace di regalare scorci mozzafiato in cui vale la pena perdersi. Per tutto il territorio, inoltre, sono disseminate tante sorprese, premiando così gli esploratori dallo spirito più caparbio.
Alcuni illustri critici di Tamriel hanno valutato questa location con un bel dieci, ma spetterà a voi confermare o ribaltare il risultato.
2 LE POTENTI MAGIE DELL'ORDINE PSIJIC
Nelle Isole Summerset è possibile fare il piacevole incontro dei membri dell'ordine Psijic, i maghi più antichi e potenti dell'intera storia di Tamriel. Ai più valorosi tra i viaggiatori sarà garantito l'accesso a questa esclusiva gilda, ottenendo così la possibilità di apprendere abilità mistiche che vanno oltre ogni immaginazione, come il potere del controllo del tempo (…e senza dover ricorrere ad alcuna strana pietra!). Le minacce che si stanno muovendo verso l'intero continente sono sempre più forti e incombenti…perché non fermarle con la stessa semplicità con cui si schioccano le dita?
3 TANTE NUOVE MISSIONI E COSE DA FARE
Se pensavate di venire a visitare le Isole Summerset per poi stare con le mani in mano…beh, vi sbagliavate di grosso. Alwinarwe, cugina della regina Ayrenn, e Razum-Dar son molto ben disposti ad accogliere i viaggiatori a braccia aperte e il minimo che questi ultimi possono fare è ricambiare loro il favore risolvendo alcuni problemi che minacciano il benestare della regione. Summerset è inoltre popolata da individui (più o meno raccomandabili…) con qualche lavoretto ben remunerativo tra le mani da affidare a intraprendenti volontari: pecunia non olet, dunque datevi da fare!
4 UN OTTIMO PUNTO DI INIZIO PER I NOVELLINI
Non avete ancora messo piede in tutta Tamriel fino ad oggi? Le Isole Summerset sono il posto giusto da cui iniziare questo incredibile viaggio! La terra degli Elfi Alti svezzerà i novellini con una serie di missioni di apprendimento che faciliteranno i primi passi all'interno di The Elder Scrolls Online. Il livello di difficoltà adattivo, inoltre, permetterà a neofiti e veterani di godere entrambi di un'esperienza ugualmente godibile, cucita su misura in base all'esperienza ed equipaggiamento di cui si dispone man mano che si prosegue col gioco.
5 UNA TERRA RICCA DI STORIA
Le Isole Summerset non sono solo una regione bellissima da esplorare, ma anche una delle più ricche sotto il punto di vista storico di tutta Tamriel. Parliamo di una delle terre più importanti e celebri in tutto il continente, legata fortemente ai poteri magici e all'Antico Ordine dei Psijic, ma anche teatro di numerosi avvicendamenti tra tante civiltà elfiche, tra cui gli Aldmeri. Per i più appassionati di storie antiche, le rovine sotterranee di Alinor, capitale delle Isole Summerset, rappresentano una destinazione obbligatoria, ricca di reperti appartenenti ai precedenti imperi che hanno troneggiato sulla maestosa regione.
6 UNA TRAMA RICCA DI EVENTI
Come da tradizione The Elder Scrolls, Summerset offre trame e sottotrame ricche di eventi da seguire e vivere da assoluti protagonisti. Sarete accolti sin da subito da un'atmosfera particolarmente tesa, dovuta all'impopolare decisione della regina Ayrenn di aprire le porte delle isole ai visitatori esterni. Tali cambiamenti recenti non sono stati particolarmente apprezzati da gran parte degli Altmer, da sempre ostili agli stranieri e a coloro con cui non condividono la razza d'origine. Come se ciò non bastasse, un'oscura e potente minaccia incombe su tutta Tamriel e chi potrebbe mai sventarla se non te, amico lettore?
 7 ANELLI E GIOIELLI FAI DA TE
Che apparteniate ad una compagnia chiamata a combattere un antico male o degli eroi vestiti in verde che agiscono mossi da una grande forza di volontà, le isole Summerset sono il posto giusto per voi. Qui potrete imparare l'arte degli orafi, permettendovi così di creare collane e anelli personalizzati. Non parliamo di semplice bigiotteria, ma di gioielli di ambito valore e dal grande potere: non sarete soltanto i viaggiatori più cool di tutta Tamriel, ma anche i più temuti! Insomma, la domanda è semplice: Un ferro da stiro, una tunica, una freccia nel ginocchio o un bracciale fai-da-te. Secondo te, cosa ti farebbe felice?
 8 UNA PROVA PER I GUERRIER PIU' FORTI
Una nuova prova attende i gruppi di combattenti più organizzati e valorosi. Per le compagnie formate da 12 avventurieri, Cloudrest riserva una delle sfide più ambite e temute da parte dei viaggiatori di Summerset. Preziose ricompense attendono i coraggiosi che decideranno di cimentarsi nell'impresa. Vi sentite particolarmente forti e niente vi spaventa? Allora la versione Veterano della Prova di Cloudrest è decisamente la scelta più indicata per voi…noi vi abbiamo avvisato.
9 AFFRONTARE LE ORDE DEGLI ABYSSAL GEYERS
Tra le nuove attività che è possibile svolgere in Summerset una delle più eccitanti è sicuramente quella degli Abyssal Geysers. Queste prove consistono nell'affrontare delle lunghissime ondate di nemici insieme a un gruppo di amici, al fine di combattere un temibile boss finale e di ottenere ricche e interessanti ricompense, utili senza alcun dubbio per poter proseguire il vostro viaggio nella regione degli Altmer.
10 LE NUOVE MISSIONI DELVE
Non tutte le località di Summerset sono particolarmente amichevoli. Alcune di queste nascondono delle potenti minacce e spetta ai guerrieri più coraggiosi il compito di combatterle. Stiamo parlando delle missioni Delve, che gli avventurieri storici di Tamriel conoscono molto bene e avranno il piacere di ritrovare nuovamente anche qui. Per i neofiti, queste sono zone di accesso pubblico che nascono temibili boss che è possibile affrontare anche più volte. Chi si definisce un vero esploratore è chiamato obbligatoriamente a visitare queste pericolose aree.
L'articolo The Elder Scrolls Online, 10 motivi per giocare a Summerset proviene da IlVideogioco.com.
Fonte: The Elder Scrolls Online, 10 motivi per giocare a Summerset