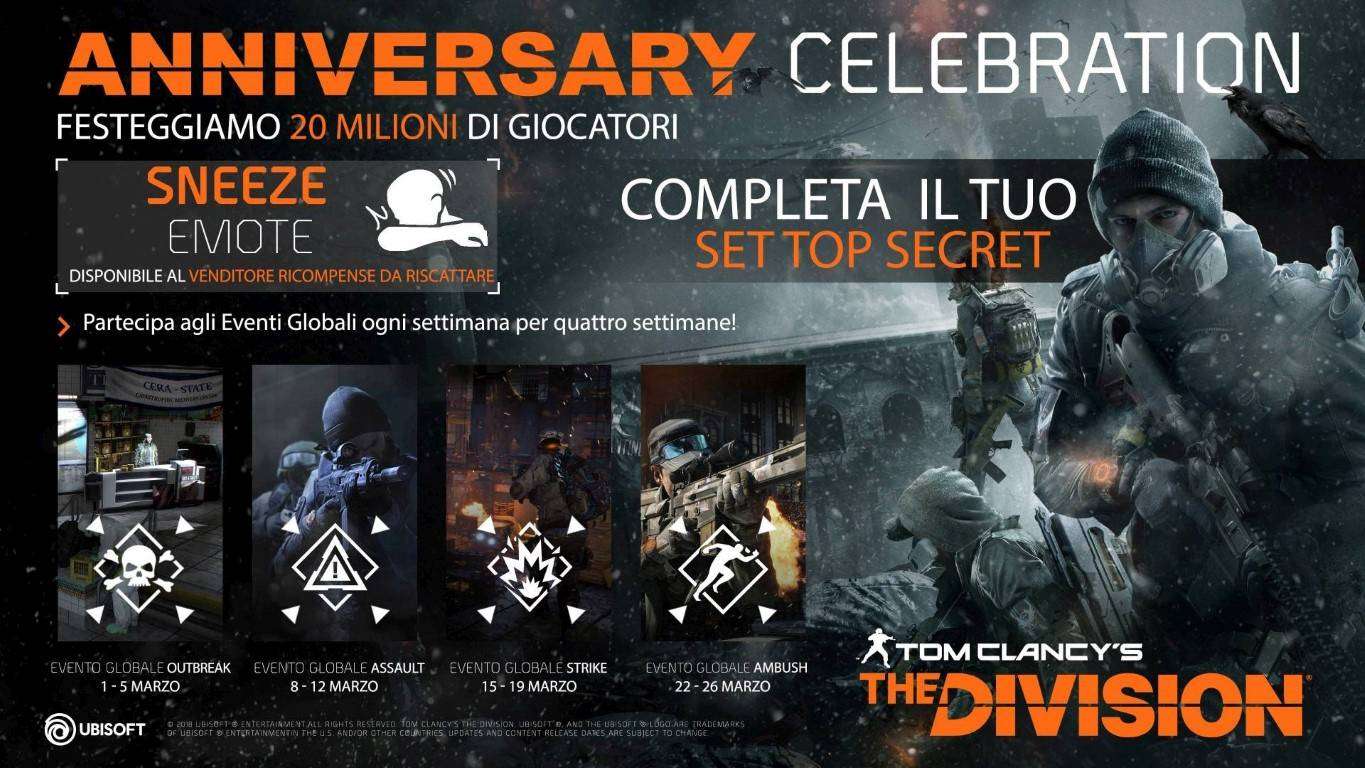 Due anni e venti milioni di giocatori. The Division festeggia il proprio compleanno con numeri alti ed alcune novità. Ne dà notizia Ubisoft.
Tom Clancy's The Division, titolo ambientato a New York durante un'epidemia globale conosciuta con il nome di "Influenza del Dollaro", ha permesso ai giocatori di ottenere nuovi contenuti, tra cui le espansioni New York Underground, Lotta per la vita e Fino alla fine.
Come ringraziamento per il costante supporto dei giocatori, la software house francese ha pianificato un intero mese di attività di gioco, inclusi quattro Eventi globali che si terranno dall'1 al 29 marzo, con un evento pianificato ogni settimana. Gli Eventi globali sono una funzionalità live di Tom Clancy's The Division in grado di alterare lo scenario, aggiungendo modificatori a tutte le attività in gioco, e garantendo ai giocatori la possibilità di ottenere ricompense e oggetti unici.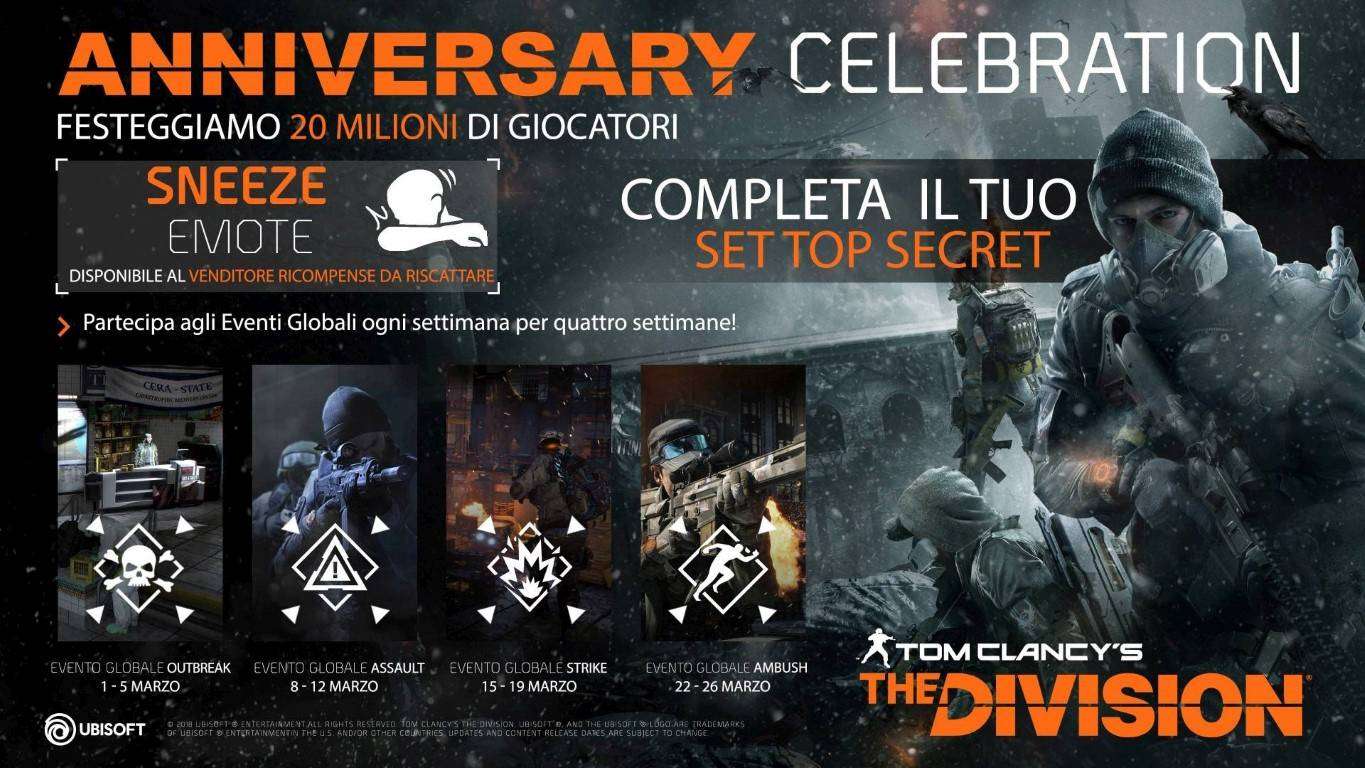 Prima del lancio, Tom Clancy's The Division ha infranto ogni record ottenendo la maggiore partecipazione alla beta per un nuovo franchise (6,4 milioni di giocatori), mentre al lancio si è trasformato nella nuova serie di più grande successo del settore.
Dall'uscita del gioco tre espansioni e nove importanti aggiornamenti hanno aggiunto nuove modalità, contenuti aggiuntivi della Zona Nera, incursioni e un ribilanciamento del gameplay, oltre a una vasta gamma di opzioni di personalizzazione e attività live. Più di recente, a dicembre 2017, Massive Studio ha reso disponibile l'aggiornamento 1.8, Resistenza, che ha rappresentato un nuovo passo in avanti per arrivare alla versione attuale del gioco.
L'aggiornamento 1.8 ha generato molti feedback positivi nella community:
"siamo molto orgogliosi di ciò che abbiamo raggiunto negli ultimi due anni. Ascoltare e ripagare la community è sempre stato il nostro primo obiettivo, e vorremmo pertanto ringraziare tutti i giocatori di The Division per il loro prezioso supporto e feedback",
ha dichiarato Julian Gerighty, direttore creativo.
Oggi, Tom Clancy's The Division conta una vasta gamma di modalità, tra cui attività PvE, due modalità di gioco PvP, un'adrenalinica modalità sopravvivenza e costanti attività live, come Eventi globali, settimane di doppie ricompense e molto altro. Tutto questo, unito alla volontà del team Massive di ascoltare i giocatori, illustra perfettamente l'impegno e il coinvolgimento di Ubisoft per offrire esperienze ancora più uniche.
INFOGRAFICA
Tutte le curiosità di questi due anni in un'infografica. Quante ore di gameplay hanno accumulato i giocatori, quante PNG sono stati eliminati e molte altre curiosità. Buona lettura.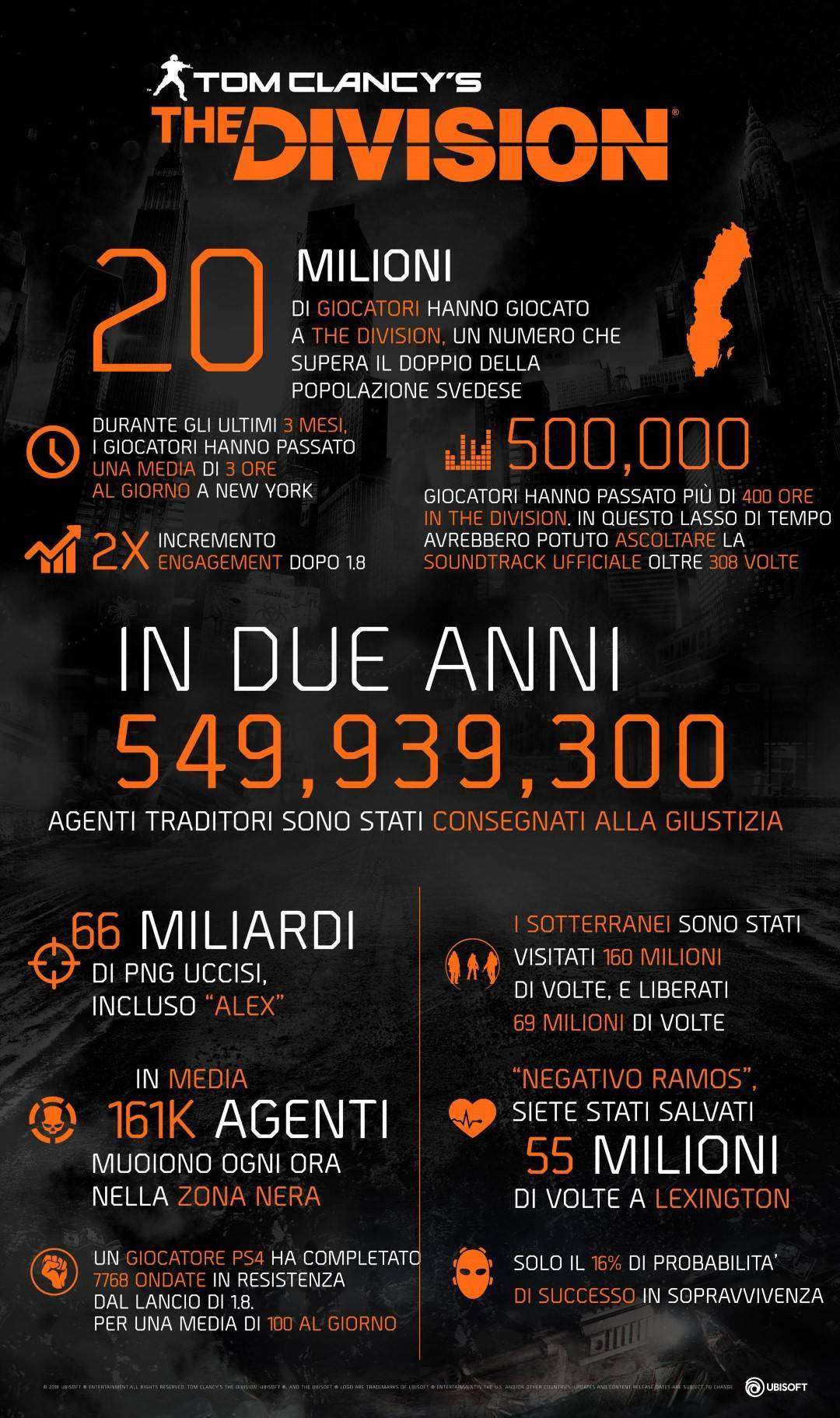 L'articolo The Division celebra i suoi due anni con 20 milioni di giocatori sembra essere il primo su IlVideogioco.com.
Fonte: The Division celebra i suoi due anni con 20 milioni di giocatori