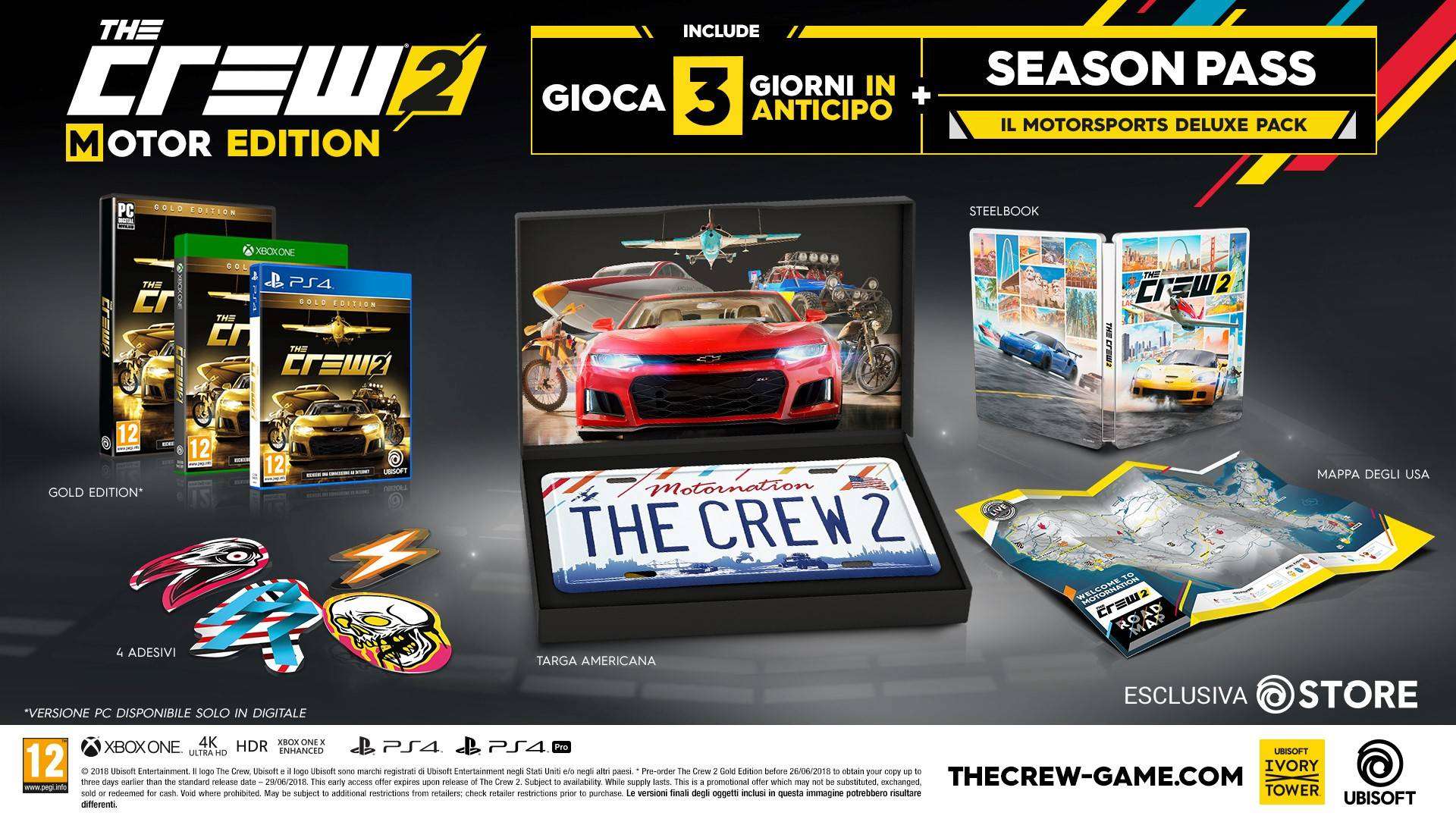 Ha una data di lancio The Crew 2. Il racing di Ubisoft sfreccerà su Pc, PS4 ed Xbox One a partire dal 29 giugno prossimo. Il publisher francese ha anche annunciato alcune funzioni aggiuntive per PS4 Pro.
Sviluppato da Ubisoft Ivory Tower, uno studio con sede a Lione, in Francia, il titolo consentirà agli appassionati di vivere il vero spirito delle corse in un nuovo scenario degli Stati Uniti completamente riprogettato.
La nuova ambientazione supera ogni limite fisico per consentire ai fan dei giochi di guida e degli scenari open world di mettere alla prova le proprie abilità, da soli o con gli amici, in una competizione ed esplorazione costante.
I piloti esploreranno l'America da costa a costa per competere e diventare i più grandi campioni di sempre, ottenendo una vasta gamma di auto, moto, imbarcazioni e aerei per dominare la scena a terra, in acqua e nel cielo.
Troveranno sfide e ispirazione in quattro diverse categorie di competizioni: corse di strada, fuoristrada, pro racing e freestyle, in cui potranno disporre di una vasta selezione di tipi di veicoli e opzioni.
THE CREW 2 MOTOR EDITION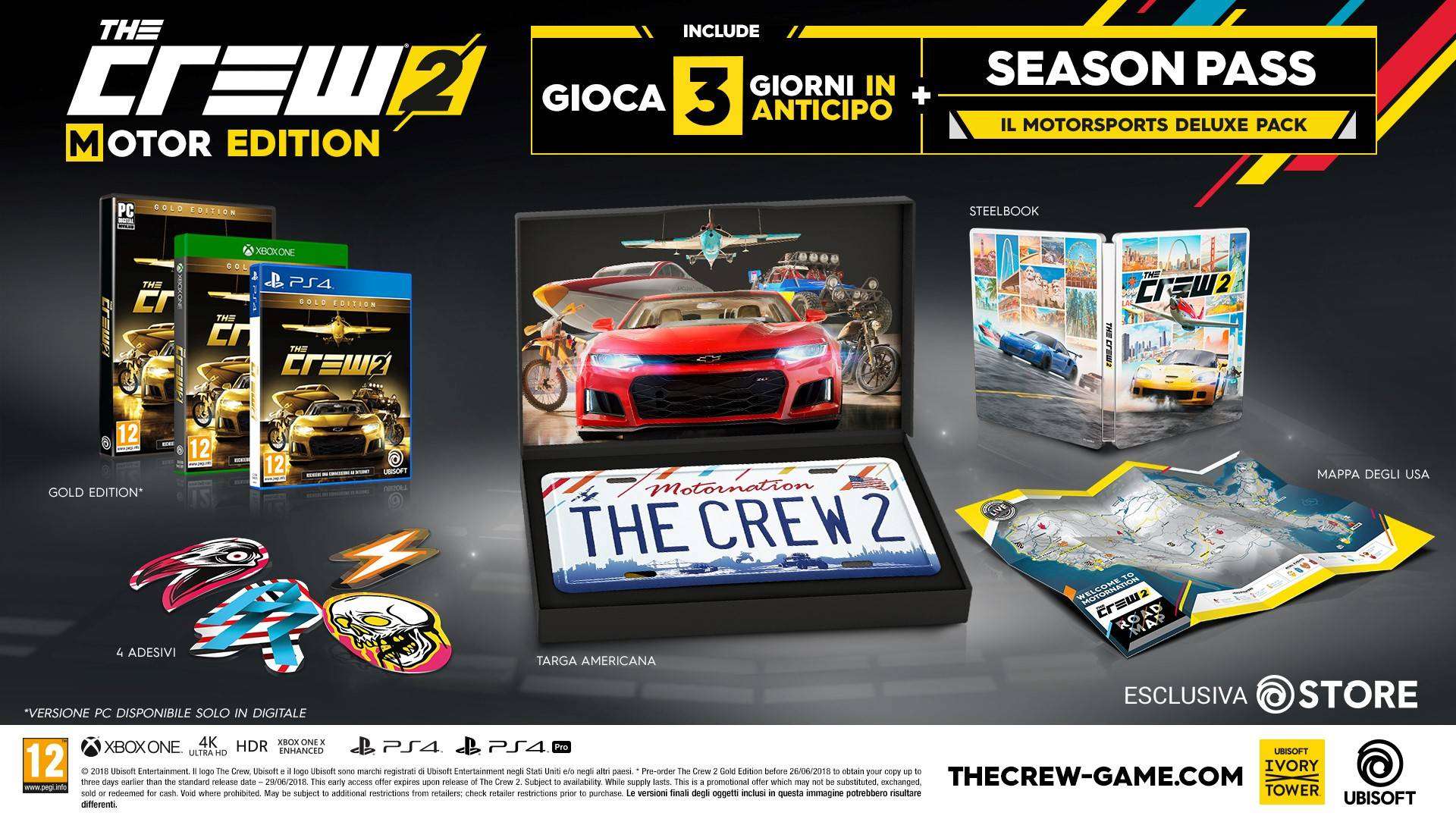 Ubisoft ha anche svelato The Crew 2 Motor Edition, una speciale edizione che consente di giocare con tre giorni di anticipo per prepararsi alle competizioni fin dal 26 giugno. Disponibile unicamente sullo store di Ubisoft, questa edizione esclusiva offre ai giocatori l'esperienza motoristica più avanzata di sempre. La Motor Edition include:
The Crew 2 Gold Edition e il Season Pass, che consente di divertirsi con nuovi veicoli, abiti, contenuti aggiuntivi e molto altro.
Il Motorsports Deluxe Pack, che include alcuni veicoli e abiti unici, tra cui il Ford F-150 Raptore Race Truck del 2017, l'aereo Pilatus PC-21 Air Race Edition del 2002 e la Abarth 500 Monster Truck Edition del 2008.
Una targa americana personalizzata di The Crew 2 in un elegante cofanetto da collezione, una Steelbook esclusiva, la mappa ufficiale del gioco e quattro adesivi originali.
Inoltre, prenotando il gioco si riceverà il The Crew 2 Legendary Motors Pack, che includerà alcuni veicoli esclusivi, come la Mercedes-AMG C 63 Touring Car 2016 e la Harley-Davidson Iron 883 del 2017.
I giocatori possono iniziare subito a creare la propria collezione di veicoli con il The Crew Rewards Program. Infatti, completando una serie di sfide mensili nel primo The Crew, potranno sbloccare fino a 19 veicoli in The Crew 2, tra cui alcuni esclusivi veicoli acquatici.
È anche possibile registrarsi subito su www.thecrewgame.com/beta per avere una possibilità di accedere ai test.
L'articolo The Crew 2 arriva a fine giugno, ecco alcuni dettagli sembra essere il primo su IlVideogioco.com.
Fonte: The Crew 2 arriva a fine giugno, ecco alcuni dettagli