Il Natale si avvicina. Ormai è dietro l'angolo. È sempre un periodo dell'anno molto atteso. Per molti giunge il momento del meritato riposo. Per chi fa il mio lavoro no. Perché è presto detto, dare notizie o raccontare storie (vere, si intende) è una missione e non lo si fa certo per quei pochi spicci che ci si guadagna (chi li guadagna).
È quindi giunto il momento di uno speciale a tema sui giochi con i quali mi divertivo nel periodo natalizio. Erano quindici giorni di vacanza spensierata e poi si tornava a scuola. Inutile dire che internet non esisteva. O era ancora una cosa pionieristica, da telefilm anni '80 (vedi i 4 Ragazzi per un Computer).
Uno dei Natali più belli, ricordo, è stato quello del 1990 ma parlerò anche di quelli in altri anni. Ero in terza media ma fui costretto a casa da una bronchite serissima. A metà dicembre, per la prima volta, il mio medico curante (buon'anima) guardò seriamente i miei genitori e gli disse che non c'era nulla da scherzare e che la situazione era seria. Riposo a casa al calduccio assoluto. E fu così che le mie settimane di riposo divennero tre. In quel periodo avevo il Commodore 64 ed ancora l'Olivetti Prodest PC 128 che, dopo l'arrivo del biscottone della grande C, riposi bellamente in uno scaffale a far la muffa. Col senno di poi mi pento un po' di questa scelta perché è giusto, ad onor del vero, ricordare quanto divertimento mi portò. Non posso dimenticare solo l'anno precedente le partite a La Miniera di Diamanti, ottimo clone di Boulder Dash, o a Blue War II, che era un simulatore di sommergibile paragonabile al famoso Silent Service o ancora ai Giochi Olimpici 1 e 2 ed a quelli Invernali. Per non parlare di un'avventura suddivisa in tre parti che consisteva nell'arrivare a Las Vegas e vincere un milione di dollari entro un determinato orario. Appunto, Las Vegas mi tenne molto e da più grande, quando lo rigiocai, scoprii che bene o male, i risultati, soprattutto nella roulette si ripetevano dopo un certo numero di giocate.
Ma il C64 aveva più varietà, più scelta. E, per chi come me, amante della musica, anche il sonoro che – rispetto a quello del computer della Olivetti (un Thomson MO6 sotto mentite spoglie) – era qualcosa di spettacolare.
Il tutto fu confermato quando conobbi Turbo OutRun che giocai assiduamente in questo periodo. Comprato in estate lo rigiocai in inverno per finirlo durante il periodo natalizio. Non potrò mai scordare la sorpresa della colonna sonora digitalizzata ed originale firmata dai Maniacs of Noise. Anche le musiche in game erano esaltanti. In quei giorni piazzai la partita perfetta e conclusi i sedici stage, e quindi il gioco.
Non sono mai stato un granché e probabilmente la versione C64 era molto più facile rispetto a quella Arcade, non me ne vergogno, ma fu un ricordo molto bello ascoltare quelle canzoni fantastiche.
Ma non mancarono le partite a The Last Ninja 1 e 2. Anche qui molto lunghe e condizionate soprattutto dall'ascolto delle canzoni. Scritte da Anthony Lees e dal compianto Ben Daglish, scomparso lo scorso 1 ottobre, e (The Last Ninja 2) da Matt Gray. Anche qui, una colonna sonora assurda che accompagnava un ottimo gameplay. Soprattutto il secondo capitolo. Erano molto belle le confezioni dei giochi System 3. Solitamente scatoloni profondi che includevano il gioco (dischi o cassette) e dei bellissimi manuali. Se solo avessi avuto più attenzione… ma andiamo avanti.
La serie The Last Ninja era contraddistinta anche da un'ottima grafica isometrica ricca di dettagli. Particolarità: tra ogni location e l'altra, l'ambientazione si caricava molto velocemente ma in quegli attimi si vedeva la "costruzione" della location. Era una sorta di effetto pop up odierno. Spettacolare anche l'interfaccia che offriva tutte le informazioni necessarie. Il gioco era immediato e fluido, dove si alternavano combattimenti, la raccolta di oggetti per superare degli enigmi ambientali o di armi per affrontare al meglio nemici più forti. E chi se le scorda le api di Central Park, primo livello di The Last Ninja 2? Le dovevo evitare mentre le prime volte mi ostinavo a combatterle… fesso io.
In quel Natale non posso dimenticarmi di The Ninja Warriors. Forse era il periodo in cui mi piacevano i Ninja (anche Ninja Turtles di Konami, infatti feci comprare il gioco ai miei). La conversione dell'arcade che vidi l'anno precedenza in sala giochi in uno stranissimo formato (lo schermo era super orizzontale con un rapporto che il 16:9 sembrava sostanzialmente un quadrato) che lo rese anche memorabile. Anche qui probabilmente complice la facilità della versione C64 (quella Amiga era nettamente più complicata, ricordo, soprattutto dal secondo livello quando entravano in gioco i carri armati), riuscì a terminarlo senza grossi sforzi. La musica di Tony Williams riprendeva il tema originale ma a mio avviso rendeva paradossalmente di più sul Sid. Sono proprio innamorato di questo chip.
Atomic Robokid, Rainbow Island, Arkanoid, ma anche X-Out (colonna sonora ed intro da film anche su C64), per non dimenticare il primo Turrican. Tutti ottimi giochi ma Turrican mi sorprese anche per la grafica assurda – per il C64 – di allora. Per alcuni – e probabilmente avranno ragione – questo gioco griffato Rainbow Arts – è stato sopravvalutato ma per me era qualcosa di unico che fu superato l'anno dopo dal sequel. Ah, si, c'era pure Batman The Movie che mi piacque molto. Anche la versione C64 non era male mentre quella Amiga si distaccava per le eccezionali, all'epoca, sessioni di guida sulla batmobile e sul Batwing.
Nel 1991 arrivò l'Amiga. Era settembre. Tuto cambiò ed anche in questo caso, abbandonai – ma meno repentinamente – il C64 che fu protagonista di una delle mie prime "nottate" estive: quell'anno feci gli esami di terza media (se ci penso ora mi viene da ridere, come sicuramente capiterà a molti di voi), i loader di The Last Ninja 1 mi tennero compagnia mentre ripassavo alla meno peggio l'inglese.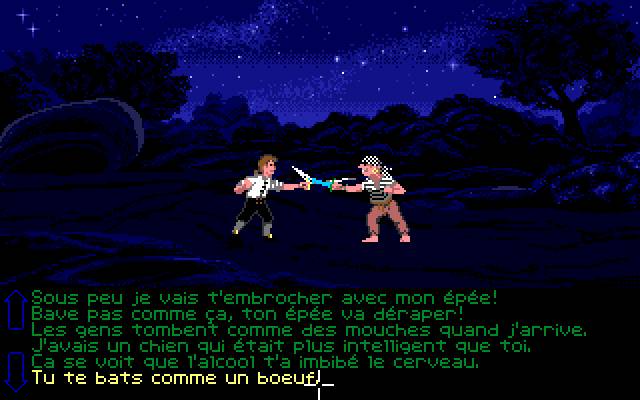 Dicevamo del 1991 e con l'Amiga il primo natale me lo passai con The Secret of Monkey Island. Non credo ci sia da aggiungere altro solo il fatto che lo ritengo uno dei migliori giochi di sempre e tra i più adatti al periodo natalizio. Humor, atmosfera, trovate, enigmi e musica sono memorabili e – a mio avviso – si sposano perfettamente con l'atmosfera natalizia. Vagare – mentre li fuori fa freddo e fa buio presto – per le vie di Melee Island fatte di luci e lucette, in una notte infinita, fa senza dubbio la sua figura. Ricordo ancora che quando lo comprai dovevo scegliere tra lui e The Adventures of Robin Hood… non che fosse male Robin Hood, ma The Secret of Monkey Island mi ispirò di più.
Non sottovaluterei neppure un grande classico di Cinemaware, "tale" Defender of The Crown. Uscito nel lontano 1986, fu uno dei primi titoli che acquistai per il nuovo arrivato Amiga. Era da sempre il mio sogno poter giocare a questo titolo che mi fece conoscere l'Amiga e probabilmente ebbe il merito di farlo conoscere a tutto il mondo. Un sogno che si realizzò anni dopo.
Defender of The Crown aveva una grafica paurosa anche nel 1991 e l'atmosfera da film, che tra l'altro è ripresa da uno dei miei film preferiti (Ivanhoe), bastavano a fare esaltare me ed una intera generazione. Indimenticabili anche i pezzi musicali di Jim Cuomo rimangono scritti nella storia benché brevi ma molto di impatto.
I natali successivi in compagnia di Amiga me li ricordo con altre avventure grafiche come Simon the Sorcerer, davvero molto bella e piuttosto lunghetta, ma anche con l'incredibile conversione di Mortal Kombat II. Già il primo Mortal Kombat era gradevole, ma il secondo capitolo sfruttò l'hardware Amiga a dovere. Non posso dimenticarmi anche di Lotus II e Lotus III.  Quest'ultimo aveva il famigerato RECS. Cosa era il RECS? Acronimo di Racing Environment Construction Set, era un editor che permetteva un numero spropositato di circuiti secondo diversi parametri che includevano la lunghezza, se fosse un circuito chiuso o un tracciato aperto suddiviso da checkpoint, la percentuale di curve, ostacoli e le varie ambientazioni. Questo generava un codice che si doveva scrivere a mano per poter rigiocarlo.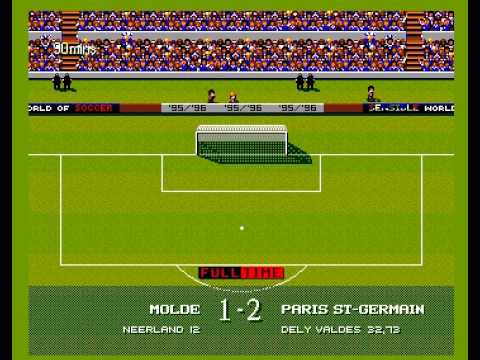 Nel '94 arrivò un titolo calcistico molto amato: Sensible World of Soccer, un grande capolavoro su due dischetti. Ancora oggi non mi capacito come cotanta bellezza potesse essere contenuta in appena due dischetti da 740kbyte. Misteri. Il fatto che si potesse iniziare un torneo e personalizzarlo come si volesse, era uno stimolo in più nel creare competizioni fantasiose dove non mancavano i tornei di Natale '9X. Una bella alternativa alla Carriera che era sicuramente la parte in solitaria più giocata.
Il pezzo Super Stars Hero è rimasto tra gli annali ma in quel periodo Sensible Software, che sviluppò questo ed altri capolavori, era sinonimo di colonne sonore cantate. Cannon Fodder 1 & 2 nonché Sensible Golf ne alimentarono il mito.
E poi? Ah, si, c'era anche Viking, uno strategico semplice ma profondo ambientato nella Gran Bretagna ed in alcune regioni del Nord Europa e, già che ci sono, ricordo che qualche Natale lo passai in compagnia di Castles, capolavoro di Interplay e progenitore di Stronghold. Se non lo è sinceramente non so cosa pensare.
Bellissimo costruire il castello, gestirlo, ricevere gli emissari di questa o quella famiglia o del popolo o ancora del clero o di criminali, scegliere e poi difendersi da attacchi ed assedi. La libertà d'azione era considerevole. Notevole anche il manuale. Qualche ora di Natale la passai anche con Centiurion Defender of Rome, mitico strategico-gestionale. Mi piaceva molto il lato diplomatico. C'era la possibilità, ma lo appresi in là leggendo varie riviste, di fare la propria scalata al mondo evitando di sprecare gocce di sangue e facendo fare tutto alla diplomazia. Ho ancora la confezione originale con gli appunti scritti a mano. Non era facile e comunque c'erano alcune varianti interessanti: le battaglie navali, quelle terrestri, ma anche la costruzione di anfiteatri e l'allestimento di giochi come gli scontri di gladiatori e la corsa delle bighe che potevano aumentare anche i propri guadagni. Capolavoro. Il video si riferisce alla versione Pc.
E sostanzialmente si chiude qui questo speciale fatto di ricordi di pixel, di atmosfere e di canzoni. Ho parlato poco del gameplay e probabilmente avrò anche fatto confusione con alcune date ma il periodo natalizio fino a fine '99 lo passai sostanzialmente così. Poi arrivò il Pc, schede grafiche, processori, configurazione e così via. Tutto il romanticismo che poteva esserci in un The Monkey Island o in una partita a Sensible World of Soccer, si perse. Arrivarono tempi difficili (non che quelli di ora siano facili, tutt'altro) e tutto si perse.
Ma i ricordi, fatti di pixel, musica in chiptune (rigorosamente), gameplay geniali ma anche scapestrati (non tutte le ciambelle riescono col buco), rimangono. Chiudo con un ricordo più recente: Natale 2009, tutta la famiglia o quasi (escluso mio padre che non c'era più) riuniti da me. Una delle rare volte che giocai con i miei cugini. Giocammo a Fifa 10, poi, quando fui solo, qualche giorno lo spesi su The Elder Scrolls IV: Oblivion. Andare a Bruma, una delle città più a Nord di Cyrodill la, regione centrale del continente di Tamriel, e passeggiare sotto la neve in quell'atmosfera fantasy, aveva ed ha un non so ché di romantico. Emozioni che non ho più riprovato neppure in Skyrim.
Ed ora? Beh, ora ho una vasta scelta tra Pc, PS4 e Switch per non parlare di PS3, PS2, PS1 e prima Xbox. Adesso i tempi sono cambiati ma quando voglio sognare mi rifugio in qualche emulatore o ricordo sognante quando vidi per la prima volta il Nintendo funzionante in una vetrina del centro della mia città dove giravano le demo di alcuni giochi dell'epoca.
Ricordo ancora il jingle promo di questa demo. In pratica era il modello M82 che non era altri che una unità destinata ai negozianti per far provare i giochi ai propri clienti. Chi l'ha avuta se la tiene stretta, chi la vuol comprare deve sborsare cifre alte. Su E Bay siamo sull'ordine dei 5.000 (cinquemila!) euro. Intanto ecco la musica in questo video che ha un titolo sbagliato (viene spiegato nei commenti a seguire).
L'articolo Speciale retro, i giochi di Natale proviene da IlVideogioco.com.