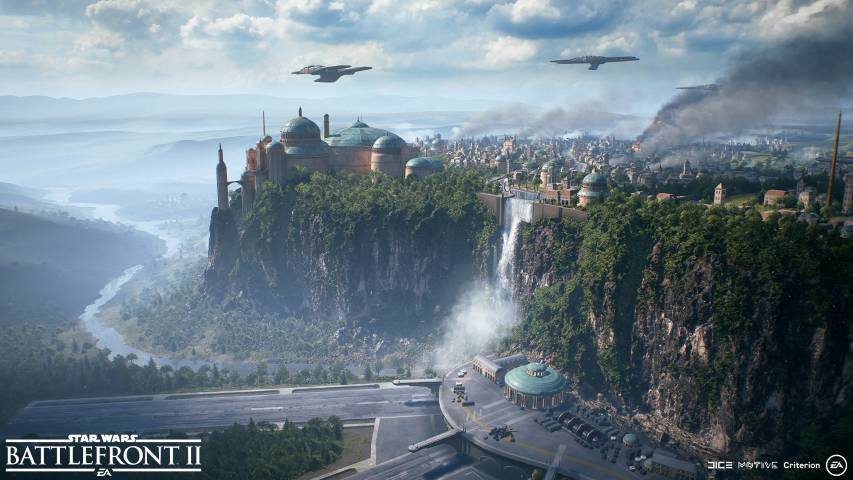 Due vere grandi novità all'evento Electronic Arts, di cui una, ovvero A Way Out, annunciata pienamente. e l'altra, Anthem, che sarà conosciuta stasera; enfasi per Star Wars Battlefront II con tanto di mega partita multiplayer in diretta, ma anche per la nuova espansione di Battlefield 1, Need for Speed: Payback ed i giochi sportivi.
Il publisher nordamericano ha concentrato la sua conferenza pre-E3 2017 nell'evento EAPlay presentando queste novità in uno show che però è stato troppo lento anche per l'enorme coinvolgimento di youtubers e community.
Che sia un bene? Forse no perché ad onor del vero il ritmo è stato più volte spezzettato quasi al limite rendendo la trasmissione a tratti quasi noiosa.
Tuttavia i contenuti sono stati degni nota. Ecco un breve resoconto.
LE NOVITA': ANTHEM E A WAY OUT
Come dicevamo le bombe sono state due. La prima è Anthem di cui si sa davvero poco. Il motivo è presto detto, a parte il teaser, la nuova proprietà intellettuale di BioWare sarà presentata più diffusamente questa sera nel corso della conferenza E3 di Microsoft. Per cui, dopo le 23 dovremmo saperne qualche cosa in più. Si sa, però, ed è notizia di qualche minuto fa, che il gioco è previsto per la primavera 2018 su Pc, PS4 ed Xbox One.
Interessante, invece, seppur ancora acerbo, A Way Out, un titolo action cooperativo nato dalle menti dietro Brothers. Ed il concetto riprende proprio quello dell'indie, seppur in un contesto decisamente diverso dove il Fantasy ed i buoni sentimenti lasciano spazio alla dura realtà ed alla fuga.
La storia di A Way Out inizia in prigione con due detenuti separati, Leo e Vincent, i quali non si conoscono a vicenda. Mentre le loro storie individuali vanno avanti, i giocatori potranno creare una relazione basata sulla fiducia mentre aiutano i due uomini a scappare dalla prigione in cui sono rinchiusi. Questa esperienza esclusivamente co-op è pensata per essere giocata con un amico di fianco a voi sul divano oppure online. Qui il nostro articolo con i primi dettagli.
IL GRANDE SHOW DI STAR WARS BATTLEFRONT II
Il gran finale della conferenza di Electronic Arts, che però è uno dei dati più importanti nell'economia di questo nostro "speciale" è il grande show dedicato a Star Wars Battlefront II. Sarà decisamente enorme rispetto al suo predecessore. Le novità ed i contenuti saranno tali da essere tre volte tante a quanto visto nel prequel.
Gli amanti di Guerre Stellari hanno certamente esultato per quanto visto con una enorme partita online multiplayer.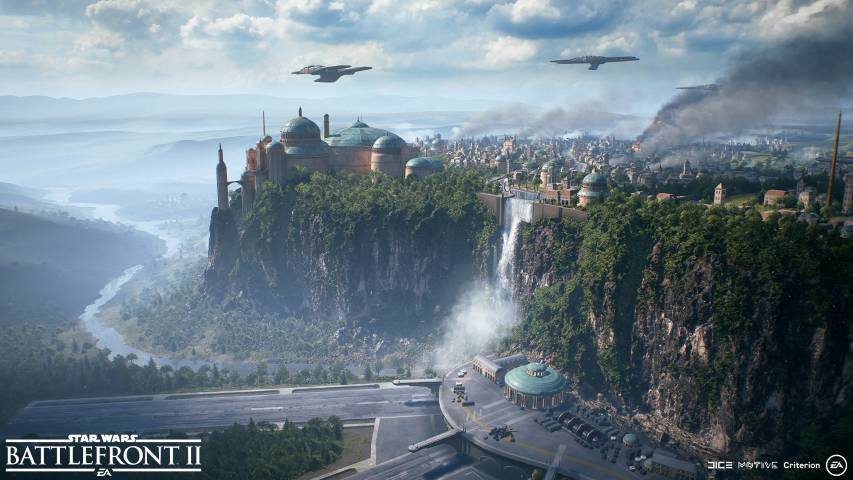 Le novità più interessanti sul gioco in arrivo il prossimo 17 novembre riguardano l'introduzione delle Stagioni gratuite con nuovi contenuti ed eventi. La prima si terrà a dicembre e prenderà spunto dal nuovo film della serie Star Wars: Gli Ultimi Jedi. 
Chi sarà all'evento EA potrà provare demo di Assalto a Theed, la quale ha al suo interno la modalità aggiornata, Assalto Galattico, ambientata nella mappa Naboo: Theed, durante l'Era della trilogia prequel. Tre studi, a parte DICE, al lavoro sul gioco di cui ancora non si sa se avrà o meno una modalità single player. Vedremo a breve. Più dettagli sul conosciuto, intanto, su questo nostro articolo.
IN THE NAME OF THE TSAR E' LA PIU' GRANDE ESPANSIONE DI BATTLEFIELD 1
Interessante anche la presentazione di In the Name of the Tsar, ovvero la nuova espansione di Battlefield 1, acclamatissimo fps di DICE ambientato nella Prima Guerra Mondiale.
L'azione questa volta si sposta in Russia, con sei nuove mappe e l'introduzione, per la prima volta dei personaggi femminili. Già, perché questo dlc dove entrerà in azione l'Armata Russa, includerà il Battaglione Femminile della Morte. Per non dimenticare le 11 armi in dotazione del dlc.
Ci saranno inoltre 11 nuove armi, più Operazioni, più veicoli, incluso l'enorme Ilya-Muromets Heavy Bomber, una nuova modalità di gioco chiamata Supply Drop e nuovi modi di personalizzare il proprio stile di gioco e molto altro.
Ma non finisce qui: oltre alle sei mappe dell'espansione saranno lanciate altre 2 nuove mappe, oltre al proseguo dell'iniziativa Amici Premium, che permette ai possessori del Pass di portare con loro i propri amici sulle mappe Premium fino al Gamescom di agosto. Alla kermesse tedesca, DICE svelerà anche una esperienza competitiva di Battlefield 1, basata sul feedback degli appassionati.
La prima mappa di Battlefield 1 per i possessori del Premium pass dell'estate sarà Le Notti di Nivelle per questo, seguita da Prise de Tahure il mese prossimo. Qui tutti i dettagli.
L'AZIONE DI NEED FOR SPEED PAYBACK CI RICORDA ANCHE BURNOUT
Un video di oltre tre minuti ci ha fatto prendere più confidenza con Need for Speed: Payback. L'azione adrenalinica di questo nuovo racing ci ha fatto respirare anche un po' l'aria di Burnout: abbiamo visto le tipiche azioni di speronamento delle vetture nemiche tratto distintivo dell'altra celebre serie racing che però al momento è in ghiaccio.
THE JOURNEY, LONG SHOT, THE ONE, GLI SPORTIVI AVRANNO UNA MODALITA' STORIA
Non potevano mancare i giochi sportivi all'evento Electronic Arts. Avranno certamente tutti delle novità ma quella più grande ha una sorta di filo conduttore: Fifa 18, NBA Live 18 ed NFL 18 avranno tutti una modalità storia.
Se per Fifa 18 non sarà una novità visto che The Journey ed Alex Hunter ritorno dopo i fasti di Fifa 17 con una nuova ramificazione della storia e nuovi protagonisti con i quali interagire, compreso Cristiano Ronaldo, uomo copertina del gioco calcistico, per le serie di basket e per quella di football è una novità.
Sono stati anche svelati i dettagli della versione Switch che includerà quasi tutte le modalità proposte nelle controparti Pc, PS4 ed Xbox One incluso il calcio femminile ma non The Journey. Tecnicamente il gioco supporterà la risoluzione a 1080p in modalità TV e 720p in modalità portatile. Un conforto, aggiungiamo noi, sulla bontà tecnica della console Nintendo.
NBA Live 18, che tra le altre cose avrà il duro compito di dare filo da torcere alla proposta cestistica di 2K, debutta così The One; in NFL 18, invece, vestiremo i panni di Devin Wade.
Tra le novità di Fifa 18 ricordiamo anche una fisica riscritta con movimenti completamente rivisti per i top player che però influenzeranno anche gli altri giocatori e così anche l'impostazione offensiva e difensiva.
Fifa 18 debutterà il prossimo 29 settembre. NBA Live 18 avrà una demo ad agosto mentre ancora non conosciamo la data del tip-off (la palla a due). NFL 18 debutterà il 25 agosto.
IMMAGINI PER FIFA 18
L'articolo Speciale E3 2017, l'evento Electronic Arts in sintesi sembra essere il primo su IlVideogioco.com.
Fonte: Speciale E3 2017, l'evento Electronic Arts in sintesi