Il calcio è da sempre uno dei generi più amati e giocati in ambito videoludico. Ultimamente la questione è una sfida a due tra Fifa di Electronic Arts e Pro Evolution Soccer (PES) di Konami.
Un dualismo che va avanti da diversi anni, praticamente da inizio millennio quando il terzo incomodo, la serie Actua Soccer si è fermata proprio a fine anni '90.
E chi volesse un'alternativa? Da qualche tempo le produzioni indie si stanno facendo sempre più presenti e di qualità ed hanno quasi tutte un luogo comune: l'effetto nostalgia puntando a migliorare quanto di buono offrivano i vecchi Sensible World of Soccer o Kick Off (vedrete che sarà il tema principale dello speciale) mixandole con caratteristiche possibili grazie alla potenza di calcolo dei nostri Pc odierni.
Ecco quindi una breve carrellata dei giochi di calcio indie da tenere d'occhio. Una rassegna che include titoli già usciti ed altri in via di sviluppo. Nota bene: i titoli includono i link per leggere gli approfondimenti (che si tratti di Prime Impressioni, Anteprime o Recensioni). Non ci resta che augurarvi buona lettura.
PIXEL CUP SOCCER 2017 (BATOVI) – EARLY ACCESS
Iniziamo con Pixel Cup Soccer 2017. Si tratta di un titolo che arriva da Batovi, uno studio che si trova nella lontana Montevideo, capitale dell'Uruguay, una delle patrie del calcio.
Il gioco offre un aspetto grafico davvero ben confezionato in una pixel art che oseremmo dire gloriosa. Sembra a tratti di rivivere le sensazioni di Kick and Run (Mexico 86) di Taito ma con un gameplay decisamente più profondo. Tante competizioni in cui cimentarsi ed anche la possibilità di giocare partite con nazionali femminili.
Dal punto di vista del gameplay (che pur offrendo una discreta varietà di conclusioni a rete è migliorabile), il gioco sfrutta una visuale orizzontale e si possono disputare match in condizioni normali, sotto la pioggia o con vento in una ventina di stadi diversi tutti realizzati sontuosamente bene in pixel art. Queste influiscono sul gameplay. Tutto molto interessante ma attendiamo ulteriori aggiornamenti che al momento sono fermi dallo scorso 31 luglio. In pentola però dovrebbero bollire tante novità.
Tra queste la volontà di migliorare l'intelligenza artificiale personalizzando alcuni stili di gioco come il catenaccio italiano ed il tiki-taka del Barcellona, ma gli sviluppatori vogliono anche aumentare il numero degli stadi, modificare i controlli (personalizzandoli) ed aggiungere il multiplayer online ed anche un editor per squadre e campionati. La novità più attesa, però, a nostro avviso è la modalità Adventure. Più dettagli nelle nostre prime impressioni.
SOCIABLE SOCCER (COMBO BREAKER) – EARLY ACCESS
In questo 2017 che è ormai prossimo a concludersi, non potevamo non menzionare in uno speciale sui giochi di calcio indie, Sociable Soccer. Si tratta di uno dei titoli indie più attesi perché alla testa del progetto c'è quel Jon Hare conosciuto per essere il papà di alcuni giochi calcistici che hanno fatto letteralmente la storia. Parliamo di Sensible World of Soccer (di cui Sociable Soccer è visibilmente il sequel spirituale), di Sensible Soccer e prima ancora di quel capolavoro, soprattutto su Commodore 64, che risponde al nome di Microprose Soccer.
Le premesse per avere un gioco di calcio degna alternativa a Fifa e PES se non altro per la storia e per il peso che il nome Sensible Soccer ha, ci sono tutte.
La partenza in Early Access è stata contornata da un avvio un po' difficile. Il motivo è presto detto: quando uscì la prima versione, questa mancava sostanzialmente dell'intelligenza artificiale con i portieri ridotti ad un ruolo davvero ridicolo costretti a magrissime figure da perecottari. E dire che i contenuti non mancano. Su tutte spicca l'interessante modalità Boss che permette di disputare qualcosa come 67 competizioni internazionali attraverso vari livelli. Si parte dal livello di allenatore base e da campionati modesti ma vincendo ed andando avanti si sbloccheranno nuovi livelli e competizioni.
Con qualche patch ben assestata adesso il gameplay è notevolmente migliorato con un ritmo di gioco gradevole (che ricorda già Sensible World of Soccer) ma anche con portieri decisamente migliorati (anche se ancora migliorabili) ed una intelligenza artificiale leggermente superiore al passato.
Le sensazioni, però, sono positive perché già a questo stato abbiamo visto parecchi miglioramenti e tante potenzialità. Inutile dire che il gameplay è molto arcade e poco simulativo e ben poco si sposterà sulla bilancia anche dopo i vari aggiornamenti che però definiranno ulteriormente il prodotto. Qui le note dell'ultimo update.
Ci sono già tante modalità ma ne verranno aggiunte altre come ad esempio il gioco Online che promette nuove ed alte vette, la modalità Manager, la My Team Mode che rappresenta una sorta di modalità carriera per il club con la possibilità di collezionare, migliorare e scambiare oltre 30.000 carte-giocatore.
KOPANITO ALL STAR SOCCER (MERIX GAMES) – EARLY ACCESS
Un po' più vecchiotto, nel senso che da parecchi mesi in Early Access, Kopanito Soccer è senza dubbio un titolo calcistico sui generis. Volete giocare una partita senza regole ed anzi condita da alcuni episodi improbabili? Bene, il gioco di Merix Games fa al caso vostro.
Grafica tondeggiante, discretamente dettagliata ma sicuramente gradevole, fa da contorno ad un titolo molto frenetico con possibilità di segnare gol in qualunque modo con tiri impossibili.
Come scritto nelle nostre prime impressioni, la prima regola è che non ci sono regole. Non vi preoccupate degli interventi a gamba tesa, nessuno fischierà. Si possono anche attivare il congelamento che però può anche congelare i nostri giocatori, il cattivissimo teletrasporto ed il non meno subdolo ventolone che devia il pallone destinato in rete. Si possono anche fare i supertiri come negli arcade anni '80 e prendere parte ad un innumerevole tipo di campionati e competizioni.
Molto divertente ma anche irritante in certi momenti. Gli sviluppatori sono ancora impegnati nei ritocchi ma è un altro gioco da tenere in considerazione.
SUPER ARCADE FOOTBALL (OUTOFTHEBIT) – EARLY ACCESS
Outofthebit sta lavorando duramente al suo Super Arcade Football. Il gioco è già in Early access da un paio d'anni mentre se ne parla già dal 2015.
Allo stato attuale, il titolo appare ancora molto grezzo ma il progetto ha subito tantissime modifiche e piccoli (ma decisivi) cambi di rotta. Intanto il gameplay è votato al divertimento ed al fatto di offrire la possibilità di segnare reti memorabili e spettacolari per buona pace dei portieri che spesso e volentieri sembrano davvero messi li a far numero.
Il gameplay (anche in questa occasione ispirato ai grandi del passato quali Kick Off, ed ora con gli aggiornamenti a Goal nonché a Sensible World of Soccer) è comunque costellato da buone idee come il tiro Slow-Mo-Banana-Bending-Technology che permette di rallentare il tempo e di applicare quanti più effetti dare alla sfera calciata. I risultati sono tiri spettacolari che spesso e volentieri freddano i portieri.
Nel corso di questi mesi si sono fatti passi avanti nel gameplay migliorandone un po' le spigolature, aggiungendo le regole reali (tranne il fuorigioco) e dando centinaia di modi di segnare.
L'auspicio è che i portieri ma anche l'intelligenza artificiale migliori al punto di non permettere facilmente certe cose ma non di escluderle totalmente. Fare un dribbling stretto al portiere e piazzare la palla a porta vuota è una sensazione che ci inebria e che non vorremmo perdere. Ma è altrettanto vero che non si può segnare con tiri da 30 metri che lasciano gli estremi difensori fermi.
Divertente la possibilità di giocare in diversi campi (e scegliere se giocare con visuale orizzontale o verticale dall'alto o "classica" in stile 16 bit), tra cui anche il campo ghiacciato ed il campo da calcetto per partite 5 contro 5 e quindi di mettere tra le opzioni il calcio a 5 che manca. Ma Super Arcade Football ha anche il pregio di poter aggiungere regole folli come ad esempio giocare con i portieri addormentati, o aggiungere la caduta casuale di meteoriti che se colpiscono i giocatori ovviamente li rendono inutilizzabili per diversi secondi, oppure giocare senza le rimesse laterali e molto altro.
Ne nascono partite folli e divertenti. Sono state aggiunte alcune competizioni ma siamo certi che bolle molto altro nel calderone degli sviluppatori al quale facciamo un applauso per lo stile grafico che è stato mantenuto nel tempo ed anzi, migliorato che è uno dei tratti distintivi di questo titolo ad alto potenziale.
ACTIVE SOCCER 2DX (GIANLUCA TROIANO) DISPONIBILE SU XBOX ONE, PS4 E PS VITA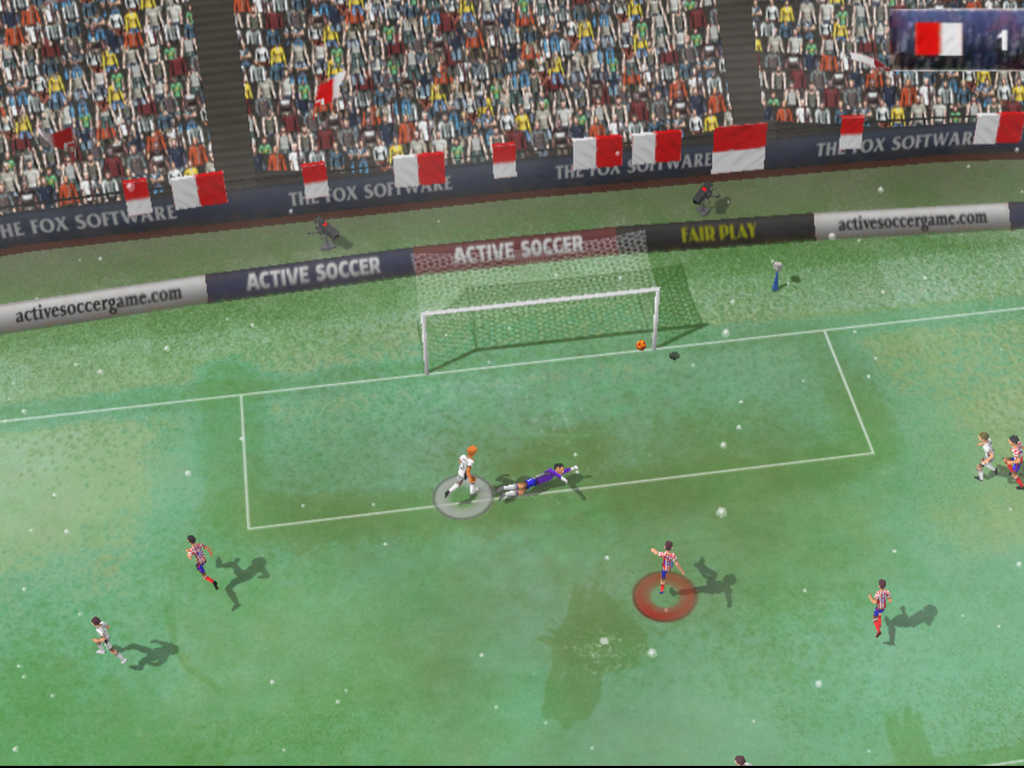 Cercate una via di mezzo tra Sensible World of Soccer e Kick Off 2? Al momento, il gioco più vicino è senza dubbio Active Soccer 2DX firmato dall'italiano Gianluca Troiano. Da vero appassionato, lo sviluppatore ha saputo raccogliere il meglio dei due classici nominati più volte in questo speciale.
Il gameplay è un mix tra i due giochi con controlli semplici, immediati ed intuitivi. In campo è possibile alternare dialoghi ariosi a dribbling stretti che esaltano le folle, o trovare la via della rete con tiri di devastante potenza o di deliziosa precisione.
Ma è possibile prendere parte a tantissimi campionati e fare una modalità carriera del tutto simile a quella di Sensible World of Soccer. Divertente e gradevole avrebbe bisogno forse di qualche ulteriore miglioria nell'aspetto grafico, gradevole comunque ma decisamente troppo scarno (ma qui si tratterebbe di assumere uno staff perché stiamo pur sempre parlando del lavoro di una persona e di qualche altro collaboratore, ndr), mentre il gameplay con qualche accorgimento supplementare potrebbe dare seriamente filo da torcere anche ai giochi che la fanno da maggiore. Peccato che non esista una versione Pc di questo titolo nato da un progetto per dispositivi mobile. Che si stia pensando ad Acrive Soccer 3? Speriamo.
NATURAL SOCCER (THORSTEN SCHLEINZER) STEAM
Uscito a febbraio del 2015 ma sempre in aggiornamento con miglioramenti ed aggiunte, Natural Soccer è chiaramente ispirato a Kick Off 2. Il chiaramente è giustificato dal fatto che troviamo moltissime similitudini sia grafiche che nel gameplay.
Gameplay duro ma sicuramente di discreto valore, Natural Soccer offre una buona sfida e sicuramente ricorda il capolavoro da vicinissimo di Dino Dini. Da poco inoltre è stata aggiunta la funzionalità per giocare partite in rete mentre è possibile scegliere tra telecamera orizzontale e verticale con vista dall'alto ovviamente.
DINO DINI'S KICK OFF REVIVAL STEAM
Dino Dini ha portato da qualche tempo una versione più moderna di Kick Off 2. La fisica è estremamente dura e non si tratta del solito gioco di calcio dalla curva di apprendimento molto facile. Tutt'altro. Sembra quasi QWOP per certi versi perché è difficile all'inizio fare azioni degne di nota.
Troppo poco immediato anche se con il duro allenamento si riescono a raggiungere livelli decenti e qualche soddisfazione ma titolo decisamente vuoto di cose da fare. Ci sono una sorta di Europei e poi ben poco altro, oltre alla modalità allenamento ed alle amichevoli. Ad ogni modo se non temete le figuracce, avete tempo e pazienza per imparare, questo Dino Dini's Kick Off Revival uscito su PS4 e PS Vita e più recentemente (il 12 settembre scorso) su Steam può essere interessante.
AFTERTOUCH SOCCER (KICK OFF WORLD TEAM) DISPONIBILE SUL LORO SITO UFFICIALE
Chiudiamo la carrellata con un titolo indie che omaggia Kick Off 2. Si tratta di Aftertouch Soccer un gioco tributo realizzato dal Kick Off World Team il quale cura il tributo anche per Player Manager.
Troviamo un gioco molto simile a Kick Off 2 ma decisamente potenziato sia per quanto riguarda un po' la grafica, i cui asset sono stati offerti da Steve Screech (l'autore delle grafiche dell'originale Kick Off) che nel gameplay con la possibilità di aggiungere il doppio effetto disegnando traiettorie uniche e spettacolari con mine impressionanti o angolazioni più difficili da intercettare per gli estremi difensori.
A questo aggiungiamo tantissime squadre, alcune competizioni, qualche campo supplementare e l'atmosfera che esisteva nel Kick Off 2 originale. Lo abbiamo premiato tantissimo con un eccellente 9-
L'articolo Speciale calcio indie, i giochi da tener d'occhio sembra essere il primo su IlVideogioco.com.