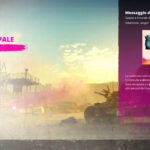 A distanza di circa un anno da Mad Max, Avalanche Studios torna con un nuovo gioco a tema post-apocalittico col seguito di uno dei suoi vecchi cavalli di battaglia, ovverosia l'ottimo Rage. Un gioco sul quale c'erano molte aspettative, non solo per il "nome", ma anche per la presenza durante il suo sviluppo addirittura di id Software in qualità di supervisore. Ebbene, lo diciamo subito, nonostante le premesse Rage 2 non è purtroppo quel grande sparatutto in soggettiva che molti si aspettavano, come avremo modo di spiegarvi tra poco.
Ecco, infatti, la nostra recensione sulla versione Pc del gioco che ha fatto il suo debutto lo scorso 14 maggio anche su PS4 ed Xbox One distribuito da Bethesda. Buona lettura.
DOPO L'APOCALISSE
Rage 2 riparte trent'anni dopo il primo episodio, in un mondo distopico devastato dall'impatto con un asteroide in cui società, legge e ordine non esistono. Come se non bastasse c'è perfino un gruppo di invasati chiamato Autorità che vuole eliminare tutto quello che è rimasto della società passata, quindi anche molte comunità. Non a caso anche il quartier generale della resistenza, di cui fa parte il protagonista del gioco, il ranger Walker (nessun legame con Chuck Norris!), viene attaccato e distrutto.
Rimasto solo e senza equipaggiamento, il giocatore, nei panni del ranger, deve trovare le risorse utili per sopravvivere e vendicarsi, affrontando nemici senza scrupoli, dai mutanti ad altri superstiti folli e sadici, a loro volta membri di diverse fazioni. Oltre a quella dell'Autorità, infatti, esiste per esempio quella dei Sudari Immortali, che si vedono come i salvatori della Zona devastata, o i Bulli, nomadi dall'indole brutale, assetati di sangue disposti a tutto pur di ottenere bottino e potere. Le fazioni in gioco sono in totale sei, e ciascuna è caratterizzata da un proprio codice comportamentale, armi, equipaggiamenti, modi di combattere e caratteristiche generali.
Da questo punto di vista il team di sviluppo ha fatto un buon lavoro caratterizzando bene i vari gruppi non solo dal punto di vista estetico ma anche nel modo di agire e combattere.
Peccato solo che non abbiamo "forzato" un po' di più sulle loro routine comportamentali, che distinguono si una fazione dall'altra, ma che poi sul campo si traducono spesso in azioni similari tra loro. La struttura di gioco è quindi quella tipica di Rage, ma un po' più aperta rispetto al precedente titolo della serie, con un territorio più grande da esplorare anche con l'ausilio di veicoli, pieno zeppo di cattivi da eliminare e gare da affrontare, ma poco interessante nel suo insieme.
Dopo un paio di ore di gioco, ci si rende infatti conto che il mondo di Rage 2 è povero di contenuti tali da invogliare a scoprirlo per intero, di eventi, anche casuali, che una volta attivati portino ad "aprire" nuovi scenari e inattesi sviluppi. In tal senso ci sono poche missioni secondarie, spesso slegate dal contesto narrativo principale, che non portano tra l'altro a ricompense particolarmente appetibili e che nello svolgersi tendono dopo un po' a ripetersi, come nel caso di quelle utili a incrementare il livello delle tre fazioni alleate durante fasi di grinding selvaggio.
In quest'ottica non aiuta nemmeno la disposizione sulla mappa delle Arche all'interno delle quali si trovano gli elementi utili per sviluppare le abilità di Walker, visto che è casuale, cosa che costringe l'utente a girovagare inutilmente per ore per trovarle o a perdersene qualcuna, stufo. Se poi consideriamo che la campagna in sé non dura molto, meno di una decina di ore, ecco che nasce un doppio problema, ovverosia rischio noia e scarsa longevità. Invece che popolare la mappa con nuove missioni e attività tramite DLC a pagamento già annunciati per il futuro, e pensare quindi al mero guadagno, non avrebbe avuto più senso e non sarebbe stato più corretto integrare questi aspetti nel gioco base per migliorarne da subito la struttura e l'offerta?
LA SOLITA MINESTRA?
A tenere a galla la produzione sono quindi il sistema di progressione del personaggio insieme al gunplay e alle parti dedicate alla guida dei veicoli. Il sistema di gestione delle sparatorie è fortunatamente ottimo, col videogiocatore chiamato a sfruttare al meglio il variegato armamentario messo a disposizione dagli sviluppatori per venire a capo degli scontri, che risultano pertanto frenetici e avvincenti, nonostante richiedano poco impegno.
Il crafting legato alle armi e il loro diverso feedback sul campo, anche in termini di utilità, sono una delle cose meglio riuscite del gioco, così come lo sviluppo delle abilità di Walker, legate alla funzionalità della sua tuta. Diverse in tal senso le competenze del personaggio su cui intervenire: esse sono correlate principalmente alle funzioni nanotritiche e spaziano da abilità cinetiche con le quali respingere letteralmente via un nemico, al sistema Vortice, col quale risucchiare un gruppo di avversari, fino a Scatto, che consente di attraversare velocemente l'area dello scontro per colpire rapidamente gli avversari o evitare i loro colpi anche attraverso salti estesi. E questo solo per fare alcuni esempi.
Al giocatore viene insomma offerta l'opportunità di divertirsi a "giocare", sperimentare nuove e devastanti combinazioni di armi e tecniche, grazie a un sistema articolato e ricco di opportunità. In quest'ottica va vista anche la possibilità, come accennato prima, di poter guidare dei veicoli. Ce ne sono, modificati, di ogni tipo, utili e differenziati sia per attraversare aree specifiche della Zona devastata, sia per combattere le varie tipologie di nemici.
Motori come lo splendido Raptor, l'Idroscivolante per solcare i fiumi e le paludi, e poi auto da corsa, corazzati come la Phoenix e grossi Monster Truck con i quali schiacciare ogni cosa, fino a insoliti velivoli coi quali sorvolare le foreste. Tutti tra l'altro customizzabili. Usare uno di questi mezzi è un vero e proprio spettacolo, e giocando non può non venire in mente quanto accadeva in pellicole come Mad Max. Specie quando poi si ha a che fare con i convogli, vere e proprie fortezze mobili gigantesche, scortate da decine di altre vetture più piccole.
Assaltarne uno significa rivivere le emozioni della sopra citata pellicola, a ulteriore conferma che Rage 2 non propone nulla di particolarmente originale, nulla che non si sia già visto e che per larghi tratti ricordi il recente Far Cry New Dawn di Ubisoft che già di per sé non era molto originale visto che si rifaceva idealmente al primo Rage. Passando ad altro, dal punto di vista tecnico Rage 2, che utilizza il motore di gioco Apex di Avalanche Studios, sfrutta solo discretamente le capacità hardware delle nuove schede grafiche, non riuscendo da questo punto di vista a rivaleggiare alla pari con gli altri esponenti del genere più recenti su Pc. La grafica in generale è buona. E l'impatto visivo non delude nell'insieme, complici un buon sistema di luci e ombre, il sapiente uso degli effetti particellari e la scelta di una palette cromatica colorata e in alcuni punti satura.
Ma i modelli poligonali, alcune texture e in generale le animazioni dei personaggi, che non brillano troppo per scaltrezza a causa di una intelligenza artificiale non troppo "sveglia" e routine comportamentali a volte insensate, non sono all'altezza delle aspettative. Va meglio col level design degli ambienti, abbastanza variegati e con qualche scorcio azzeccato, specie nelle aree delle Piane Lacerate o del mare di Dune, e con la fluidità generale, garantita su personal computer a 60fps.
Per quanto riguarda il comparto sonoro, ottimi gli effetti principali e secondari, compresi quelli di sottofondo, e la colonna sonora, in linea con le ambientazioni. Così così invece il doppiaggio in italiano, che alterna qualche voce bene interpretata ad altre decisamente sottotono e fuori contesto, incapaci cioè di evidenziare con la tonalità della recitazione e con la loro partecipazione emotiva, il carattere del protagonista e degli antagonisti, oltre a quella folle ironia di fondo che permea il gioco.
COMMENTO FINALE
Rage 2 riparte esattamente dal suo predecessore, non solo dal punto di vista narrativo, ma anche tecnico, non riuscendo quindi a far evolvere più di tanto la serie.

Di fatto è un "more of the same" che mutua gran parte del gameplay e della struttura di gioco dal primo capitolo. Il gioco si rivela uno sparatutto folle, colorato e caratterizzato in positivo da una buona grafica, ottimi elementi GDR e un bel sistema di gestione delle sparatorie. In negativo da una poco interessante struttura della progressione, da una mappa che offre pochi contenuti e da un'intelligenza artificiale non sempre all'altezza delle situazioni. Insomma, uno strano ibrido bello a metà, consigliato pertanto principalmente ai fan di Rage.
L'articolo Rage 2, Recensione proviene da IlVideogioco.com.
Fonte: Rage 2, Recensione