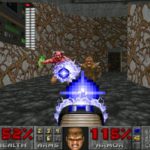 Tante le novità in arrivo dal QuakeCon 2019. Bethesda ha presentato tanti giochi come ad esempio la nuova sessione di gioco per la modalità BattleMode di Doom Eternal, svelato nuovi titoli della serie Doom in arrivo su console e dispositivi mobili.
Ma non sono mancate informazioni sul futuro di Rage 2 e festeggiato l'esordio di Wolfenstein: Youngblood e Wolfenstein: Cyberpilot.
Sarà possibile seguire la diretta streaming anche sul canale Youtube di Bethesda.
A seguire, inoltre, i vari dettagli. Buona visione e buona lettura.
DOOM ETERNAL
Nel corso della presentazione QuakeCon: Year of DOOM, il produttore esecutivo Marty Stratton e il direttore creativo Hugo Martin di id Software hanno fornito altre informazioni sulla nuova modalità PvP di Doom Eternal, Battlemode che, ricordiamo, è stata presentata allo scorso E3 2019 di Los Angeles.
Progettata da zero in parallelo con la campagna per giocatore singolo, questa è una nuova modalità multiplayer in cui due demoni controllati da giocatori si avvalgono di abilità e armate demoniache per abbattere l'avversario, ossia un giocatore che impersona un Doom Slayer armato fino ai denti.
Sono stati forniti anche nuovi dettagli sulle arene di Battlemode, sui demoni giocabili e sulle loro abilità speciali. Visitate slayersclub.com per saperne di più e prenotare subito Doom Eternal per ottenere il pacchetto Rip and Tear, che contiene elementi bonus tra cui la skin Doom Revenant da usare nella nuova modalità.
TITOLI DOOM CLASSICI
Bethesda ha grandi cose in serbo per il 25° anniversario di Doom. Annunciati DOOM (1993), DOOM II e DOOM 3 che sono disponibili sulle piattaforme attuali. A partire da oggi, è possibile scaricare i primi due episodi su PlayStation 4, Xbox One, Switch e dispositivi iOS e Android. Doom 3, invece, è disponibile su Switch, Xbox One e PlayStation 4.
Guardiamo il nuovo trailer che omaggia l'arrivo di questi titoli classici sulle attuali piattaforme:
USCITA E TRAILER DI WOLFENSTEIN: YOUNGBLOOD
Le due incredibili figlie di B.J., Jess e Soph, irrompono ufficialmente sulla scena nazista con la pubblicazione odierna di Wolfenstein: Youngblood, disponibile ora su Pc, PlayStation 4, Xbox One e Switch.
TRAILER DI RAGE 2
La follia di Rage 2 è ben rappresentata nell'ultimo trailer qui di seguito che presenta contenuti del recente aggiornamento tra cui Nuova partita+, difficoltà Ultra incubo, pacchetto vocale B.J. Blazkowicz ed altro.
ANNUNCIATA LA DATA DEL QUAKECON 2020
Il publisher ha comunicato i dettagli per il QuakeCon del prossimo anno. Il QuakeCon 2020 si terrà dal 6 al 9 agosto sempre presso il Gaylord Texan Resort and Convention Center di Grapevine, Texas.
TORNEI ESPORT
È possibile seguire la diretta per tutto il weekend con due importanti tornei eSport al QuakeCon:
The Elder Scrolls Legends Masters Series – La competizione è iniziata ieri alle 17, ora italiana, e le finali si terranno nella notte di oggi all'1 italiana. Seguite la diretta qui: https://www.twitch.tv/teslegends.
Quake Pro League – Le finali si terranno domenica alle 22, ora italiana. Seguite lo streaming su https://www.twitch.tv/quake.
IN CORSO LE OFFERTE DEDICATE AL QUAKECON
Fino al 30 luglio, ci sono sconti fino all'80% su PC e fino al 50% su console per titoli Bethesda selezionati su varie piattaforme e in vari negozi.
Oltre ai giochi completi, sarà possibile risparmiare con gli sconti del QuakeCon anche su The Elder Scrolls: Online con i pacchetti di valuta Crown da utilizzare nel Crown Store di ESO per acquistare una vasta gamma di oggetti estetici, cavalcature, potenziamenti e altro.
Solo rivenditori partecipanti, fino a esaurimento scorte. La durata delle offerte del QuakeCon, i giochi interessati e il valore degli sconti potrebbero subire variazioni.
IMMAGINI
Vi proponiamo le gallerie di immagini diffuse da Bethesda, publisher dei vari giochi, in occasione della QuakeCon 2019. Eccole.
DOOM 1993
DOOM 2…
… DOOM 3
E DOOM ETERNAL
L'articolo QuakeCon 2019, tutte le novità proviene da IlVideogioco.com.