Planescape: Torment e Icewind Dale, rappresentano due modi diversi, quasi opposti di vedere i giochi di ruolo.
Da una parte, un rpg a tutto tondo dove la storia la fa da padrone pur con una certa dose di libertà. Una sceneggiatura degna di un ottimo film, personaggi caratterizzati e ben definiti, e una serie di sidequest splendide fanno di Torment un gioco di ruolo una spanna sopra ai Baldur's Gate. Icewind Dale dal canto suo, propone un'avventura lineare, in certi versi simile ad una sessione cartacea vera e propria, con missioni a "moduli" e un party tutto da costruire, dove la storia è sì importante, ma laterale rispetto a strategia e combattimento. Come se la saranno cavata queste due perle uscite su Playstation 4, ma anche sulle altre console, lo scorso 15 ottobre?
Scopritelo insieme a noi in questa nostra recensione.
GEMELLI DIVERSI
Entrambi i titoli proposti in questa piccola collezione, differiscono sotto diversi aspetti, anche se confrontati con la saga di Baldur's Gate. L'unico punto in comune di tutte queste produzioni, oltre all'elevato livello qualitativo, è l'essenza del gioco di ruolo. Ma nello specifico, perché è così difficile rapportarsi con i due titoli proposti in questa "compilation"?
Per darvi una risposta adeguata, è bene approfondire i concetti alla base del ruolo che avremo nelle due avventure. Planescape: Torment, propone un cast eccezionale di personaggi, che seguono le avventure del protagonista con cadenza perfetta, senza esserne eccessivamente vincolati, sovrapponendo una sorta di "velo" dal classico party che segue l'eroe di turno senza il minimo compromesso.
Questa caratteristica, unita ad una scrittura a dir poco fantastica e ad una sceneggiatura finora imbattuta nel mondo dei rpg, rende Planescape: Torment IL gioco di ruolo per eccellenza. Per di più che l'ambientazione Planescape, è tutto fuorchè semplice da riprodurre in termini ruolistici, perché si basa su una serie di multiversi legati tra loro. Uscito nel 1999, venne letteralmente acclamato dalla critica, ma si rivelò un fallimento in termini commerciali. Nell'anno d'uscita, furono vendute soltanto 100.000 copie, rendendolo di fatto un flop senza una vera e propria spiegazione.
Il nostro personaggio, il Nameless One (il Senza Nome), si risveglia nell'obitorio della città dei morti, senza alcun ricordo a parte alcuni flash. Morte, un teschio senza corpo che sarà anche il nostro primo compagno, ci aiuterà durante il corso dell'avventura, rivelandosi uno dei personaggi meglio riusciti dell'intera storia. Il tutto, contornato da momenti in cui battute più o meno acide spezzeranno la tensione.
Icewind Dale, arrivò sugli scaffali dei negozi nel 2000, e come per i Baldur's Gate e Planescape Torment, si basa sulle regole del D&D e sfrutta l'Infinity Engine. La storia è ambientata nella Valle del Vento Gelido, una regione dei Forgotten Realms che qualcuno ricorderà per il ciclo delle Terre Perdute di R.A. Salvatore. A differenza degli altri 3 titoli, questo gioco fonda le sue radici su una narrazione più debole e laterale, mentre a farla da padrone sarà la profonda dose di strategia necessaria a superare ogni scontro. Se volessimo estremizzare, potremmo definirlo la versione "action oriented" dei giochi di ruoli made in Black Isle Studios.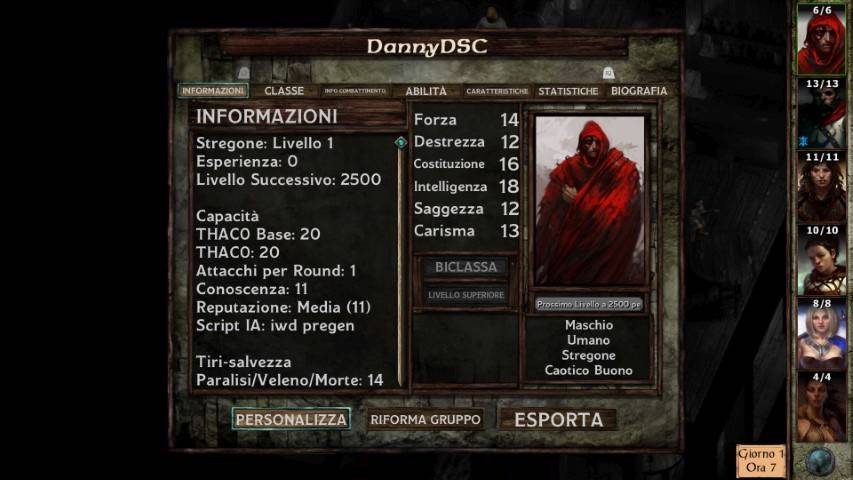 Altra differenza introdotta, è la costruzione intera del party ad inizio partita. Infatti, mentre negli altri giochi il nostro protagonista veniva accompagnato da personaggi con background e caratteristiche proprie, in Icewind Dale saremo noi a decidere la composizione di ogni personaggio, permettendoci di descriverne persino la storia.
Al di là delle mere informazioni però, la creazione di un party bilanciato e adatto al nostro stile di gioco è letteralmente fondamentale, pena l'impossibilità di continuare la nostra avventura dopo pochi scontri.
Il gioco, inizia con la storia di Jerrod, un barbaro sciamano sacrificatosi per salvare Icewind Dale da un'invasione demoniaca. In seguito a questi eventi, la nostra compagnia partirà alla volta di Easthaven in cerca d'avventura.
La costituzione dell'intero party, unita al gameplay a missioni, fa di questo gioco il più simile ad un'avventura cartacea. Infatti, come per una serata in compagnia di qualche amico, avremo un'avventura principale che si snoda attraverso vari luoghi e "livelli", scontri più o meno complicati con diverse creature, una conclusione spesso scontata ma affine alle vicende di fondo.
Grazie a questa combinazione particolare, Icewind Dale è stato un successo sia di pubblico che di critica, e alla fine del 2000 le copie vendite si aggiravano intorno alle 350.000 copie.
PLANESCAPE: TORMENT ED ICEWINDALE, IL PORTING
Ora che abbiamo fatto un veloce excursus su ciò che i due titoli hanno da offrire, andiamo ad analizzare il comportamento dei due titoli su console. Come per Baldur's Gate, il lato puramente estetico non rappresenta un problema, e anche lo zoom che va a "distorcere" le texture, è parte integrante di un compromesso impossibile da risolvere.
Impossibile, a meno di non ricreare completamente la grafica partendo da texture ad alta definizione, ma è una discussione prettamente accademica in quanto questo tipo di lavoro richiederebbe una mole di risorse tale da scoraggiare qualsivoglia progetto. E forse, soprattutto per i puristi, non sarebbe nemmeno corretto. Infatti, questi giochi vanno goduti per ciò che offrono in termini di storia e gameplay, non certo per l'aspetto estetico.
Ma come per la recensione della saga di Baldur's Gate, non possiamo non notare quanto questi porting siano realizzati frettolosamente, o con poca cura verso il pubblico console. Rendere fruibile via joypad un gioco complesso e che si adatta perfettamente al mouse, è impresa ardua. Di conseguenza, come per la grafica, anche sul fronte controlli ci sarà bisogno  di un po' d'impegno e volontà da parte del giocatore, che verrà ampiamente ripagata con ore ed ore di divertimento.
Di contro, abbiamo due interfacce prese interamente dalle versione Pc, che vanno a "rubare" una porzione di schermo troppo ampia. Abbiamo già detto che esistono modifiche ad hoc che rendono fruibile il prodotto con un UI "minimale", perfetta per i televisori di grandi dimensioni. Eppure, si è scelto un lavoro più facile e veloce. È un peccato perché entrambi i titoli, avrebbero meritato più cura. Se confrontati con le interfacce di Pillars of Eternity, e Divinity Original Sin, tralasciando in toto il lato estetico, il confronto è impietoso.
L'opzione di gestire la dimensione dei caratteri è rimasta, e questo renderà la vita sensibilmente più semplice di chi non gioca di fronte allo schermo.
Insomma, i problemi rilevati nella precedente recensione si ripresentano anche qui, con un'aggravante non da poco. Infatti, mentre Icewind Dale è interamente fruibile in Italiano, Planescape: Torment è rimasto in lingua inglese. All'inizio del 2000, qualche anno dopo l'uscita del gioco, il team Italian Translation Project (cui dobbiamo anche la traduzione di The Elder Scrolls III: Morrowind), realizzò una traduzione del gioco, molto ben fatta tra l'altro. Il frutto di tutto questo impegno, fu di rendere fruibile l'intera esperienza anche a chi non aveva dimestichezza con la lingua della regina, compreso chi scrive oggi questa recensione.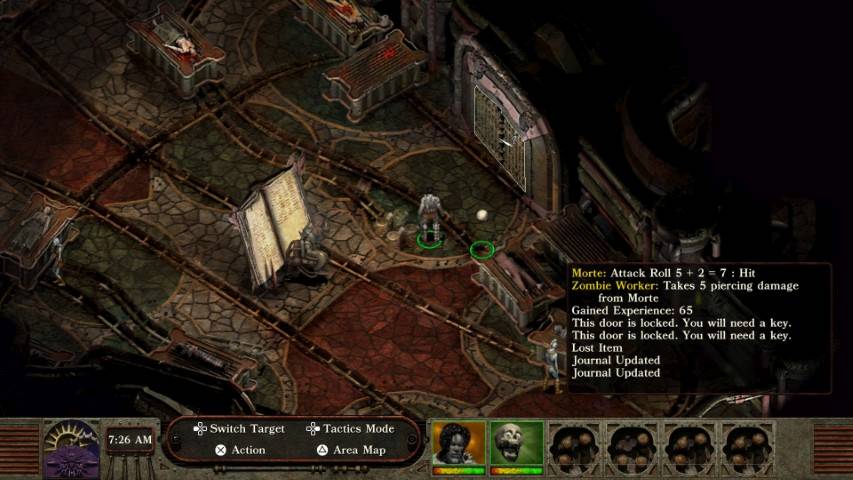 Durante lo sviluppo della enhanced edition ad opera di Beamdog, il team che ha lavorato sulle ritraduzioni di Baldur's Gate, gli Allegri Buffoni, si mise immediatamente all'opera per fornire una traduzione adeguata e rinnovata, basata proprio su quella dell'Italian Translation Project.
I lavori sono finiti nell'estate di quest'anno, ma tutto il materiale è rimasto bloccato poiché lo sviluppatore non ha permesso al team di traduzione la consueta fase di testing, che avrebbe preceduto l'uscita ufficiale della patch.
Il tutto, si risolverebbe inserendo nel tool di traduzione il materiale in italiano, ma ad oggi, nonostante le numerose richieste, Beamdog fa orecchie da mercante, e francamente riteniamo questo comportamento al limite della maleducazione, soprattutto perché non è stata data alcuna spiegazione. In realtà, la politica delle traduzioni dello sviluppatore ha sempre scoraggiato la fandom italiana, che si è confrontata spesso con problemi che altre compagini (ad esempio quella ceca e quella coreana) non hanno mai incontrato.
Confidiamo che in futuro questo problema venga risolto, ma fino ad allora e lo ammettiamo a malincuore, Planescape: Torment risulterà praticamente ingiocabile per chi non ha dimestichezza con l'inglese.
Ci sono prodotti, come i Legend of Heroes: Trials of the Cold Steel (genere completamente diverso è vero, ma è ottimo come esempio), il cui inglese è basilare e perfetto anche per chi non ha una conoscenza molto approfondita.
Ma un gioco dove i dialoghi e le sfumature sono letteralmente fondamentali come Torment, non è un mero esercizio di miglioramento del proprio bagaglio linguistico, ma una tortura che dopo poche ore causerà tedio, fino al ritorno alla schermata home per giocare a qualcos'altro. Tra l'altro, scoprire che il menu principale è localizzato e poi il gioco "ricarica" il menu in inglese non è un buon biglietto da visita.
COMMENTO FINALE
Due pietre miliari della storia dei giochi di ruolo sono finalmente approdate su console, e rivali ne hanno ben pochi. Due storie diametralmente opposte, due gameplay differenti, eppure così tanto gioco di ruolo da arrivare a stancare. Se volete rimanere catturati dal genio di una scrittura degna di un film, Planescape: Torment vi rimarrà in testa negli anni a venire.

Se volete mettere alla prova le vostre abilità strategiche, e la vostra conoscenza delle meccaniche del D&D, Icewind Dale garantirà una sfida bilanciata e a tratti anche frustrante, ma appagante. Rimane il boccone amaro per la mancata traduzione delle avventure del Nameless One, l'interfaccia non adatta ai TV, e alcuni problemi di pathfinding dei personaggi. Questo fardello, pesa ancor più considerando il prezzo dell'offerta, 54,99 euro, pur amando entrambi i titoli. Voto alla qualità del porting 6.
L'articolo Planescape: Torment e Icewind Dale, Recensione PS4 proviene da IlVideogioco.com.