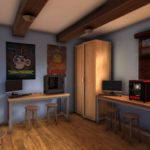 Pc Building Simulator lascerà la fase di accesso anticipato il 29 gennaio. The Irregular Corporation, editore e sviluppatore indipendente brittanico, sta apportando gli ultimi ritocchi per poter rilasciare la versione finale.
Il titolo è diventato una completa simulazione che permette ai giocatori di imparare a costruire il proprio personal computer.
La fase di accesso anticipato ha ricevuto aggiornamenti costanti sin da marzo dello scorso anno. Questi  hanno permesso a The Irregular Corporation di aggiungere una serie di nuove caratteristiche. Tra queste ricordiamo il raffreddamento a liquido personalizzato, la gestione dei cavi, l'overclocking, oltre 200 nuovi componenti su licenza. L'aggiunta di ulteriori componenti e nuovi aggiornamenti sono già pianificati per i prossimi mesi e il termine della fase di Accesso Anticipato non comporterà la fine di nuovi contenuti per Pc Building Simulator.
Dopo un ottimo periodo in accesso anticipato, dove abbiamo potuto contare su un incredibile supporto dalla nostra community, siamo davvero entusiasti di dare inizio a un nuovo capitolo della storia del nostro gioco, ora che le principali funzioni sono state completate. Una volta terminato il periodo di Accesso Anticipato, speriamo di condividere la gioia dell'assemblare un pc con il maggior numero di persone possibile.
Cosi ha dichiarato Stuart Morton, di The Irregular Corporation.
Pc Building Simulator consente ai giocatori di gestire il proprio laboratorio per riparazioni di computer e prendersi cura di tutto. Dalla semplice diagnosi o agli aggiornamenti di routine fino alla creazione di computer su misura. Grazie a un catalogo sempre in espansione, si potrà realizzare la propria configurazione nella modalità Free Build utilizzando componenti reali di case di produzione partner come AMD, ASUS, CORSAIR, EVGA, Fractal Design, GIGABYTE, MSI, NZXT e Razer e scoprire quanto sia performante utilizzando la simulazione di un software di benchmark come 3D Mark.
Il prezzo, prima del termine della fase early access il 29 gennaio, è di 19,99 euro.
L'articolo Pc Building Simulator, l'early access chiude il 29 gennaio proviene da IlVideogioco.com.
Fonte: Pc Building Simulator, l'early access chiude il 29 gennaio