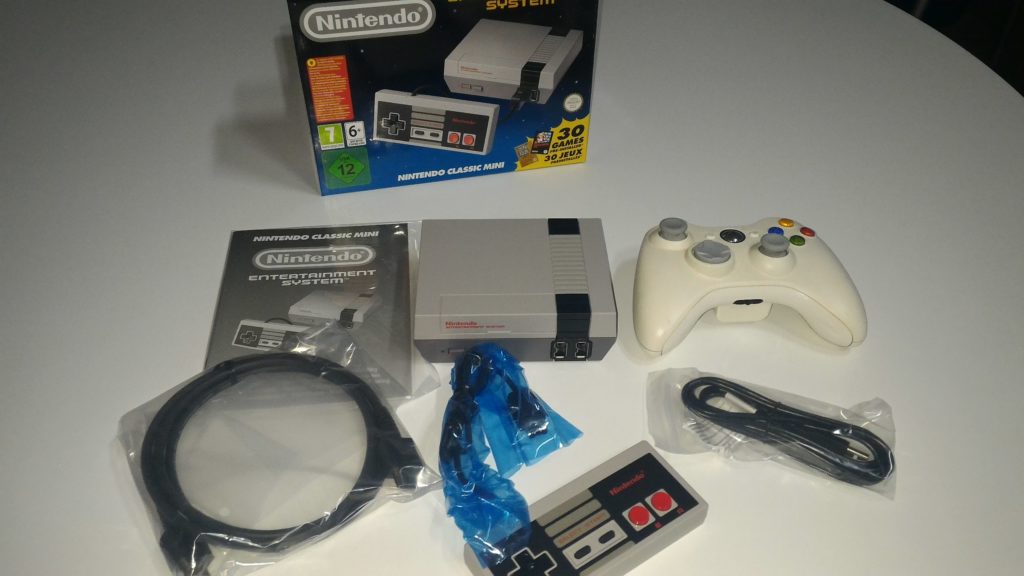 Lo scorso 11 novembre si è riscritta la storia: Nintendo Classic Mini: Nintendo Entertainment System è arrivato nei negozi e i pochi fortunati che lo hanno prenotato hanno fatto un salto nel passato di ben 30 anni. Era, infatti, il primo settembre 1986 quando in Europa arrivava una console a 8-bit dal Giappone, il mitico NES (acronimo di Nintendo Entertainment System) che con l'eterno ed immortale Super Mario Bros ha introdotto al nostro passatempo preferito almeno tre generazioni di appassionati.
Chi vi scrive, un po' per lavoro e un po' perché non ha mai avuto il Nintendo a casa, lo ha prenotato e lo ha provato. Così eccoci a parlare di questo piccolo oggetto di culto di cui nessuno parlava e che adesso tutti vogliono, pagando anche più del dovuto. Questa non vuole essere una recensione: parliamo di una console che non ha segreti e di videogiochi che, a distanza di trent'anni o poco meno, non hanno più nulla da nascondere tranne – forse – un fascino d'altri tempi, i tempi in cui la grafica, ancora, non batteva la fantasia e non era dominante quanto lo era oggi. I videogiochi, quelli più ricordati, erano fondati sulle emozioni, fossero semplicemente quelle scaturite dalle musiche 8-bit che accompagnavano le gesta del nostro alter-ego, che si trattasse di Mario, Link o Ryu Hayabusa.
COSA C'E' NELLA SCATOLA
Il Mini NES arriva confezionato in una scatola fatta su misura che rievoca i mitici anni '80. All'interno della confezione si trova, ovviamente, il Mini NES che è tanto piccolo da far tenerezza, si può tenere nel palmo di una mano e risulta essere più piccolo di un joypad (l'immagine scattata vale più di mille parole).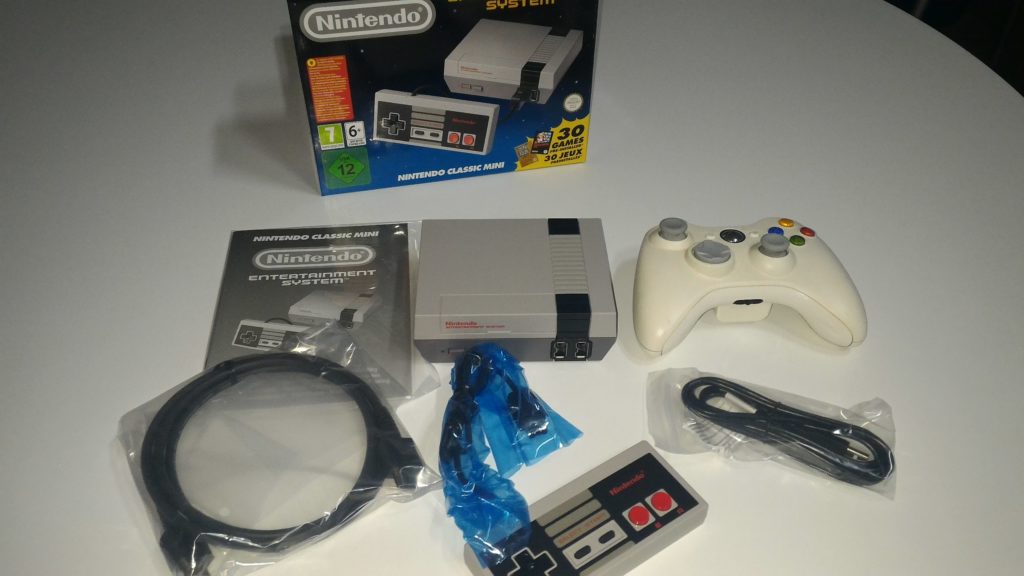 Oltre alla console si trova una replica del controller Nintendo, con croce direzionale, due pulsanti A e B, più i pulsanti "start" e "select". Con grande sorpresa non troviamo cavi di alimentazione nel senso classico del termine: al posto della classica "spina" ecco fare capolino un piccolo cavo Usb, che ogni televisore commercializzato negli ultimi dieci anni ha sul retro. Pertanto basta quella, al piccolo Nintendo, per accendersi. Per garantire la visione dei giochi ecco un lungo cavo Hdmi, classico e senza fronzoli, che proietta le vecchie glorie Nintendo in glorioso Full HD. Chiude l'elenco dei contenuti un corposo libretto di istruzioni in cui, tra le tante cose, c'è anche scritto che volendo possiamo attaccare il Mini NES alla presa di corrente (in maniera molto classica quindi) ma l'adattatore alla presa di corrente va comprato a parte.
Nessuna traccia fisica dei giochi, perché sono direttamente installati all'interno della console e sono eseguiti tramite emulatore. Non un emulatore qualsiasi, ovviamente, ma sviluppato interamente da Nintendo e – secondo alcuni appassionati ed addetti ai lavori – migliore di quello che riposa nelle Wii.
COSA C'E' SOTTO IL COFANO?
Qual è il motore che spinge questa mini console che rievoca i fasti del passato ad 8 bit? Su Reddit qualche giorno fa è sputata questa scheda con le componenti hardware che risulta essere più potente rispetto a quello del 3DS. Ve lo sareste immaginato?

SoC: Allwinner R16 (4x Cortex A7, Mali400MP2 GPU ad 1,2 GHZ se identica a quella in dotazione ad alcuni smartphone).
RAM: SKHynix (256MB DDR3)
Flash: Spansion 512MB SLC NAND flash, TSOP48PMU: AXP223

Decisamente tanta roba che permette di emulare al meglio i giochi e la loro gestione.
UN PO' DI STORIA
Appartenente alla Terza Generazione di computer e videogiochi, il Family Computer (conosciuto come Famicom in Giappone e Nintendo Entertaintment System nel resto del mondo) insieme al SEGA SG-1000 ha aperto la strada al glorioso ritorno dei videogiochi nelle case degli appassionati, dopo una profonda crisi vissuta tra il finire degli anni '70 e i primi anni '80. Era il 15 luglio del 1983 e i videogiochi erano ben diversi da quelli a cui siamo abituati in questi tempi. I tempi stessi, l'accessibilità ai videogiochi, i loro costi, erano notevolmente diversi.
Forte di 62 milioni di console vendute in tutto il mondo, la Terza Generazione di videogiochi è saldamente vinta da Nintendo con il suo indimenticabile Famicom/Nes, con buona pace per altrettanto leggendarie macchine quali SEGA Master System e Atari 7800.
QUALI GIOCHI CI SONO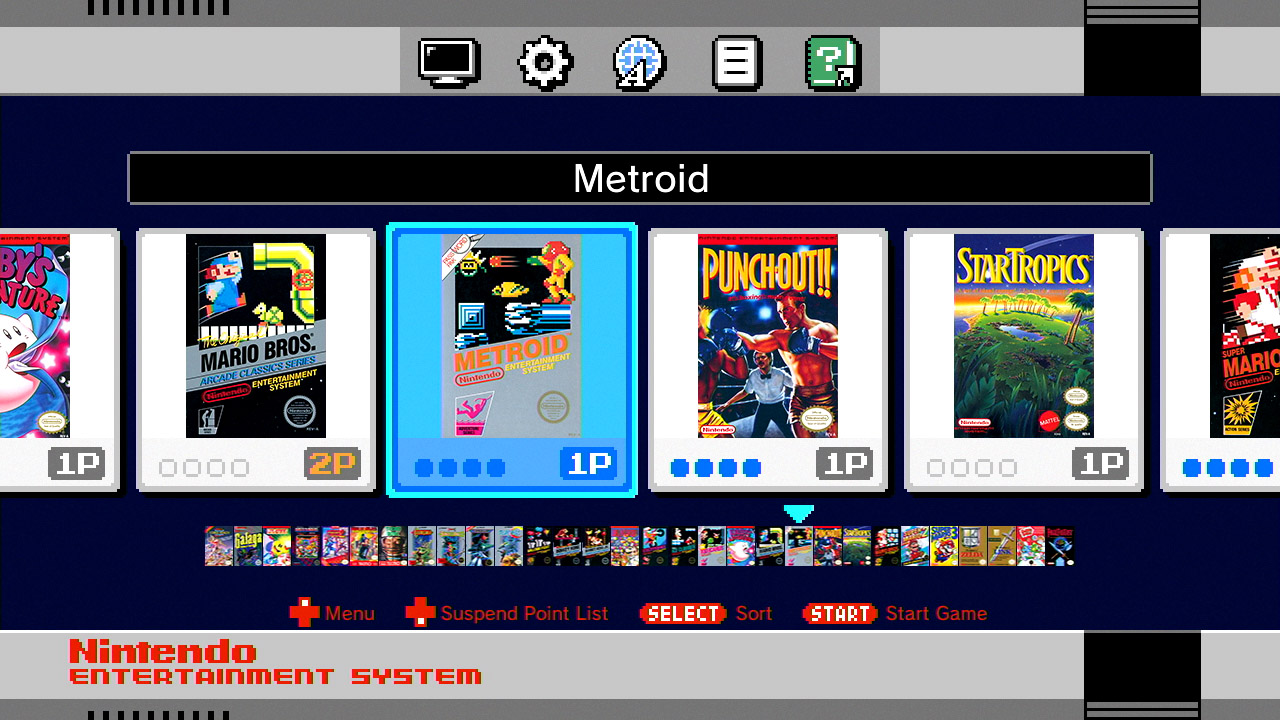 Il Mini NES accoglie esattamente trenta giochi, in maggioranza esclusive Nintendo dell'epoca, con qualche eccezione di terze parti. E' possibile, per alcuni giochi, salvare i progressi per riprendere la partita in tranquillità, dopo averla interrotta. Per la precisione i titoli che "riposano" dentro il Mini NES sono:
Balloon Fight
Castlevania
Castlevania II: Simon's Quest
Donkey Kong
Donkey Kong Jr.
Dr. Mario
Double Dragon II: The Revenge
Excitebike
Galaga
Ghost 'n Goblins
Gradius
Ice Climber
Kirby's Adventure
The Legend of Zelda
Mario Bros.
Mega Man 2
Metroid
Ninja Gaiden
Pac-Man
Super C.
Super Mario Bros.
Super Mario Bros. 2
Super Mario Bros. 3
Zelda II: The Adventure of Link
Bubble Bobble
Final Fantasy
Kid Icarus
Punch-Out!! Featuring Mr. Dream
StarTropics
Tecmo Bowl
ONLINE I MANUALI IN PDF
Nintendo ha inoltre messo a disposizione sul proprio sito a questo indirizzo i manuali in pdf dei titoli presenti sul Mini-Nes. Storia nella storia perché anche i manuali facevano parte integrante della confezione di un gioco. Era il completamento dell'opera ed in alcuni casi erano piccole opere d'arte.
ALLA SCOPERTA DELLE TRENTA PERLE DEL NES
Di seguito spenderemo due parole per ogni titolo, per aiutare i nostri lettori a ricordare meglio cosa e perché, probabilmente, è stato eletto da Nintendo come titolo da annoverare nel Mini Nes.
Ballon Fight: Ancor prima di essere concepito, Super Smash Bros trova in Balloon Fight un probabile antenato. Nato nel 1986 ed inspirandosi a Joust (classe 1982), Balloon Fight porta con sé il concetto di "arena" che pone i giocatori in competizione e in combattimento tra loro.
Castlevania: Il capostipite di una gloriosa serie di videogiochi che ha finito col coinvolgere anche Hideo Kojima, quando lavorava per Konami, al tempo di Lords of Shadow. Qui si torna alle origini, con Simon Belmont alla caccia di Dracula nel castello stregato di quest'ultimo.
Donkey Kong: L'appellativo di "uno dei più famosi videogiochi da sala-giochi di tutti i tempi" di Wikipedia potrebbe bastare a descrivere questa immortale bellezza a 8-bit in cui si introducono due icone di Nintendo (Mario e Donkey Kong)?
Dr. Mario: Un po' Tetris, un po' un puzzle-game, Dr. Mario espande uno dei più grandi classici della storia in un modo che solo Nintendo poteva concepire. Allineate le capsule di colore corrispondente al virus per debellarlo.
Double Dragon II: The Revenge: La vendetta di Billy e Jimmy è dietro l'angolo. Bisogna vendicare la morte dell'amata fidanzata di Billy e lo si fa a suon di calci e pugni nel sequel di uno dei più apprezzati picchiaduro di scorrimento di sempre, griffati Acclaim.
Excitebike: Chi vi scrive, quando vedeva Excitebike in azione, desiderava così forte un Nes da invidiare moltissimo i propri compagni di scuola che potevano giocarci a casa. Fra temperatura del motore da tener d'occhio ed una carriera da pilota di cross da conquistare, ce n'era abbastanza per fare felice ogni amante di velocità e motori.
Galaga: Sequel di Galaxian e naturale evoluzione di Space-Invaders da cui prende molte licenze poetiche. Galaga segna il punto di inizio per tutti quegli sparatutto che procedono "verso l'alto" che vengono sviluppati anche per smartphone e tablet ancora oggi.
Ghost 'n Goblins: La sua prima apparizione avvenne nel settembre 1985. Forse non sarà il primo platform a scorrimento di genere "corri e spara", ma a memoria non ce ne viene in mente un altro talmente bello ed epico sia da vedere che da ascoltare. Con quell'armatura che saltava al primo contatto con un nemico, e l'eroe avanzava stoicamente in mutande.
Gradius: Certamente non si tratta, in questo caso, del primo del suo genere. Ma indubbiamente Gradius è uno dei più spettacolari sparatutto orizzontali degli anni '80.
Ice Climber: Passa alla storia per essere uno dei titoli di lancio in Nord America, nonché spesso allegato alla console in vendita (i famosi bundle).
Kirby's Adventure: L'unico titolo della serie Kirby ad essere disponibile per il Nes. Tanto gli basta per essere un "must" per la console 8-bit di Nintendo.
The Legend of Zelda: Primo titolo di una serie – letteralmente – leggendaria. Più di sei milioni di copie vendute, uno dei primi giochi di ruolo in assoluto a prevedere una "memory card" o comunque un dispositivo per salvarne i progressi. The Legend of Zelda è semplicemente imprescindibile, un po' come Super Mario.
Mario Bros.: Prima ancora che Super Mario scrivesse la prima pagina del genere platform di nuova concezione, c'erano i Mario Bros a far divertire nelle case e nelle sale giochi, con una schermata statica, più livelli su cui saltare e creature da calciare.
Mega Man 2: per gentile concessione di Capcom, ecco il sequel di uno degli action-platformer più famosi di sempre.
Metroid: Anche nel caso di Metroid, stiamo parlando del primo, del capostipite, dell'inizio di una serie che fa "rima" con Nintendo, esattamente come Super Mario e Legend of Zelda. Serve aggiungere altro?
Ninja Gaiden: Il primo, arduo, mitico Ninja Gaiden di Tecmo nella sua incarnazione NES è tra i trenta fortunati esponenti dell'era a 8-bit. Non è la prima volta che lo vediamo in emulazione: lo era anche su Xbox, incluso come gioco da sbloccare in Ninja Gaiden, il reboot del 2004.
Pac-Man: L'uomo-palla più famoso del mondo, oggetto di film, studi, cartoni animati, fumetti, citazioni, l'icona di un'era lontana eppure vicina, altra "faccia" che identifica i videogiochi sotto una sola bandiera, l'orgoglio di Namco è pure su Mini Nes.
Super C: E' il titolo originale di Super Contra, il sequel diretto di Contra, il gioco "corri e spara" che ha per protagonisti due impavidi soldati che fronteggiano mostri e alieni di ogni tipo. Parliamo di due degli eroi più gettonati ai tempi in cui i vostri padri andavano alle sala-giochi.
Super Mario Bros.: Basta il titolo, no? Che altro ci sarebbe da dire sul gioco che ha cambiato il modo di videogiocare e di concepire ogni videogioco dopo di lui?
Bubble Bobble: Immancabili Bub e Bob, draghetti della Taito, icone del videogioco degli anni '80 e '90. Qui devono farsi strada tra livelli a schermata statica, difendendosi con il saggio uso di bolle di sapone. Sono draghetti acquatici, dopo tutto.
Final Fantasy: Mezzo mondo attende con ansia il quindicesimo capitolo della Fantasia Finale, mentre l'altra metà starà probabilmente giocando al primo, quello di ventinove anni fa, quello che dal 18 dicembre 1987 ha accompagnato i primi, giovani, avventurieri appassionati di Fantasy.
Kid Icarus: Una delle esclusive Nintendo più di nicchia, non certo famoso quanto Super Mario o Link di Legend of Zelda, ma Kid Icarus resta uno dei titoli di maggior richiamo nei lidi Nintendo e gli appassionati difensori della grande N lo sanno bene.
Punch Out!: Mentre Rocky Balboa faceva sognare grandi e piccoli al cinema, Little Mac si faceva strada sul ring di Punch Out diventando una piccola grande icona di Nintendo. I giochi di box sono rari, i giochi belli di box lo sono ancora di più, quindi ecco servito su un piatto d'argento un campione del genere.
Star Tropics: Dal gameplay di The Legend of Zelda, in quel di Nintendo pensarono di concepire altri generi di action-adventure. A questi pensieri deve la propria esistenza StarTropics, come a voler dimostrare che Nintendo non faceva belle storie soltanto con Link come protagonista.
Tecmo Bowl: Prendete uno degli sport più famosi d'America. Aggiungete un gameplay leggero e un accompagnamento musicale molto gradevole. Mescolate tutto e ottenete quello che forse è stato croce e delizia di molte famiglie nord americane alla fine degli anni '80.
SOLO PER IL MERCATO GIAPPONESE
Sebbene l'Europa possa vantare, insieme al Nord America, della presenza di otto titoli in più rispetto al resto del mondo, i fortunati giocatori che vivono in Giappone (o comprano il Mini NES lì) possono godere di altri giochi in aggiunta, arrivando al numero di 38 titoli. Li ricordiamo per onore di cronaca.
Renegade di Taito, un picchiaduro a scorrimento in pieno stile Double Dragon.
Final Fantasy III, che non ha bisogno di ulteriori precisazioni.
NES Open Tournament Golf, un gioco di golf con Super Mario ad accompagnarci.
River City Ramsom, altro picchiaduro a scorrimento, come Renegade e Double Dragon.
Solomon's Key, un puzzle platform di Taito.
Tsuppari Ozumo, un gioco di combattimento in cui si scontrano i lottatori giapponesi di Sumo.
Yie Ar Kung-Fu, che sembra la versione Konami di Karate Champ, da cui indubbiamente si sono ispirati in futuro per le simulazioni di Karate come IK+.
Atlantis No Nazo di Sunsoft, un platform in stile Super Mario.
COMMENTO FINALE
Il Nintendo Classic Mini è un tributo al mitico NES, un modo di celebrarlo per i suoi trent'anni. Ha svegliato le coscienze di giocatori più o meno attempati, di appassionati di retrogaming o nostalgici amatori.

Non è la miglior piattaforma su cui godersi i titoli Nintendo dell'era 8-bit. Tra emulatori e Virtual Console presenti in Wii e Wii U, senza dimenticare quelli presenti sulle console portatili, sarebbe certamente errato etichettare il Mini NES come il posto migliore.

Tuttavia trenta perle degli anni '80 e '90, alcune davvero rare, non si trovano tutti i giorni. Un NES perfettamente funzionante, perfettamente in scala con la controparte originale, perfettamente compatibile con televisori di ogni tipo e provenienza, che non costringe a studiarsi piccolo o grandi manuali di installazione per configurare emulatore ed installare ROM non si trova in giro con facilità.

Non si gioca in assoluta legalità, con la "benedizione" di Nintendo, tutti questi grandi classici tutti i giorni. Il Mini NES è bello da vedere, facilissimo da usare, ricco di titoli di varia natura e rigiocabilissimi. Non costa nemmeno uno sproposito (costa quanto un joypad per PlayStation 4 o quando un videogioco nuovo al day one). Non è una console per tutti. Astenersi i cultori del Cry Engine, del Frostbite e di Unity Engine. Qui si gioca a 8-bit, puliti ed in glorioso Full HD. Ogni pixel è poesia e storia.
L'articolo Nintendo Classic Mini, Speciale sembra essere il primo su IlVideogioco.com.