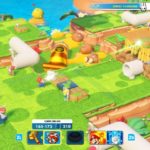 All'E3 di Los Angeles 2017 dello scorso giugno, durante la conferenza Ubisoft, saliva sul palco Shigeru Miyamoto, raccontando di aver detto a Davide Soliani, direttore dei lavori per Mario + Rabbids: Kingdom Battle, che stava per essere annunciato al mondo: "fai un gioco di Mario che non è stato mai fatto in precedenza".
Ubisoft Milano, lo studio per cui Soliani lavora, ha raccolto il guanto di sfida e ha dato ascolto al signor Miyamoto, realizzando non solo un gioco mai visto in precedenza, ma anche un gioco che i posteri faticheranno ad eguagliare: uno strategico a turni con Mario come protagonista. Questa opera è arrivata su Nintendo Switch sul finire di agosto, in esclusiva assoluta per la console ibrida realizzata dalla Factory di Kyoto.
QUELLA PIAGA CHE CHIAMANO RABBIDS
Vengono dalla Luna, sono estremamente stupidi e viziosi, incuranti di tutto e di tutti, anche di loro stessi: sono i Rabbids, geniale parto dell'altrettanto geniale mente di Michael Ancel, il creatore di Rayman e Beyond Good & Evil, che undici anni or sono concepì una nuova minaccia da battere (e abbattere a colpi di karate) per Rayman, una delle icone indiscusse di Ubisoft sul finire degli anni '90 e i primi anni del 2000.
Questa volta, gli imbranati e caotici coniglietti malefici l'hanno fatta grossa: hanno rubato un pericoloso visore che altera pesantemente la realtà e finiscono nel mondo di Mario, Luigi, Yoshi, Peach e tutti gli altri, seminando panico, distruzione e caos, cioè quello che gli riesce meglio. Mario non si perde d'animo, anzi, si rimbocca le maniche e con l'aiuto di Beep-0, robottino dal cuore d'oro, si mette all'inseguimento del visore, saldamente difeso dal Rabbid che lo indossa.
Ad aiutare Mario nelle sue nuove avventure ecco dei Rabbid relativamente più lucidi, che si travestono da Luigi e Peach e prendono le difese del Regno dei Funghi. A loro, man mano che si avanza nella storia, si uniranno Luigi, Peach, Yoshi e Rabbid Mario. Otto personaggi che, in squadre da tre e con Mario indiscusso/insostituibile leader che li accompagna verso grandi imprese.
UN GIOCO DEGNO DELLA GRANDE N
Bando a vuoti campanilismi, cerchiamo di portare alla luce di questa recensione un paio di dati di fatto. Mario + Rabbids: Kingdom Battle è un videogioco realizzato a regola d'arte, ed è realizzato dallo studio di Milano di Ubisoft, formato da professionisti del settore che sono nati e cresciuti in Italia. Appartenendo ad una grande multinazionale come Ubisoft, e avendo tra le mani un brand semplicemente importantissimo, come quello di Mario, è chiaro come il Sole che sono stati supportati da Ubisoft (Parigi, per essere precisi) e Nintendo. Tuttavia, il gioco che stiamo recensendo è ideato e realizzato da professionisti della nostra stessa nazionalità: scusate se facciamo parlare l'orgoglio.
Al di là della paternità dell'opera, bisogna evidenziare che sotto l'aspetto meramente tecnico, Mario + Rabbids: Kingdom Battle si presenta come se fosse un gioco sviluppato internamente da Nintendo. Teniamo a precisarlo perché, nel corso degli ultimi anni, tra community di videogiocatori e sedicenti esperti del settore, accostare Ubisoft a realizzazioni frettolose o scadenti è diventato un mantra. Lungi da noi prendere le difese di certe realizzazioni che lasciano il tempo che trovano e – spesso, purtroppo – sono poco difendibili, ma nel caso di Mario + Rabbids: Kingdom Battle, Ubisoft si è superata. Si parla di un gioco fatto e finito, praticamente completo e che non ha bisogno di grandissime patch o di sontuose espansioni per completare l'opera. Non abbiamo riscontrato tanti e strani bug, ma solo una generale, genuina e positiva attenzione per ogni dettaglio: vorremmo che da oggi in poi, ogni titolo Ubisoft subisse lo stesso trattamento, lo stesso amore per il mezzo, che ha dimostrato Ubisoft Milano.
Scelte cromatiche, level design, colonna sonora, longevità e rigiocabilità: nulla sembra lasciato al caso e questo è semplicemente grandioso.
SEMBRA XCOM MA NON LO E'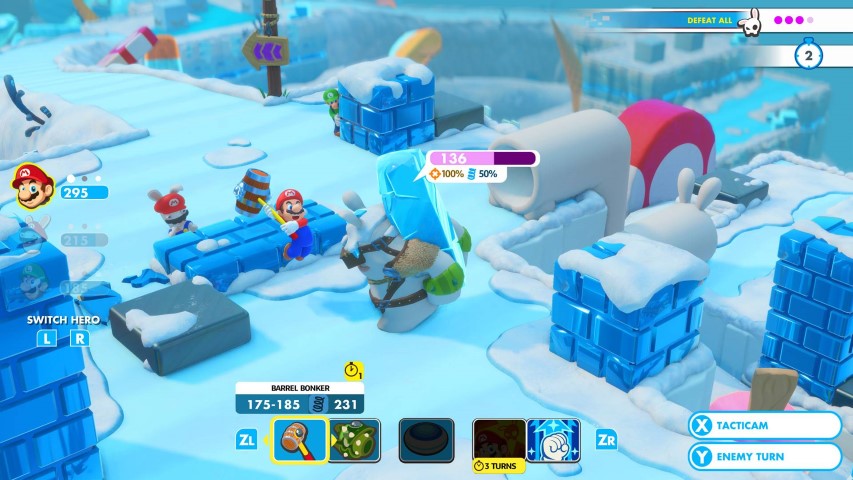 Mario + Rabbids: Kingdom Battle è uno strategico a turni che fa di strategia, tattica e un minimo di pianificazione il suo leit motiv. Quando non si è impegnati ad esplorare quel che resta del mondo di Mario, ormai devastato dalla calamità dei Rabbids, si entra nei campi di battaglia, che sono autentiche arene – spesso anche a più livelli di altezza – ed anche autentiche scacchiere in cui, a turno, attiviamo, muoviamo e facciamo interagire la nostra squadra di tre elementi. Ogni elemento ha un suo ruolo, un equipaggiamento compatibile con le sue abilità, abilità speciali che potenziano se stesso, tutta la squadra o solo un altro compagno. Alla fine di ogni battaglia si ottengono monete d'oro e punti abilità: le prime servono ad acquistare equipaggiamenti sempre più potenti ed efficaci, mente i secondi servono a fare emergere il vero potenziale, i veri poteri che ogni personaggio ha, che gli conferiscono notevole vantaggio in battaglia (spesso affrontata con disparità di numero a favore dei nemici).
Movimento, azione, azione speciale, coperture e combattimenti a turni: tutti ingredienti che, negli ultimi anni, abbiamo saputo apprezzare – quando non adorare – in XCOM, di Firaxis Games e 2K (la cui ultima espansione, War of the Chosen, è da poco arrivata). Diversamente dal "gioco per grandi", a tinte aliene e impietoso, in Mario + Rabbids: Kingdom Battle le "regole di base" sono semplificate. Tuttavia non è per questo che l'ultima fatica di Ubisoft Milano passa per giochino semplice ed infantile.
L'intelligenza artificiale, più avanti nel gioco, stimola parecchio le nostre abilità; le coperture sono più difficili da gestire ed è piuttosto facile perdere un membro della squadra o l'intera battaglia, se si affrontasse tutto alla leggera.
In Mario + Rabbids: Kingdom Battle non esiste il concetto di morte permanente: se uno dei nostri venisse abbattuto durante una battaglia non sarebbe la sua fine, ma andrebbe semplicemente K.O. per poi rialzarsi al termine della partita in corso. Tranne che in battaglia, inoltre, è possibile cambiare membri della squadra potendo, così, schierare i membri più in salute o quelli che si prestano meglio allo scopo della missione da affrontare.
Abbiamo, inoltre, notato certe abilità che, su XCOM, non abbiamo mai visto o usato prima: la scivolata, il salto con annesso schianto sulla testa del nemico, il salto tramite altro compagno che sostituisce la corsa per coprire maggiore distanza, la facoltà di muovere, sparare e fare una terza azione, quella speciale, prima di concludere il turno.
CHI NON GIOCA IN COMPAGNIA…
Mario + Rabbids: Kingdom Battle prevede una lunga ed appassionate modalità avventura, che tiene impegnati dalle 20 alle 30 ore di gioco. Queste possono dilatarsi ancora di più per merito della presenza di numerosi segreti, tante sfide, oggetti da sbloccare o collezionabili da scoprire. Se tutto questo non dovesse bastare, ecco fare capolino la possibilità di giocare in modalità cooperativa.
Anche il lavoro di Ubisoft Milano, come tutti i lavori del settore, non è esente da difetti. Occorre evidenziare che, personalmente, non abbiamo visto difetti di programmazione così gravi da impedirci di andare avanti nel gioco, la console non è andata mai in "crash", non abbiamo visto cose o situazioni strane (cose da Rabbids a parte, ma quelle sono intenzionali). Manca una comoda opzione per saltare filmati di intermezzo e di movimenti/azioni, così da rendere il gioco estremamente più scacchistico e statico, ma anche piuttosto veloce se lo si vuole rigiocare per sbloccare le cose che ancora mancano.
All'inizio del gioco ci è voluto un po' di tempo, prima di capire che il gruppo si muovesse dietro Beep-0 e che sia lui ad interagire con fondali, interruttori ed altro genere di "leve": pensavamo di fare riferimento a Mario, figura che ben più salta all'occhio, ma dopo i primi minuti di confusione e ammiccamento, è filato tutto liscio. Ci ha convinto poco la scelta di affidarsi a fumetti e a grandi font con annesse "emoji" oppure "emoticons" (chiamatele come preferite) ma questo, più che un difetto, potrebbe trattarsi di un gusto eccessivamente soggettivo. Avremmo gradito di più veri dialoghi.
COMMENTO FINALE
Gioco di tattica e di strategia a turni ideato e sviluppato da Ubisoft Milano, supportato da Ubisoft Paris e Nintendo, Mario + Rabbid: Kingdom Battle irrompe nella softeca di Nintendo con tutti gli onori del caso, perché si parla di un gioco "scacchistico" di rara fattura, tecnicamente solidissimo e di sicuro intrattenimento. Niente salti millimetrici, corse folli o mondi tridimensionali da esplorare – quello è un marchio di fabbrica Nintendo – ma il primo videogioco di con Mario protagonista, sviluppato lontano da Kyoto vince convince praticamente su tutta la linea.

Graficamente e artisticamente si tratta di un lavoro con pochissime pecche e molti pregi: unire la follia dei Rabbid al mondo di Mario, Peach e Luigi non era semplice eppure ci sono riusciti. La colonna sonora è una piccola grande perla da ascoltare e riascoltare, gli effetti sonori e le voci non sono mai fuori luogo. Tutto fila liscio, rallentamenti e scatti non ne abbiamo incontrati, incertezze su animazioni, suoni e musica ancora meno. Vorremmo che Ubisoft lavorasse sempre così.

Joy-con alla mano, Mario + Rabbid Kingdom Battle riesce anche ad esaltare. Movimenti, azioni, azioni speciali e combinazioni di abilità tra i personaggi – sebbene all'inizio potrebbero sembrare di difficile realizzazione – regalano situazioni spettacolari, memorabili. Il gioco richiede non meno di venti ore per essere portato a termine e ne chiede ancor di più ai completisti che non vogliono perdersi nemmeno un segreto, un collezionabile o un bonus.

Mario + Rabbid Kingdom Battle è, senza ombra di dubbio, il capolavoro di Ubisoft Milano. E pensare che moltissimi appassionati potrebbero affacciarsi al genere con questo titolo, per poi cimentarsi con gli ultimi XCOM o simili fa solo ben sperare per il futuro.
Pregi
Strategia e tattica perfette per iniziare ad avvicinarsi al genere. Tanto semplice quanto profondo. Tecnicamente molto solido. Colonna sonora vincente. Curva di difficoltà praticamente perfetta.
Difetti
Manca un'opzione per saltare del tutto i filmati e le animazioni dei turni. In modalità esplorazione si può incappare in piccole sviste. I dialoghi affidati a fumetti e la scelta del font non ci hanno convinto totalmente.
L'articolo Mario + Rabbids: Kingdom Battle, Recensione Switch sembra essere il primo su IlVideogioco.com.