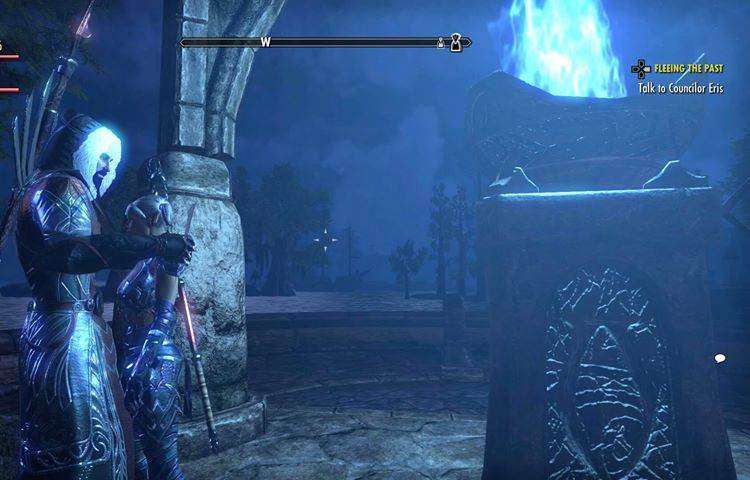 L'amore, versione 2.0. In versione digitale. In occasione di San Valentino, la festa degli innamorati, Bethesda racconta alcune storie particolari che vedono come protagonisti dei giocatori che divertendosi alla serie The Elder Scrolls (fin dai tempi di Arena nel lontano 1994), si sono poi uniti nella realtà.
Dal suo debutto, la saga di The Elder Scrolls ha appassionato milioni di utenti in tutto il mondo. Negli ultimi anni, precisamente dal 2014 con il lancio di The Elder Scrolls Online, è – però – riuscita a unire persone nei modi più incredibili, ed a volte, persino a farle innamorare.
Ecco uno speciale dove la software house ha raccolto alcune delle testimonianze più curiose che fanno capire una volta di più quanto nell'epoca digitale, l'amore possa sbocciare dal fiore più nascosto, magari proprio dietro a quel Troll che vi sta attaccando, nelle lontane terre di Tamriel…
ECCO LE VARIE STORIE
La Storia di Kristie
Elder Scrolls mi ha cambiato la vita in più di un modo. Ho acquistato ESO e una nuovissima PS4 per giocare online insieme a mio fratello e a mio cugino. Era un modo per rimanere in contatto con la mia famiglia, dato che viviamo lontani. Il fatto poi di poter entrare nelle varie Gilde, mi dava l'opportunità di conoscere nuove persone, aspetto social molto gradito. Certo, l'ultima cosa che mi sarei aspettata era incontrare l'amore della mia vita.

Un giorno mi imbattei in un messaggio di un giocatore di Perth, che cercava nuovi compagni della sua zona. Essendo di Sidney, risposi: "Beh, io non vivo nell'ovest dell'Australia, ma almeno siamo nello stesso continente – LOL". Iniziammo così a giocare insieme, a svolgere le quest giornaliere, a craftare, e di lì a poco cominciamo a scriverci e telefonarci nella vita vera.

Eravamo però separati da oltre 3.000km, e l'unico modo che avevamo per entrare in contatto reciproco era 'abbracciarci' in game, e una volta, durante un lungo abbraccio digitale, fummo interrotti da un altro giocatore che passava per Belkarth, che si unì nel nostro abbraccio collettivo provocando grandi risate.

Sono grata ad ESO, perchè durante le feste natalizie ho attraversato l'Australia e mi sono trasferita, ora posso vivere la mia vita assieme a lui e a sua figlia sia nel gioco che nella vita reale.

Buon San Valentino e continuate ad avventurarvi gente! ESO per la vita!
La Storia di Beverly
Cari avventurieri, voglio raccontarvi la storia di come ho conosciuto mio marito, su ESO ovviamente.

Ero una casual-player del gioco, di cui amavo la lore e il crafting, oltre ovviamente alle varie quest.

Un giorno, durante un dungeon particolarmente complicato, incontrai una fantastica guaritrice di nome Fiora Starbreeze, che mi tenne in vita durante tutta la missione, invitandomi poi nella sua gilda.

Iniziammo a sentirci spesso, e a giocare sempre insieme. Gli anni passarono, la gilda mutò e gran parte dei giocatori cambiarono, ma noi continuammo a restare in contatto. Il grande passo fu fare 1400 Km per incontrarci nella vita reale, cosa che facemmo nel giugno 2015. Grazie a lui, capii che non ero mai stata tanto felice in vita mia, sia nella vita reale che in ESO, decidemmo quindi di sposarci nel febbraio del 2017.

Ora, dopo anni di gioco, sono agli scoccioli della mia avventura su ESO, ma per fortuna, ora l'avventura della mia vita reale ha un compagno con cui vale la pena viverla.

Quindi grazie ESO, grazie per avermi fatto raggiungere la Felicità!

Beverly Nutcrusher, Tanker of Things
La Storia di Ding Dong
Ho cominciato a giocare ad ESO appena è stato lanciato per Xbox one. Quando iniziai a giocare per la prima volta, purtroppo nessuno dei miei amici era interessato a provarlo con me. Dopo l'uscita di One Tamriel mi sono ritrovato a dover comparare un Xbox anche per mia moglie, in modo da poter giocare ad ESO insieme. Qualche anno dopo, anche mia suocera acquistò una console per suo figlio, ma quando provò il gioco se ne innamorò a tal punto da comprare un Xbox anche per lei.

Ora, mia suocera, mia moglie e io, giochiamo tutti insieme. Eravamo abituati ad interpretare più o meno gli stessi ruoli, tuttavia ultimamente ci stiamo alternando un po'. In questo modo non solo impariamo ad usare meglio ogni ruolo, ma inoltre ci permette di apprezzare meglio il nostro Team. Non importa cosa conquisteremo o quello che troveremo ad attenderci sulla nostra strada. Il nostro maggior risultato probabilmente è stato quello di completare la Dragonstar Arena in 3 giocatori, con mia moglie che si è divertita come una bambina. Persino i nostri ragazzi (4 e 5 anni) amano avventurarsi e perdersi nella fantastica trama di questo gioco. Sono sicuro che continueremo a giocare ad ESO come famiglia.

Qualcuno ha ancora bisogno dei giochi da tavolo?
L'articolo L'amore ai tempi di Elder Scrolls Online sembra essere il primo su IlVideogioco.com.