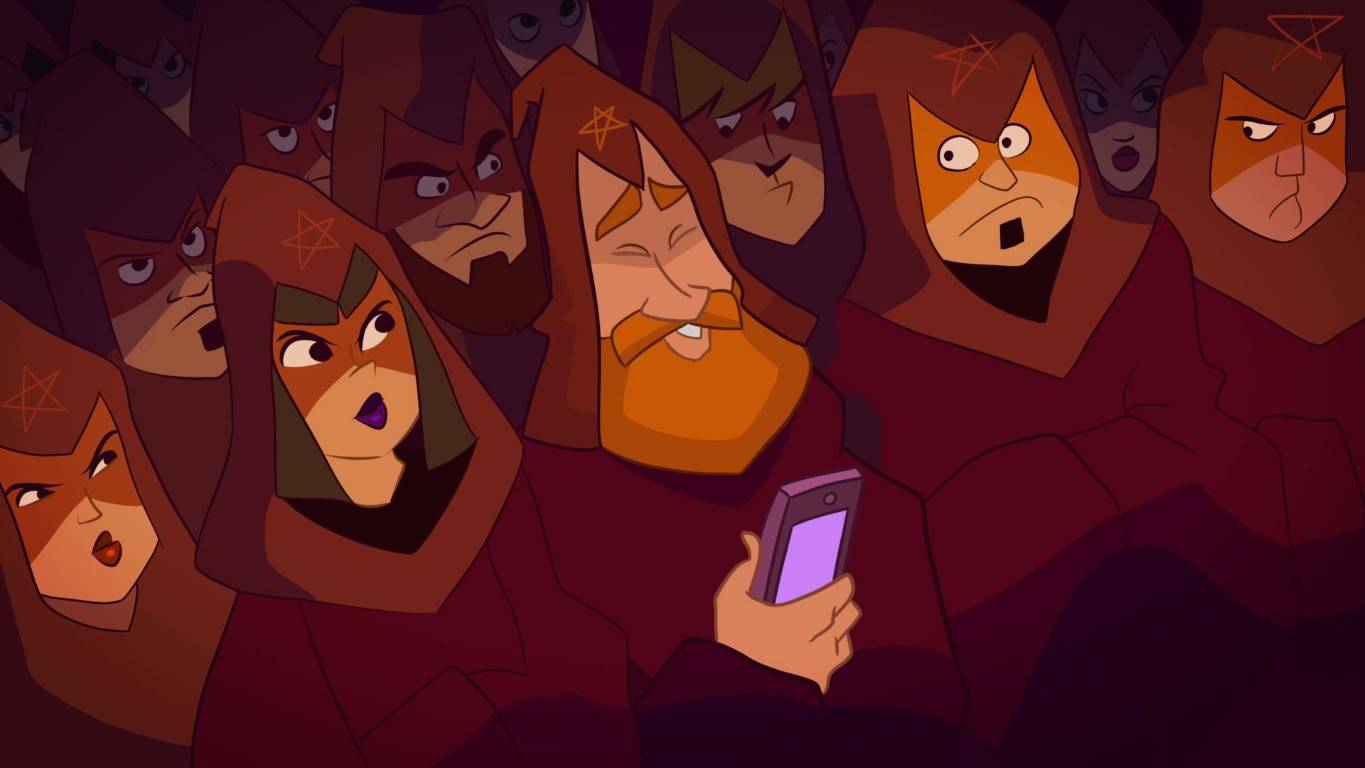 C'era una volta… no, non è questo l'incipit giusto. Cosa hanno in comune un bibliotecario, un investigatore privato… ed un gatto?  E se il felino in questione parlasse? Le risposte sono molto difficili e queste tre figure apparentemente lontane si riuniscono per formare l'improbabile e strampalato cast di protagonisti di Gibbous – A Cthulhu Adventure.
Il gioco che vi proponiamo è un'avventura punta e clicca firmata da Stuck in Attic che ha fatto il suo debutto su Steam (per Pc Windows, Mac e Linux) mercoledì scorso (7 agosto) su Steam e GOG.
Il team indipendente romeno ha raccolto nel 2016 quasi 50.000 euro su Kickstarter grazie al contributo di quasi 2.000 appassionati. Una buona cifra che ha permesso loro di realizzare e completare l'opera. Ma come si propone questo gioco in un universo pieno di (ottime) avventure punta e clicca? Per scoprirlo, leggete la nostra recensione.
Buona lettura.
LOVECRAFT SI, MA "CON MODERAZIONE"
Se si pensa ai racconti di H.P. Lovecraft inevitabilmente si pensa all'orrore ed al terrore, a creature sinistre ed a oscuri riti. Un'ambientazione dove è quasi impossibile trovare lo spazio per un sorriso o una risata. Perché abbiamo nominato il maestro americano? Semplice: Gibbous – A Cthulhu Adventure, come suggerisce il nome, ha sfumature lovecraftiane.
Ciononostante, il team di stanza in Transilvania ha voluto lavorare molto su un'interpretazione ironica, non troppo seriosa dando i connotati di commedia brillante-demenziale in un set dell'horror. Un po' come ha fatto PsychoDev per il suo Chronicle of Innsmouth due annetti fa anche se in questo caso, Gibbous è molto meno serioso.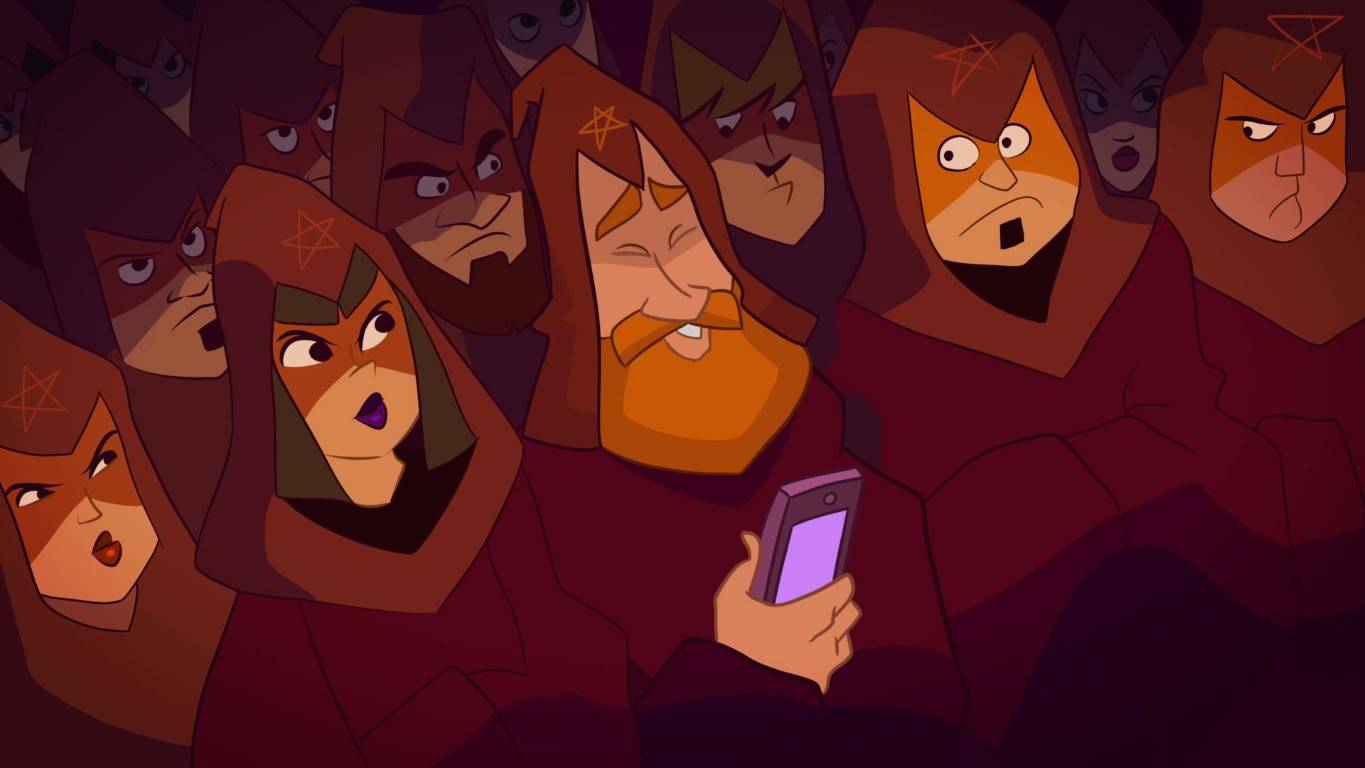 Il risultato è apprezzabile: ne nasce una storia interessante, veramente gradevole, ricca di misteri che pian piano si diradano fino alla conclusione che ovviamente non vi sveleremo per non farvi perdere il piacere di giocare.
UN DETECTIVE, UN BIBLIOTECARIO E UN GATTO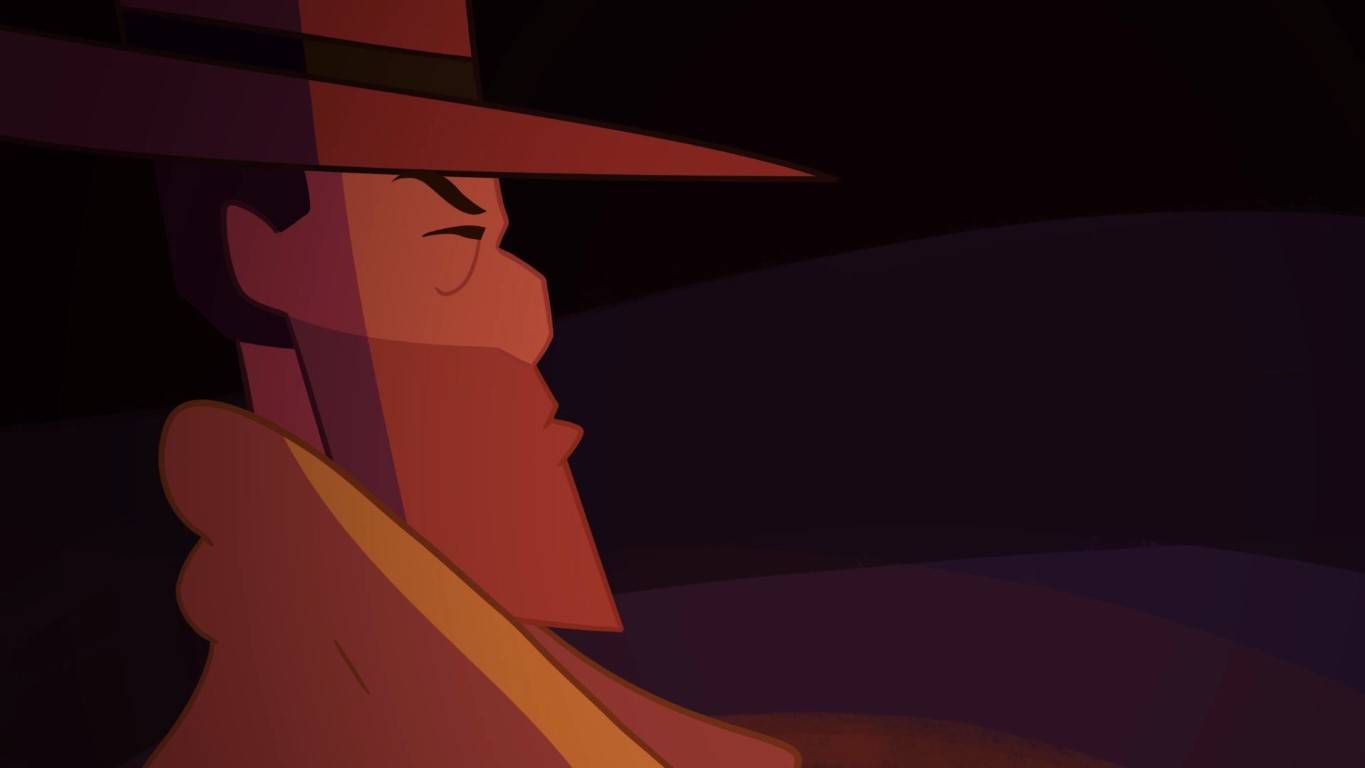 Sintetizziamo la trama senza particolari spoiler descrivendo in linea di massima la partenza delle nostre peripezie che si concentrano nel prologo, il primo dei diversi capitoli di questa avventura punta e clicca.
Facciamo così la conoscenza del serioso detective Don R. Ketype che sta svolgendo indagini su un oscuro tomo malefico, un comunissimo bibliotecario, Buzz Kerwan ed un gatto, Kitteh. Il detective dall'impermeabile giallo (che ricorda un po' Dick Tracy, ndr) è vicino al ritrovamento di questo libro (il Necronomicon) ma a quel punto, una setta formata da esaltati lo rapisce per impossessarsi del tomo e portare a termine un oscuro rituale di magia.
Per fortuna i malintenzionati non riescono a trovare il tomo che, disgraziatamente (o fortunatamente) finisce nelle mani dello sprovveduto Buzz. Quest'ultimo, dopo essersi ripreso dal brutto incidente in biblioteca, torna nella sua stanza in affitto. Si accorge del Necronomicon e, incautamente, lo apre leggendo una frase in una lingua sconosciuta. Il risultato è sorprendente: Kitteh, la sua gattina nera (e bianca) comincia a parlare. E son dolori per Buzz perché la felina è stizzita dal fatto di essere stata "umanizzata" e mostrerà il broncio nella maggior parte delle nostre peripezie.
A questo punto, la setta, comprende che il ritrovamento del libro non è stato completato e comincia le sue ricerche per stanare i nostri eroi che viaggeranno per l'Europa da Parigi alla Romania.
Questo, in sintesi, l'inizio della storia che come avventura grafica punta e clicca che si rispetti offre diversi capitoli e tante sfumature.
GAMEPLAY CLASSICO, BATTUTE, CITAZIONI E PUZZLE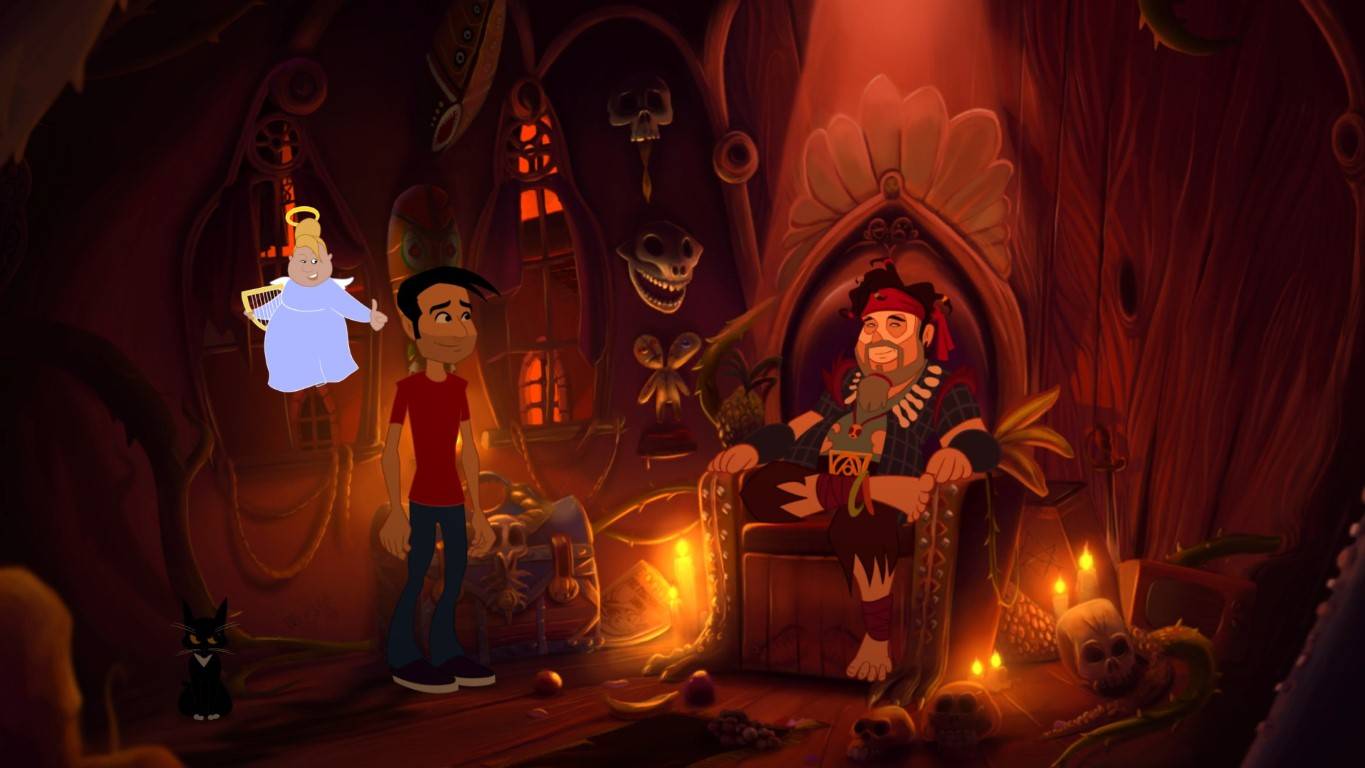 La struttura del gameplay di Gibbous – A Cthulhu Adventure è estremamente classica. Possiamo dire che in primis non aggiunge nulla al genere ma offre comunque una storia interessante ed un gameplay adatto a tutti, sia ai neofiti che ai più smaliziati.
C'è il mix tra dialoghi a risposta multipla e la risoluzione di puzzle che riguarda la raccolta, l'utilizzo e la combinazione di e tra oggetti e parti dell'ambientazione. Ovviamente non manca l'inventario che ci permette di conservare ed utilizzare o assemblare oggetti.
I dialoghi sono per lo più spassosi. La scrittura creativa è molto gradevole e grazie ad una buona trasposizione in italiano è godibilissima. Tante, inoltre, le citazioni ad avventure classiche del passato a ad altri media. Ne abbiamo colta qualcuna e chiaramente – nel nostro girovagare – abbiamo notato più di un omaggio a The Secret of Monkey Island, immortale capolavoro di LucasArts.
Come la stragrande maggioranza dei punta e clicca moderni, non mancheranno gli aiuti per i neofiti. Basterà premere la barra spazzatrice per individuare i punti di interesse della location, ossia quei punti che vale la pena visionare cliccandoci sopra.
L'interfaccia è snella e si avvale della "ruota" o in questo caso "mini ruota" dei comandi. Andando su un punto indicato dello schermo e cliccando col pulsante destro del mouse si apriranno due o tre icone con le azioni eseguibili: osservare (contraddistinta dall'occhio), raccogliere (ci sarà una manina che indicherà l'azione), parlare (raffigurata da una bocca) e far si che Kitteh possa intervenire (l'opzione è raffigurata dalla faccia della gatta).
I dialoghi per lo più delle volte sono divertenti grazie anche agli incontri con personaggi stravaganti. Quasi tutti sono strampalati, anche i più seriosi. Se da un lato, l'investigatore Ketype è piuttosto ombroso (ma ogni tanto dice la sua battutina), Buzz è uno spasso e Kitteh sembra essere un personaggio veramente riuscito. Quest'ultima non perdonerà il suo padrone e lo prenderà in giro tante volte con battute sagaci ed al vetriolo che alla lunga, pur diventando quasi scontate, fanno ugualmente sorridere.
Per quanto riguarda gli enigmi, possiamo dire che ci troviamo di fronte ad una difficoltà medio-bassa. La stragrande maggioranza di essi sono semplici o quanto meno poco complicati. Pochi, in effetti, hanno richiesto qualche minuto supplementare di riflessione ma nulla che non sia intuibile. Anzi. Forse è questa la più pecca di questo titolo.
OTTIMA GRAFICA, BUON DOPPIAGGIO, BELLE MUSICHE
Il lavoro fatto da Stuck in Attic è davvero di ottima qualità. La grafica offerta da Gibbous è molto bella a nostro avviso con personaggi enormi, ambientazioni per lo più splendide. Colorata, dettagliata e con tanto stile proprio. Artisticamente azzeccata ci è sembrata anche la particolare palette utilizzata per le varie location e non mancano anche gli ottimi effetti ombra financo i giochi di luce. Giusto ricordare come il gioco supporti anche la risoluzione in 4K.
Se le ambientazioni (tantissime, oltre una sessantina) sono varie e ricche di dettagli e finezze, anche i personaggi si comportano alla grande. E non solo i tre protagonisti: gli altri personaggi di contorno sono veramente ben caratterizzati e dettagliati. A tratti sembra di stare davanti ad un cartone animato di Don Bluth.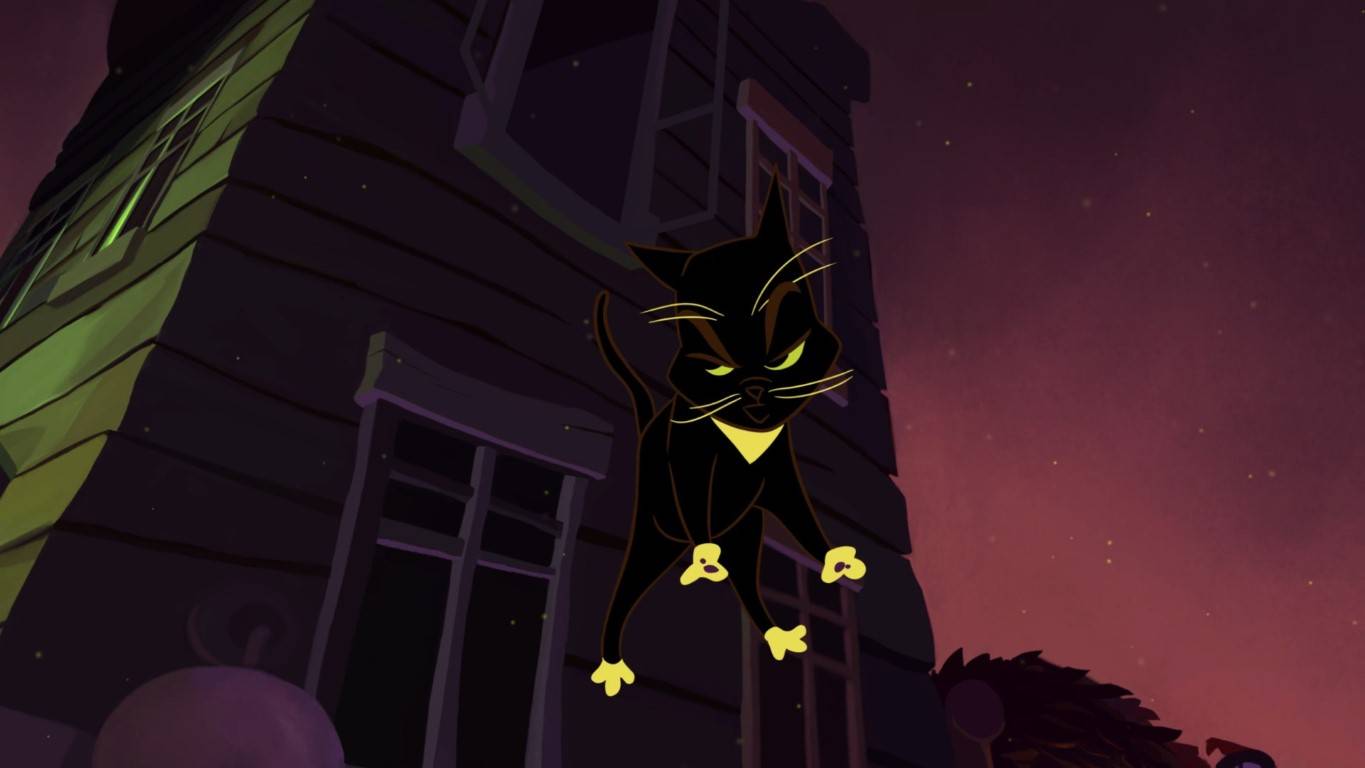 Proprio le animazioni sono un altro punto in favore del lavoro degli sviluppatori. Sempre fluide e ben delineate. La scelta degli autori di realizzare un gioco in 2d ha sicuramente pagato.
Anche il sonoro è all'altezza. Le musiche sono molto divertenti ed accompagnano le nostre gesta in modo adeguato e, quasi mai, annoiante. Anzi, molti brani sono anche orecchiabili e gradevoli all'orecchio. Il doppiaggio, infine, è azzeccato e di alto livello in quasi tutte le occasioni. Ottime le prestazioni attoriali con la perla della presenza di Doug Cockle, voce di Geralt di Rivia nella trilogia The Witcher, insomma, una bella produzione con tantissime luci e pochissime ombre. Salvo un paio di episodi casuali che ci hanno riportato al desktop.
COMMENTO FINALE
Rendere divertente un'ambientazione lovecraftiana non era impresa facile. Gibbous – A Cthulhu Adventure ci riesce in pieno e Stuck in Attic propone un'avventura grafica punta e clicca molto classica ma generalmente ben fatta.

Ammirevole il lato tecnico sotto tutti i punti di vista. Graficamente è una piccola perla anche se ogni tanto abbiamo visto alcune location meno ispirate di altre ma riteniamo sia fisiologico soprattutto visto i canoni della produzione indie.

Ci sono piaciuti i personaggi protagonisti: il serioso detective, lo strampalato bibliotecario e la gatta sagace, iraconda e dispettosa. Forse, la pecca più grossa è il livello generale di difficoltà. Gli enigmi sono molto intuibili nella stragrande maggioranza dei casi e la possibilità di individuare gli "hotspot" rende ancora più veloce la risoluzione dei vari segmenti di gioco. La longevità è standard, più o meno dalle 8 alle 12 ore a seconda delle proprie attitudini o, appunto, se si utilizzano gli hotspot. Peccato, inoltre, per un paio di episodi (casuali, ripetendo la scena non si è manifestato nuovamente, ndr) di arresti inaspettati che ci hanno riportato al desktop. Nulla, per fortuna, che non si possa risolvere con patch.

Per il resto, però, Gibbous – A Cthulhu Adventure è un'ottima avventura grafica che ha il grande pregio di riproporre in chiave classica quasi tutto il meglio che il genere possa offrire: una buona realizzazione tecnica, un gameplay tradizionale ed una bella storia ben strutturata e raccontata. Il tutto condito con ironia e citazioni divertenti. Gli amanti delle avventure grafiche punta e clicca dovrebbero dargli quanto meno un'occhiata anche perché è un gioco adatto per i novellini. I più esperti apprezzeranno tutto il resto.
L'articolo Gibbous – A Cthulhu Adventure, Recensione proviene da IlVideogioco.com.