La serie di Gears of War ha senza ombra di dubbio rivoluzionato gli sparatutto in terza persona e Gears of War 3 in tal senso ha chiuso in maniera degna una delle trilogie più significative del periodo Xbox 360. Questo però non ha significato scrivere la parola fine su una serie che ha saputo crearsi negli anni una vasta schiera di fan, e confermarsi per parecchie sue meccaniche come il punto di riferimento per ogni produzione di genere. Passato definitivamente dalle mani di Cliff Bleszinski e di Epic Games a quelle di Microsoft e The Coalition, il franchise ha proseguito il suo percorso "entrando" nella nuova generazione di console con un quarto capitolo bello ma criticato per essere stato troppo poco coraggioso, troppo simile ai capitoli precedenti in un periodo in cui invece i fan chiedevano una bella svecchiata. Ora però che il team di sviluppo canadese ha preso dimestichezza col brand, è pronto a cambiare le carte in tavola, e con questo Gears of War 5 ha deciso di proporre un'esperienza più originale, a partire dalla protagonista femminile, dalla trama e dalla struttura stessa di gioco, più aperta. Vi lasciamo alla nostra recensione di Gears 5, sbarcato ieri, 5 settembre, su Xbox One e Pc. Buona lettura.
UNO SGUARDO AL PASSATO E UNO AL FUTURO
Per Gears of War è arrivato dunque il momento di voltare pagina e di guardare in avanti, cercando nuovi eroi e nuove storie da raccontare. Come quella di Kait, la prima protagonista principale donna della serie, che decide di partire per un viaggio senza una meta ben chiara, seguendo alcune visioni che ha avuto in sogno e che ritiene rappresentino un messaggio.
Qui però ci fermiamo per non anticipare (o spoilerare, se preferite) nemmeno il più piccolo indizio di quella che è una trama finalmente meglio articolata, abbastanza incisiva soprattutto col progredire dell'avventura, quando scava più o meno a fondo sulla personalità e i rapporti che intercorrono tra i vari Kait, Del e JD. Di certo migliore rispetto a quella che l'ha preceduta, nonostante un paio di momenti telefonati.
In sede di recensione, Gears of War 5 conferma da questo punto di vista la volontà degli sviluppatori di tentare nuovi percorsi narrativi che si avvicinino ad altre acclamate produzioni su console, dando più spazio quindi ai dialoghi, ai momenti emozionali e alle pause tra una sequenza d'azione e l'altra, sfruttando eventi in gioco e cutscene dal taglio cinematografico per sottolineare le fasi cruciali oppure un ampliamento del fronte.
Il risultato è una storia interessante che si snoda attraverso una campagna longeva e ben strutturata, capace di offrire molti spunti ai giocatori e diverse varianti nel corso dell'avventura. Per la prima volta nella serie, infatti, il mondo di gioco è più aperto, che non significa "open world" nella sua accezione del termine, ma ambientazioni ampie e liberamente esplorabili, alla Metro Exodus.
Da questo punto di vista il gioco offre un level design tra i migliori mai visti in un titolo del genere, capace di alternare sessioni più tradizionalmente chiuse e lineari ad altre in cui le ambientazioni si aprono a dismisura, offrendo quindi vari approcci al videogamer nell'affrontare l'area e la relativa missione. In questo modo l'utente viene stimolato a trovare soluzioni sempre diverse alle caotiche sparatorie frontali, magari utilizzando in maniera contestuale degli elementi dello scenario, in parte mutevole sotto i colpi e le esplosioni, per eliminare le minacce locali, e successivamente a esplorare (è disponibile uno Skiff a vela come mezzo di trasporto) e scoprire quegli elementi in grado di arricchire la storia e il lore del gioco, oltre alle risorse, ai potenziamenti e agli elementi da collezionare.
Nella nostra recensione su Gears 5 abbiamo notato che non sempre le aree sandbox a mondo aperto del gioco sono sfruttate adeguatamente, e talvolta alcune zone appaiono spoglie e privi di oggetti di reale interesse, ma resta comunque una bella trovata che siamo certi in futuro verrà meglio utilizzata.
In tal senso assume un ruolo ancora più importante il simpatico Jack, il droide fluttuante che segue i protagonisti: se nel recente passato il suo compito era principalmente quello di "aprire" porte, adesso è in grado di aiutare la squadra COG attraverso varie funzioni che il giocatore può far evolvere attraverso un sistema di progressione in stile RPG.
Questi utilizza tra le altre cose i classici punti, da combinare con appositi componenti tecnologici raccolti nelle mappe o sbloccati seguendo gli eventi della storia. In questo modo Jack può ampliare e migliorare le sue caratteristiche di assalto, supporto e le abilità passive. Tali soluzioni sono piuttosto efficaci, soprattutto quelle capaci di liberare l'area da orde di avversari durante i combattimenti più cruenti, ma bisogna utilizzarle con attenzione visti i tempi di ricarica necessari prima di poter eseguire un altro sparo. Il che può risultare controproducente per il videogiocatore, dato che gli avversari non rimarranno certo a guardare, nel frattempo.
Durante la battaglia il simpatico robottino si preoccupa anche di recuperare dal terreno le munizioni rilasciate dai nemici abbattuti mentre i COG sono impegnati nello scontro. Questi ultimi sono abbastanza ostici, complice un'intelligenza artificiale adeguata alle aspettative dei giocatori, soprattutto nei livelli più avanzati, e la presenza di creature di ogni tipo.
Nella nostra recensione di Gears 5 abbiamo preso in esame tutte le novità. Lo Sciame ha iniziato ad evolversi oltre le sue radici di Locusta e nuovi parassiti simili a sanguisughe sciamano nell'aria impossessandosi di creature umane e robotiche. Questi esseri hanno molta energia vitale, la capacità di usare armi pesanti e di attaccarsi a pareti o soffitti. Per non parlare delle solite locuste, che agiscono in maniera particolarmente efficace.
Non di rado proveranno a coalizzarsi per adottare qualche tattica, muovendosi in maniera logica per tentare l'accerchiamento, oppure sfruttando a dovere le coperture per inchiodare l'utente nella sua posizione, costringendolo a snervanti sparatorie.
C'è però anche da dire che raramente ci si trova coinvolti in situazioni realmente frustranti e l'azione ne guadagna in spessore e intensità. Le ambientazioni più aperte, la possibilità di interagire maggiormente con lo scenario in funzione delle battaglie e la rinnovata intelligenza artificiale, in definitiva, fanno compiere un ulteriore step evolutivo verso l'alto al quadro tattico generale degli scontri.
L'apertura degli scenari, infatti, è sostenuta anche da un movimento più fluido e veloce dei personaggi, che si riflette anche nel sistema di combattimento fatto come sempre di fucilate e ripari, cruenti corpo a corpo e membra strappate. Lo shooting è rimasto invariato, a parte la presenza di qualche nuova arma, ma quanto appena descritto lo rende più moderno e piacevole.
IL MULTIPLAYER E L'EDITOR DI MAPPE
Il multiplayer in Rete è un elemento imprescindibile per il successo di molti videogiochi, e Gears of War, dove venne introdotto con il secondo capitolo e perfezionato poi in Gears of War 3, non è da meno.
Per il comparto online, che adesso la nostra recensione di Gears of War 5 prende in esame, possiamo iniziare col dire che necessita di abbonamento a Xbox Live Gold per essere fruito, abbiamo svariate modalità come la classica Orda, che porta al suo interno diverse novità, come un sistema di livelli dei personaggi basato su perk passivi selezionabili prima della partita, da sviluppare giocando di continuo, e un po' di "hero shooter". Sono infatti presenti dei personaggi famosi provenienti anche da altri media, come per esempio la Sarah Connor dall'ultimo Terminator, dotati ciascuno di poteri diversi come se fossero delle "classi" viventi che si aggiungono a quelle normali da assegnare. Dalla combinazione di questi elementi scaturisce una giocabilità cooperativa più variabile e sicuramente ricca di alternative per tentare di sopravvivere il più possibile a cinquanta ondate di nemici.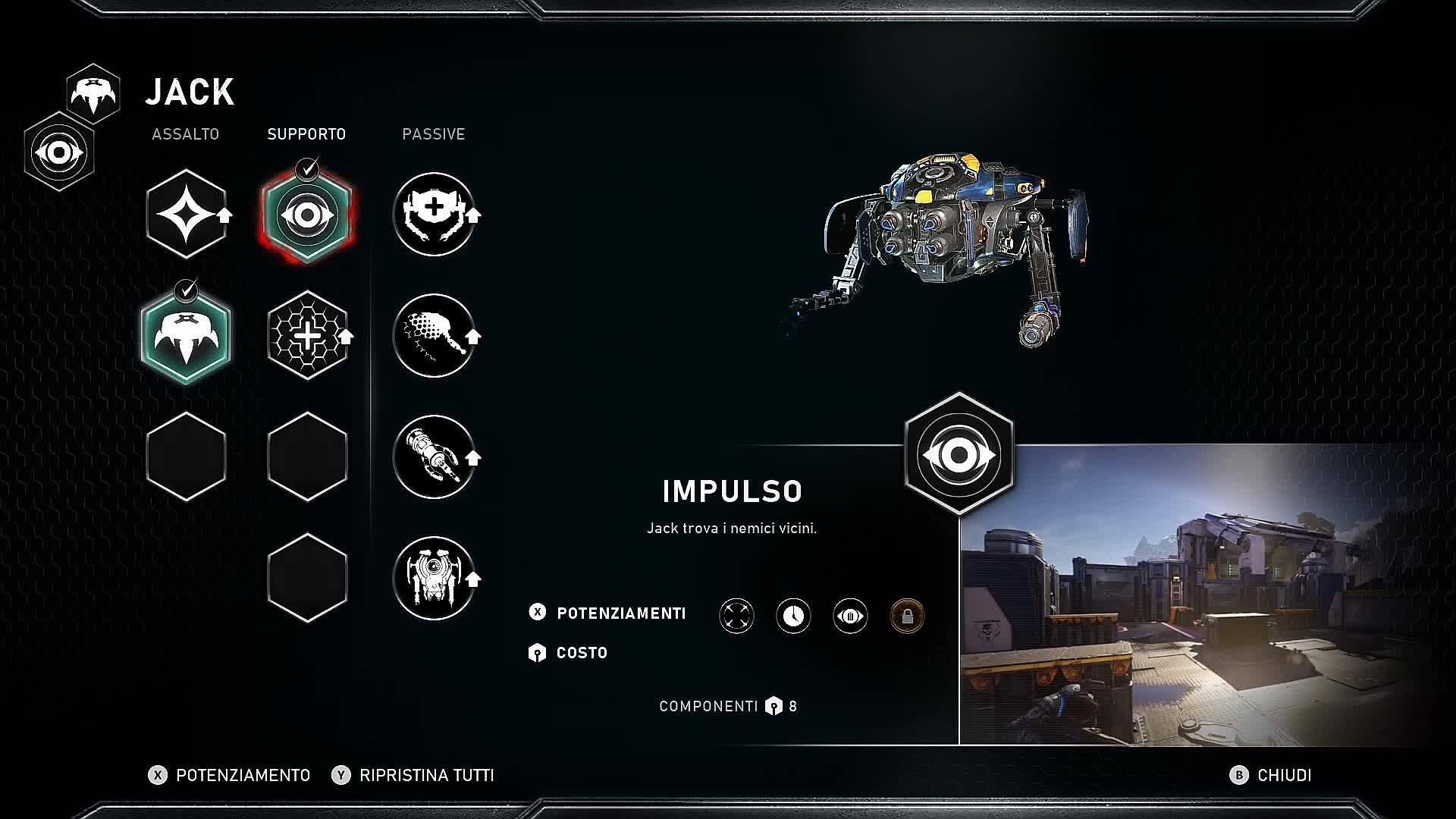 Allo stesso modo nella nuova modalità Fuga occorre cooperare con altri due giocatori nei panni dei COG per fuggire da un alveare dopo avervi diffuso un veleno letale, lottando contro il tempo e decine di infuriati nemici. Cosa più facile a dirsi che a farsi, viste le diverse difficoltà presenti e i modificatori dedicati a ciascuna mappa: importante quindi saper sfruttare ogni singola risorsa raccolta sul campo e il sistema di carte abilità (da sbloccare solo tramite level up) e potenziamenti già visto in Gears of War 4, che viene riproposto in questa occasione.
Non manca ovviamente il PvP o il PVE competitivo con il Versus, che anche qui funziona a meraviglia con le decine di personalizzazione e modalità disponibili, comprese le nuove Arcade e Escalation, dedicate rispettivamente la prima agli utenti meno esperti e la seconda agli hardcore gamer, con COG e Sciame che si scontrano su un campo di battaglia in continua evoluzione. Sempre in tema di modalità, molto interessante è quella che consente di costruire delle mappe di gioco e poi condividerle con altri utenti o utilizzarle in privato.
Percorsi, portali, punti di raccolta, ma anche disposizione di oggetti e nemici, l'editor è davvero notevole e offre così tante opzioni di personalizzazione e ambientazione, da renderlo divertente e quasi "un gioco nel gioco". Gears of War 5, insomma, propone un comparto multigiocatore granitico e ricchissimo.
La varietà del level design che abbiamo descritto qualche riga sopra, quando abbiamo parlato della struttura di gioco e della giocabilità, si riflette ovviamente anche dal punto di vista estetico. Gears of War 5 offre una grande varietà di ambientazioni differenti che spaziano dagli edifici bui e cupi alle foreste verdeggianti, dalle montagne ghiacciate fino alle distese desertiche, in un'alternanza di luoghi mai banale o casuale.
Ogni ambiente è ricostruito in maniera impeccabile, con una buona cura dei particolari e un intelligente utilizzo degli effetti di luce e di quelli particellari, tutti elementi che combinati insieme restituiscono una visione d'insieme davvero notevole e talvolta nascondono perfino qualche piccola magagna, come una manciata di texture meno definite di altri in certi sfondi.
Di buona fattura anche le animazioni e i modelli poligonali dei personaggi umani e delle creature, il cui bestiario è abbastanza vario e ben definito (menzione speciale per le creature umane e robotiche possedute e deformate dai parassiti dello sciame), che riempiono letteralmente tutto lo schermo senza prestare il fianco a cali nel frame rate, che su Xbox One "normale" si mantiene stabile a 30 frame per secondo in ogni situazione nelle modalità Campagna, Orda e Fuga, a 60 nel PvP competitivo, consentendo di godersi un gameplay assolutamente fluido.
Il tutto viene ulteriormente arricchito da un buon comparto audio a livello di effettistica e doppiaggio in italiano, e da un'ottima colonna sonora composta da Ramin Djawadi (Il Trono di Spade) che sottolinea i momenti topici dell'azione, dai semplici appostamenti precedenti a un attacco a quelli più spettacolari caratterizzati da violente sparatorie e dalla presenza di molti avversari ed esplosioni sul video.
COMMENTO FINALE
La nostra recensione di Gears 5 volge al termine. Dopo il tradizionalissimo Gears of War 4, The Coalition prende coraggio e decide finalmente di far compiere un passo in avanti alla saga.

Con Gears of War 5, infatti, il team di sviluppo abbandona alcuni canoni classici delle passate produzioni targate Cliff Bleszinski in favore di una serie di sensibili novità che, senza sacrificare tutto ciò che ha reso grande il franchise, ne amplia le possibilità facendola evolvere.

Grazie infatti all'introduzione di ambientazioni spaziose e liberamente esplorabili, e di alcune novità nel gameplay, le "vecchie" meccaniche sparatutto sembrano aver trovato nuova linfa vitale, corroborate anche da un sistema di controllo e da una fluidità generale piuttosto buoni. A questi aspetti si aggiungono poi una trama azzeccata e una miriade di modalità extra, su cui spicca la solita Orda, per un'opera che nel suo genere, per certi versi, rasenta quasi la perfezione.
L'articolo Gears of War 5, la recensione proviene da IlVideogioco.com.