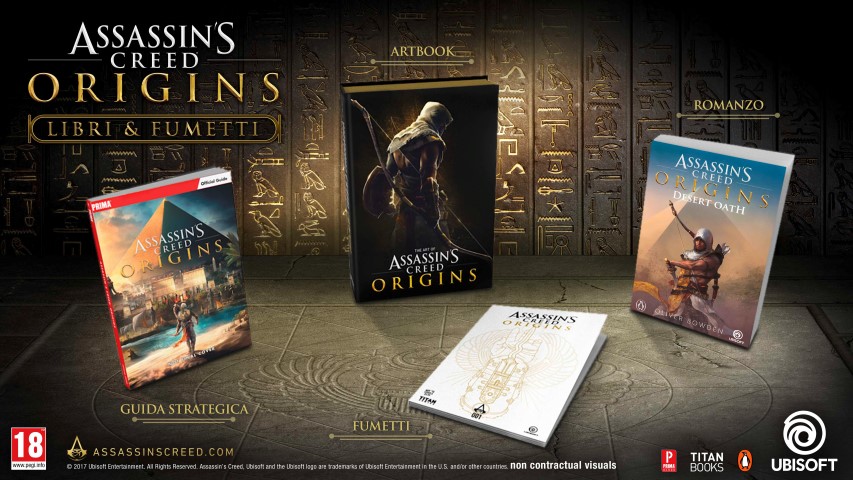 Assassin's Creed Origins, come ricorderete, arriverà il 7 novembre su Pc e console. Ubisoft sta preparando oltre al lancio del videogioco che segna il ritorno della serie dopo un anno di pausa, una serie di pubblicazioni editoriali che saranno disponibili in tutto il mondo da questo autunno. Queste permetteranno agli appassionati di immergersi maggiormente nel mondo di Assassin's Creed Origins approfondendo ulteriormente la conoscenza del gioco della sua storia attraverso un romanzo prequel, una guida completa, un artbook ed una mini-serie di quattro fumetti.
L'ampia raccolta di pubblicazioni di Ubisoft intende offrire agli appassionati diversi approfondimenti, il vasto universo del videogioco sarà espanso ben oltre il gioco per esplorare maggiormente vari aspetti, tra cui l'infanzia di Bayek, il protagonista del gioco, i primi anni dell'Ordine degli Assassini, il lavoro grafico che si cela dietro ai misteriosi e spettacolari scenari dell'Antico Egitto e una guida ufficiale per i giocatori più appassionati.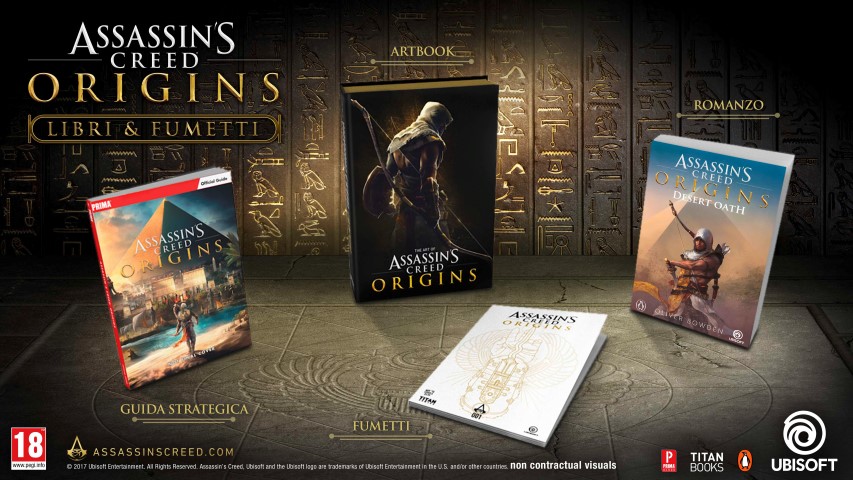 IL ROMANZO PREQUEL
Assassin's Creed Origins Desert Oath è un romanzo prequel ambientato prima della trama del gioco, pubblicato da Ubisoft e Penguin Books e scritto da Oliver Bowden in collaborazione con il team di sviluppo. Il protagonista è un giovane Bayek, impegnato a seguire le orme del padre, che decide di lasciare la tranquillità della sua città natale, Siwa, alla ricerca di risposte. SeguiTE Bayek in un viaggio che lo porterà lungo il Nilo e ad attraversare un paese in rivolta, affrontando i pericoli e i misteri della via del Medjay. Il romanzo è disponibile al seguente indirizzo https://www.amazon.co.uk/Desert-Oath-Official-Prequel-Assassins/dp/1405935065/.
LA MINISERIE DI QUATTRO FUMETTI
Una miniserie di quattro fumetti ufficiali di Assassin's Creed Origins, scritta da Anne Toole e pubblicata da Titan Comics, esplorerà i primi anni dell'Ordine degli Assassini, introducendo nuovi territori e personaggi, oltre ad alcune celebri figure storiche. I fumetti sono disponibili al seguente indirizzo https://titan-comics.com/?tag__series=assassins-creed.
ARTBOOK
The Art of Assassin's Creed Origins è un artbook pubblicato da Titan Books che riporterà i lettori nell'Antico Egitto, uno dei periodi storici più misteriosi di tutta la storia. Consentirà di esplorare il mondo di Assassin's Creed Origins scoprendone i suoi segreti e miti dimenticati, ma anche trovando maggiori informazioni su personaggi, nemici, armi e gli splendidi panorami del gioco, attraverso una vasta raccolta di contenuti grafici, tra cui bozzetti, piantine delle città, studi sui personaggi e dipinti, accompagnati da commenti e appunti di artisti e sviluppatori. L'artbook è disponibile al seguente indirizzo: https://titanbooks.com/the-art-of-assassins-creed-origins-9174/.
LA GUIDA COMPLETA
La Guida ufficiale completa, pubblicata da PRIMA Games, è uno strumento assolutamente imperdibile per tutti i giocatori più appassionati. Include una guida completa di tutte le armi e gli equipaggiamenti, oltre a un walkthrough per completare il gioco al 100% con una serie di mappe dettagliate, che riportano ogni genere di informazione, tra cui luoghi, collezionabili e obiettivi. I possessori della Guida ufficiale otterranno anche l'accesso esclusivo a una versione elettronica adattata per il formato mobile e ottimizzata per essere usata come secondo schermo durante il gioco. La guida è disponibile al seguente indirizzo https://www.amazon.co.uk/Assassins-Creed-Origins-Prima-Official/dp/0744018609/.
L'articolo Fumetti e guida ufficiale per Assassin's Creed Origins sembra essere il primo su IlVideogioco.com.
Fonte: Fumetti e guida ufficiale per Assassin's Creed Origins