Agli occhi di un veterano dei giochi di ruolo digitali occidentali, che magari ha un'esperienza più che decennale con i titoli del genere, è forse la saga di Dragon Age quella che, più di qualunque altra (compresa la serie "sorella" Mass Effect), può mettere in primo piano i profondissimi cambiamenti intercorsi nelle filosofie di game design di questo particolare sotto-genere negli ultimi 10 anni.
Cambiamenti fatti di evoluzioni, perfino di qualche rivoluzione ma anche di una certa regressione per quanto concerne alcune peculiarità o meccaniche strutturali.
E d'altronde questo tipo di percorso, fatto di avvicendamenti nel team di sviluppo, di voltafaccia spesso all'ultimo secondo e di immancabili interferenze da parte del publisher, può essere considerabile quasi fisiologico in una serie che impiega così tanto tempo per la realizzazione e lo sviluppo di ogni suo singolo capitolo.
Ogni iterazione di questo franchise, infatti, nasce, cresce e viene data in pasto al pubblico in un ben determinato momento "storico" del genere, sottolineandone quasi programmaticamente le caratteristiche di rilievo o in corso di modifica in quel dato frangente cronologico, come una sorta di organigramma evolutivo. È davvero molto interessante studiare tutti e tre i tre capitoli della saga tenendo a mente quest'ottica e contestualizzando il tutto, di volta in volta, con lo stato precipuo del mercato videoludico nell'istante della pubblicazione, perché se ne possono ricavare in maniera naturale e assai intuitiva diversi indizi "storici" sull'evoluzione del game design di uno dei generi oggi più amati dai videogiocatori di tutto il mondo.
Pur non avendo avuto lo stesso successo, o la fama, della suddetta trilogia di Mass Effect, l'universo di Dragon Age è tuttavia riuscito a raccogliere attorno a sé una vasta schiera di estimatori, che vanno dagli appassionati della narrativa fantasy più spicciola a chi apprezza il gioco di ruolo in forma leggermente più complessa rispetto alla media del genere – quantomeno nell'ambito delle produzioni tripla A.
Ma non sono nemmeno mancate le critiche, a volte feroci, altre vote ingiustificate, ma comunque sintomatiche dell'attenzione questo franchise è riuscito ad ottenere presso il grande pubblico, capitalizzando su alcuni tratti somatici che sono ormai diventati un vero e proprio marchio di fabbrica della Bioware degli ultimi 10-15 anni: l'attenzione verso la narrazione, declinata in particolar modo nella caratterizzazione delle relazioni fra i personaggi; un universo di gioco costruito ad-hoc attorno ad una "lore" ricchissima di contenuti e materiale (sfruttando non solo la comodità del Codex, un "archivio" nozionistico interno al gioco e liberamente consultabile, ma anche le possibilità offerte da altri media come libri e fumetti); l'occhio di riguardo posto verso le tematiche LGBT, la cui proposizione all'interno delle proprie opere è da tempo (dal personaggio di Juhani in Knights of the Old Republic, in effetti) un vero e proprio vanto della casa canadese.
IN PEACE, VIGILANCE. IN WAR, VICTORY. IN DEATH, SACRIFICE
Dragon Age: Origins (3 novembre 2009) rimane, ad ogni modo, una vera e propria anomalia per i giochi di ruolo dagli elevati valori produttivi. Il suo sviluppo iniziò, addirittura, a novembre 2002, mentre il gioco vero e proprio venne annunciato solamente nel 2004. L'intervista rilasciata dal lead designer Mark Laidlaw al sito RPGFan è assai rivelatoria di un progetto cui la casa di sviluppo canadese teneva evidentemente tantissimo, tanto da prolungarne lo sviluppo per diversi anni e cambiarne in corsa svariate caratteristiche (come le eponimi "origini", veri e propri background per i propri personaggi giocabili, passate dalle originali 12 a sole 6).
Sullo sviluppo travagliato influì anche la decisione, maturata in particolar modo dai nuovi capoccia di Electronic Arts in seguito all'acquisizione della compagnia da parte del colosso del publishing videoludico americano, di portare il gioco anche su console di settima generazione, ovvero PlayStation 3 e Xbox 360; ciò generò nuovi grattacapi per un team di sviluppo già alacremente al lavoro (nei periodi di crunch time più duri gli effettivi ammontavano a più di 180), e lo stesso Laidlaw affermò come l'elemento più insidioso risiedesse nella necessità di far uscire tutte e tre le versioni contemporaneamente, privando così il team di quel feedback che era stato necessario per realizzare a dovere il porting Pc del primo Mass Effect, nel 2008.
Indipendentemente dalle difficoltà del mastodontico lavoro, in ogni caso, la base fondante e la visione dei designer è sempre stata una sola: quella di un titolo assai vasto e multiforme, il cui compito – se non principale, sicuramente prioritario – era dare compiutamente vita e forma alla nuova IP di Bioware, con la quale la software house sperava finalmente di districarsi dalle proprie radici legate a D&D e ai Forgotten Realms per dedicarsi a progetti maggiormente personali, e probabilmente anche più gratificanti sul piano strettamente creativo.
Laidlaw, prendendo di nuovo spunto dalle sue dichiarazioni, cita più volte come autorevoli "fonti" creative e ispiratrici non solo il moderno high fantasy, sulla scia di Tolkien ed epigoni, ma anche le Cronache del Ghiaccio e del Fuoco di George R.R. Martin, autore che non era allora conosciuto e osannato come adesso, eppure costituiva già un punto di riferimento imprescindibile per gli scrittori e gli artisti del team, i quali proprio sul suo stile crudo e realistico si sono basati per costruire un epos fantasy diverso e originale – quantomeno, rispetto alle ambientazioni fino a quel momento affrontate dallo studio.
Il risultato? Ebbene, in Dragon Age: Origins è presente il consueto campionario stereotipico tipico del fantasy classico, come elfi, nani, incantesimi di ogni sorta e, ovviamente, maestosi draghi (d'altronde, stanno anche nel titolo); tuttavia, il lavoro effettuato dai writers si concretizza non solo nella quasi completa rielaborazione e nel ribaltamento di alcuni stilemi del genere, ma in generale in una compiuta presentazione di un universo fantasy che, seppur magari non sufficientemente ispirato in alcune sue componenti, riesce comunque con somma facilità ad accattivarsi le simpatie del giocatore, che si ritrova presto immerso in un affascinante universo digitale costruito con una cura e un'attenzione che sfiorano il maniacale.
L'intreccio di base, e in generale la trama nel suo complesso, si presentano piuttosto derivativi, avendo come ruolo centrale la lotta di un antico ordine di guerrieri (i Custodi Grigi) contro una piaga inesorabile conosciuta col nome di Prole Oscura, la quale si è manifestata con un vero e proprio Flagello nella nazione medioevaleggiante del Ferelden. È, tuttavia, proprio in Origins, forse più che in ogni altro titolo della saga, che vengono esplorate in tutte le loro sfaccettature tutte quelle tematiche che Bioware ritiene essere le colonne portanti del suo nuovo franchise, e che ne fanno un complesso di tropi fantasy diversi dai soliti: gli elfi sono segregati in ghetti all'ombra di un dominio quasi assoluto del genere umano, ed ad essi fanno da contraltare dei volenterosi ma inefficaci ribelli chiamati Dalish; la lotta perenne dei nani contro la Prole Oscura, ma soprattutto contro le ataviche pulsioni della propria razza; l'elemento religioso e quello politico, densi di contraddizioni e magagne ricche di spunti per la narrazione; il dramma dei maghi, costretti alla prigionia dai propri stessi poteri.
Grazie all'abile mescolanza fra ambientazione e narrazione, tra solido retroterra culturale di ogni scena e senso di presenza fisico nel mondo, a tutt'oggi, Origins è quasi certamente l'opera più ruolisticamente completa di Bioware, un risultato che si deve in particolare alle multiple origini possibili per i nostri personaggi, ovvero a dei veri e propri antefatti visibili in prima persona che delineano la storia pregressa dell'avatar in questione, il suo ruolo nel mondo e la sua classe di partenza. La combinazione di razze e classi dà vita sei origini di base, suddivise in: guerriero o ladro umano nobile, mago umano o elfo, elfo di città, elfo Dalish, nano nobile e nano popolano.
Cosa importantissima, poi, esse sono direttamente giocabili e sono legate a personaggi e storie spiccatamente personali, destinati a ricomparire anche più avanti nel gioco. A ciò si aggiunge il più che discreto livello dei dialoghi, che si distinguono anche nella gamma tonale di risposte possibili e che possono presentare alcune piccole variazioni in base alla propria origine, le numerose decisioni che è possibile compiere nel corso dell'avventura (alcune piuttosto difficili moralmente), e all'assenza di un indicatore di moralità del personaggio – una scelta precisa da parte di Bioware e anche piuttosto coraggiosa, se consideriamo che proprio tale software house non si era mai particolarmente distinta nel proporre sistemi di moralità particolarmente complessi, ancorata a rappresentazioni formulaiche "buono/cattivo" dai tempi di Knights of the Old Republic.
A tutto questo si accompagna un sistema di gioco che riprende le più attempate tradizioni del genere, non disdegnando comunque un approccio sincretico tendente a riassumere – rimodernandole adeguatamente – talune meccaniche classiche, ma decisamente troppo arcaiche per essere riproposte tali e quali: Origins somiglia, così, ad un incrocio fra Baldur's Gate 2 e il suddetto KOTOR, configurandosi come un gioco di ruolo lineare, focalizzato sulla gestione del party, gestito da un sistema di regole "simil-tabletop" semplice ma al tempo stesso in grado di fornire una discreta varietà di build e un certo grado di complessità, mai troppo astrusa. Il sistema di combattimento – che mantiene la classica formula del tempo reale con pausa tattica – riesce a raggiungere un buon equilibrio tra complessità e accessibilità, e non mancano nemmeno alcune finezze visive come delle brutali "finisher" con copiosi ettolitri di sangue versato che sottolineano, ancora di più, la crudezza del setting, forse rappresentata in maniera un po' ingenua ma comunque volenterosa.
Alcune intuizioni di gameplay, dalle complesse tattiche impostabili per la gestione dei combattimenti da parte dell'IA, all'interfaccia pensata per passare senza soluzione di continuità dalla terza persona ad una simil-isometrica, completano un quadro generale che segna, a parere di chi vi scrive, la definitiva maturazione di Bioware per quanto riguarda il concetto "classico" di CRPG della software house canadese: quello, per intenderci, con linee di testo completamente visibili, personaggio senza voce, design tradizionale basato sui classici meccanismi di un party "alla D&D". In effetti, proprio Origins – insieme all'espansione Awakening – potrebbe rappresentare l'ultimo esemplare di una sotto-razza specifica di giochi di ruolo che è oggi quasi del tutto scomparsa, almeno se consideriamo il solo mercato tripla A, sopravvivendo solo in epigoni finanziati tramite Kickstarter come lo splendido Pillars of Eternity.
LA GRANDE AVVENTURA DI HAWKE (E DEI SUOI AMICI)
Già con Dragon Age II (8 marzo 2011), infatti, ci troviamo davanti ad un cavallo di razza completamente differente. Ad oggi, in effetti, il capitolo di mezzo della trilogia è uno dei prodotti generalmente considerati più divisivi e controversi di Bioware, e nella stessa discussione sul titolo in questione può essere assai probabile trovare le lodi più sperticate insieme a ferocissime critiche al vetriolo.
Di certo, al contrario di quanto è avvenuto con il "rivale" Mass Effect 2, c'è che il secondo Dragon Age fin dall'inizio non partì sotto i migliori auspici: il successo di critica, pubblico e vendite dell'immediato predecessore spinse infatti il publisher Electronic Arts a maggiori interferenze nel processo creativo degli sviluppatori, spingendo maggiormente sul pedale dell'acceleratore per consegnare quanto prima possibile un seguito ad un pubblico avido di contenuti legati a questo nuovo franchise e ansioso di tornare a percorrere le lande di Thedas. Il risultato è stato un ciclo di sviluppo che lo ha visto pubblicato dopo soli sedici mesi dall'immediato predecessore, con tutto ciò che ne consegue.
In realtà Dragon Age II non parte nemmeno da cattive premesse: l'idea di base dell'intreccio è quella di seguire i destini di una famiglia di rifugiati fereldani in fuga dal Flagello del primo capitolo, i quali in seguito alle peripezie del prologo giungeranno nella città di Kirkwall, nei Liberi Confini (una regione composta da città stato immediatamente a nord del Ferelden). In tale luogo si svilupperà una vicenda incentrata particolarmente sul conflitto esplosivo tra maghi oppressi dalle proprie catene e templari ("braccio armato" della religione fittizia principale della serie) oppressori, con – nelle intenzioni degli sviluppatori, quantomeno – diverse sfumature di grigio tra le fazioni e tanto, tantissimo sangue.
Già dalle primissime fasi di gioco, tuttavia, si può percepire distintamente un diverso "feeling" rispetto alla precedente iterazione, e non sempre in positivo. Tra i primissimi cambiamenti che è possibile notare figura, nettamente e distintamente, la scomparsa delle linee di dialogo testuali classiche, sostituita da una ruota di risposte possibili che, se non si trattasse di un parto della stessa casa di sviluppo, costituirebbe nulla di meno che un plagio nei confronti di Mass Effect. Proprio come nella saga fantascientifica di Shepard e soci, il ventaglio di risposte selezionabili è limitato a tre, con le scelte posizionate in alto e in basso nella ruota che indicano, rispettivamente, un atteggiamento diplomatico e uno spietato, e l'unica differenza costituita dalla frase posta in mezzo, che denota adesso un atteggiamento non più neutrale, bensì irriverente e sarcastico da parte del protagonista Hawke.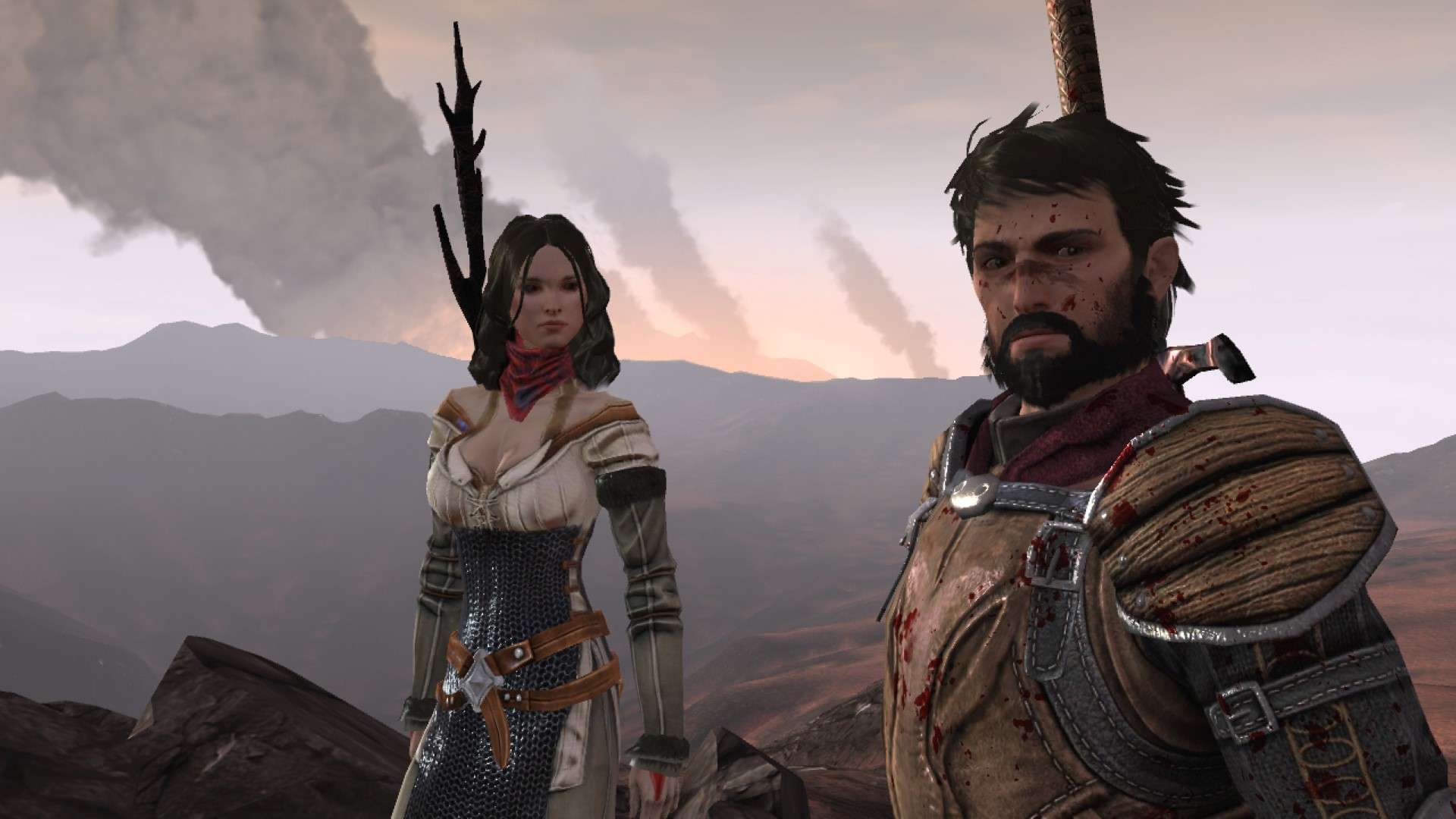 Sì, perché un altro cambiamento sostanziale rispetto ad Origins è l'eliminazione delle variegate origini e della possibilità di selezionare una razza diversa da quella umana, sostituita ora da una figura "simil-Shepard" che se da un lato permette una maggiore integrazione con la sceneggiatura, dall'altro toglie al giocatore la libertà di scelta ruolistica che aveva contraddistinto lo splendido predecessore.
In realtà, vi è forse un'altra possibile motivazione per una tale scelta, apparentemente scellerata: la trama, infatti, si focalizza in particolar modo – come già accennato – sulle alterne fortune del protagonista e dei suoi familiari (la madre, il fratello e la sorella minori), delineando un plot che rappresenta una novità di assoluto rilievo per Bioware. Sparite sono, infatti, tutte quelle velleità da prescelto e salvatore del mondo che avevano invariabilmente determinato le precedenti sceneggiature della casa canadese, sostituite da un intreccio che preferisce piuttosto puntare i riflettori sul piano personale, focalizzandosi sull'ascesa di Hawke e degli altri componenti del suo nucleo familiare, da esiliati senza un soldo in tasca a potenti membri della classe media di Kirkwall, fino ad arrivare addirittura ad influenzare le alte sfere della politica, il tutto in un viaggio lungo una decina d'anni circa, con un pesante accento sui rapporti intimi del protagonista e dei suoi comprimari.
Sulla carta, si tratta di intenzioni senza dubbio lodevoli: un tentativo, insomma, di cambiare regime rispetto ai tropi che avevano contraddistinto le sceneggiature realizzate in quel di Bioware fino a questo momento. Il risultato? Un po' come il titolo nel suo complesso, esso viene oggi considerato di altalenante fattura, viaggiando da un capo all'altro della qualità tra punti particolarmente ispirati, e financo pregni un pathos senza dubbio notevole, e altri momenti decisamente sottotono, di tutt'altra schiatta rispetto al livello cui la software house ci ha abituato nel corso degli anni. E anche i PNG che si possono unire al party non hanno incontrato l'unanime consenso dei fan, dato che alcuni di loro hanno dato la distinta sensazione di essere peggio caratterizzati e sfaccettati rispetto ad altri comprimari (vedasi Sebastian Vael, che guarda caso era disponibile agli acquirenti del day-one solamente tramite dlc dedicato).
Meccanicamente parlando, sebbene Dragon Age II mantenga apparentemente inalterati i punti di forza del precedente capitolo (combattimento strategico in tempo reale con pausa e tattiche personalizzabili), sussistono tuttavia delle enormi differenze concettuali e stilistiche che sono risultate invise a gran parte dei fan di Origins. Intanto, il combattimento in generale è stato reso molto più veloce e fluido nell'azione, "spettacolarizzando" (in mancanza di un termine migliore) al massimo e cercando di rimediare ad una delle critiche più frequenti rivolte al predecessore, spesso accusato di un'eccessiva legnosità. Sfortunatamente il risultato finale sfiora spesso il parossismo, con una rapidità del flusso di gioco che mal si accompagna al focus tattico che dovrebbe, in teoria, essere il vero e proprio punto di forza delle meccaniche della serie. E non aiuta il fatto che i nemici arrivano grazie ad ondate decisamente mal concepite e messe in atto, catapultandosi letteralmente sul campo di battaglia da ogni punto – invalidando così la maggior parte delle volte tutta la precedente preparazione tattica messa in atto.
I ridottissimi tempi di gestazione cui abbiamo già fatto cenno, si concretizzano, più precisamente, in un level design capace spesso di far accapponare la pelle: parliamo di dungeon ripetuti nel loro esatto layout tra una missione e l'altra, con pochissime differenze l'uno dall'altro, difetto ravvisabile in particolare nelle istanze di dungeon crawling delle missioni secondarie – fortunatamente gran parte della quest principale non soffre di questo problema. È chiaro che i designer non hanno avuto fisicamente il tempo di modellare dei livelli differenti dati i ristrettissimi tempi di produzione e lancio, cosicché la mole di contenuti narrativi del gioco (che poca cosa non è) non risulta adeguatamente supportata da un lato artistico e tecnico all'altezza
Questi difetti che abbiamo appena sottolineato, e che furono evidenziati già dalla maggior parte delle testate dell'epoca, colpirono profondamente – con tutta probabilità – gli animi di Bioware, se consideriamo che il successivo seguito adotterà alcune particolari filosofie di design proprio in risposta a tali critiche.
INQUISITION: OVVERO, UN RITORNO ALLE ORIGINI?
Con Dragon Age II avevamo deciso di provare a fare qualcosa di narrativamente molto diverso, molto più personale, qualcosa di molto più chiuso in sé stesso. Nessun prescelto, nessuna chiara minaccia che aleggia sul destino del mondo. Non credo sia stato un successo perfetto, ma quella era l'intenzione. Tutti gli altri cambiamenti percepiti, come il presunto combattimento troppo semplificato, le ondate, e tutte quelle cose… in teoria doveva trattarsi più di una evoluzione. Penso che abbiamo semplicemente fatto il passo più lungo della gamba. Ci siamo spinti troppo oltre.

Proprio a causa di Dragon Age II, Inquisition dovrà essere ancora più ambizioso, per poter affrontare queste critiche e poter davvero tornare alle radici della serie. Verterà molto di più sul combattimento tattico e su un livello più alto di difficoltà ben calibrata. Una storia più chiara, sempre con le classiche scelte morali ma narrativamente più sullo stile di Dragon Age: Origins. Avete ragione a chiedere. L'obiettivo non è mai stato quello di rivoluzionare la serie ad ogni episodio, ma Dragon Age II ci ha forzato un po' la mano.
In effetti, queste sono state proprio le parole di Mark Darrah, produttore esecutivo di Bioware, nel corso di questa intervista con la rivista online PC Gamer. Dal tono generale del buon Darrah, si poteva distintamente capire come tutte le critiche – alcune meritate, spesso decisamente impietose, a volte feroci – rivolte a Dragon Age II abbiamo fatto seriamente riconsiderare le priorità della software house, nonché il suo rapporto con una serie che, fino a quel momento, non era mai riuscita veramente a costruirsi una propria, precisa identità, perennemente sospesa fra passato e futuro, tra velleità da gioco di ruolo dei "bei tempi andati" e istanze di modernizzazione più o meno estreme
Più in generale, però, Dragon Age: Inquisition (18 novembre 2014) arrivò proprio agli inizi di quella che oggi è la "current gen", e si configurò fin da subito come un passo fondamentale per Bioware: un'occasione per riscattarsi agli occhi dei fan e del pubblico degli appassionati non solo di fronte all'insuccesso (oggettivo, se parliamo in termini di vendite – che non sono state soddisfacenti quanto quelle di Origins) di Dragon Age II, ma anche davanti a tutte quelle polemiche che si sono scatenate in occasione del discutissimo finale di Mass Effect 3, con tutti gli strascichi che ben conosciamo e che non abbiamo assolutamente intenzione di riprendere in questa sede.
Un nuovo inizio insomma, confermato anche dalle prime indiscrezioni, che vedevano per il titolo un design improntato all'open world più spinto, un elemento che Bioware stessa non utilizzava in una sua opera fin dai tempi del primo, seminale Baldur's Gate, classe 1998. Altri auspici, più negativi, volevano Inquisition, come una sorta di progetto "recuperato" partendo da una prima bozza di un mmorpg ambientato proprio nel mondo di Thedas, ma tali dicerie non sono mai state esattamente confermate.
Ciò che conta è che Inquisition costituisce un vero blockbuster videoludico, in particolare se guardiamo alla quantità di contenuti ad ogni livello, sia esso narrativo o ludico. Il passaggio all'estrema libertà garantita dalle meccaniche open world – che però vero open world non sono, dato che si tratta semplicemente di gigantesche "macro-aree" – ha permesso ai designer di dare compiutamente vita alle regioni di Ferelden e Orlais, quest'ultima percorribile per la prima volta nel franchise. Il plot di base vede la riformazione dell'Inquisizione, un'organizzazione militaresca prima facente parte della Chiesa ma ora separata, sotto la guida del nostro personaggio principale, e chiamata a rispondere alla minaccia di Corypheus, un essere demoniaco che è riuscito a varcare la soglia tra il mondo reale e il Velo che separa il piano materiale da quello spirituale.
Si torna quindi non solo, come anticipato da Darrah, ad una impostazione più classicheggiante con antagonisti ben chiari e una minaccia su scala globale, ma anche ad una maggiore libertà di espressione nella creazione del proprio Inquisitore, che potrà essere a scelta umano, elfo, nano o, per la prima volta nella saga, qunari. Più in generale c'è, in Inquisition, una chiara volontà di riscatto, di ritorno in auge di quello stile tipico che ha contraddistinto le maggiori produzioni di ruolo tradizionale di Bioware: pur venendo mantenuta, per esempio, la ruota della conversazione di Dragon Age II, adesso le risposte sono più variegate nella gamma tonale e negli approcci, non disdegnando neppure alcuni battibecchi esclusivi di certe classi, razze o background. Per esempio, l'Inquisitore potrà rispondere in modo diverso se in una precedente discussione si è affermata una sua fede nel divino oppure no.
Questa benvenuta attenzione verso le parole va di pari passo con un cast di personaggi secondari semplicemente vastissimo, che comprende non solo i classici compagni di viaggio che accompagnano il giocatore nel corso delle sue avventure, ma anche una vasta serie di comprimari non giocanti che svolgeranno vari ruoli all'interno della neonata Inquisizione. Sì, perché uno dei fattori più importanti e più caratteristici di Inquisition, soprattutto rispetto agli altri episodi della serie, è rappresentato dall'avere il completo controllo della propria organizzazione, con tanto di fortezza – che risponde al nome di Skyhold – che fa da "hub" e quartier generale, all'interno della quale poter intavolare discussioni con i propri sottoposti, risolvere i dilemmi morali proposti dal proprio comando e organizzare operazioni di guerra contro le forze di Corypheus grazie al tavolo da guerra, ovvero una mappa interattiva delle regioni di gioco.
Quest'ultima rappresenta un'aggiunta che in parte si configura senza dubbio come sostanziale, dando al giocatore la possibilità di ottenere bonus di grande consistenza grazie all'invio di emissari che svolgeranno diverse missioni in "background", magari mentre il giocatore è impegnato in tutt'altre faccende; il completamento di tali incarichi dopo un timer prestabilito offrirà ricompense di ogni sorta, che vanno dai materiali necessari per sfruttare appieno il ricchissimo sistema di crafting, a nuove voci del Codex, arrivando persino ad influenzare il corso di determinati eventi in gioco. Dall'altra parte, molti appassionati hanno ritenuto il tavolo da guerra una componente in un certo senso sottosfruttata del gioco, con conseguenze fini a sé stesse per la stragrande maggioranza delle subquest.
C'è, infatti, in Inquisition, una sorta di "doppia natura": da un lato, la quest principale e i personaggi collegati ad essa rappresentano Bioware al suo meglio, con un intreccio ben confezionato e ricco di colpi di scena e caratteri sufficientemente sfaccettati (tranne forse per il principale antagonista) coadiuvati da un doppiaggio sontuoso e alcuni momenti contraddistinti da una sceneggiatura onestamente impressionante; non mancano neppure certi punti davvero sconvolgenti, capaci di gettare una luce completamente nuova sulla "lore" fino a quel momento prestabilita dell'universo fantasy di Thedas.
Dall'altro lato, sfortunatamente, una tale attenzione non è stata chiaramente rivolta alle quest secondarie, che spesso e volentieri si riducono in nulla di più che in una raccolta ad nauseam di svariati oggetti oppure nel percorrere in lungo e in largo le regioni di gioco alla ricerca dei punti di interesse segnati sulla mappa a mo' di lista della spesa, nella peggiore tradizione di Assassin's Creed e simili. La sensazione costante è che Bioware, pur avendo puntato tutto sul mondo aperto e sulla vastità delle ambientazioni, non sia effettivamente riuscita a riempirlo a sufficienza con contenuti di spessore, denotando forse la scarsa esperienza del team con questo tipo di design.
Nonostante la qualità altalenante del narrato, pad o tastiera alla mano Inquisition si dimostra fortunatamente un buon successore di Origins, dimenticando lo scellerato approccio spettacolarizzato agli scontri del precedente capitolo in favore di una mentalità spesso più ragionata, con un sistema di combattimento che riesce – anche se solo parzialmente – a ricreare il tatticismo di Origins. La varietà degli approcci è data soprattutto dalla selezione della difficoltà, con le prime due tappe dello slider dedicato che privilegiano il più puro hack & slash, mentre le altre favoriscono una maggiore attenzione strategica.
Si tratta, insomma, sempre del tentativo di raggiungere quel paventato delicato equilibrio fra azione e tattica, fra dinamismo e riflessione, che rappresenta fin dagli albori della serie un po' il Santo Graal degli sviluppatori canadesi, e in effetti Inquisition sembra fornire, la maggior parte delle volte, un buon feedback strategico grazie alla possibilità di gestire le tattiche dei compagni e alla necessità di saper giostrare i diversi attacchi delle varie classi in modo da creare letali combo di effetti; d'altro canto, alcune meccaniche si dimostrano, di nuovo, assai deficitarie, in particolare per quanto concerne l'ingombrante e decisamente macchinosa nuova visuale tattica, che non riesce affatto a svolgere adeguatamente la propria funzione.
L'intento, chiaro e tondo, di Bioware, insomma, è quello di accontentare qualunque possibile acquirente, sia chi vagheggia un ritorno alle passate radici strategiche del genere, sia chi cerca una sorta di gioco di ruolo action un po' più complesso della media. E se Inquisition non sempre riesce nella propria cerca, unendo come la mitica chimera queste due istanze così differenti dello stesso genere, è pur vero che si tratta comunque di uno dei tentativi più interessanti mai effettuati in questo senso.
QUALE FUTURO PER IL THEDAS?
In questo 2018 ormai inoltrato da tre mesi, è questa la domanda che più spesso si pongono gli appassionati della serie, mai come adesso così in bilico tra passato, presente e futuro.
Se, infatti, Inquisition si è dimostrato tutto sommato fruttifero a livello meramente commerciale, configurandosi come il miglior lancio nella storia di Bioware secondo gli ultimi report, è anche vero che la débâcle di Mass Effect Andromeda – più sul piano della reputazione della software house piuttosto che sulla qualità vera e propria del titolo in questione – ha ridimensionato in più di un verso la storica casa canadese, ora impegnata con una scommessa: il mastodontico e complessissimo progetto Anthem.
Ad ogni modo, la serie Dragon Age, pur con i suoi alti e bassi, rimane comunque un vero punto di riferimento tripla A per gli appassionati del gioco di ruolo più tradizionale, e questo nonostante le ibridazioni che si sono susseguite nel corso delle varie iterazioni.
Ben pochi altri titoli di questo genere, d'altronde, possono vantare la stessa attenzione verso i caratteri dei personaggi e verso le storie intime, seppur virtuali, proposte dalle vicende narrate, da sempre vero marchio di fabbrica della casa; il tutto, naturalmente, insieme ad un universo digitale creato da zero, sempre coerente con sé stesso e affascinante nei suoi principi fondamentali, tra magia e intrighi politici, mitologia e cultura approfondite e dettaglio sempre nulla di meno che maniacale.
L'articolo Dragon Age, Speciale sulla serie sembra essere il primo su IlVideogioco.com.