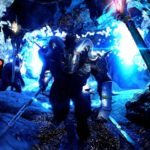 Lo studio di sviluppo indipendente Fatshark ha rilasciato Warhammer Vermintide 2: Winds Of Magic, la prima espansione ufficiale per il titolo uscito l'8 marzo dello scorso anno. Tale espansione, arrivata puntuale secondo annuncio, è in vendita a 19,90 euro, porta con sé una nuova fazione nemica e nuove sfide per i giocatori.
Qui di seguito il trailer di uscita ufficiale.
WINDS OF MAGIC, CARATTERISTICHE
Nuova fazione nemica, gli Uominibestia. Grotteschi ibridi tra umani e bestie, gli Uominibestia possiedono l'intelligenza di un uomo e la scaltrezza degli animali selvaggi. Questi guerrieri selvaggi accettano il Caos di loro spontanea volontà e non mostrano compassione o nobiltà. Con profondo astio verso ordine e ragione, questi Figli del Caos vogliono porre fino al mondo, compiendo una strage sanguinosa.
Nuovo livello di difficoltà. Il Cataclisma è tornato ed è ancora più difficile.
Aumento del level cap. Aumentato il limite di livello, da 30 a 35, con nuovi talenti abbinati.
Nuovo sistema di progressi. Un sistema di progressi nuovo, separato e specifico per i Venti della Magia, oltre a delle versioni Forgiate nella Trama di tutti i tipi di armi.
5 nuove armi. Una per ogni eroe.
Kerillian ha uno scudo e una lancia.
Sienna può far oscillare le sue fiamme con un flagello ardente.
Bardin possiede un nuovo assortimento di asce da lancio.
Saltzpyre ora ha una roncola.
Kruber può utilizzare una lancia pesante.
Nuovo livello di avventura: Presagi Oscuri. Combatti contro i potenti e forti Uominibestia insieme ai tuoi amici in un nuovo, impegnativo livello.
Nuova modalità di gioco: Venti della Magia. Porta i tuoi amici e prova a completare una nuova gamma di sfide con difficoltà crescenti nelle trame degli otto Venti della Magia.
I venti della magia sono composti da "trame" differenti e saranno una combinazione di:
Mappa: Una parte di una mappa avventura esistente.
Vento: I differenti Venti della Magia influenzeranno e modificheranno la mappa.
Obiettivo: Ogni mappa avrà un obiettivo specifico che i giocatori dovranno completare.
Finale: Quando gli obiettivi saranno completati, i giocatori affronteranno la sfida finale.
Difficoltà: Mentre i giocatori avanzano, la difficoltà cresce.
Davide Viarengo
L'articolo Disponibile Warhammer Vermintide 2: Winds Of Magic proviene da IlVideogioco.com.