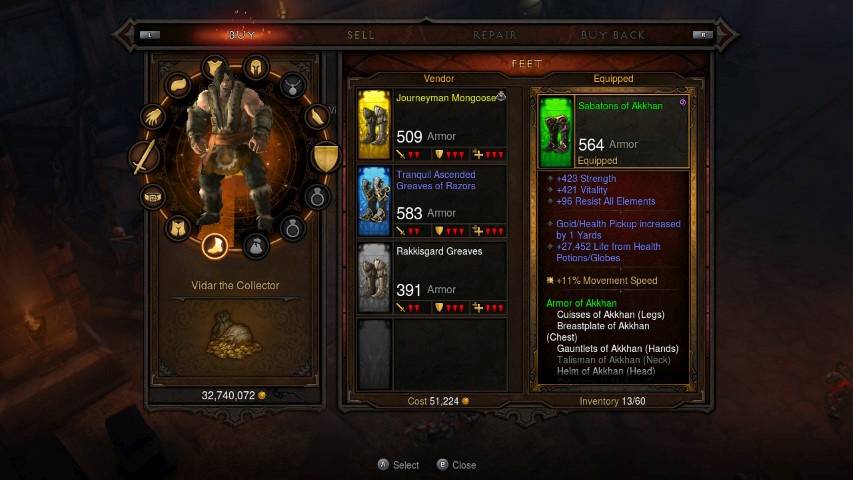 L'arrivo di Diablo III Eternal Collection su Switch è stato un evento. Giunto sull'ibrida di Nintendo lo scorso 2 novembre, l'hack and slash di Blizzard offre tutto quello che gli appassionati della serie desiderano nonché tutto quanto sia uscito sulle altre piattaforme.
Ma come si comporta Diablo III, originariamente uscito quasi 7 anni or sono (era il 15 maggio 2012, ndr) su Pc? Scopriamo in questa nostra rapidissima recensione.
TUTTO DIABLO III, MINUTO PER MINUTO
Partiamo dal lato contenutistico. Diablo III Eternal Collection porta su Switch il gioco liscio ma anche le due grandi espansioni Reaper of Souls (che portò il Crociato ed il quinto atto) e l'Ascesa del Negromante (che mise in dote la settima classe, il Negromante, appunto). Nondimeno, tale edizione per l'ibrida di Nintendo, offre, oltre alla classica modalità Storia, cardine del titolo, anche la modalità Avventura ed i Varchi sbloccati fin da subito, skin di Ganondorf nonché il supporto agli amiiboo. Per chi non ricordasse, in Avventura è possibile affrontare diverse missioni per ottenere importanti ricompense e punti esperienza in varie location dei cinque atti. I Varchi sono dei dungeon che si affrontano di difficoltà sempre crescente in grado – anch'essi – di offrire loot e punti esperienza a vagonate.
Gli utenti Nintendo che voglio affrontare il martoriato mondo di gioco di Sanctuary, un immenso continente oscuro immerso a fortissime tinte fantasy, avranno tutto quello che in sette anni di storia è uscito, aggiornamenti e miglioramenti inclusi, per il terzo capitolo della serie. Chi è appassionato di argp (o action gdr se preferite) ed ammira Diablo, non può non essere attratto dall'offerta che si traduce anche nella possibilità di affrontare mostri ed ambienti in compagnia con 4 giocatori sia in locale che online. Il tutto significa una longevità quasi infinita accentuata anche dalla presenza delle Stagioni online che offrono ulteriori ricompense e loot a go go.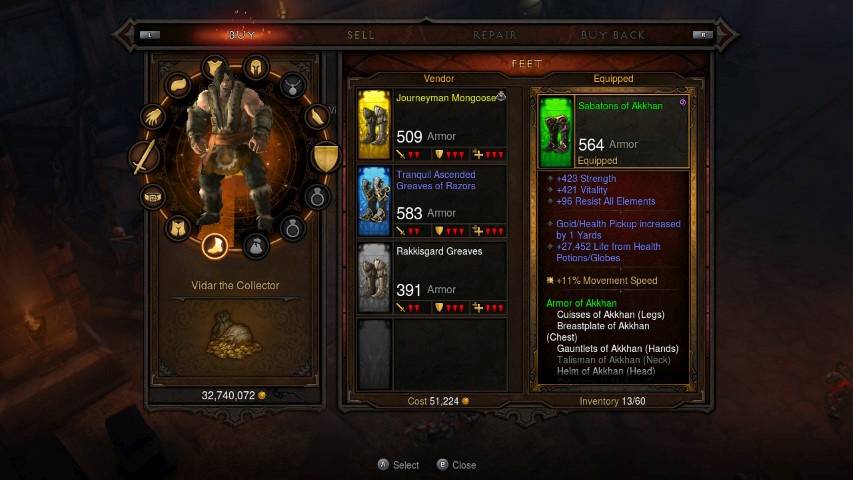 Purtroppo, ma questo è un peccato originario di quasi tutti gli hack and slash, tende ad essere ripetitivo nel gameplay che è molto simile a quello delle altre versioni console vista la presenza della capriola che serve a schivare gli attacchi dei nemici già vista su PS4. La difficoltà è settata molto bene ed i tanti livelli (anche i vari Incubo) offre sempre una sfida di grande livello. Lo stimolo c'è comunque: dopo aver raggiunto il livello 70 ci sono gli 800 livelli Paragon o d'Eccellenza. Ed è lì che inizia il vero Diablo. Questo mitiga tanto la ripetitività  grazie alle sette tipologie di eroi a nostra disposizione (benché i punti abilità non saranno assegnati nei classici 70 livelli perché il gioco li assegna automaticamente a seconda delle classi). A questo aggiungiamo l'equipaggiamento ed il suo crafting che permettono una grande varietà d'azione.
I menu (inventario, abilità attive e passive ed altro) sono stati riscritti molto bene e sono funzionali anche se non hanno la stessa  immediatezza di quelli su Pc. Non c'è differenza tra l'edizione Switch e quella PS4 ed il gameplay non ne risente troppo.
Giusto anche ricordare che in versione mobile e nonostante le ridotte dimensioni dello schermo è possibile godersi degnamente il gameplay. L'utilizzo del singolo Joy-Con è inoltre efficace. E questa è stata forse la sorpresa più grande.
TECNICAMENTE PARLANDO
La versione Switch di Diablo III Eternal Collection si difende bene ed anche se è un po' inferiore a livello di risoluzione rispetto a tutte le altre controparti fa il suo dovere. Se i 720p in portabilità sono eccellenti (viste le esigue dimensioni dello schermo della console), in formato TV i 960p sono quasi risicati. Certo, su una televisione 32 pollici la differenza si nota appena ma quando lo schermo aumenta il tutto si accentua anche se non troppo grazie ai tantissimi effetti grafici. Ci sono alcuni compromessi tecnici, quindi, ma nulla di grave. Anzi, è un pregio ed il motore grafico scalabile fa il suo dovere.
Il gioco si comporta degnamente sulla console della grande N. Bisogna ricordare che il titolo originale uscì 7 anni orsono e quindi oggettivamente il compito di Blizzard non doveva essere esageratamente complicato. La sfida da parte degli sviluppatori c'è stata ma è andata decisamente in loro favore. Il gioco è fluido nelle animazioni ed a livello di effetti è senza dubbio di livello benché sia meno complesso rispetto a quanto visto sulle altre piattaforme. Tuttavia è apprezzabile il fatto che anche nelle fasi più concitate, con decine di nemici su schermo ed in multiplayer, il titolo non tentenni. I modelli poligonali, spigolature a parte, non perdono molto soprattutto in azione.
I filmati delle scene di intermezzo sono ben fatti. Anche il lato artistico si difende alla stragrande.
Ci sono piccolissimi glitch ma il titolo offre la stessa fragranza ed atmosfera visiva. La colonna sonora è senza dubbio uno dei punti forti ed ovviamente è rimasta immutata. Il doppiaggio è chiaramente identico. Insomma, Diablo III mantiene lo stesso feeling delle altre versioni.
COMMENTO FINALE
Diablo III Eternal Collection è un titolo imprescindibile per gli amanti degli action gdr. Certo, porta i difetti dell'originale che elimina al massimo alcune peculiarità ruolistiche (un vero peccato), ma offre tanto. Una sfida molto interessante grazie ai tanti contenuti, livelli di difficoltà scalabili. La caccia ai bonus più o meno grandi, la modalità Storia, la modalità Avventura, i Varchi e le Stagioni fanno il resto.

C'è la scelta tra sette classi (Barbaro, Sciamano, Mago, Monaco, Cacciatore di Demoni, Crociato e Negromante), estremamente differenti tra di loro e tante, tantissime cose da fare. C'è un po' di ripetitività – normale in un hack and slash – ma alla fine ci si diverte soprattutto in compagnia.

Tecnicamente, nonostante alcuni compromessi, Blizzard ha svolto un buonissimo lavoro. La versione Switch non ha molto da invidiare alle altre edizioni. Il gameplay non ne risente particolarmente dando un'azione di buon livello.

Insomma, con tutti i difetti (assente la gestione dei punti nelle abilità nei 70 livelli canonici, in primis, ndr) ed i pregi ereditati dal passato e dal presente, Diablo III è sicuramente un titolo da tenere d'occhio: dà tutto e subito ed è comunque un titolo adatto agli amanti degli hack and slash.
L'articolo Diablo III Eternal Collection, (mini) Recensione proviene da IlVideogioco.com.