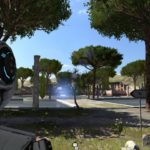 Croteam, software house indipendente autrice di Serious Sam, ha ufficializzato con un trailer di lancio l'approdo su App Store di The Talos Principle.
Il prezzo è di 5,49 euro. Il debutto odierno coincide con l'annuncio dell'edizione limitata della colonna sonora del gioco in vinile firmata da Damjan Mravunac che includerà 28 brani suddivisi in due LP.
Per chi non lo conoscesse, The Talos Principle è un eccellente puzzle-action in prima persona già uscito su Pc e console (qui la nostra recensione Windows, ndr) ed ora su dispositivi mobile con sistema operativo iOS. Gli sviluppatori assicurano che i controller touch non creeranno compromessi nel gameplay nonché dal punto di vista tecnico con il Serious Engine ai massimi livelli.
Spazio ora al trailer di lancio e ad alcune immagini. Buona visione.
L'articolo The Talos Principle approda su App Store sembra essere il primo su IlVideogioco.com.
Continua la lettura di The Talos Principle approda su App Store →