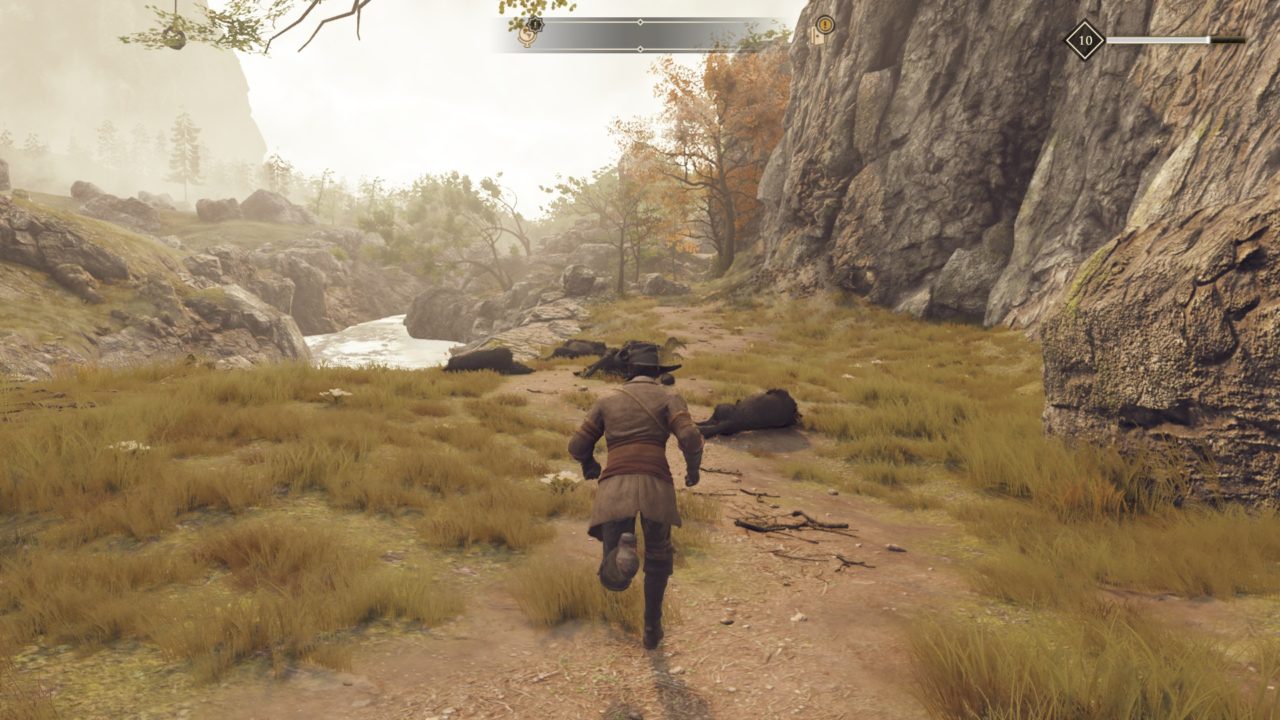 Greedfall è l'ultimo videogioco di ruolo d'azione, in terza persona, sviluppato dai francesi dello studio Spiders sotto effigie di Focus Home Interactive. Ultimo videogioco prodotto con Focus Home perché questi sviluppatori sono alle dipendenze di BigBen Interactive dallo scorso luglio, ormai.
Disponibile per Pc, PS4 e Xbox One, Greedfall ci porta ad interpretare il rampollo di una nobile casata che, di partenza, ha il ruolo di esploratore e diplomatico della Congregazione dei Mercanti. Ci muoviamo in un mondo di fantasia ambientato in quello che potremmo definire un Diciottesimo secolo condito da fanatici religiosi, pirati, colonizzatori e indigeni non proprio ben trattati.
Detto questo, vi lasciamo alla nostra recensione della versione Pc di questo RPG. Buona lettura.
PREMESSE INTERESSANTI…
Abbiamo parlato dei trascorsi di questo talentuoso studio di stanza a Parigi qualche giorno fa. In quello stesso articolo abbiamo parlato di quanto fosse importante, per Spiders e per gli appassionati di videogiochi di ruolo occidentale, il momento storico in cui Greedfall si apprestava a raggiungere i monitor degli appassionati. Purtroppo possiamo parlare di importanza solo di chi vive di "pane e GdR", perché la finestra di lancio dell'ultima fatica dello sviluppatore francese arriva in uno dei periodi caldi del mondo dei videogiochi: arrivano i giochi di calcio, arriva Gears of War 5, stanno per arrivare gli sparatutto che tengono impegnati gli appassionati per i prossimi dodici mesi e, non in ordine di importanza, arrivano quelli che noi chiamiamo "botti di capodanno" o di fine anno. Peccato, perché i lavori di Spiders meritano tutt'altra visibilità, a partire dal misconosciuto Of Orcs and Men e per finire con The Technomancer.
Ma torniamo a Greedfall: come accennato più su, il giocatore veste i panni del Marchese De Sardet, che ha l'ingrato compito di provare a far andare tutti d'amore e d'accordo per il solo bene della corporazione mercantile, dalla quale dipende l'agio della sua famiglia. Famiglia che, contrariamente a quanto si possa pensare, tanto bene non sta, dal momento che la sua matrona è colpita da una pestilenza chiamata malicore. La ricerca di una cura che possa salvare gli abitanti della città natale del protagonista è un altro dei nobili compiti che il nostro alter-ego è chiamato ad assolvere. Insomma: il da fare, al Marchese De Sardet, non mancherà fin dai primi attimi di gioco.
I PRIMI PASSI DA MARCHESE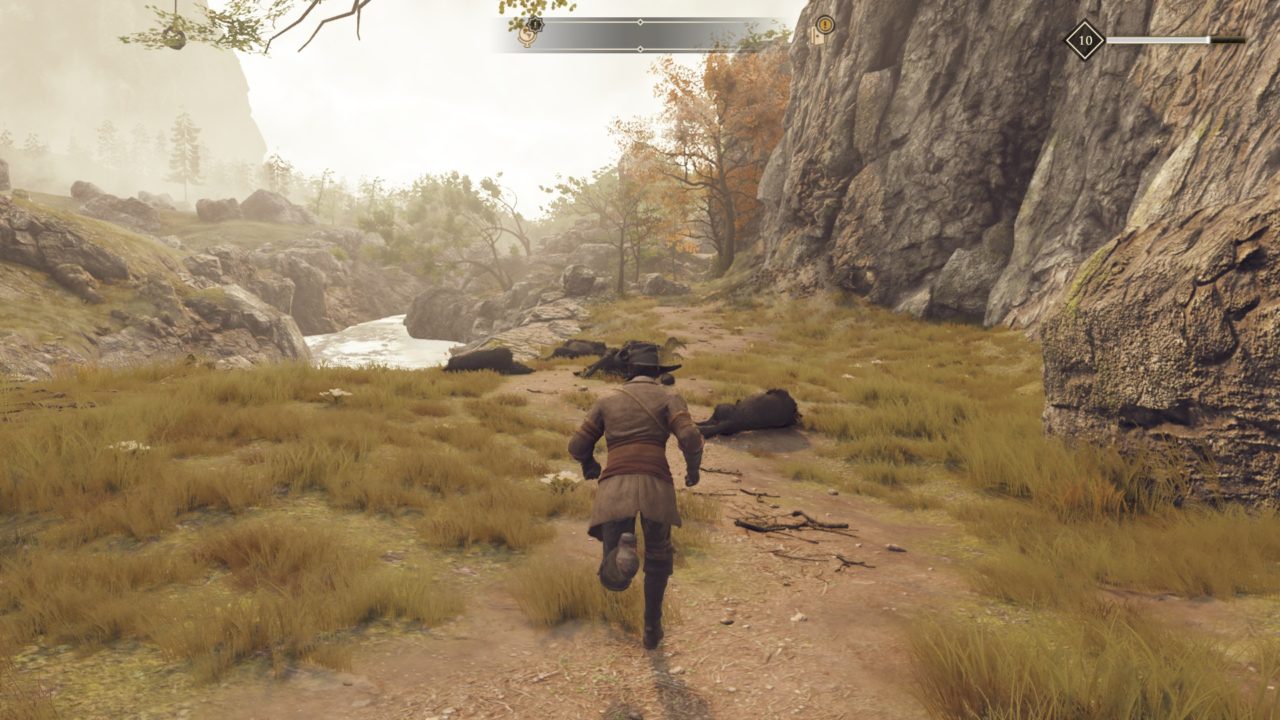 L'inizio di Greedfall non è dei più felici: la madre del protagonista è destinata a morire di una brutta malattia, il cugino, nonché novello governatore della colonia oltremare è sparito e membri dell'equipaggio della nave che dovrebbe portarci all'isola di Teer Fradee vengono sequestrati, per imprecisati motivi che dobbiamo scoprire.
Tra una missione diplomatica e l'altra, veniamo a conoscenza delle fazioni principali che giocano un ruolo fondamentale nello scacchiere politico di Greedfall: l'Alleanza del Ponte, una lega di città ispirate a quelle di storici sultanati ma priva di ogni genere di fanatismo religioso; Thélème, una nazione di fondamentalisti religiosi che vivono nell'eterna missione di convertire tutti gli infedeli al loro Credo, a partire dagli indigeni di Teer Fradee; i Nauti, unica gilda di navigatori talmente esperti da poter attraversare l'oceano, avventurieri e mercenari; la Guardia del Conio che, a dispetto del nome, è una gilda di mercenari e assassini prezzolati; infine c'è il popolo di Teer Fradee, che si riferisce a sé stesso come Yecht Fradi e che tutti gli altri etichettano, frettolosamente, in "gli isolani".
Le fazioni sono legate tra di loro da fragilissimi compromessi, sempre pronti a cedere sotto il peso di questioni di importanza discutibile. La Congregazione dei Mercanti, che abbiamo già citato è rappresentata dal protagonista, cerca di tenere i rapporti con tutti quanti, finché sia possibile, per il bene della gilda.
SILK ENGINE TESO ALL'ESTREMO
Greedfall, come tutti li lavori di Spiders, è mosso dal Silk Engine. Questo motore grafico gestisce praticamente tutto quello che si muove sullo schermo e anche di più. Da lui dipende anche la gestione dell'audio 3d e la musica che cambia in base al contesto, dinamicamente. Stiamo parlando di un motore grafico che ha esordito, sui nostri monitor, nel novembre del 2010 e che viene costantemente aggiornato e tirato a lucido per essere sempre all'altezza della situazione o quasi.
Gli sforzi di Spiders per rendere Silk Engine irriconoscibile, soprattutto in Greedfall, sono encomiabili. I fondali sono ben curati quanto i dettagli in primo piano, le animazioni non sono affatto da bocciare, l'espressività facciale è accettabile e il colpo d'occhio, in estrema sintesi, c'è ed è un bellissimo vedere. Certo, si avvertono tutti i limiti di un motore grafico – in fin dei conti – fuori tempo massimo: non tutto si può distruggere, non con tutto si può interagire, di tanto in tanto salta all'occhio del flickering, il proverbiale clipping non manca mai.
Città, esterni e sotterranei sono molto estesi rispetto agli standard ai quali ci hanno abituato, ci hanno riportato alla mente il modo di disegnare i livelli di The Witcher 2: Assassins of Kings e questo non è certo un difetto. Tuttavia, nel 2019, gli standard per i videogiochi di ruolo occidentali e d'azione sono stati spostati un po' più in là dai famigerati The Witcher 3 e Breath of the Wild e al confronto, Greedfall, sembra una splendida perla che viene dal passato.
La musica di Greedfall è composta e prodotta da Olivier Deriviere (già sentito in Get Even), che si affida ad un'orchestra sinfonica per registrare una colonna sonora di sicuro impatto emotivo e cinematografico. Come accennato più su, grazie al Silk Engine le musiche riescono ad amalgamarsi ed alternarsi senza grossi artifici e senza forzature, soprattutto fra un incontro casuale con creature o personaggi malintenzionati e le fasi di esplorazione.
GUERRIERO, TECNICO, MAGO
Come ogni videogioco di ruolo d'azione che si rispetti, la scelta iniziale determina l'approccio a combattimenti e dialoghi da parte del giocatore/protagonista. Scegliere la scuola del guerriero impone una gestione del personaggio che vira sulle resistenze fisiche e l'output di danno con armi sempre più dannose, mentre durante le fasi di dialogo ed esplorazione si farà più affidamento a intimidazione, conio e forza fisica.
Diametralmente opposto è il mago, che adotta un approccio totalmente defilato e per nulla resistente agli attacchi fisici per dedicarsi a maggiori danni dalla distanza. Il tecnico è la classe che reputiamo più interessante, non perfettamente la via di mezzo tra le due quanto, piuttosto un'alternativa che strizza l'occhio all'alchimia, alle armi da fuoco, alle trappole e ad equipaggiamenti particolari.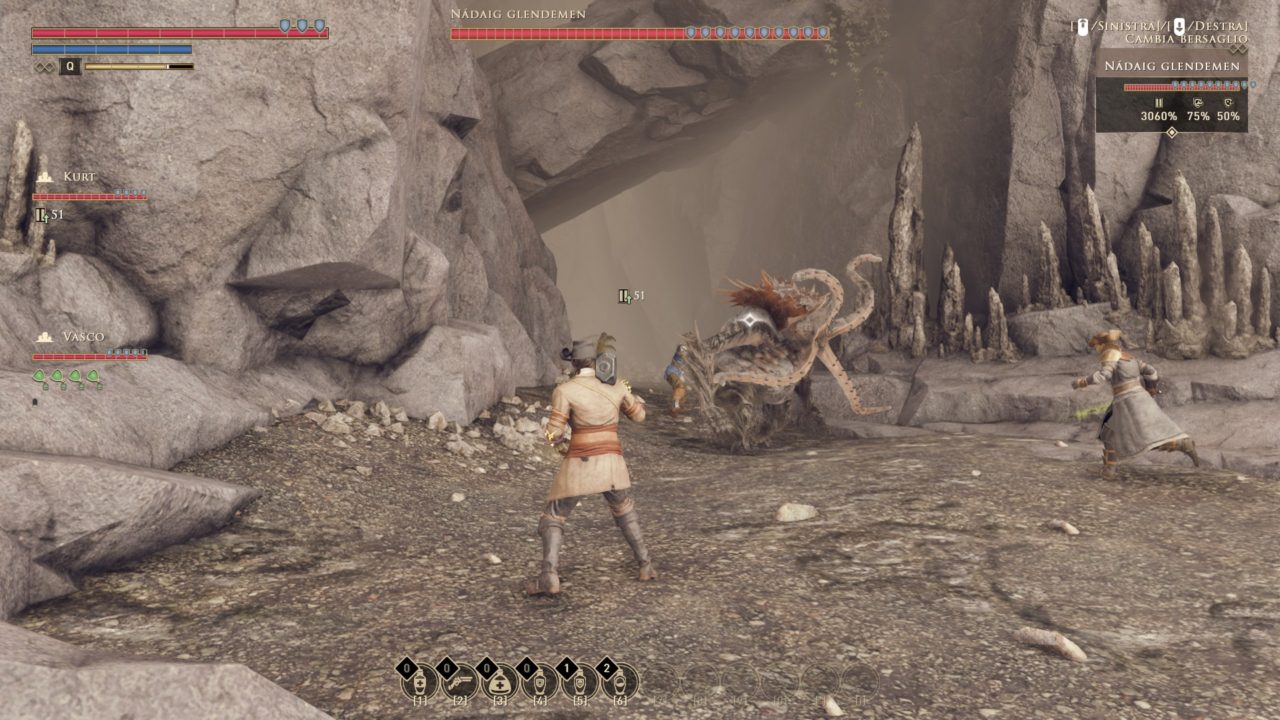 Il sistema di combattimento si affida all'azione in tempo reale e, al limite, ad una pausa tattica se l'azione dovesse risultare fin troppo concitata per i gusti dei più esigenti e tattici giocatori. Schivate, parate ed impatto, calci, spazzate, fendenti e colpi pesanti si intervallano con giusto tempismo. Lo spam selvaggio può pagare agli inizi, con i nemici più deboli ma certamente porta al game over anticipato di fronte a mostruosità o personaggi più impegnativi. Anche l'uso dell'alchimia torna a nostro favore, e non solo bevendo ettolitri di pozioni curative: ce ne sono di diverso tipo per aiutarci fisicamente e magicamente a non soccombere.
TALENTI E ATTRIBUTI, ALCHIMIA E FORGIA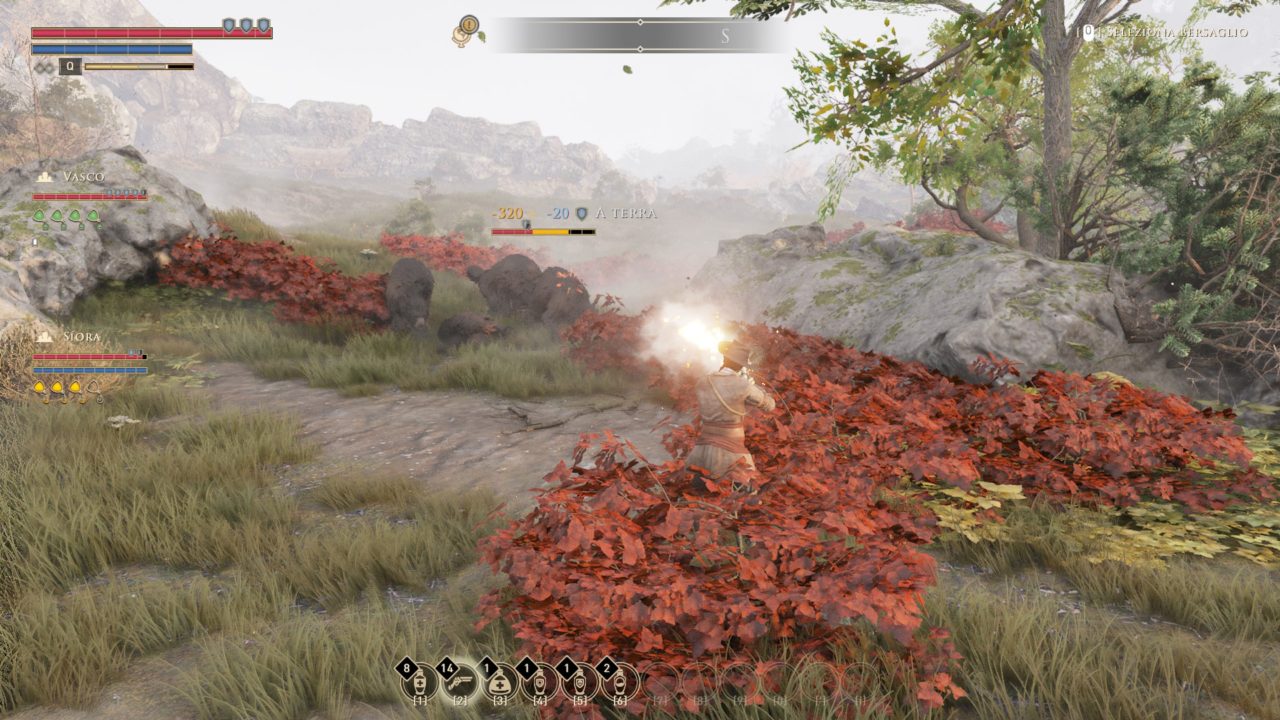 Oltre a queste classi di riferimento, che più avanti nel gioco possiamo certamente fondere a quella di partenza, l'evoluzione del personaggio passa per talenti e attributi. Questi ultimi accrescono l'efficienza fisica o mentale del protagonista, mentre i talenti sono vere e proprie "marce in più" che danno vantaggi durante l'esplorazione o le battaglie.
Aderente ai canoni dei più classici videogiochi di ruolo occidentale, anche Greedfall onora la memoria di Skyrim e The Witcher 2 implementando la possibilità di mescere pozioni che possano ribaltare le sorti della battaglia. Immancabile anche la possibilità di smantellare equipaggiamento inutile o in disuso per ricavarne preziose materie prime che possano portare al potenziamento delle armi che preferiamo o alla diretta forgiatura di attrezzatura nuova di zecca.
STORIA ED AMBIENTAZIONE MEMORABILI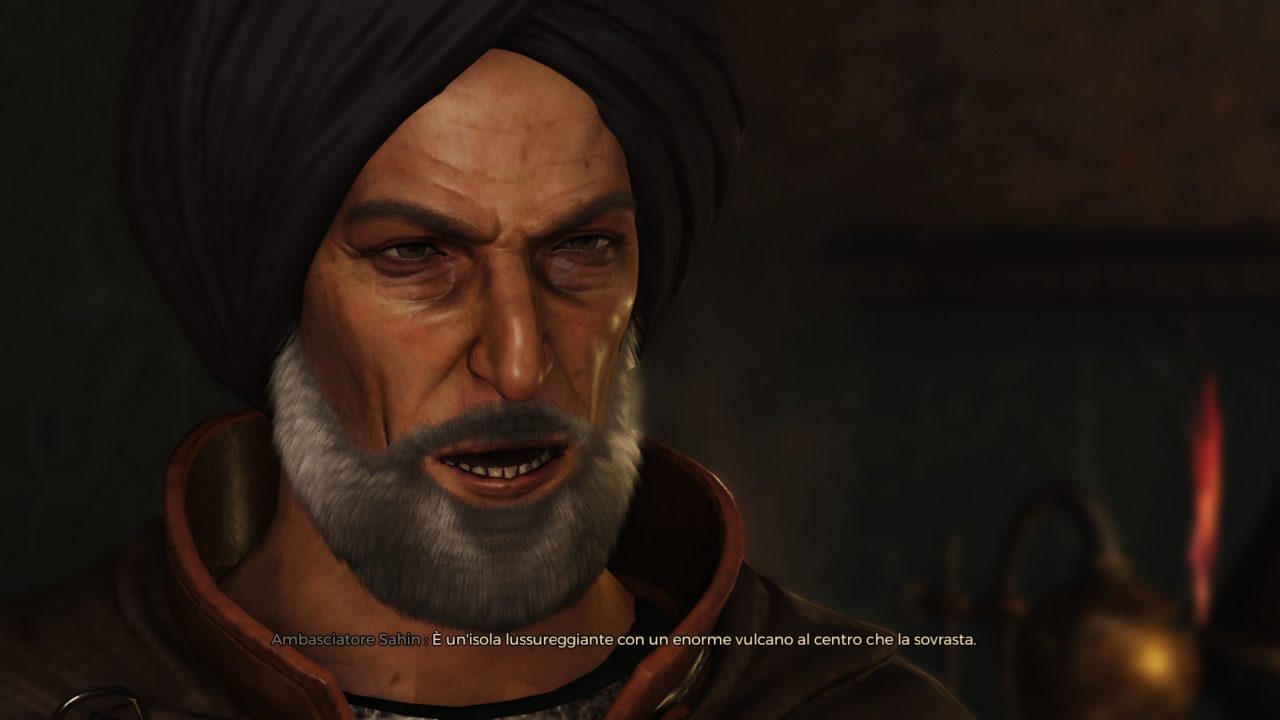 Al di là delle descrizioni tecniche e della presentazione dei contenuti del gioco, quello che più risalta di Greedfall è certamente la storia, affiancata dalla cornice della narrazione: l'isola di Teer Fradee. Una volta tanto le premesse e le promesse degli sviluppatori si sono rivelate veritiere: l'isola è un autentico personaggio non giocante. Ogni scorcio sembra concepito con cura, con criterio e non abbiamo passato un'area senza doverci fermare almeno per un attimo a guardarci intorno, a goderci il panorama. Qui è lì ci sono branchi di creature inferocite che ci saltano addosso alla prima occasione, in certe zone possiamo incontrare creature e personaggi dalla potenza soverchiante e – per questo – consigliabile affrontarli quando saremo all'altezza.
L'alternanza del giorno e della notte contribuisce ad accrescere il fascino dell'isola, sebbene i personaggi non sembrano essere soggetti alle esigenze naturali quali riposo, mangiare e lavorare. Esattamente come le produzioni di qualche lustro fa, tutti restano ai propri posti in attesa di essere interpellati dal protagonista e questo distorce in maniera evidente "l'incantesimo" altrimenti inappuntabile di Spiders e Greedfall. A stonare ancora di più è la natura di certe missioni da compiere, che vanno affrontate nottetempo per sfruttare il favore delle tenebre.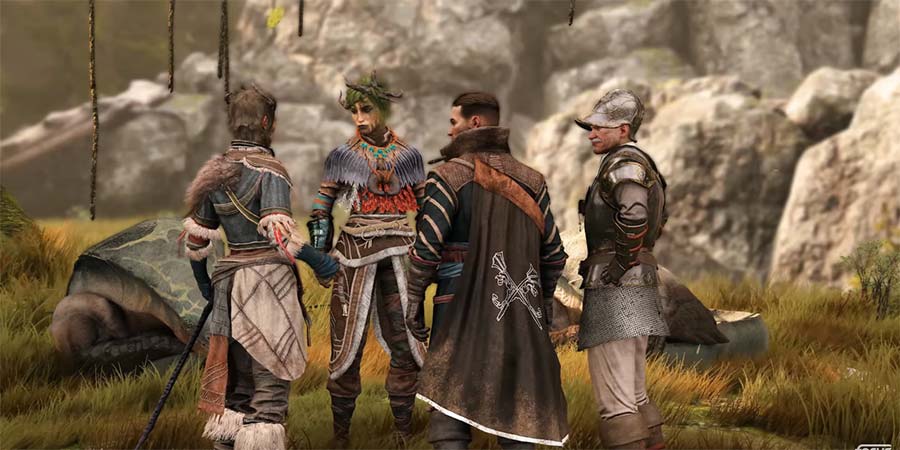 A proposito delle missioni, è piacevole constatare la libertà di scegliere uno dei tanti modi per portarle a termine. Possiamo provare a infiltrarci con molta discrezione, appurare che non possiamo perché difettiamo in bravura nello scassinare serrature e quindi tornare sui nostri passi: cambiamo percorso e facciamo uso di forza bruta (nel caso del guerriero) oppure di polvere pirica che sfonda una parete o una porta (nel caso di personaggio tecnico).
La storia di Greedfall ci ha piacevolmente colpiti per la maturità dei contenuti. La qualità della scrittura può piacere oppure no, certo, ma i toni sono maturi abbastanza fin dalle prime battute. Le fragili alleanze e la politica pesano e sono palpabili. Così come rendono benissimo l'idea i problemi come la discriminazione, il fondamentalismo religioso, la corruzione e il malaffare. La maturità di certe missioni, anche secondarie, è certamente da evidenziare e premiare, così come la buona scrittura e l'articolazione di certe trame, quasi sempre interessanti e incalzanti, che spingono a sapere dove vada a parare una "cerca" o un'indagine.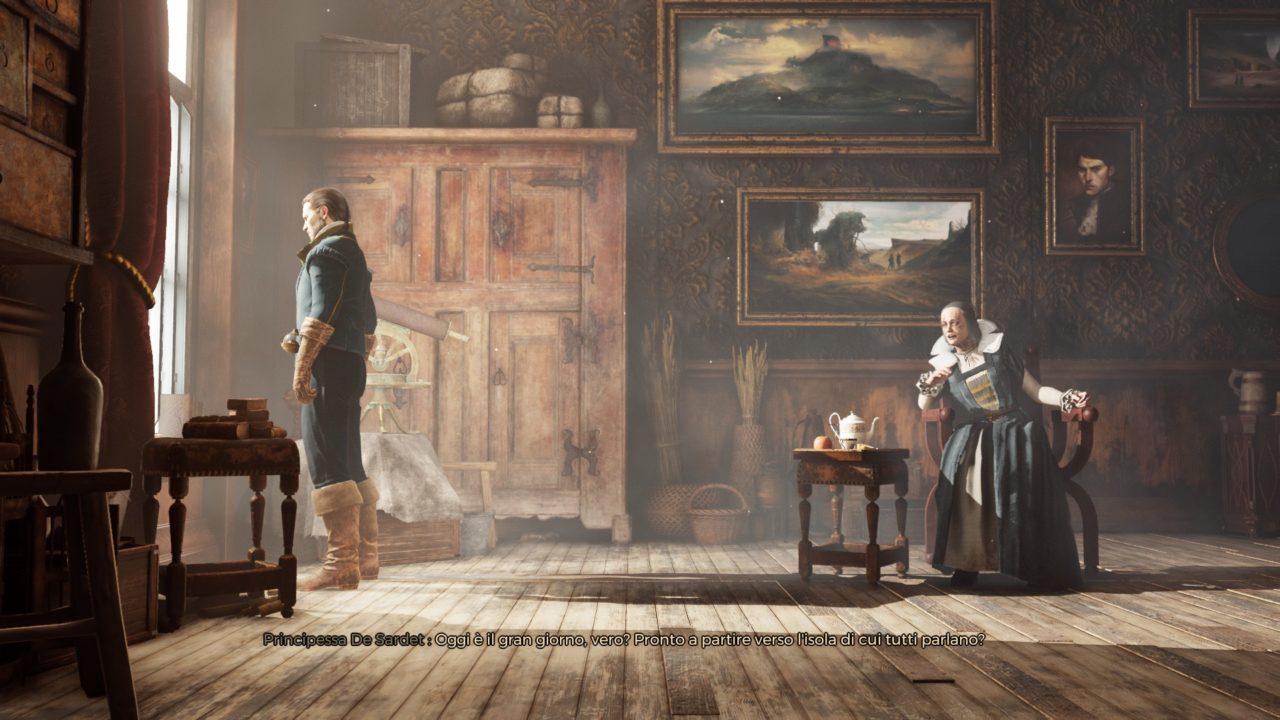 I personaggi che affiancano il protagonista sono autentici personaggi a tutto tondo: hanno un'origine, una provenienza, una storia da raccontare, dei principi morali, delle convinzioni. Ognuno di essi ha una missione da compiere e chiederà al protagonista l'aiuto per portarla a compimento.
Arrivare in fondo alle loro storie, spesso, significa guadagnarne la lealtà e la fiducia ma basta una condotta a loro non gradita, nel resto del viaggio, per vederli perdere stima fino al rischio estremo di doversi allontanare o peggio: diventare una nemesi. Tornando alle loro storie, queste aiutano a far luce su aspetti del loro carattere del tutto inediti o solo abbozzati in un primo momento. Un ottimo modo per farci affezionare a loro, perché li rende più umani e in costante evoluzione narrativa.
COMMENTO FINALE
Greedfall arriva al tramonto del 2019 ma sembra spuntato da un buco nero che lo ha portato a noi da almeno dieci anni nel passato. Ricorda in maniera commovente gli anni della migliore BioWare che lavorava su console, cioè gli anni di Star Wars: Knights of The Old Republic, Jade Empire e il primo Mass Effect. Ricorda anche la cura e la passione che hanno messo i CD Projekt Red in quel The Witcher 2 che – nel 2011 – ha scritto una pagina di fondamentale importanza nel novero dei videogiochi di ruolo occidentali "story-driven".

Il Silk Engine fa la sua parte, nel farci sentire amorevolmente retro, anche quando impostiamo ad "ultra" ogni orpello grafico offerto dagli sviluppatori. Le mappe sono estese ma lineari e ottimamente disegnate. Le ambientazioni sono ben curate e caratterizzate. I personaggi principali risultano ben scritti e dotati di una personalità che cambia durante il passare degli eventi e in dipendenza della nostra condotta. Le scelte che facciamo provocano conseguenze a breve e a lungo termine come nella più gradita tradizione dei videogiochi di ruolo occidentale, dovendo – spesso – scegliere più per il male minore che per il bene superiore.

Essere fuori tempo, apparire démodé, nel mondo dei videogiochi suona come un'offesa e un difetto, di norma. Ma questo continuo odorare di videogioco di ruolo incastonato tra il 2004 e il 2009, questo suo fare "vecchia scuola", in un periodo in cui la "nuova scuola" non fa altro che sacrificare la qualità a favore della quantità, è un pregio non da poco. Greedfall sembra un gioco vecchio, ma questo lo rende un gioco bellissimo e originale a vedersi e a giocarsi.
L'articolo Greedfall, la nostra Recensione proviene da IlVideogioco.com.