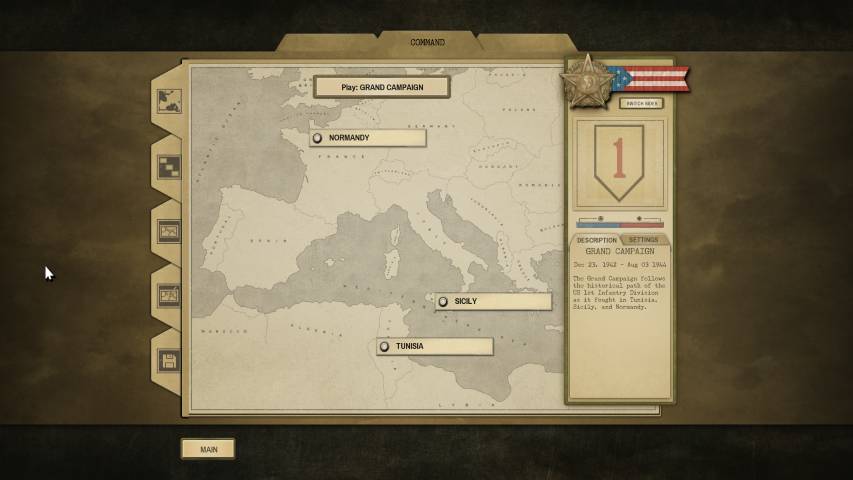 Tra gli strategici tattici in tempo reale, una delle serie più conosciute è certamente quella di Close Combat. Con combattimenti in 2d e attraverso una moltitudine di scenari, abbiamo avuto l'opportunità di seguire alcune delle più grandi battaglie della Seconda Guerra Mondiale, Overlord e Market Garden comprese. Rilasciato il 3 ottobre scorso, Close Combat: The Bloody First è l'ultimo capitolo della serie, rilasciato ben 5 anni dopo Gateway to Caen. Sviluppato e pubblicato internamente dagli studi di Slitherine, rappresenta il passaggio dalle due dimensioni della vecchia generazione, al più moderno e accattivante 3d. Il gioco è disponibile su Steam al prezzo di 36,99 euro.
IN LUNGO E IN LARGO NELLA STORIA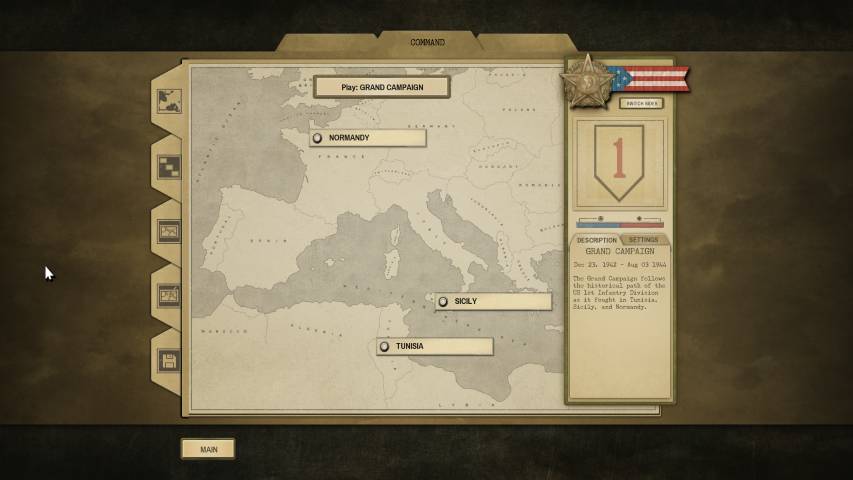 Rispettando i canoni di un genere che pone le sue basi su battaglie storiche realmente accadute, con The Bloody First andremo a seguire alleate in tre diversi scenari della Seconda Guerra Mondiale. La nostra Sicilia, il D-Day in Normandia, o i deserti della Tunisia. Molto probabilmente, sono già previsti altri scenari nel prossimo futuro, ma la base pone tre differenti campagne in battaglie dalla difficoltà crescente, e con scenari molto differenti tanto nell'armamentario a disposizione, quanto nella localizzazione geografica. Combattere nel deserto e sulle coste è molto, molto differente.
In realtà, l'invasione della Normandia era già stata vista in Close Combat: The Longest Day, e la serie ha proposto sovente remake dei propri titoli, ma in questo caso il passaggio ad un modello interamente tridimensionale della campagna di gioco cambia tutto.
È una serie che potremmo avvicinare a quella dei Combat Mission di Battlefront, soprattutto in questa nuova iterazione. Sia i Close Combat che i Combat Mission offrono diversi scenari, unità riccamente caratterizzate, e una cura speciale per ogni "teatro" bellico.
INTERFACCIA
I Close Combat non sono famosi per essere inclini ad un pubblico poco avvezzo agli strategici, e The Bloody First non fa alcuna eccezione. In alto, oltre ad un indicatore che dà un'idea delle forze nemiche e alleate, abbiamo il classico cronometro ad indicare il tempo rimanente per lo scenario in corso.
A sinistra, la lista delle unità a nostra disposizione, che insieme ad un'icona di facile identificazione, mostrerà nome e il compito assegnato al momento. A destra, una mini mappa in 2d garantirà un'idea generale delle forze in campo, mentre la parte bassa è destinata all'unità che attualmente stiamo selezionando.
In questa porzione d'interfaccia, troveremo anche il riepilogo del plotone che stiamo guidando, con tanto di nomi, salute e armi a disposizione. È un sistema già visto anche in altri giochi, ma che garantisce un certo livello di immedesimazione e di empatia con le truppe, soprattutto in scenari concitati dove spesso capita di scegliere un'unità "sacrificale" al fine di aprire un varco nelle difese avversarie.
Pur trattandosi di uno strategico a tutto tondo decisamente profondo, l'interfaccia risulta user friendly, senza ingombrare lo scenario e risultando molto comoda.
GAMEPLAY
E veniamo al cuore del gioco: il gameplay. Scelto quale campagna intraprendere, siamo pronti a scendere direttamente sul campo, per constatare quanto tutto sia cambiato con il passaggio alle tre dimensioni. L'innovazione che va assolutamente menzionata appena dopo il 3d, riguarda il sistema di morale delle proprie truppe, ma per farlo è necessario introdurci nelle meccaniche di gioco.
Selezionata un'unità, il movimento non avverrà attraverso il classico punta e clicca. Al contrario, ogni volta si aprirà un menu che permetterà di selezionare una serie di comandi differenti. Per i giocatori navigati di Combat Mission non si tratterà certo di una novità, mentre per chi si approcciasse per la prima volta al genere, potremmo citarvi l'esempio del sistema a cerchio di Neverwinter Nights.
Infatti, oltre ad un normale comando di movimento, potremo optare per una corsa veloce da punto a punto, un tentativo d'imboscata, e altro a seconda anche della dotazione disponibile. Potremo anche optare per una serie di checkpoint, così da tenere la nostra squadra di fanteria lontano da alcune case dove potrebbero essere presenti cecchini nemici, e ripararsi dietro ad un muretto.
È importante considerare e studiare bene la mappa di gioco durante questa fase, perché ogni unità ha un certo raggio d'azione e di rilevamento. Muoverci come se nulla fosse in territorio nemico porterà i nostri uomini ad una sicura disfatta nel giro di pochi minuti.
Consideriamo però quest'ultimo scenario, ottimo per richiamare il sistema di morale. Se muovessimo le nostre truppe con noncuranza, nel mezzo di un paesino dove le case sono già state occupate dal nemico, quasi certamente verrebbero attaccate dopo pochi minuti. L'attacco, arrivato senza preavviso e non permettendo un'immediata copertura dei nostri uomini, porterà la nostra squadra a perdere punti morale.
Se questo valore dovesse scendere al di sotto della soglia minima, possono accadere diverse cose spiacevoli, ma il più delle volte scapperanno senza più farsi rivedere o tenteranno di caricare il nemico arrivando a morte certa. È un buon sistema, e anche discretamente realistico perché il valore di morale è intrinseco in ogni squadra, anche sotto una buona copertura. Il solo fatto che i nostri uomini sentano gli spari nemici, farà si che questa meccanica entri in scena. Per aumentare le probabilità che il morale si attesti sempre su livelli accettabili, tenete le unità vicino al vostro HQ, che oltre a coordinare le operazioni fornirà un boost per questo valore.
Trattandosi di un tattico e tridimensionale, un'importante fattore sarà anche la linea di tiro a dispetto dell'altitudine e della distanza. Posizionare le nostre truppe in bella mostra su una collina senza alcuna copertura, le farà diventare un bersaglio perfetto per le truppe avversarie. Valutare la linea di tiro prima di ogni movimento non è una strategia, è letteralmente vitale. Anche se purtroppo abbiamo notato che l'AI gode di una certa "onniscenza", che spesso le porta a colpire unità anche quando sono perfettamente riparate.
Ora, sono problemi che verranno sicuramente corretti con le prossime patch, ma constatare che hai perso una squadra che aveva un certo grado di protezione ma è stata mitragliata dalla fanteria nemica che aveva un bel casermone davanti alla linea di tiro, ti fa sentire sconfitto da una manica di lamer che hanno trovato il glitch giusto sul quale premere.
C'è poi il discorso rilevamento. Come abbiamo detto, ogni unità ha un determinato valore di "visione" e di linea di tiro. Vedere il nemico, darà inizio alle schermaglie, ma qui entra in scena un fattore che non avevamo considerato. Il nemico, ci vede sempre benissimo, ma i nostri hanno bisogno di occhiali o lenti a contatto perché non è successo di rado che anche a distanza molto ravvicinata, non riuscissero a colpire il nemico pur se in posizione avvantaggiata. Questo problema, è persino più evidente con i carri armati, che a nemmeno 50 metri non riescono a colpire né fanteria né un carro nemico.
Insomma, qualche lavoretto sul fronte bilanciamento è necessario. L'intelligenza artificiale è come detto, furba e lamer quanto basta (a volte troppo), ma quella che gestisce i nostri andrà migliorata.
COMPARTO TECNICO
Il passaggio ad un modello in tre dimensioni, ha portato uno scenario più simile a quelli reali, pur con i distinguo del caso. A livello prettamente estetico, il gioco si attesta nella media. Ma le texture del terreno e delle abitazioni sono a livelli piuttosto basse, anche con dettagli alti.
Le unità godono di un dettaglio decisamente superiore, pur se realizzate con una tecnica di cel shading. Quest'ultima risulta a volte "aliena" al mondo di gioco. Animazioni ed effetti sono nella media. Insomma, il comparto tecnico non è sicuramente di primo livello, ma se teniamo conto che la serie poggia le sue basi sulla strategia senza troppi compromessi, è possibile passarci sopra. Viene da chiedersi cosa sarebbe uscito da un Close Combat interamente in cel shading, scenari compresi…
COMMENTO FINALE
Close Combat: The Bloody First è un tattico senza se e senza ma. Non vuole essere amico di nessuno, e non vuol far nulla per "ammiccare" i neofiti. È un titolo a tratti brutale, frustante, ma sicuramente profondo e completo.

L'intelligenza artificiale e il bilanciamento vanno sistemati, ma il grado di sfida rimarrà intatto, sopra la media. Con le patch che nelle prossime settimane andranno a sistemare i bug che abbiamo riscontrato in sede di gameplay, siamo sicuri che sia l'inizio di una nuova e fortunata serie. Non ci resta che sperare nell'aggiunta di Market Garden.
L'articolo Close Combat: The Bloody First, Recensione proviene da IlVideogioco.com.
Continua la lettura di Close Combat: The Bloody First, Recensione →