Il mondo dei giochi di ruolo, è negli ultimi anni una scusa per "alleggerire" testi e ruoli in senso stretto, in favore di una maggiore giocabilità e molta più azione. È una fortuna che gli sviluppatori indie siano spesso agli antipodi di queste mode del momento, e continuino a sviluppare i loro prodotti nel modo che più gli aggrada. Uno di questi team, è sicuramente ZA/UM Studio che ha trascorso gli ultimi anni nello sviluppo del suo gioco di ruolo, Disco Elysium. Uscito il 15 ottobre scorso per Pc, è disponibile sulle piattaforme Steam e GoG.
Ecco, quindi, la nostra recensione. Buona lettura.
IMPIANTISTICA DEL GIOCO DI RUOLO
Ogni gioco che porti ad interpretare uno o più personaggi, ha necessità di una regia e di una scrittura che sia coerente, dettagliata quanto basta, e nei migliori casi profonda. Il dettaglio, è insito nelle caratteristiche in seno al gioco, quindi non faticherete a trovare produzioni dove la mole di testo è ingente ma la qualità scarsa.
Altre, in cui la mole è nella media, ma scritta con perizia, mascherando una longevità solitamente ridotta. Ci sono poi quei casi dove il testo è protagonista tanto quanto la storia. Di questa categoria, fanno parte i due Baldur's Gate, il mitico Planescape: Torment, e oggi anche Disco Elysium.
Irriverente, esilarante, cinicamente divertente, un crogiolo di stereotipi e personaggi dai caratteri più disparati, veri cattivi e poveri mentecatti. Se fosse un libro, parleremmo di una storia anni '20 squisitamente noir che che viene rimescolata all'interno di un contesto "proto-fantascientifico" con punte vicino al cyberpunk. Insomma, un genere talmente unico da definire e descrivere che il capitombolo verso un flop sarebbe più che accettabile. E invece no, perché è proprio questa schizofrenica poesia a rendere questo titolo unico.
Il nostro ruolo, sarà quello di interpretare un poliziotto, ma orientativamente ci troviamo di fronte ad uno di quei personaggi che hanno in comune il bere, il senso di perdita, la solitudine. Uno di quei eroi oscuri che passeggiano nel buio con una sigaretta in bocca, mentre la notte prosegue la sua corsa con la pioggia a "disturbare" il silenzio assordante di un vicolo.
Dato che in Disco Elysium non si costruisce un eroe, ma si "vive" una persona, il personaggio che controlleremo avrà accesso ad una serie di lati del proprio carattere, e abilità innate divise in quattro categorie base:
Intelligenza
Mente
Fisico
Movimento
Tramite i punti esperienza acquisiti durante le indagini, potremo decidere quali abilità privilegiare, tenendo a mente che in questo gioco non esistono lati secondari, esattamente come il carattere di una persona è sfaccettato come il taglio di uno smeraldo. Creando un personaggio dedito alla forza, sarà meno incline a migliorare come intelletto, per tanto potremmo etichettarlo come un bullo da quartiere. Al contrario, un personaggio molto intelligente sarà fisicamente meno pronunciato, ma non perderà di vista nemmeno un particolare.
Ma le mere statistiche, e le caratteristiche non sono nulla in confronto al subbuglio interiore che pervade ogni nostro giorno di vita. Il protagonista, passa le sue giornate in conflitto con se stesso, con monologhi talmente reali da rendere "omaggio" e personificazione ad ogni emozione. Ne parleremo più approfonditamente tra qualche riga.
UN BRUTTO AFFARE PER UNA BELLA STORIA
Ci svegliamo al mattino, la nostra stanza è impolverata, e la nostra vita prosegue senza uno scopo ben definito, portando noi stessi a dilungarci faticosamente per arrivare a fine giornata. Eravamo assegnati ad un'indagine per omicidio, ma è andato tutto a rotoli. Deragliato in un lungo e tedioso processo, quel caso all'apparenza semplice ci ha portato a perdere tutto. E ora, senza soldi, non ci rimane che una stanza d'ostello di quarta categoria. Abbiamo bevuto tutte le sostanze alcoliche che la mente umana ha partorito, stessa cosa per la droga. Non ci ricordiamo nulla, forse avevamo qualcosa da fare.
L'incipit che porta il proprio personaggio in gioco, è il fallimento in persona. E viene impersonato tanto dal nostro eroe, quanto dal mondo che ci circonda. Viviamo a Revachol, una sperduta città che vivacchia tra le onde delle isole Caillou, e visivamente appare a metà tra un campo di battaglia e una discarica. La guerra, non è un pretesto ma è vissuta anche mentre giochiamo, poiché all'interno dei suoi confini ha luogo una lotta costante tra persone, gruppi e fazioni di diversa estrazione e interessi politico-socioeconomici.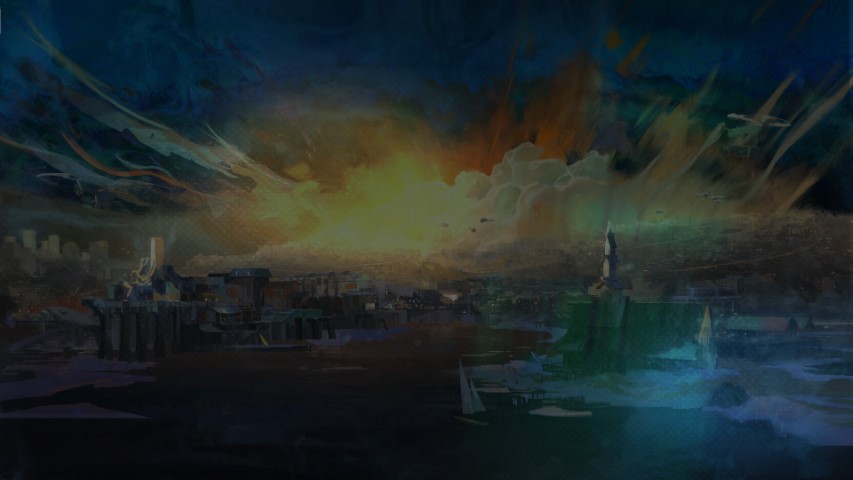 Per favorire l'immersione del giocatore in un contesto non semplice, Disco Elysium fornisce una lore decisamente accurata, partendo dal racconto della deposizione del vecchio reggente, caduto dopo una sanguinosa rivolta. Successivamente, l'intervento da parte delle forze "democratiche" della coalizione arrivò nel tentativo di "imporre" una parvenza di normalità di stampo capitalista. Se è un libro quello a cui state pensando, sappiate che la regia e la scrittura di questo gioco non sfigurerebbero affatto in una serie televisiva o di libri cartacei, a patto siano sviluppati con la stessa perizia e passione. La prima area che visiteremo sarà proprio quella dell'ostello, Martinaise.
GAMEPLAY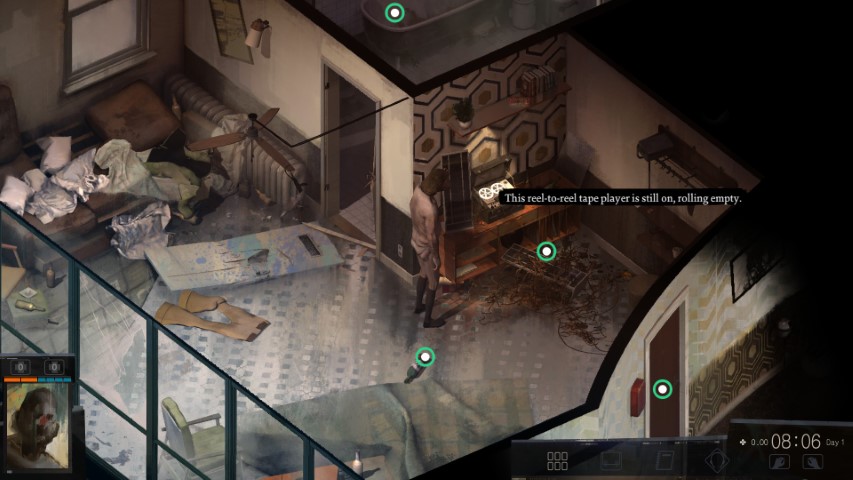 Classico punta e clicca via mouse e tastiera, Disco Elysium presenta un'interfaccia piuttosto snella. In basso a sinistra, gli avatar dei personaggi che stiamo controllando, a destra la barra relativa alle opzioni, agli indizi, al journal (diario, ma in questo caso è in senso ampio, perché parliamo di casi investigativi).
Durante le nostre "passeggiate", i lati del nostro carattere emergeranno creando dei veri e propri dialoghi tra noi stessi, così precisi da essere a tutti gli effetti conversazioni con personaggi non giocanti, npc. Queste conversazioni, proporranno battute irriverenti, inutili acidità, ma anche input e indizi importanti per risolvere questo o quel caso.
Ogni "lato/abilità" è interconnesso alle altre, con particolare attenzione per quelle più alte, che formeranno il monologo descritto sopra. È difficile da spiegare, ma possiamo assicurarvi che è una genialata mai vista in un gioco di ruolo, mai vista in generale nel mondo dei videogiochi.
Oltre alle loro interiezioni durante i dialoghi, i lati/abilità appaiono occasionalmente anche come opzioni di dialogo aggiuntive, anche nel caso volessimo compiere una determinata azione. Tornando all'esempio del poliziotto bullo di quartiere, avremo accesso all'azione che ci permetterà di prendere a calci nel sedere un particolare npc. Per farlo, non dovremo far partire un dialogo particolare o un combattimento. Ci basterà selezionare la riga riguardante la caratteristica "resistenza", e vedremo subito se il nostro tentativo potrà avere effetto o meno. Stessa cosa dicasi per i combattimenti. Infatti, un altro colpo di genio del titolo è proprio quella di non proporre un combat system in particolare, ma le situazioni di scontro fisico vengono affrontate allo stesso modo descritto sopra, con opzioni di dialogo e controlli delle abilità.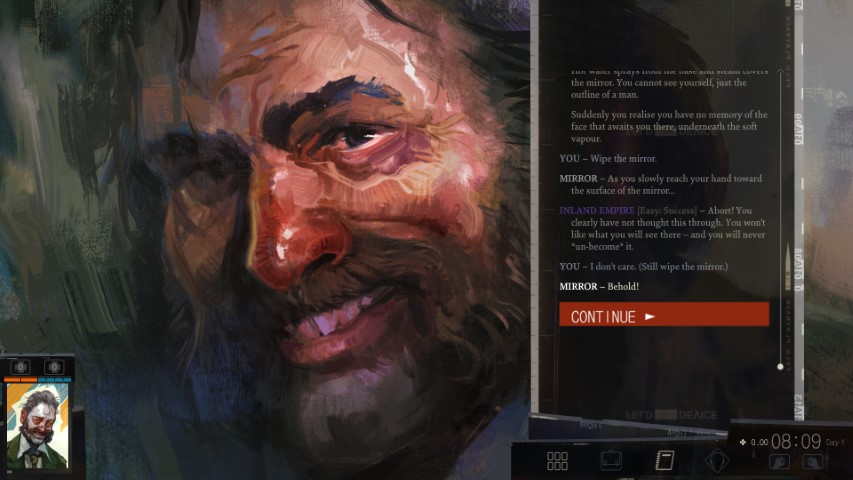 Se pensate che questo porti il gioco ad essere una sorta di avventura grafica con molti dialoghi, state pur certi che non è affatto così. In realtà, questo sistema è ad oggi il più vicino punto di contatto tra un gioco di ruolo cartaceo giocato la sera con un gruppo di amici, e la sua "controparte" digitale.
Non ultimo, c'è anche la possibilità di fallire una determinata azione. Dopo tutto ciò che abbiamo scritto, non penserete sia facile. In caso di fallimento, difficilmente ci si trova di fronte ad un muro invalicabile, visto che avremo diverse possibilità per affrontare una determinata situazione. Quindi, anche i tiri falliti potranno avere un senso, dando vita ad un effetto positivo in precedenza non calcolato, o a volte anche a situazioni buffe.
Per il resto, il gameplay si snoderà attraverso una serie di missioni, che daranno accesso ad altri compiti, a seconda del completamento o fallimento dei precedenti. Al passaggio di livello, distribuiremo i punti esperienza ottenuti, andando a migliorare le caratteristiche. Da notare, un ottimo uso del ciclo giorno/notte e del tempo atmosferico, che hanno un impatto importante anche nell'economia della giocabilità.
Il comparto tecnico, non teme confronti anche con titoli ben più blasonati, visto che la componente artistica è di prim'ordine, anche per le animazioni. E la direzione artistica particolare esalta il tutto, atmosfera compresa.
Unico neo, la colonna sonora, che purtroppo non è qualitativamente elevata come tutto il resto. Alcuni brani sono molto belli e orecchiabili, ma manca quella manciata di tracce che ti rimangono in testa anche mentre non si gioca.
LEGGERE NON È UN PROBLEMA, O FORSE SÌ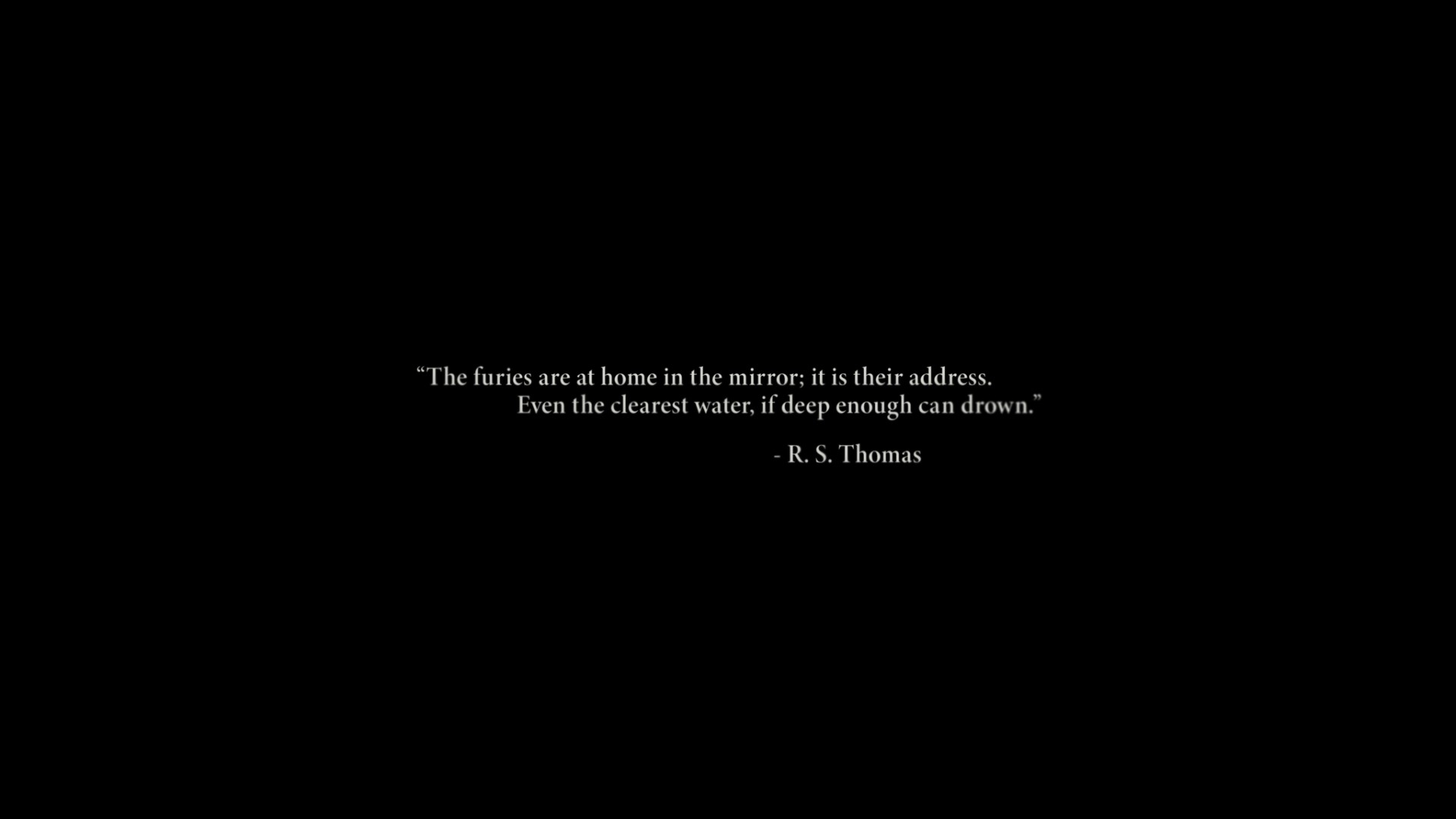 L'abbiamo detto, ripetuto e ribadito. La qualità della scrittura del gioco è da oscar, da Game of The Year. E lo diciamo senza la minima paura di essere smentiti. Sessantacinquemila (65mila) righe di dialogo d'altro canto, non sono affatto poche. Se avete paura della mole di testo in stile Torment: Tides of Numenera, possiamo tranquillizzarvi. In Disco Elysium testi ci sono e sono corposi, ma il tutto è "cadenzato" con un ritmo tranquillo, evitando le venti righe di dialogo da leggere bene altrimenti si perde questo o quel particolare.
È importante leggere tutto, o quanto più possibile, e questo rappresenterà un problema per chi non ha dimestichezza con la lingua dell'amata Regina. Purtroppo il titolo è in inglese, e al momento nessuno ha manifestato l'interesse per una traduzione.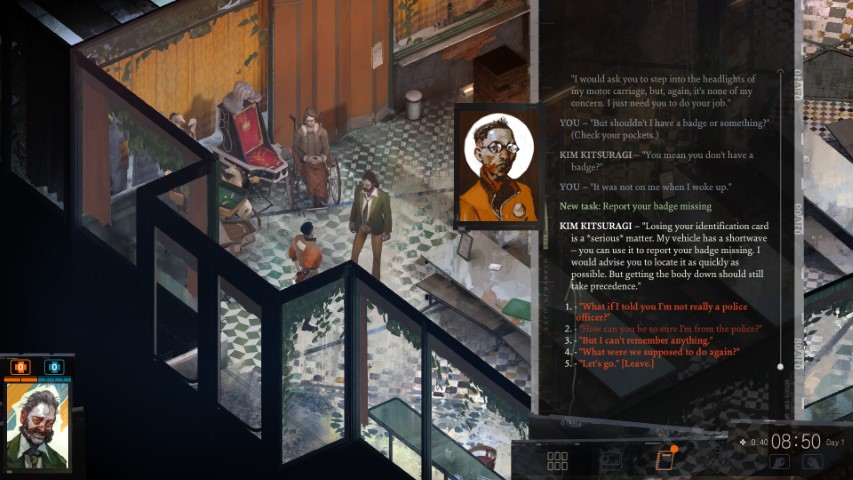 Lungi dal voler partire con l'editoriale in cui snoccioliamo la situazione della localizzazione italiana nei titoli odierni, consigliamo a chi non ha troppa dimestichezza con l'inglese di dare un'occhiata a qualche video. Un modo sicuro per vedere se il titolo in questione nelle proprie corde. Vogliamo sottolinearlo senza mezzi termini: l'inglese in uso è piuttosto base ma ci sono diverse "puntatine" verso un inglese nettamente slang che potrebbero scoraggiare un buon numero di giocatori. Quindi, pensateci bene, perché sarebbe veramente un peccato perdere questa occasione ma se avete difficoltà di comprensione perderete il 95% del titolo.
COMMENTO FINALE
Disco Elysium è un gioco unico, qualcosa che non abbiamo mai visto prima. Riesce ad innovare pur rimanendo ancorato a schemi classici e riconoscibili, a stupire e rapire e far ridere. Uno stile artistico ispirato e maledettamente adatto al contesto, e una scrittura che si proporne come un nuovo standard per i giochi di ruolo.

Una storia personale, ma anche tante altre storie che scopriremo nel corso della nostra avventura. Tutte permeate da un senso di solitudine, e di malcelato rammarico. I 39,99 euro valgono eccome il prezzo del biglietto, senza se e senza ma, per tutti gli appassionati di giochi di ruolo. A questo, fanno eccezione tutti quei giocatori che hanno problemi con l'inglese, che prima dell'acquisto dovranno valutare attentamente il prodotto. Per gli altri, correte a prenderlo perché ne vale veramente la pena.
L'articolo Disco Elysium, la nostra Recensione proviene da IlVideogioco.com.
Continua la lettura di Disco Elysium, la nostra Recensione →