Dopo essere stato annunciato su pc, Monster Hunter World: Iceborne tiene viva la tradizione della serie di fornire ai giocatori un massiccio supporto post lancio. Per il titolo di Capcom, la fine del 2019 non fa eccezioni e arricchisce la caccia con diverse collaborazioni e nuovi contenuti gratuiti disponibili a breve. Dall'8 novembre, i giocatori di Iceborne su console avranno accesso a delle missioni evento, dedicate alla collaborazione Raccoon City, oltre a dei nuovi pezzi di equipaggiamento, vincitori dei contest Weapon Design e Palico Gear.
Gli utenti PlayStation 4 possono inoltre aspettarsi dei contenuti gratuiti esclusivi dal 21 novembre, quando verrà introdotta la prima parte delle missioni evento della collaborazione Horizon Zero Dawn: The Frozen Wilds. A seguire, a dicembre, verrà pubblicato un ulteriore aggiornamento che introdurrà un nuovo mostro, eventi stagionali in-game e altri contenuti a tema Horizon Zero Dawn, per PS4.
COLLABORAZIONE RACCOON CITY
Le celebri icone del survival horror Leon, Claire e il Tyrant visitano finalmente il mondo di Iceborne, grazie alla Collaborazione Raccoon City che sarà disponibile dall'8 novembre all'1:00 del mattino.
Per l'occasione, i cacciatori potranno acquisire diversi materiali completando la missione evento (Master Rank 20 o più) per poter creare i set armatura Leon α+ e Claire α+, oltre a tre pendenti a tema Raccoon City, per abbellire le loro armi preferite. Completando la missione evento si potranno ottenere anche 2 nuovi gesti, che permetteranno ai cacciatori di ballare lo zombie shuffle o anche mordere un mostro nemico, facendogli danno. Raccoon City prende il sopravvento anche dei vostri alloggi con una serie di decorazioni a tema che i cacciatori potranno usare per abbellire la propria stanza in stile survival horror. Alcuni esempi sono l'iconica macchina da scrivere e la cassa oggetti (i quali oggetti ovviamente danno anche la possibilità, rispettivamente, di salvare il progresso della partita e di conservare gli oggetti). Grazie all'ultimo importante aggiornamento, i giocatori ora possono anche mettere in mostra la propria macabra dimora, grazie alla possibilità di visitare le stanze degli altri.
La collaborazione Raccoon City non sarebbe completa senza l'iconico tyrant. Il dlc a pagamento "The Handler's Terrifying Tyrant" include un costume che trasformerà la coraggiosa giovane assistente in un enorme bruto in impermeabile, che ovviamente aiuterà i cacciatori durante le missioni, preparerà i pasti presso l'accampamento e apparirà persino nelle cutscene.
VINCITORI DEI CONTEST WEAPON DESIGN E PALICO GEAR
La community di Monster Hunter World: Iceborne, è di vitale importanza per la crescita del gioco. Il mese scorso, al Comic-Con di New York, sono stati rivelati i vincitori dei contest Weapon Design e Palico Gear. La Lama Caricata Aquila Nera, realizzata da "sheep" sfoggia delle piume nere che si aprono a formare delle ali quando cambia forma da spada ad ascia. L'equipaggiamento per il vostro Palico "Felyne Wiggler α+", realizzato da "Zyralynn art" offre un abbinamento simile all'equipaggiamento Wiggler, precedentemente disponibile solamente per i cacciatori. Questi due design vincitori possono essere creati dai giocatori che possiedono Iceborne, utilizzando i materiali recuperati da due nuove missioni che saranno disponibili dall'8 novembre.
COLLABORAZIONE HORIZO ZERO DAWN: THE FROZEN WILDS SU PS4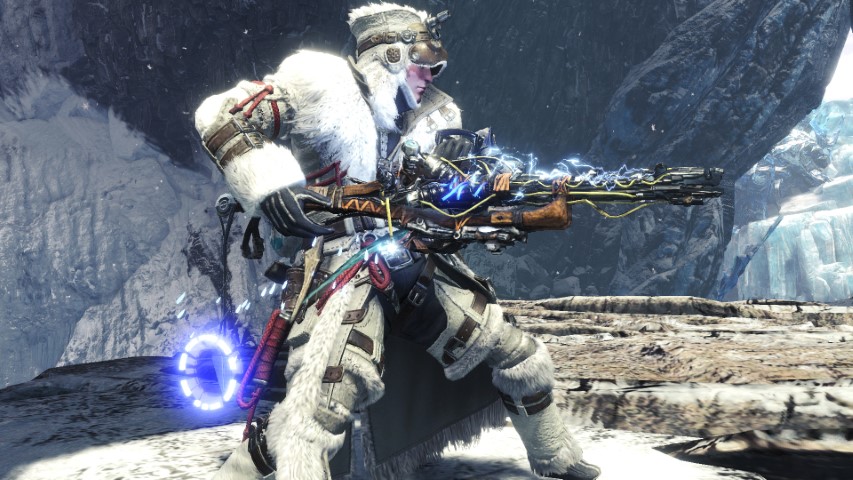 Aloy raggiunge le selvagge Distese Brinose grazie ad un'esclusiva collaborazione dedicata ai giocatori PlayStation4. La prima fase di questa esclusiva collaborazione con Horizon Zero Dawn: The Frozen Wilds sarà disponibile dal 21 novembre, dando la possibilità a tutti i giocatori che hanno almeno raggiunto il Master Rank 24 di creare una balestra leggera basata sul celebre Lanciatuono di Aloy. La missione evento ricompenserà i giocatori con materiali speciali che potranno essere usati per creare l'equipaggiamento dell'esclusiva PS4. Inoltre, i cacciatori riceveranno anche un Pendente che rispecchia il design del Focus di Aloy, che potranno annettere alla loro arma preferita dopo aver completato la missione speciale.
AGGIORNAMENTI DICEMBRE 2019
Il mese di dicembre sarà anch'esso protagonista di nuovi aggiornamenti gratuiti, iniziando dall'introduzione di un nuovo mostro che verrà rivelato a breve e aggiunto alla già folta schiera di mostri di Monster Hunter World: Iceborne. Dicembre segnerà anche il ritorno dei festival stagionali di Monster Hunter, le quali offriranno una trasformazione completa dell'hub centrale, il ritorno di quasi tutte le precedenti missioni evento, le taglie a tempo limitato per guadagnare oggetti speciali e altro. Questa volta però, e per la prima volta dal lancio dell'espansione, il festival stagionale si terrà sia ad Astera che a Seliana.
Solo per gli utenti PlayStation4, a dicembre diventerà disponibile anche una seconda parte dell'esclusiva collaborazione Horizon Zero Dawn: The Frozen Wilds, con nuovi contenuti gratuiti, tra cui nuove missioni evento e nuovo equipaggiamento a tema. I cacciatori potranno creare un set armatura completo che replica l'armatura Tessitrice di Scudi di Horizon Zero Dawn, oltre ad avventurarsi nelle nuove missioni evento, nel tentativo di potenziare l'arma Lanciatuono guadagnata nella prima parte della collaborazione a novembre. Inoltre, sempre come parte dei contenuti bonus di dicembre, i cacciatori potranno creare un nuovo set armatura Banuk e partecipare in nuove missioni che permetteranno di potenziare l'Arco di Aloy e il Felyne Watcher, equipaggiamento che fu reso disponibile in Monster Hunter: World. Per l'anno prossimo sono stati pianificati altri aggiornamenti.
L'articolo Monster Hunter World: Iceborne, continua il supporto proviene da IlVideogioco.com.
Continua la lettura di Monster Hunter World: Iceborne, continua il supporto →