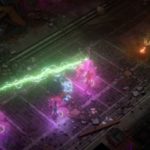 Owlcat Games e Deep Silver hanno oggi pubblicato il terzo dlc di Pathfinder: Kingmaker intitolato Beneath The Stolen Lands oltre alla Enhanced Edition del gioco.  Il tutto è disponibile su Steam e GOG.
Conosciamo meglio la nuova espansione grazie al trailer di lancio ed all'elenco delle caratteristiche e contenuti del dlc. A seguire tutte le novità della Enhanced Edition disponibile gratuitamente per chi possiede il gioco.
Buona visione e buona lettura.
CARATTERISTICHE CHIAVE DI BENEATH THE STOLEN LANDS
Gli eroi entrano in un enorme dungeon con un party creato da zero. L'avventura inizia nelle profondità tenebrose con il gruppo di personaggi appena creati per provare la discesa in un sotterraneo senza fine.
Si esplorano le possibilità quasi infinite di costruire un personaggio Pathfinder. Si proveranno diverse build per perfezionare le tattiche. Create una banda di avventurieri in grado di superare qualsiasi pericolo.
La sconfitta è solo un nuovo inizio. Morire in un incontro consente ulteriori vantaggi per la prossima partita.
Sbloccate nuovi oggetti da acquistare. Il numero di commercianti di slot per articoli dipende da quanto si riuscirà a scendere durante tutte le precedenti incursioni.
Entrate nel dungeon con il vostro personaggio principale, in alternativa si può aspettare un invito da un misterioso protettore di Golarion mentre si gioca la storia principale (Main Story). La versione pre-impostata del dungeon è inclusa nella campagna principale e permette di usare il proprio personaggio ed i compagni per conquistare le profondità tenebrose.
LA GALLERY PER IL DLC
LE NOVITA' DI PATHFINDER: KINGMAKER – ENHANCED EDITION
Aggiornamento gratuito per tutti i giocatori esistenti.
Numerose aggiunte di contenuti al gameplay e decine di funzioni per la quality-of-life.
Nuove abilità e modi per costruire il tuo personaggio.
Una nuovissima classe: Swordlord.
Nuovi oggetti e armi.
Miglioramento dell'equilibrio, specialmente all'inizio e negli ultimi due capitoli del gioco.
Sistema di gestione del regno potenziato, sia in termini di equilibrio che di utilizzo e comfort del giocatore.
Maggiore varietà di incontri casuali sulla mappa globale.
Migliaia di correzioni e miglioramenti apportati dalla pubblicazione iniziale del gioco.
L'articolo Pathfinder: Kingmaker, il dlc Benath the Stolen Lands è disponibile proviene da IlVideogioco.com.
Continua la lettura di Pathfinder: Kingmaker, il dlc Benath the Stolen Lands è disponibile →