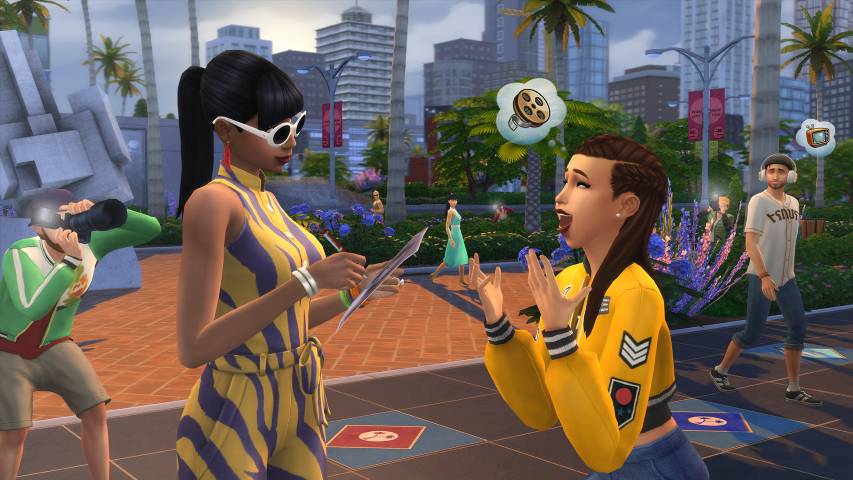 Nuove Stelle è l'ultima espansione, in ordine di tempo, di The Sims 4. Il titolo di Electronic Arts e Maxis si fa ancora più grande, più intenso e ricco di contenuti grazie al nuovo dlc che è disponibile da oggi per Pc e Mac.
Con The Sims 4 Nuove Stelle i videogiocatori possono vedere i propri Sims realizzare i più ambiziosi sogni di gloria, trasformandosi in celebrità di primissimo piano e vivendo nuove emozionanti carriere nel mondo dello spettacolo, fino a diventare chef o musicisti di fama internazionale. E non è finita qui.
I Sims possono vestire le ultime collezioni degli stilisti più acclamati e partecipare ai party mondani più attesi nelle ville tra glamour e sfarzo, con water d'oro e capsule per il sonno, nel nuovo mondo "splendente" di Del Sol Valley.
Vediamo il trailer di lancio.
Dopo una carriera tutta nuova nella recitazione, si può arrivare alla vera svolta, diventando una star grazie ad un ruolo da protagonisti in una serie tv, in uno spot o in un film di guerre tra pirati. E se si cerca il successo in un altro modo, ce n'è per tutti.
Grazie all'aggiunta delle nuove funzioni, i Sims possono inseguire la gloria come influencer o sfondare in qualunque settore preferiscano.  I videogiocatori possono aiutare i propri Sims ad emergere dall'anonimato allo status di Celebrità guadagnando Punti Fama e sbloccando nuovi vantaggi e migliorando la loro immagine pubblica con il nuovo Reputation System. Qualunque sia la loro aspirazione, i Sims riceveranno un trattamento da autentici VIP, trovandosi gomito a gomito con gli idoli dei giovani di tutto il mondo e dovendo sorridere ai paparazzi, guadagnandosi così l'adorazione dei fan più incalliti, vicini o lontani.
In The Sims 4 Nuove Stelle i videogiocatori potranno addirittura incontrare la versione Sim della star del pop e dei social Baby Ariel, che all'interno del gioco si esibirà dal vivo con canzoni nella lingua dei Sims e sfilerà sullo Starlight Boulevard.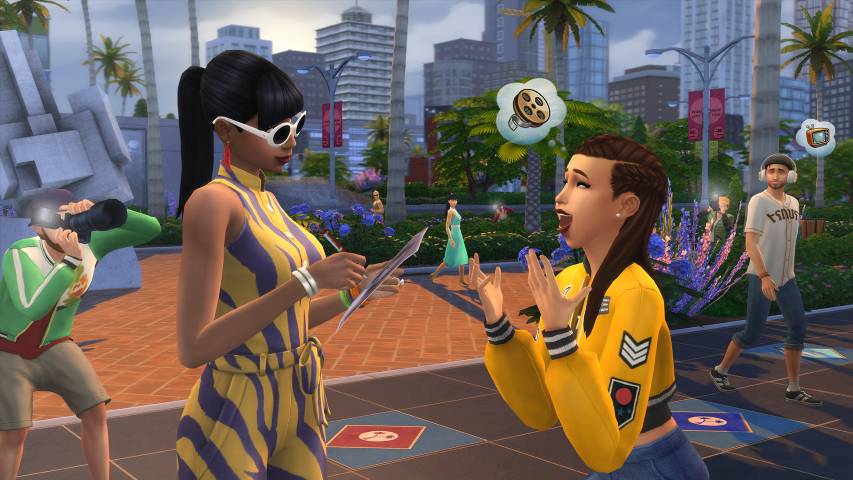 Grant Rodiek, senior producer, ha detto:
The Sims 4 Nuove Stelle dà ai videogiocatori la possibilità divivere gli alti e bassi delle carriere di chi ha raggiunto il successo, imprevedibile e inaspettato. Con le nuove carriere nel cinema, i Sims possono ottenere i ruoli da protagonisti nel mondo dello spettacolo, o raggiungere l'apice del successo in qualunque settore scelgano. Le opportunità sono infinite! Il nostro team ha lavorato sodo per soddisfare i nostri appassionati, che aspettavano questa espansione da tempo. Non vediamo l'ora di raccontare le nuove emozionanti avventure dei Sims di Del Sol Valley!
Il mondo nuovo di zecca di Del Sol Valley è una città fatta di sogni sulla strada verso la fama e il successo. Dall'abitare in un modesto appartamento a Mirage Park a una lussuosa villa sulle colline di The Pinnacles, è questo il luogo dove i sogni diventano realtà.
I Sims possono arricchire le loro nuove dimore con arredi moderni, accessori placcati oro e casseforti per i loro beni più preziosi. Inoltre, i videogiocatori possono far accrescere la fama dei propri Sims convertendoli in icone della moda, trendsetter e influencer dell'universo fashion.
I Sims più celebri potranno addirittura vedersi intitolato un diamante sullo Starlight Boulevard. Essere ricchi e famosi può essere imprevedibile: anche se i videogiocatori con i loro Simoleons potessero ottenere l'impossibile, i loro Sims non vorrebbero mai tornare indietro dopo aver assaggiato il gusto del successo.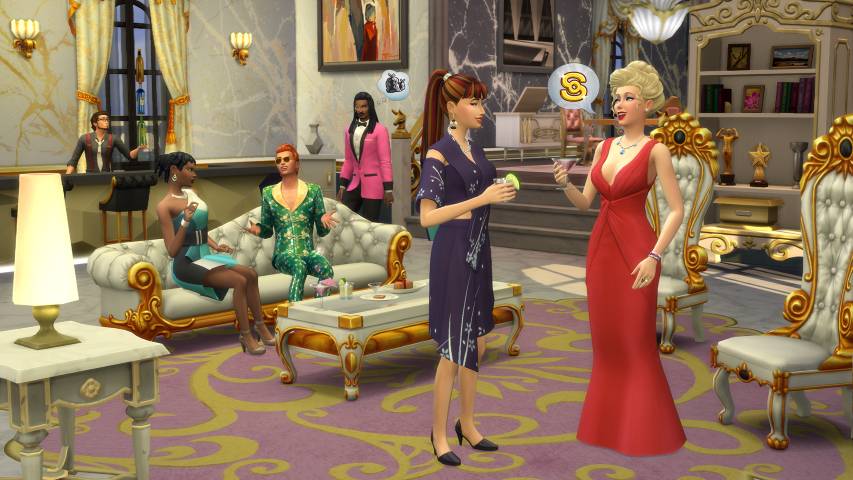 L'articolo The Sims 4, il dlc Nuove Stelle invade il mondo di gioco proviene da IlVideogioco.com.
Continua la lettura di The Sims 4, il dlc Nuove Stelle invade il mondo di gioco →