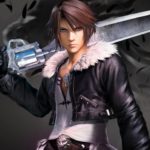 Tre anni e non sentirli. Mobius Final Fantasy, il gdr per dispositivi mobile, festeggia il suo terzo anniversario con una collaborazione con Final Fantasy VIII.
Lo ha annunciato Square Enix. Da oggi fino al 1° novembre, i giocatori potranno scoprire "Final Fantasy VIII – The Sleeping Lion", una storia inedita e creata appositamente e gratuitamente per Mobius Final Fantasy oltre a una serie di altri contenuti e offerte speciali per celebrare l'occasione.
FINAL FANTASY VIII – THE SLEEPING LION: in questa nuova storia, Squall si ritrova in un mondo familiare ma allo stesso tempo diverso. Insieme ai personaggi originali di MOBIUS FINAL FANTASY, Squall svelerà i segreti dei SeeD, delle streghe e del resto di questo mondo.
Nuovo Ultimate Hero: tutti i giocatori riceveranno l'Ultimate Hero – Squall e l'arma Revolver effettuando l'accesso e partecipando all'evento. I giocatori potranno migliorare il loro Revolver giocando all'evento della collaborazione.
Nuova skin Echo: tutti i giocatori riceveranno una nuova skin di Rinoa per Echo.
Nuovi Legend Job e Ultimate Skin: i giocatori potranno aggiungere i nuovissimi Legend Job per Graff (Sorceress's Knight) e Meia (Sorceress of Oblivion) alle loro collezioni tramite un nuovo banner di durata limitata. Durante l'evento, la nuova Ultimate Skin – Squall Leonhart verrà inoltre aggiunta all'elenco degli Ultimate Heroes.
Nuova Supreme Card: i giocatori potranno aggiungere una nuova Supreme Card di tipo Monk, Griever: FFVIII, alle loro collezioni tramite un nuovo banner di durata limitata.
Sistema di battaglia "Draw": basandosi sul sistema Draw (Assimila) originale di FINAL FANTASY VIII, tutti i livelli di battaglia nella collaborazione di durata limitata includeranno questo nuovo stile di gioco. Usando il comando Draw durante una battaglia, i giocatori potranno assimilare le abilità nemiche e poi usarle selezionando Cast.
SeeD Rank: i giocatori potranno guadagnare delle ricompense aggiuntive grazie al loro SeeD Rank, che aumenterà a seconda di quanto avanzeranno nei livelli della collaborazione.
Contenuti della modalità multigiocatore: Squall Leonhart sta cercando degli sfidanti nell'arena multigiocatore Ring of Braves. I giocatori che collaboreranno per affrontarlo otterranno delle ricompense aggiuntive.
La celebrazione del terzo anniversario includerà anche nuove campagne, sconti e altro ancora:
Supreme Ticket gratuito: tutti i giocatori riceveranno un Supreme Ticket gratis da usare su un Ultimate Hero o su una Supreme Card per ottenere una carta molto forte.
Ability Support Card di Graff/Wol gratuita: tutti i giocatori riceveranno la Support Card "Warriors of Despair", che include un'illustrazione del character designer Gen Kobayashi (The World Ends With You), gratuitamente.
31 giorni di summon gratuiti: durante il mese di agosto i giocatori potranno eseguire una summon al giorno gratuitamente.
Bonus speciale per l'accesso: i giocatori potranno ottenere fino a 14 Summon Ticket semplicemente effettuando l'accesso quotidianamente.
Settimana MOBIUS: i bonus Mobius Day saranno disponibili ogni giorno fino al 13 agosto alle 09:59 CEST. I giocatori potranno ottenere un regalo gratuito ogni giorno, tra cui skillseed, Ability Ticket, Summon Ticket, Mystic Tablet e altro ancora.
Timbri gratuiti: i giocatori potranno ricevere i timbri Congrats! (versione del 3° anniversario) e Go Away! semplicemente effettuando l'accesso. I giocatori che hanno acquistato una Mobius Gift Box più di 12 volte potranno ottenere un timbro esclusivo di Echo.
Campagna "Welcome Back": da oggi fino al 17 agosto, i giocatori che sono stati inattivi per più di 30 giorni e i nuovi giocatori riceveranno una Mobius Gift Box gratis, 1000 magicite e 88 Mystic Tablet. Durante il periodo della campagna, tutti riceveranno delle ricompense a seconda del numero di giocatori nuovi e giocatori inattivi che ricominceranno a giocare.
Guaranteed Supreme Card Summon del 3° anniversario: i giocatori che acquisteranno 12.000 magicite riceveranno un Supreme Ticket da usare su una Supreme Card o un Ultimate Hero. Inoltre, durante tutta la campagna i giocatori potranno ottenere più magicite del normale (1,5x).
Ricordiamo che il gioco è disponibile su Apple App Store, Google Play Store e STEAM.
L'articolo Mobius Final Fantasy festeggia tre anni proviene da IlVideogioco.com.
Continua la lettura di Mobius Final Fantasy festeggia tre anni →