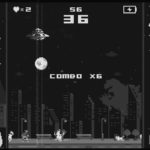 La fantascienza è sempre stato un argomento molto interessante. Fin da tempi remoti. Un esempio storico fu la trasmissione radiofonica del 1938 intitolata "War of the Worlds" interpretata così bene da Orson Welles che molte persone che ascoltarono la radio credettero effettivamente ad una invasione aliena. Non mancano esempi anche negli anni successivi. Ma non è questa la sede per andare avanti. Abbiamo voluto iniziare così la (mini) recensione di They came from the Sky, nuovo titolo di Fobti Interactive che dopo averci portato nel West con Gunman Tales e fatto esplorare dungeon con eroi nell'interessante RPG "numerico" Numgeon, ci fa vestire i panni degli alieni invasori.
Proprio così. E lo fa facendoci tornare indietro, in un'atmosfera anni '50. Il gioco è uscito su Steam pochi giorni fa e propone una grafica in pixel art ed un design interessante. Oltre a dinamiche estremamente semplici ed immediate che lo rendono adatto a chi vuole divertirsi per qualche minuto.
Ecco la nostra recensione.
GAMEPLAY SNELLISSIMO MA DIVERTENTE
Diciamocelo subito: They came from the Sky è un passatempo semplice. Potremmo definirlo una sorta di "Space Invaders al contrario". In questo caso, infatti, saremo noi a guidare l'invasione aliena a bordo di un classico disco volante del tutto simile a quello che si ritiene sia caduto a Roswel, negli Usa, avvenuto nel 1947.
Il nostro compito? Semplicissimo: rapire (o come simpaticamente viene descritto su Steam: "salvare") il maggior numero di esseri umani e/o animali evitando anche le rappresaglie della polizia o altri tipi di controffensiva terrestre. Al tempo stesso sarà importante evitare di rimanere senza energia (del resto è sempre un ufo degli anni '40-'50) e conquistare bonus che aumentino il tempo a nostra disposizione che è limitato. La missione è nobile: assicurare un numero di esseri umani per poter preparare un delizioso frullato rinfrescante…
Grazie al raggio traente quindi potremo attirare nel nostro disco volante persone ed animali. Raccoglieremo anche dei bonus che serviranno a renderci invisibili per un breve periodo di tempo, a fermare le persone e renderci più facile il nostro compito o, ancora, a trasformare le persone in polli, o attivare scudi o il warp che serve per la ricarica.
Potremo anche raccogliere, sempre col nostro raggio, alcune monete che accumulate saranno utili a sbloccare altri tipi di ufo. Ve ne sono in tutto sei. Questi si differiscono non solo per l'aspetto (sempre retro) ma anche per tre caratteristiche: velocità di movimento, energia e resistenza ai colpi.
Non possiamo, inoltre, il nostro movimento laterale sarà automatico ma grazie all'utilizzo del nostro raggio potremo cambiare direzione.
Nel gioco sono presenti le statistiche. Ad esempio leggeremo quante volte siamo stati abbattuti, quanti round abbiamo fatto, quanti umani abbiamo rapito, quanti animali sono stati prelevati e così via. Nonché il nostro rango mentre il numero di monete raccolte tra ogni partita è cumulativo e, come detto, serve a sbloccare le navette con le quali effettuare le nostre scorribande.
Ah, ovviamente bisogna fare il maggior numero di punti e se centreremo tanti obiettivi rapidamente attiveremo un sistema di combo che aumenterà a il punteggio.
PIXEL, BUONA MUSICA E QUALCHE EFFETTO
Dal punto di vista tecnico, They came from the Sky è il classico lavoro in pixel art da parte di Fobti Interactive. Tutto molto semplice ma ben fatto ed in grado di offrire la giusta atmosfera. Buoni anche alcuni piccoli effetti ed un omaggio a Godzilla che ogni tanto fa capolino sulla scena.
Ed a questo punto, facendo un passo indietro, ci viene un dubbio: ma noi li rapiamo o li salviamo questi esseri umani, gatti, gabbiani, poliziotti, polli e così via?… In effetti se gli umani potessero scegliere, cosa farebbero: essere spiaccicati da Godzilla o essere l'ingrediente principale di un succo rinfrescante per alieni?
Ci sono alcune opzioni grafiche per gli effetti (togliere lo "sporco" ad esempio) o per giocare in bianco e nero o a colori. Buoni gli effetti sonori e buonissime anche le due musiche. Entrambe evocative e di atmosfera che fanno perfettamente il loro dovere. Offrono, infatti, quel po' di suspense che ci aspetteremmo anche da un tipo di film del genere. Ci accompagnano molto bene nella nostra missione di terrore… o di salvataggio… beh, nel nostro compito.
COMMENTO FINALE
They came from the Sky è un bel passatempo. Nulla di impegnativo ma è molto simpatico. E siamo convinti che effettivamente nove alieni su dieci (come ironicamente appare nella pagina Steam del gioco) abbiano ragione consigliando questo giochino firmato da Fobti (al secolo Tibor Fobel). Divertente, scanzonato, immediato e per piccino che sia, funzionale.

Ottimo prezzo (non supera i tre euro, ndr), peccato per la poca varietà complessiva. Capiamo, tuttavia, che vada bene così visto il tipo di produzione strettamente individuale ed indipendente.
L'articolo They came from the Sky, (mini) Recensione proviene da IlVideogioco.com.
Continua la lettura di They came from the Sky, (mini) Recensione →