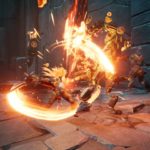 Nelle scorse ore Darksiders III si è arricchito di contenuti grazie al nuovo dlc Keepers of the Void, disponibile per Pc, PS4 ed Xbox One al prezzo di 12,99 euro.
In questo espansione realizzata da THQ Nordic e Gunfire Games, la nostra eroina Furia dovrà assolvere un incarico speciale affidatogli dal demone mercante Vuglrim: sconfiggere un'antica minaccia che incombe sui cavalieri nascosta tra i Varchi serpentini.
I muscoli saranno necessari ma non indispensabili in Darksiders III: Keepers of the Void perché davanti a voi si presenteranno numerosi e infernali enigmi da risolvere.
Vediamo il trailer di lancio del dlc.
La fatica verrà ripagata adeguatamente al termine di questa espansione con Furia che potrà finalmente indossare l'Abyssal Armor oltre che rinnovare l'arsenale con potenti armi. Qui la nostra recensione del gioco "liscio".
La saga di Darksiders ha attraversato un lungo periodo storico dell'era moderna ed ha resistito alle travagliate vicende societarie grazie alla forza e alla creatività del team di sviluppo.
Uscito nel 2010 e ispirato all'Apocalisse raccontata nel libro della Rivelazione, il titolo rappresentava una novità sia per qualità grafica che per azione e divertimento. Sia Guerra, il primo cavaliere dell'apocalisse e successivamente il fratello Morte, nel secondo capitolo, hanno animato le serate degli amanti del genere hack 'n' slash.
Il brand ha rischiato di finire in una brutta situazione quando nel 2012 THQ portò i documenti in tribunale per dichiarare il fallimento. E come succede con il miele con le api, i cavalieri dell'Apocalisse erano molto appetitosi agli occhi di altri publisher.  Nell'aprile del 2013 Nordic Games, conosciuta come THQ Nordic dopo aver cambiato denominazione nel 2016, acquistò i diritti per la realizzazione e la distribuzione della serie.
Il franchise Darksiders, composto da tre capitoli principali, entro la fine dell'anno assisterà alla nascita di uno spin-off di matrice action-rpg, in cui tornerà il primo cavaliere dell'apocalisse, Guerra, e ne introdurrà un altro Conflitto, completando il roster dell'Apocalisse.
Dino C.
L'articolo Darksiders III si espande col dlc Keepers of the Void proviene da IlVideogioco.com.
Continua la lettura di Darksiders III si espande col dlc Keepers of the Void →