Ci siamo. ormai, Field of Glory: Empires debutterà l'11 luglio, ossia giovedì. Noi siamo già pronti e dopo la nostra corposa anteprima, abbiamo continuato a seguire questo grand strategy 4X a tema storico con estremo interesse. Già nella sua fase di sviluppo iniziale, gli scenari proposti da Slitherine, erano interessanti e trasmettevano un'idea molto chiara di quello che il publisher inglese vuole portare sui nostri computer.
Ma il tempo passa, e siamo finalmente giunti al momento fatidico della recensione per capire se si tratti di un capolavoro o meno. Slitherine e Ageod saranno riuscite a creare un titolo all'altezza delle aspettative alimentate da quanto positivamente visto nel nostro provato? Prima di lasciarvi al nostro racconto, vi ribadiamo che il titolo sarà disponibile da giovedì, 11 luglio, in esclusiva su Pc,  su Steam, su GOG.com e sullo store digitale del publisher (Slitherine).
ROMA CAPUT MUNDI REGIT ORBIS FRENA ROTUNDI
Lo scorso 27 giugno, Slitherine ha rilasciato un trailer in latino (avete letto bene) per ricordarci dell'arrivo sempre più imminente del gioco. Tale trailer ve lo riproponiamo qui perché lo abbiamo apprezzato molto. Una scelta stilistica attraente, aggressiva (nel senso buono del termine), ma che rende appieno l'idea di quanto questo publisher sia ispirato e intelligente nel gestire sia il lato tecnico, quanto quello promozionale.
Del resto, gli scenari di cui abbiamo parlato nella nostra anteprima hanno dichiaratamente mandato un messaggio alla concorrenza: "a voi le parole, a noi i fatti".
Ammettiamo che non vedevamo l'ora di scrivere questa recensione, di trasmettervi le emozioni che il gioco ha suscitato durante le nostre prove, ma una cosa possiamo dirla in partenza. Ci ha talmente ispirato, che è riuscito nell'impresa di rompere uno dei dogmi seguiti da chi vi scrive. Infatti, in ogni gioco ambientato nel periodo antico, era nostra abitudine iniziare a familiarizzare con le varie meccaniche usando quel magnifico impero.
Ma due buone ragioni ci hanno spinto a rompere questa tradizione: la prima, è la forte delusione che ci ha pervaso durante le prove di molti giochi usciti di recente. Troppo belli per gli occhi ma sostanzialmente spogli e privi di profondità, o inutilmente e anacronisticamente macchinosi senza nessuna ragione. La seconda motivazione, è rappresentata dal folto numero di imperi che è possibile selezionare all'inizio del gioco.
Field of Glory: Empires, vi permette di prendere il controllo di oltre 70 nazioni, suddivise nella cosiddetta serie A (Roma, Cartagine, la Macedonia), un'ottima serie B (Sparta, la Dacia, il regno di Siracusa), più una corposa porzione di fazioni minori (il Sannio, il Quataban, l'Illiria). Tutte le fazioni godono di una breve descrizione, utile per avere qualche informazione generale, ma a noi non bastava.
Infatti, sono state soprattutto le fazioni minori a catturare il nostro interesse, spingendoci ad un ulteriore ricerca su Wikipedia per una più chiara collocazione geografica, e una visione storica. Alla fine, la nostra scelta è ricaduta sull'interessante tribù dei Lugi, vissuta tra il 400 BCE ed il 300 CE.
LA GRAND CAMPAIGN
Prima di addentrarci sulle meccaniche di gioco, e su quanto proposto, spendiamo qualche parola a sfondo storico. Lo scenario principale, copre un arco di ben cinquecento anni, per la precisione dal 310 BCE fino al 190 CE. Al fine di evitare riferimenti ad una religione in particolare, il prodotto sviluppato da Ageod usa la locuzione, Era Comune (Common Era) e Prima dell'Era Comune (Before the Common Era) abbreviate in CE – BCE. Queste sigle però fissano la posizione temporale di una data rispetto al calendario gregoriano oppure giuliano; si determinano così gli anni precedenti e successivi al tradizionale anno di nascita di Gesù.
Avendo scelto i Lugi, che vengono datati a partire dal 400 BCE, possiamo dire che nel 310 BCE il loro piccolo impero era nato da poco, nell'Europa Centrale. Occupavano buona parte dell'attuale Polonia centro-meridionale, e venivano considerati con grande rispetto per via del controllo sul tratto centrale della Via dell'ambra, dalla Sambia al Mar Baltico, fino ad alcune provincie dell'impero romano: Pannonia, Norico e Rezia.
Le informazioni che il gioco ci offre, narrano di un impero sia nemico che amico di Roma. Questo ci ha incuriosito, portando a fare ulteriori ricerche, prima di partire con il gameplay, che ci hanno fatto sorridere non poco. Da amanti dei 4X e dei giochi di ruolo, soprattutto di carattere fantascientifico, non potevamo esimerci dal sorridere apprendendo che i Lugi erano una Federazione (se non avete capito la battuta, cambiate sito).
Descritta dallo storico Strabone, come un "grande popolo", insieme ad altri popoli quali Semnoni, Zumi, Butones, Mugilones e Sibini, fecero parte di una federazione guidata da Maroboduo, re dei Marcomanni, con sede nell'attuale Boemia (9 BCE. – 19 CE). La successiva citazione dei Lugi risale ai tempi dell'imperatore romano Claudio. Secondo gli Annales di Tacito, nel 50 "una grande moltitudine" di Lugi, alleati dei romani, prese parte alla caduta dello stato Vannio dei Quadi, situato nell'attuale Moravia, Slovacchia.
Durante il regno di Domiziano. I Lugi si allearono con i romani chiedendo loro aiuto contro i propri vicini occidentali, la tribù germanica dei Suebi. Domiziano spedì 100 cavalieri per aiutare i Lugi. Non si sa se questi cavalieri arrivarono a destinazione; se lo fecero, si tratterebbe della prima presenza di soldati romani sul suolo dell'odierna Polonia. Insomma, una storia affascinante e con in serbo qualche piccolo mistero, una scelta davvero entusiasmante. Il gioco, oltre al contesto storico, accompagna una serie di modificatori e bonus in base alla fazione che deciderete di selezionare, di base è chiaro come un impero meno "ampio", sia più difficile, ed in parte è anche vero. Ma il prodotto di Slitherine e Ageod è molto di più, perché qui non conta solamente la conquista militare, quanto il riuscire a sopravvivere al nemico più potente di tutti, il tempo.
INTERFACCIA
L'interfaccia di un gioco, soprattutto per gli strategici, necessita di un lavoro che spesso si sottovaluta. Riuscire a proporre tutte le informazioni più importanti in modo chiaro e completo, è cosa più facile a dirsi che a farsi.
Possiamo smentire subito qualunque remora, perché il lavoro svolto è davvero di valore. In alto a sinistra, il pulsante opzioni viene affiancato da quello del salvataggio. Al centro, i valori di tesoreria, forza lavoro, diplomazia, lo stendardo della fazione controllata che da accesso ad ulteriori menu. Più a destra, il menu di riepilogo, il quantitativo di metallo a disposizione e i punti legacy (di cui abbiamo parlato nell'anteprima e che riproporremo oggi).
I popup relativi ai messaggi importanti, trovano posto sul lato destro dello schermo, mentre in basso troviamo la mini mappa, con tutti i filtri relativi a rotte commerciali, fazioni, rifornimenti e molto altro. Per chi non è avvezzo a questo tipo di giochi, i filtri più importanti saranno quello relativo alle regioni, alle rotte commerciali, ma soprattutto quello dei rifornimenti.
Conquistare una regione non è un mero gesto di potenza, ma va considerato nella sua interezza. Appena conquistata, una provincia non genererà alcun tipo di bonus o risorsa, e dovranno passare diversi turni prima che i rifornimenti possano arrivare all'esercito ivi stanziato. Se fossero presenti "brecce" tra le nostre difese, un nemico furbo potrebbe conquistare una regione cui la nostra recente conquista è collegata, tagliando fuori il nostro esercito dalle importanti risorse di cui abbisogna per sopravvivere. In basso a sinistra anche se "nascosta" di default, richiamabile tramite pulsante, la "console".
Essa conterrà varie informazioni più alcune delle mosse nemiche, e fatti accaduti nei turni precedenti. Il fatto che sia nascosta, ci indica che non è obbligatorio consultarla per sfruttare appieno ciò che il gioco ha da offrire, ma in caso di bisogno è presente. Durante i nostri gameplay, abbiamo fatto diverse prove, constatando la sua utilità. Andando a selezionare una delle provincie in nostro possesso, si aprirà il pannello di gestione. Anche qui, le informazioni e le opzioni sono molto chiare e a portata di mano. Sotto il nome, troviamo alcune importanti informazioni, tra cui la lealtà e i punti Infrastruttura.
A destra, troviamo il riepilogo sulle risorse generate. Ad ogni turno potremo costruire una struttura, capace di fornire importanti bonus al mantenimento della popolazione. Ogni edificio è suddiviso in cinque categorie base:
Agricoltura
Salute
Infrastrutture
Militare
Commercio
Cultura
Agricoltura e salute saranno importanti al mantenimento dei nostri cittadini, ma un fiorente commercio permetterà di costruire edifici più importanti, e mantenere grandi eserciti.
Lo sviluppo militare, ci consentirà di accedere alle unità più forti del gioco, mentre la cultura sarà importante sia per i punti legacy che per lo sviluppo del nostro impero. Infatti, se conquistare provincie con genti e credi differenti potrebbe rivelarsi semplice, il mantenimento si rivelerà un vero incubo se non espanderemo la nostra cultura.
Il concetto è in parte simile ad altri strategici, quali gli ultimi Civilizations a titolo d'esempio. La costruzione dei vari edifici, può anche portare a svariati bonus, a seconda della presenza di risorse commerciali o altre strutture presenti. Dato che ad ogni turno, potremo costruire solamente un tipo di struttura, inizialmente sarà importante focalizzare l'attenzione sulla popolazione, andando poi a focalizzare la nostra attenzione sull'area militare o quella commerciale.
Per quel che riguarda le province appena conquistate, è importante fare attenzione a quanto sono distanti dalla nostra capitale, la cultura dei cittadini e le infrastrutture già presenti. C'è poi il concetto di provincia, opzione che diventa disponibile se controlliamo più della metà della regione geografica di appartenenza. Creare una provincia, ci darà la possibilità di entrare ancor più in profondità nel gioco, decidendo la sorte degli schiavi, se spendere o meno soldi per la popolazione, e dove investire nelle infrastrutture. Tutte queste scelte, saranno precluse fino alla costruzione di una provincia.
Piccola postilla per quel che riguarda i menu di riepilogo, dove si trova tutto ma davvero tutto quel che concerne le fazioni, il nostro impero, il fronte militare, e le provincie. È tutto molto chiaro e molte informazioni sono volutamente abbreviate per facilitarne la comprensione.
CONDICIO SINE QUA NON
Da che mondo e mondo, diplomazia e burocrazia sono vecchie quanto le guerre. Una corretta gestione diplomatica, può renderci amici di fazioni vicine, evitando possibili conflitti. O ancora, per i giocatori più furbi e navigati, spingere altri a combattere insieme a noi o al posto nostro. Utile se vogliamo distogliere l'attenzione sulle nostre terre, favorire guerre in territori altrui potrebbe rivelarsi davvero utile, soprattutto entrando nel conflitto in un secondo momento.
Altresì, la burocrazia può arrivare ad uccidere, ma fortunatamente in Field of Glory: Empires ci occuperemo solo del primo fattore. Il dialogo con gli imperi e le tribù vicine, verrà gestito da un pratico menu posto in alto vicino allo stendardo della nostra nazione. Cliccando sul menu, e successivamente sulla provincia di un'altra fazione, potremo selezionare alcune tra le opzioni disponibili.
Le scelte a nostra disposizione sono piuttosto classiche, e vanno dall'alleanza, alla guerra, all'insulto o ai regali. Ci sono poi la cooperazione e il cosiddetto stato fantoccio. La cooperazione, è meno di un'alleanza, ma più di un'amicizia. Cooperare con altri popoli, sarà fondamentale per la nostra sopravvivenza, soprattutto se la nostra fazione è inferiore a quelle vicine.
L'altra opzione, ossia quella di "clientelare" uno stato, ne farà in breve un vassallo. A differenza della cooperazione, se il nostro impero è di grandi proporzioni, proporre il vassallaggio a fazioni minori ci permetterà di conquistare senza versare una goccia di sangue. Durante le nostre prove, la diplomazia si è rivelata molto utile, l'unico piccolo neo è che non siamo riusciti a far entrare in guerra i nostri amici con popoli indipendenti (non facenti parte di alcuna fazione), che possono rivelarsi una vera spina nel fianco di ogni popolazione.
LEGACY E DECADENZA
E adesso, veniamo a due concetti cardine di Field of Glory: Empires. Legacy e Decadence. I punti Legacy saranno utili per la vittoria, alla fine dello scenario.
Conquistare un punto, significa invadere e mantenere una provincia vicina, o in mano ad un altro impero. La decadenza invece, è un concetto tanto semplice quanto profondo, e si accompagna anche alla cultura. Semplificando al massimo, e trattandosi di uno strategico, il nostro primo interesse sarà quello di invadere quanti più territori possibili per annetterli alla nostra nazione, acquisendo importanti risorse ed un ingente quantità di vil denaro da stipare nelle nostre tesorerie.
Ma più si cresce in fretta, più i popoli conquistati saranno intrinsecamente diversi in quanto a credo, popolo, lingua, abitudini. E di conseguenza, saranno meno leali. Conquistare nei tempi giusti, edificando costruzioni che espandano per bene la nostra cultura, e mantenendo la lealtà della popolazione ad un buon livello, si rivelerà una strategia vincente. In realtà, è davvero difficile! Già dopo aver conquistato due o tre provincie, inizieranno i problemi. Edificare costruzioni che espandano la cultura è un lavoro lungo, e nel frattempo la lealtà scenderà inesorabilmente. Una presenza militare in giro per le regioni, eviterà possibili focolai di ribellione, pertanto vi suggeriamo di lasciare sempre una guarnigione su ogni provincia, soprattutto quelle appena conquistate. Legacy e Decadence non sono solo concetti, ma vengono calcolati anche sulla base di una classifica che si aggiorna costantemente.
Non è un caso che l'Impero Romano, già dopo una ventina di turni, abbia livelli di decadenza molto alti, che vanno a ridursi pian piano. Il tutto, è perfettamente integrato nel contesto storico, e funziona davvero bene. Se la nostra decadenza è troppo alta, il livello della nostra tribù o del nostro impero scenderà, passando ad esempio da orda tribale a decadente orda tribale. Questo mutamento, aumenterà la voglia di ribellione del popolo, e la slealtà nei nostri confronti.
Parlando per assurdo, potremmo vivere l'intera campagna senza muoverci dai nostri confini, difendendoli quando necessario, e migliorando le nostre province il più possibile. I livelli di decadenza sarebbero molto bassi, la cultura più alta, ma i punti Legacy rimarranno una chimera, insieme alla possibilità di vincere. Le possibilità a nostra disposizione sono innumerevoli, potendo scegliere tra una modesta espansione e una tranquilla sopravvivenza, o cercare di eccellere e di farci valere in uno dei periodi storici più sanguinosi, ma anche più epici della nostra storia.
SI VIS PACEM, PARA BELLUM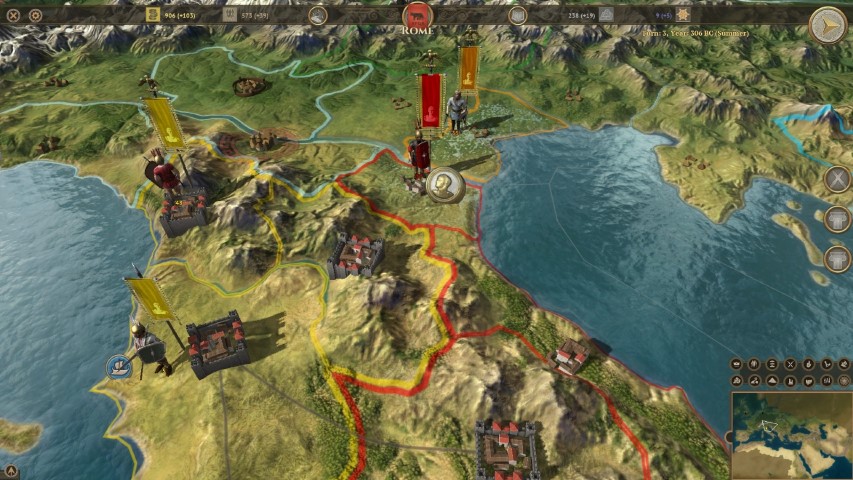 Negli strategici di questo tipo, il lato militare è spesso lasciato in mano a due figure, che con qualche animazione determineranno l'esito finale di una battaglia. Ma trattandosi di una delle caratteristiche più belle degli ultimi anni, beh abbiamo deciso di lasciarla per ultima. Prima di passare al dolce però, parliamo del lato militare in senso stretto.
Il gioco, propone la bellezza di 600 unità, suddivise per 13 etnie e 20 categorie, con ben 100 unità nazionali personalizzate. Stiamo parlando di una moltitudine di unità, tutte fedelmente riprodotte nel loro contesto storico. Il segno di una ricerca certosina e molto approfondita è visibile, soprattutto quando si scelgono fazioni minori. Scordatevi di vedere due omini identici con colori diversi che si fronteggiano, perché il lavoro di Ageod è degno erede di Alea Iacta Est, e porta con sé  tutte le buone introduzioni di Field of Glory II.
Ogni unità ha un costo di mantenimento, e diversi modificatori sia in attacco che in difesa. Tipo di territorio, clima, stagione, tipo di armatura, a piedi o a cavallo, sono alcune delle riflessioni da fare durante lo sviluppo delle legioni che andranno a comporre il nostro esercito. E ancora, quando sarà il momento di fronteggiare l'esercito nemico, avremo a disposizione tre scelte.
La prima, sarà la risoluzione veloce, utile per le piccole schermaglie. Nella seconda, la modalità base del titolo, due imperi si fronteggiano a viso aperto su due linee opposte orizzontalmente. I valori dei modificatori, il punteggio di attacco e difesa, e quanto scritto sopra, determineranno la vittoria, la sconfitta o il pareggio.
Nel caso partissimo all'assedio di una provincia dove è presente una roccaforte, dovremo aspettare diversi turni prima di iniziare l'attacco finale, in quanto i forti ben difesi, celano spesso forze molto più numerose di quello che potremmo aspettarci. La fretta in questi casi, è sempre una cattiva consigliera. Lasciate che l'esercito nemico finisca le risorse, solo allora partirete alla conquista. Ma se durante il gioco foste davanti ad una battaglia campale, che potrebbe determinare l'esito di un'intera campagna, non vorreste scendere in campo in prima persona, muovendo direttamente le unità per favorire attacchi ai fianchi, imboscate, e possenti cariche?
In altri giochi, non potreste farlo, ma in Field of Glory: Empires, sì. Se siete in possesso di Field of Glory II, e volete scendere in battaglia, vi basterà premere il pulsante "Export Battle", che chiuderà Empires per aprire Field of Glory II. Dal menu principale, scegliendo battaglie e poi battaglie di Field of Glory: Empires, ci permetterà di controllare il nostro esercito in prima persona.
I benefici di questa introduzione sono tutti a favore del motore di gioco di Field of Glory II, cui abbiamo dedicato una recensione qualche mese addietro. Questa feature è davvero magnifica, e integrata perfettamente. I vantaggi strategico/tattici sono tangibili, in quanto anche un esercito numericamente inferiore, può uscire vincitore da una schermaglia se guidato a dovere. Abbiamo fatto diverse prove, perché inizialmente il timore era uno spostamento di file con conseguente perdita di tempo, e invece il tutto si completa con qualche pulsante e l'avvio/chiusura dei due giochi.
Sogniamo ad occhi aperti un Field of Glory: Empires 2 con l'engine delle battaglie di Field of Glory II integrato, ma già qui i risultati sono davvero entusiasmanti. Chiudere Empires, aprire Field of Glory II, gestire il proprio scenario e tornare alla gestione della nostra nazione, il tutto in pochi click. Tra l'altro, le unità che verranno importate sul campo di battaglia, sono identiche alle controparti "in 2d". A Field of Glory II, mancava una campagna degna di questo nome, ma oggi anche questa sbavatura è stata corretta, rendendo entrambi i titoli ancor più profondi ed interessanti.
LATO TECNICO
Ed eccoci a parlare del lato puramente tecnico ed estetico del gioco. L'intelligenza artificiale è furba, aggressiva, e colpisce sempre nei momenti in cui si è più deboli. I comportamenti relativi alla diplomazia sono coerenti, come anche le battaglie.
Sul lato puramente militare, vale il discorso fatto anche per Field of Glory II, che va tenuto in altissima considerazione perché facente parte dell'impianto di gioco.
Sul fronte prettamente estetico, nulla da dire per le unità, che sono davvero sviluppate e disegnate con maestria, in perfetta linea con il contesto storico. Discorso diverso, per la plancia di gioco. Se interfaccia, menu e unità sono uno dei fiori all'occhiello, il tallone d'Achille cade su una grafica di livello discreto. Non che sia mal sviluppata anzi, ma le montagne risultano poco pronunciate, e tutti i territori appaiono piuttosto "spogli".
Anche gli effetti atmosferici e quelli relativi all'acqua, sono nella media. In un gioco di questo tipo, tutti questi fattori rivestono un ruolo certamente marginale, però è giusto considerare che persino la mappa di Alea Iacta Est era superiore e meglio caratterizzata, sebbene decisamente meno ampia. Anche sul fronte sonoro, purtroppo siamo rimasti delusi. Il main theme è molto bello, ma tralasciato quello, ci sono davvero poche tracce, ed è un peccato.
COMMENTO FINALE
Finalmente, un gioco che rende giustizia alla grandiosità dell'Impero Romano. Field of Glory: Empires, è un 4X, un grand strategy game, e grazie alla funzione di esportazione delle battaglie, un tattico. Ha tutto quello che si potrebbe volere da uno strategico di questo tipo.

Decisioni, ampia possibilità in materia di edifici, una moltitudine di unità. I concetti di Legacy Point e di Decadenza, sono due trovate di stile, specialmente la seconda. Fronteggiare la decadenza, sarà come combattere contro lo scorrere del tempo, ed è forse la battaglia più dura in tutto il gioco. L'intelligenza artificiale è arguta e aggressiva, e l'interfaccia è tra le migliori in circolazione.

Peccato per le piccole sbavature sul fronte grafico e sulla colonna sonora, ma rivestono un ruolo talmente marginale che nel mezzo della partita non ci faremo nemmeno caso. Soprattutto considerando quanto di buono il titolo abbia da offrire. È davvero un piacere recensire prodotti come Field of Glory: Empires ed è per questo che siamo molto fiduciosi sia per Warplan (l'Hearts of Iron in salsa Slitherine) che per Astra Exodus (il nuovo 4X a sfondo fantascienza). Negli ultimi tempi, Slitherine non ha sbagliato un colpo, e non ha errato puntando su Ageod per lo sviluppo di questo gioco, uno dei migliori strategici in circolazione. In grado, appunto, di rendere giustizia alla grandezza di Roma.
L'articolo Field of Glory: Empires, Recensione proviene da IlVideogioco.com.
Continua la lettura di Field of Glory: Empires, Recensione →