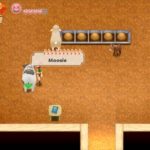 Rising Star Games, in partnership con Natsume, hanno oggi svelato Harvest Moon: Light of Hope Special Edition Complete. I pre-order saranno presto disponibili in tutta Europa e oltre.
Harvest Moon: Light of Hope Special Edition Complete include: nuovi pack di Decorazioni e Strumenti, il nuovo Marriageable Character Pack, episodi speciali di Doc & Melanie e il Divine Marriageable Characters Pack. Questa edizione fisica, sarà disponibile su Switch e PlayStation 4 il 25 ottobre.
I giocatori potranno ripartire dal principio in una nuova ambientazione. Durante il loro viaggio, la loro nave viene colpita da una tempesta. Giunti in una piccola città portuale, ora nel caos della tempesta, spetterà al giocatore aiutare a ricostruire la città e a salvare il faro … ma non sarà facile. Tuttavia, rimboccandosi le maniche, coltivando, curando il bestiame e raccogliendo materiali per le riparazioni, i giocatori saranno in grado di fare nuove amicizie, creare una famiglia, far rivivere il faro e salvare la città.
Per ulteriori informazioni, segui Rising Star Games su Instagram, Twitter, Facebook, o visita il sito ufficiale.
A PROPOSITO DI HARVEST MOON
Il gioco è stato pubblicato per la prima volta in Nord America nel 1997 e ha riscontrato un costante aumento di popolarità e di giocatori, rendendolo uno dei franchise più amati di sempre. Harvest Moon è venerato per essere un gioco non violento e per famiglie e nel corso del tempo sono stati pubblicati più di 31 titoli legati alla serie.
IMMAGINI
Ecco le immagini del gioco. Due le gallery per l'occasione, la prima per l'edizione PS4, la seconda per la console ibrida di Nintendo, la Switch.
VERSIONE PS4
VERSIONE SWITCH
L'articolo Harvest Moon: Light of Hope Special Edition Complete ad ottobre proviene da IlVideogioco.com.
Continua la lettura di Harvest Moon: Light of Hope Special Edition Complete ad ottobre →