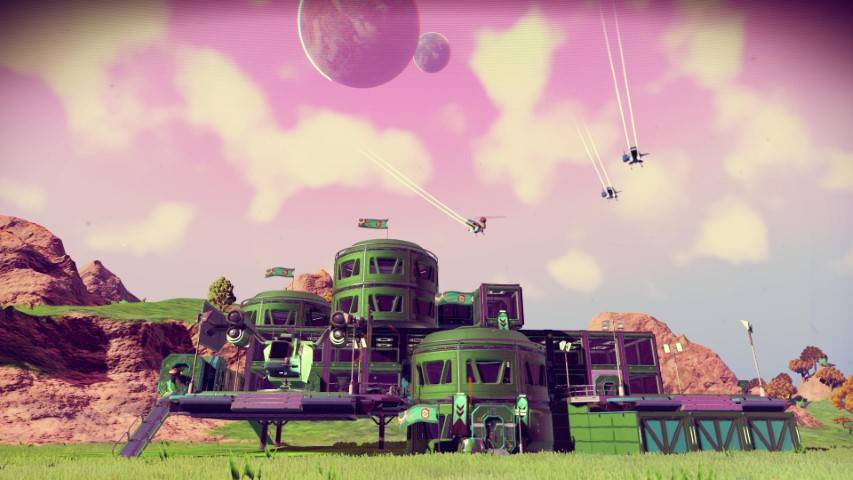 No Man's Sky Beyond ha fatto il suo esordio pochi giorni fa ed è l'occasione per parlare più ampiamente del gioco fin dalla sua genesi. Nel 2013, cinque ragazzi con alle spalle l'esperienza della trilogia Joe Danger per Pc, console e dispositivi mobile, proposero al pubblico un titolo praticamente unico. Per gli amanti della fantascienza esplorativa, era considerato il Santo Graal, per gli appassionati di simulatori spaziali, era un titolo da tenere in seria considerazione. A livello grafico e stilistico, prendendo a piene mani dalla fantascienza anni '70 e '80, No Man's Sky era un titolo praticamente unico, un vero e proprio pioniere tanto nel concept, quanto nelle meccaniche.
Tra il 2013 e il 2016, anno dell'uscita, grazie a vari screenshots ed una serie di teaser, gli appassionati speculavano su mille fatti. Dai pianeti completamente procedurali, alla galassia praticamente infinita (18 quintilioni di pianeti), alle navi che permettevano un'esplorazione in prima persona profonda e affascinante.
Si capiva chiaramente che il gameplay era leggero e non complicato quanto un Élite: Dangerous, ma anche quella rappresentava una caratteristica peculiare. Esplorare una galassia in libertà, dagli oceani alle caverne alle vette, senza perdersi tra astrusi controlli e mille fattori da tenere a mente.
I teaser, ingolosivano chiunque fosse attratto dall'ambientazione, con animali grossi come palazzi che distruggevano alberi e qualunque cosa si trovasse sulla loro strada, e una surreale immersione. Ogni giorno si attendeva qualche novità, qualche rumor, qualche voce di corridoio, e poi si andava a discutere sui forum, o per chi li usava, i vari social. Gli anni passarono, e si arrivò vicini alla release quando alcuni video misero a nudo una situazione alquanto preoccupante.
UN ESORDIO AMARO
Il 10 agosto 2016, all'uscita del gioco, l'amara verità si stampò sulle facce dei giocatori come un palazzo che ti crolla addosso. Mondi piatti, texture di bassissima qualità, bug a profusione, navi per nulla dettagliate, quest sconclusionate, biomi inesistenti, e molto molto altro. Chi vi scrive, era tra coloro che credevano profondamente nel prodotto, e ne capivano le potenzialità, pure in una situazione così disastrosa.
L'esplorazione di base c'era, bastavano le giuste modifiche e tutto sarebbe andato per il meglio. Hello Games, già messa in discussione (con tanto di voci su azioni legali) sarebbe sicuramente corsa ai ripari per modificare e migliorare il titolo in tutta la sua interezza.
Ci credevamo davvero, ed in parte è andata esattamente così, ma ci sono diversi fattori che vanno a scontrarsi inesorabilmente con la verità odierna. Ma procediamo con ordine. Dopo l'odio, le discussioni, le minacce di morte (seriamente, si può anche essere arrabbiati ma arrivare alle minacce di morte ci fa capire quanta gente idiota ci sia in questo pianeta) Hello Games sparì dai radar nel tentativo di migliorare ciò che aveva portato sui nostri schermi, ossia un Early access con la "E" maiuscola, venduto però a prezzo pieno.
Potremmo anche parlare di come Sony in un certo senso sia complice del tutto, considerando che pur conoscendo la realtà del titolo non considerò nemmeno la possibilità di ritardarlo ulteriormente o abbassarne il prezzo, anzi continuava a far uscire video "tarocchi" presi da build che non esistevano più, complice anche un allagamento degli studi di Hello Games a Guildford (fatto che veniva usato come scusa da chi continuava ad aver fiducia nel progetto e difendeva i sviluppatori). Gli autori assicurarono, tra l'altro, che l'evento, avvenuto nel Natale del 2013, non avrebbe rallentato i lavori.
Ma il danno era fatto. Ed i video di confronto tra quanto era stato visto nelle varie fiere e quanto era proposto nel gioco al suo esordio si moltiplicarono. Uno tra questi, abbastanza famoso ed al tempo stesso impietoso lo abbiamo allegato ad inizio del paragrafo.
IL CAMBIO DI ROTTA CON FOUNDATION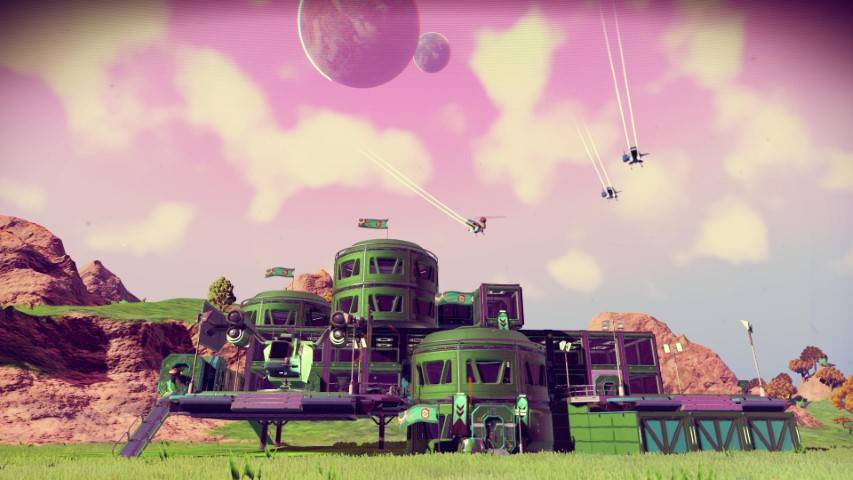 A novembre 2016, quando la "shitstorm" (che facilmente si può parafrasare come una ventata ostile) si era lievemente placata, quando uscì il primo update, "Foundation". Già qui, le prime avvisaglie di un cambio di rotta erano evidenti, ma certa gente (tra cui noi) era talmente leale che non si scostò di un millimetro. Ricordiamo, che No Man's Sky doveva essere un viaggio introspettivo e speciale, un prodotto interamente dedicato all'esplorazione, uno space-sim semplice e mastodontico al tempo stesso. Un titolo sicuramente non per la massa, specificatamente orientato ad un pubblico che preferiva esplorare strani nuovi mondi, piuttosto che perdere tempo a sparare a tutto quello che si muove.
Con il Foundation Update, invece, Hello Games aggiunse la possibilità di creare delle basi sui pianeti, e aumentò sensibilmente le risorse ottenibili tramite crafting. Aggiunse due nuove modalità oltre quella normale, una dedicata al lato "Survival", quindi più difficile.
L'altra, avulsa dalla difficoltà del gameplay e rivolta solamente al crafting di risorse e costruzione delle basi. Da quel momento, No Man's Sky vive su due realtà parallele.
Quella in cui "doveva essere", e quella in cui "è diventato".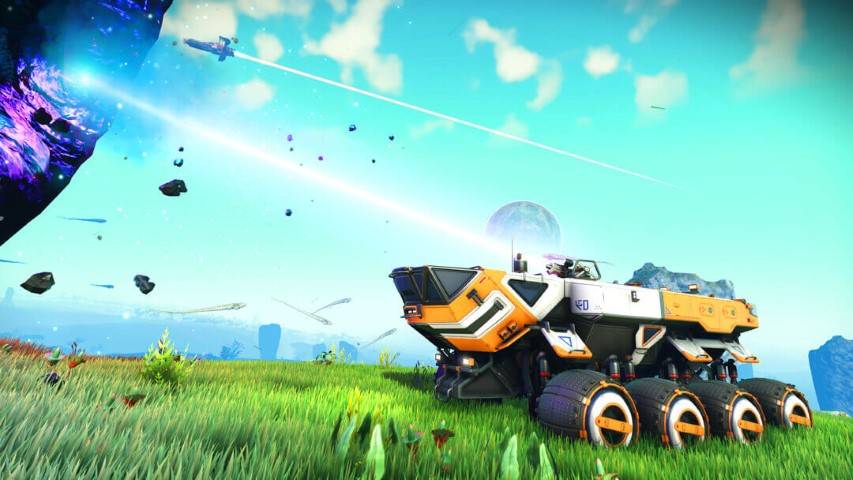 Sulla scia di Mass Effect Andromeda, a marzo 2017 il cambio di rotta fu ancora più chiaro, visto che il Pathfinder Update (come il Pathfinder di Mass Effect… e come, aggiungiamo, la missione su Marte del 1996) aggiungeva molte feature tutte orientate al crafting.
Vennero introdotti gli exoscafi, mezzi con cui esplorare i pianeti e che garantivano un'esplorazione più veloce. Una modalità "Permadeath", interessante per i giocatori amanti delle sfide difficili. Venne inoltre aggiunta la possibilità di condividere le proprie basi con quelle di altri giocatori, ed è con questa aggiunta che il gioco subisce un'ulteriore evoluzione, anch'essa avulsa dalle premesse iniziali.
ATLAS RISES
Cinque mesi dopo, ad agosto 2017 arrivò Atlas Rises. Nuove storie, quest secondarie "procedurali" (o più propriamente, schematicamente casuali ma sempre identiche), e la possibilità di usare finalmente i famosi portali, fino ad allora solamente un oggetto grafico e null'altro. La modalità online venne ulteriormente affinata grazie alla modalità cooperativa, pur se in uno stato ancora embrionale.
Atlas Rises venne rilasciato in seguito ad un ARG (alternative reality game) durato mesi e mesi, a cui abbiamo preso parte direttamente, pur senza eccellere e continuando a sperare che la compagnia inglese tornasse sui suoi passi.
Niente da fare.
L'APPRODO SU XBOX ONE E NEXT
Il 24 luglio 2018, No Man's Sky arrivò finalmente sulle console di mamma Microsoft, in allegato al nuovo update, No Man's Sky Next. Questo contenuto aggiuntivo, rappresentava secondo Hello Games il primo apice del gioco, portando una completa modalità multiplayer, la visuale in terza persona, la possibilità di creare basi sottomarine, e creare flotte di navi stellari da mandare in missione con il solo scopo di recuperare risorse utili al crafting e a far soldi.
La compagnia di Guildford annunciò anche una nuova gestione della propria community, con update regolari tanto nel contenuto quanto nella comunicazione. Pian piano, la fanbase cresceva e sempre più utenti perdonavano a Hello Games un lancio ai limiti della truffa. Il crafting e il multiplayer, zittivano praticamente tutti, perché rappresentano ancora oggi la moda del momento.
L'update The Abyss, uscito ad ottobre 2018, andò ad espandere la parte "acquatica" del gioco, con fondali non più piatti e anonimi ma pieni di vita, risorse, e la possibilità di esplorarli con un sottomarino. Siamo lontanissimi dai livelli di profondità a livello gameplay e stilistico di Subnautica, anzi potremmo definire "The Abyss" il fratellino povero del titolo maded by Unknown Worlds Entertainment. Ma c'erano più risorse, più crafting e multiplayer sempre più vario, tanto bastava.
NO MAN'S SKY BEYOND
E ora siamo a No Man's Sky Beyond, un update diviso in tre parti che ha portato questo crafting game sui nostri visori, una modalità online perfettamente in linea con un multiplayer di massa, e No Man's Sky 2.0. Sul visore, nulla da dire, è un'ottima implementazione per chi ama questo tipo di periferica.
Per noi, è ancora troppo presto perché preferiamo goderci i titoli davanti allo schermo, ma è un'opinione puramente soggettiva. Stessa cosa per il multiplayer, eccetto le considerazioni che faremo più avanti. Però, ci preme andare più in profondità con la cosiddetta 2.0. Oltre ad una veste grafica migliorata, questa versione aggiunge la possibilità di addomesticare creature aliene, mungerle e cavalcarle. Un sistema di cucina ci permetterà di dilettarci "alla Prova del Cuoco", e il sistema di gestione energetico rende la costruzione delle basi ancor più realistica ed interessante.
OLTRE NO MAN'S SKY BEYOND
Prima di passare alle considerazioni negative, vogliamo anche spendere qualche parola sul supporto. Sicuramente, la produzione di espansioni e contenuti in maniera totalmente gratuita è stata una manovra politica, perché Hello Games ha cercato in tutti i modi di riconquistare la fiducia degli acquirenti. Molti dei giochi usciti, specialmente su console, vedono lo sviluppatore ritirarsi dopo nemmeno un anno dall'uscita, vedi Torment: Tides of Numenera. Questo impegno, pur politicamente furbo, va sottolineato. Paradox, supporta i suoi giochi per molti anni ma quanto costano i suoi dlc?
Per avere Stellaris completo di tutto e in piena forma, ci aggiriamo attorno ai 160 euro. Con Crusader Kings 2, la cifra va quasi a raddoppiare. Questa politica non ha mai soddisfatto e non incontra in alcun modo il favore di chi redige questo speciale, ed è il motivo per cui apprezziamo con grande ardore CD Projekt RED, che rilascia si contenuti a pagamento, ma in giusta proporzione e dal "peso" esorbitante rispetto ad un dlc a 9,99 euro solo con due unità e uno sparuto scenario. Hello Games dal canto suo, si è prodigata per migliorare un prodotto che ha saputo riadattare alle mode e alla massa.
Ma bisogna considerare alcuni fattori che noi riteniamo determinanti per determinare la qualità di un prodotto. No Man's Sky come dicevamo, era nato come simulatore spaziare prettamente esplorativo, ma ad oggi è un crafting game con meccaniche da base builder e una robusta modalità multiplayer. Chi cercava l'esplorazione, è rimasto fermo ai box. E dopo No Man's Sky Beyond la situazione non è cambiata troppo sotto questo aspetto.
Perché?
La risposta è semplice, i biomi non sono tanti e si ripetono più o meno in ogni sistema. Durante lo sviluppo degli update, si chiedevano a gran voce giganti gassosi e pianeti con anelli, come anche nebulose e una corposa fase esplorativa a livello spaziale, possibilmente arrivando a guidare in prima persona navi di grossa stazza, le capital.
Anche No Man's Sky Beyond è comunque al suo inizio e presto potremmo avere ulteriori novità "all'interno del ciclo vitale dell'espansione".
ALTRI RIMPIANTI
Si sperava in una creazione dei pianeti più realistica, con regioni artiche e una fascia tropicale. O ancora, pianeti dal bioma acido ma con regioni o porzioni del pianeta "normali". Anche le caverne e gli oceani, per quanto ora vari, sono identici a prescindere dal bioma di appartenenza, e quando diciamo identici non scherziamo.
Lo stesso, vale per gli ambienti sottomarini, pur considerando una varietà più ampia in fatto a piante e creature.
Anche gli animali alieni, dopo un po' vanno a ripetersi, e il senso di novità si perde dopo una trentina d'ore, e parliamo di un titolo che potrebbe farci superare tranquillamente le 200. Con la 2.0 ora gli npc si muovono a destra e sinistra, peccato che non fanno nulla, davvero niente. Ci facciamo due risate? Parliamo delle stazioni commerciali poste sui pianeti e i nostri npc:
Nel nostro pianeta denominato "Fucsia" decidiamo di scendere su una stazione per commerciare. Il bioma è tra i più ostili che ci sia mai capitato di trovare, con piogge acide e violente tempeste. Scesi sulla stazione, iniziamo a mercanteggiare ma notiamo che i vari npc che approdano dopo di noi se ne stanno tranquilli vicini alle loro navi.
Le stazioni commerciali, per chi non lo sapesse, sono completamente aperte, e se sul pianeta c'è una tempesta, ci basta essere all'interno della stazione per non subire le angherie della natura. Peccato che gli alieni stanno lì a guardare il proprio tablet senza parlare o muoversi nel corso di una violenta tempesta.
Ora, invece far muovere npc senza alcuna reale funzionalità, non avrebbe avuto più senso cambiare in toto le stazioni?
Ogni pianeta ha un ciclo giorno/notte, peccato che i pianeti siano immobili, e non si muovono attorno alla stella sulla quale dovrebbero orbitare.
Lo spazio, è identico indipendentemente dal sistema sui cui rivolgiamo il nostro interesse, a parte qualche schermaglia e alcuni asteroidi che garantiscono un afflusso di risorse differenti. Sono passati tre anni, dall'uscita, ma lo spazio è rimasto inesorabilmente identico, fatta eccezione per qualche miglioria più estetica che funzionale.
I pianeti con anelli sono stati aggiunti con un ulteriore paradosso. Pur affascinanti, non dovrebbero essere così numerosi, eppure ne incontriamo quasi uno a sistema. Basi abbandonate, navi abbandonate esplorabili, asteroidi sui quali atterrare, sono e rimangono una chimera. E per terminare la parte spaziale, passiamo alle navi. Pur con qualche aggiunta a livello grafico, siamo allo stesso livello dei pianeti con mezzi praticamente identici al 2016 (dalla grafica rinnovata, quello sì) e dalla costruzione procedurale quantomeno "singolare".
Non ci è possibile modificarle, e invece di aggiungere una ventina di modelli, nel corso di tre anni siamo ancorati a quelli basi più un paio di velivoli aggiunti in seguito.
C'è poi il discorso delle risorse, che vale tanto per il crafting quanto per la simulazione. Ad OGNI update, tutto ciò che sapevamo delle risorse è mutato radicalmente, cambiando di volta in volta le carte in tavola. Pensavamo di approvvigionare la nostra nave con uranio o metalli pesanti (che era anche realistico e interessante)? Bene, si è passati al trizio per tutti. Con la versione 2.0 questa politica è stata mantenuta anche se in forma minore, ma dover imparare nuove regole ad ogni update è veramente tedioso.
In ultimo, ci sono i bug. Per carità, è chiaro che con 12gb di patch i problemi siano più che normali, ma arrivare a sentire la propria console decollare (LETTERALMENTE) con tanto di puzza di polvere bruciata, non è proprio il massimo (No Man's Sky Beyond docet).
FINALE
Insomma, ad Hello Games va dato il merito di aver corretto gli errori. Mossa che ha permesso al team di guadagnandosi nuovamente la fiducia della community. Al tempo stesso, però, ha scontentando senza alcuna remora una parte degli appassionati che, come noi, sono ancora in attesa di quell'avventura prettamente esplorativa che hanno sognato per anni. E No Man's Sky Beyond non basta ancora anche se è un altro passo per quello che volevamo.

Se invece Minecraft, Subnautica, Astroneer sono tra i vostri giochi preferiti, No Man's Sky è un titolo da prendere in seria considerazione. Tra i titoli base building ad oggi è uno dei migliori, molto vario e a suo modo profondo.

Il multiplayer è la vostra passione? Siamo sicuri che vi soddisferà, e regalerà risate e ore di esplorazione in compagnia che forse nemmeno Élite: Dangerous potrà farvi provare, più che altro per la natura simulativa e dalla ripida curva d'apprendimento del titolo prodotto da Frontier Developments (la qualità è davvero ottima, sia ben chiaro). Insomma, potreste anche smettere di leggere e correre ad accaparrarvi il titolo, perché al netto degli errori di Hello Games, ad oggi è un prodotto davvero completo a patto che vi piaccia questo tipo di gioco.
L'articolo Speciale No Man'Sky, dagli esordi a Beyond proviene da IlVideogioco.com.
Continua la lettura di Speciale No Man'Sky, dagli esordi a Beyond →