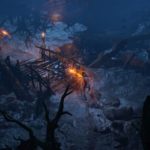 Path of Exile 2 è stato annunciato nelle scorse ore all'ExileCon che si sta svolgendo ad Auckland, in Nuova Zelanda. Grinding Gear Games, team che sviluppa l'eccellente action RPG gratuito (con formula free-to-play non invasiva), ha presentato il gioco ma l'arrivo sul mercato potrebbe essere molto lontano. Gli stessi sviluppatori neozelandesi hanno spiegato che la beta potrebbe non arrivare nel 2020. Vedremo.
Intanto sono stati diffusi i primissimi dettagli nonché due video: il trailer d'annuncio e 14 minuti di gameplay che vi mostriamo.
Path of Exile 2 aggiungerà una nuova storia suddivisa in sette atti che si svolge 20 anni dopo la fine del predecessore. Molti dei sistemi principali del gioco saranno rimodulati e sarà rielaborerà la meccanica di ciascuna delle sette classi di personaggi.
Anche dal punto di vista tecnico, soprattutto visivo, ci saranno dei miglioramenti sul rendering basato sulla fisica: ad esempio, le frecce rimbalzano su alcune superfici e si attaccano ad altre a seconda del materiale.
I personaggi di Path of Exile 2 useranno gli stessi "archetipi di classe" di quelli del gioco originale, ma si dovrà crearne uno nuovo per giocare con la nuova storia. I personaggi Path of Exile 2 possono scegliere tra 19 nuove classi di ascendenza che differiscono da quelle vecchie, che saranno comunque disponibili nella campagna Path of Exile originale. Fortunatamente, tutti gli oggetti acquistati verranno trasferiti, poiché esistono tutti all'interno di un singolo ecosistema. Il team ha quindi ben pensato di premiare i propri utenti. Sul sito ufficiale maggiori dettagli.
Come detto, l'uscita di questo secondo capitolo – che anche a nostro dire potrebbe competere con Diablo IV – Grinding Gear Games ha affermato che i beta test potrebbero non iniziare neppure per la fine del 2020. Per il futuro più immediato, infatti, le espansioni di Path of Exile continueranno ad essere rilasciate a tre mesi di distanza con contenuti che saranno disponibili anche nel secondo capitolo.
L'articolo Grinding Gear Games annuncia Path of Exile 2 proviene da IlVideogioco.com.
Continua la lettura di Grinding Gear Games annuncia Path of Exile 2 →