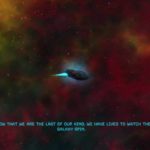 Dopo la corposa alpha, oggetto della nostra anteprima, è arrivato il fatidico D-Day anche per Interstellar Space Genesis. La fase beta è durata meno del previsto, e infatti il 25 luglio il 4X ad opera di Praxis Games è stato reso disponibile per Pc tramite Steam. Come sarà andata? E cosa sarà cambiato dal dicembre dello scorso anno, periodo in cui provammo l'alpha?
Vediamolo insieme. Buona lettura.
UNA GENESI PROFICUA
Se siete un fan del genere 4X, non potete non conoscere Master of Orion 2. Parte integrante del nostro speciale sulla serie Civilization, il gioco proposto da Micropose vi metteva nei panni di una razza che aveva solo un obbiettivo, la conquista galattica.
È considerato il padre putativo del motto "Explore, Expand, Exploit, Exterminate" per quel che riguarda gli strategici a sfondo fantascienza, e non a caso. Numerosi sono stati i tentativi di riportare in auge le meccaniche e l'atmosfera cui si poteva godere durante le svariate ore di gameplay in sua compagnia, soprattutto perché rispetto a Sid Meier's Alpha Centauri, la conquista non era planetaria ma galattica. Infatti, entrambi i titoli sono spesso definiti "complementari".
Dal 1997 in poi, sono molti gli sviluppatori che hanno imitato questo capolavoro, alcuni anche in forma amatoriale. Dal progetto Free Orion a Remnants of the Precursors, dagli Sword of The Stars a Stardrive 1&2. È su queste basi che Praxis Games, capitanata dal famoso Adam Solo, ha lavorato per proporre un nuovo titolo con alle base le meccaniche che fecero le fortune di Micropose. Non un compito facile, soprattutto perché si tratta del primo gioco rilasciato da questo interessante team indie, con propositi tanto chiari quanto ambiziosi. Sviluppare titoli strategici specificatamente orientati per l'esperienza in singolo, che dovranno soddisfare tre requisiti: divertimento, ispirazione, pensiero critico.
SI PARTE DAL BASSO
Detto che Interstellar Space Genesis vuol farci rivivere le emozioni di Master of Orion II, è chiaro che se questo titolo è tra i vostri preferiti vi sentirete sicuramente a casa. Dimenticatevi il dettaglio grafico di Stellaris quindi, perché il fulcro è tutto nel gameplay e di ciò che vi trasmetterà.
Avviato il gioco, la prima scelta sarà quella della razza, che non ha subito grandi cambiamenti rispetto all'anteprima dello scorso dicembre. La nostra scelta, come sempre quando si tratta di 4X è quella della Federazione dei Pianeti umani, che come le altre presenta una serie di abilità speciali. Le razze che potremo interpretare sono in totale 6:
Umani.
Draguul.
Moltar.
Sulak.
Kaek.
Nova.
Negli ultimi anni, diversi giochi hanno introdotto razze che però o erano poco affini al background di fondo, o risultavano poco caratterizzate. Riguardo ad Interstellar Space Genesis, possiamo dire che le razze sono decisamente particolari, e pur non innovando, oltre a rappresentare una sorta di versione migliorata del campionario di Master of Orion II, sono state sviluppate su una base concettuale intelligente.
Ovviamente sarà possibile creare la propria razza personalizzata, con tanto di tratti, abilità e malus derivanti dalle scelte fatte. Speravamo di poter selezionare diversi personaggi differenti, purtroppo ogni impero ha il suo leader unico, anche questo un sacrificio a favore del gameplay. Le altre scelte da effettuare prima di cominciare la partita saranno quelle relative alla dimensione della galassia, il livello di difficoltà e il numero totale degli avversari. Generalmente, se volete una partita più "frizzante", quindi con diverse battaglie iniziali, suggeriamo una galassia di dimensione inferiore.
Scegliere una mappa più ampia è utile per un'esperienza sandbox più tranquilla, che si rivelerà complessa da gestire nella fase avanzata del gameplay, quando dovremo gestire tante colonie, flotte, avamposti, e ovviamente la parte diplomatica. La parte iniziale della nostra partita ci vedrà alle prese con le prime scelte da effettuare, quindi alcune ricerche, l'esplorazione, e una nave coloniale da inviare su un pianeta nel quale fonderemo la prima colonia.
LA SCIENZA E IL PROGRESSO
Le ricerche in Interstellar Space Genesis poggiano le basi su un buon albero tecnologico, con diverse opportunità interessanti già nelle fasi iniziali. Impostare la strategia verso un'industrializzazione per poi espanderci in un secondo momento o tentare la via dell'esplorazione a tutti i costi?
Queste sono alcune delle scelte che dovrete fare, anche se almeno inizialmente suggeriamo una buona via di mezzo. L'albero tecnologico si divide in:
Difesa.
Armamenti.
Economia.
Propulsione.
Ingegneria Planetaria.
Costruzione.
Se difesa, armamenti ed economia si spiegano facilmente, come il campo relativo alle costruzioni, meritano due parole la propulsione e l'ingegneria planetaria. La prima, ci permetterà di dotare le navi con motori più avanzati, giovando l'esplorazione e i movimenti delle nostre navi. Scoprirete presto che non sarà possibile viaggiare molto al di fuori del nostro territorio senza un motore adeguato.
L'ingegneria planetaria è una componente da non sottovalutare, visto che tratta tematiche quali riciclo e miglioramento della terraformazione, e in genere tutto ciò che riguarda la salute dell'ambiente. Questo fattore non è per nulla secondario perché andrà ad impattare sul gradimento dei nostri coloni, sulla capacità produttiva, e sulla tesoreria. Il numero di variabili è molto alto ma ogni ricerca è riassunta da una breve tooltip dove oltre ad una descrizione, saranno indicati i vari modificatori e benefici a breve e lungo termine che otterremo.
UNA GALASSIA IN 2D
In controtendenza rispetto alle ultime mode, Interstellar Space Genesis propone una mappa galattica totalmente in due dimensioni. Niente galassie a spirale quindi, ma una comoda plancia su cui muoverci con un numero di sistemi stellari ben definito. A livello estetico, è chiaro che il gioco paghi dazio, ma a favore del gameplay bisogna dire che la scelta funziona.
Stellaris è un gran gioco, e ha dato spazio ad un nuovo modo di interpretare questo genere, ma è anche vero che nonostante tutte le migliorie apportate dal monumentale numero di dlc a volte capiti di perdersi qualcosa, proprio per via della scala e del tipo d'inquadratura. Qui, invece, si riesce a tenere traccia di tutto con un semplice sguardo, grazie anche ai miglioramenti apportati all'interfaccia nel periodo intercorso tra le prime fasi alpha e la release finale. La mappa galattica sarà la nostra compagna per la maggior parte del tempo, e sarà lì che muoveremo le unità, gestiremo le scoperte tecnologiche, e affronteremo una serie di eventi casuali a seconda delle scoperte ottenute grazie all'esplorazione.
Anche lo studio dei vari sistemi stellari ha una meccanica a parte. L'uso delle navi scientifiche non sarà l'unico mezzo che ci permetterà di acquisire dati ed informazioni sui pianeti e i punti d'interesse. Ad ogni turno infatti, dovremo selezionare una porzione di spazio che i nostri scienziati andranno a visionare, acquisendo successivamente dati relativi ai tipi di pianeta presenti, eventuali risorse aggiuntive, tunnel spaziali, e altro.
Questa meccanica, inizialmente ci sembrava inutile, ma con il passare delle ore di gioco abbiamo scoperto la sua utilità. Un sistema planetario con la presenza di una sola stella senza alcun valore, avrebbe fatto perdere tempo ad un'eventuale nave scientifica, che invieremo invece verso un settore dello spazio dove sono indicate importanti risorse, sfruttabili attraverso un avamposto che andremo a costruire con la nave apposita. Riassumendo, si scansiona una porzione di spazio, eventualmente si invia una nave scientifica e un'unità adibita alla costruzione di avamposti scientifici o minerari.
EVENTI, DIPLOMAZIA E MERLETTI
Gli eventi casuali sono piuttosto interessanti, e sono in linea con altri giochi dello stesso genere. Nel caso trovassimo qualche rovina durante l'esplorazione, potremo decidere di lasciare le cose come stanno o esplorare le rovine, con ciò che ne deriva sia in senso positivo che negativo. Ad esempio, l'esplorazione di una rovina su un lontano pianeta ci ha garantito un bonus permanente all'attacco delle nostre navi del 20%, un vero colpo di fortuna! Allo stesso tempo, un'altra misteriosa rovina ha lanciato un segnale nelle profondità cosmiche, mentre un vago messaggio ci suggeriva di far stazionare alcune navi a protezione del sistema.
Ovviamente non l'abbiamo fatto, e dopo una manciata di turni ci siamo trovati con un kraken spaziale proprio nel centro delle nostre colonie, una vera disdetta. I vari eventi non brillano per scrittura, ma sono un gradevole passatempo, che si integra davvero bene con il passaggio dei turni. La diplomazia viene gestita attraverso il pannello dedicato, e permette una schiera di opzioni molto ben conosciute dagli amanti del genere. Trattati commerciali, alleanze, patti difensivi, e così via. Il tutto è in perfetta linea con il "papà" a cui questo gioco si ispira, anche se forse ci saremmo aspettati qualcosina in più, soprattutto dopo aver visto il buon lavoro di Triumph Studios su Age of Wonders: Planetfall.
Parliamo di due 4X differenti, che però hanno in comune una parte diplomatica che dovrebbe essere marcata, che qui risulta forse più "laterale", come fosse in secondo piano. Per vedere se era solo un'impressione, abbiamo tentato di allearci con i Nova nella speranza che entrassero in guerra contro i Sulak, una vera spina nel fianco. Purtroppo il nostro tentativo è andato a vuoto, ma in generale il comportamento delle varie fazioni è coerente con la caratterizzazione della razza e delle abilità. Insomma, un buon lavoro ma con ampi margini di miglioramento, e secondo noi è un bene. Quello che invece funziona davvero bene è il sistema degli eroi, capaci non solo di livellare e aumentare le proprie caratteristiche, ma di acquisire abilità aggiuntive che garantiranno svariati bonus.
Di tanto in tanto, avranno desideri che potremo decidere di soddisfare o meno, con conseguenze tangibili sul gameplay. Questa meccanica è davvero ben sviluppata, perché al cospetto di diversi eroi in campo, al giocatore sembrerà di confrontarsi con personaggi dalle ambizioni realistiche, favorendo l'immedesimazione. Mettere alla gestione di una colonia un abile economista sarà utilissimo sia per la produzione che per le entrate, e le ricerche ci permetteranno di sviluppare edifici che vedremo realmente sul piano di gioco. Il numero degli edifici è alto, e spesso dovremo fare scelte difficili su cosa mantenere e su cosa costruire, anche perchè ogni colonia ha un limite di edifici basato sul tipo di pianeta, sulla popolazione, e altri modificatori che verranno sbloccati nel corso del gioco. Insomma, tanta carne al fuoco, di quella buona.
FUOCO ALLE POLVERI
Il combattimento si divide in due territori, quello spaziale e quello planetario. Nello spazio, su una mappa anch'essa in due dimensioni andremo a muovere a turno le nostre navi. Rotazione, fuoco, movimento, consumeranno dei punti azione che si ricaricheranno nel turno successivo. Inizialmente, soprattutto quando le nostre navi sono dotate di antiquati motori e deboli laser, dovremo avvicinarci parecchio prima di iniziare un confronto, e se la fazione ha già dotato le proprie unità di missili balistici, saranno guai.
Anche se ad un primo sguardo potrebbe apparire vecchia, soprattutto se consideriamo l'ultima moda che vede Stellaris ed Endless Space 2, presentare scontri con un numero di navi molto alto, questa meccanica funziona e risulta parecchio divertente.
La portata e lo spettacolo sono solo un contorno, in favore di una pianificazione accurata con un sistema da tattico a turni. Il combattimento a terra ci ha ricordato da lontano il mai dimenticato Distant Worlds (per noi risulta ancora oggi il miglior 4X sulla piazza, pur trattandosi di un gioco in tempo reale con pausa tattica), e segue le stesse meccaniche della sua controparte spaziale, risultando abbastanza immediato.
GRAFICA E SONORO
Tecnicamente parlando, il Interstellar Space Genesis si attesta su buoni livelli, soprattutto perché pariamo di un titolo indie sviluppato da un piccolo team.
Il filmato d'apertura, potrà essere criticato per la realizzazione, ma a noi è piaciuto molto e ci ha dato un senso di "ritorno al passato con uno sguardo al futuro".
La grafica delle navi e delle colonie, è dettagliata anche se orfana di diversi particolari, specialmente quando andiamo a visionare una colonia. In sede di anteprima ci auspicavamo una visione della colonia a 360°, e purtroppo siamo rimasti fermi all'inquadratura precedente. Una visione d'insieme non avrebbe alcun impatto sul gameplay, ma secondo noi andrebbe ad aiutare il senso d'immersione e più in generale, il colpo d'occhio, che vuole sempre la sua parte. Sul fronte sonoro, le vette di Stellaris rimangono tali, anche se le tracce proposte sono piuttosto varie e ci sono piaciute.
COMMENTO FINALE
Interstellar Space Genesis è un sandbox 4X vario, con una curva d'apprendimento non ripida, ma che richiede impegno.

È un ritorno al futuro di un gameplay che pensavamo fosse destinato al limbo. Una storia di fondo interessante ma non invasiva, eventi casuali integrati perfettamente nel corso dei turni di gioco, ed eroi con desideri e ambizioni. Una corposa mole di scelte tra diplomazia, albero tecnologico ed esplorazione.

Trattandosi di una produzione interamente indie, il risultato è a dir poco incredibile, pur accettando i compromessi sul fronte grafico, e va a collocarsi di diritto nella nicchia che annovera i migliori esponenti del genere. Considerando che il team di sviluppo ha tutte le intenzioni di migliorarlo, e che i margini sono ampissimi, siamo davvero felici di guardare al futuro del gioco con grande ottimismo.
L'articolo Interstellar Space Genesis, Recensione proviene da IlVideogioco.com.
Continua la lettura di Interstellar Space Genesis, Recensione →