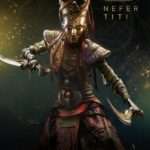 Il secondo dlc di Assassin's Creed Origins si mostra nel trailer di lancio. The Curse of the Pharaohs (La maledizione dei faraoni) sarà disponibile da domani (13 marzo) ed aggiungerà ulteriori sfaccettature alla storia del gioco. In linea con quanto annunciato da Ubisoft (publisher e sviluppatore del titolo) qualche mese fa.
The Curse of the Pharaohs segue The Hidden Ones arrivata a gennaio.
In questa nuova espansione che fa parte del season pass, incentrata sulla mitologia Egizia, gli appassionati se la vedranno contro faraoni non morti ed esploreranno un nuovo e mistico reame.
Durante il viaggio, incontreranno famigerate bestie egiziane al pari dei guerrieri di Anubi, scorpioni e molto altro, mentre investigano la causa della maledizione che ha riportato in vita i faraoni. The Curse of the Pharaohs aumenterà ulteriormente il livello massimo e introdurrà nuove abilità. A tal proposito attendiamo ulteriori dettagli che non dovrebbero tardare ad essere diffusi per darvene notizia.
Vi lasciamo al trailer di lancio mentre a seguire proporremo anche artwork nonché diverse immagini per introdurre questa espansione dell'ottimo Assassin's Creed Origins che ha segnato il ritorno della serie e questa volta con sfumature action gdr. Qui la nostra recensione.
Buona visione.
ARTWORK
Vediamo gli artwork di tre famosi faraoni: Nefertiti, Ramses e Tutankhamon.
ALTRI ARTOWRK
IMMAGINI
Ecco qualche spettacolare scatto tratto dal gameplay dove si evincono tantissime ambientazioni che rendono ancora più affascinante questo nostro viaggio nell'antico Egitto valorizzato anche dal recente aggiornamento gratuito che ha aggiunto la modalità Discovery Tour. Questo permette di fare un giro turistico acquisendo anche nozioni storiche sui vari punti di interesse diffusi nella vasta mappa di Assassin's Creed Origins.
Detto questo, spazio ai nuovi screenshots sul secondo dlc a pagamento.
L'articolo Assassin's Creed Origins, trailer di lancio per The Curse of the Pharaohs sembra essere il primo su IlVideogioco.com.
Fonte: Assassin's Creed Origins, trailer di lancio per The Curse of the Pharaohs