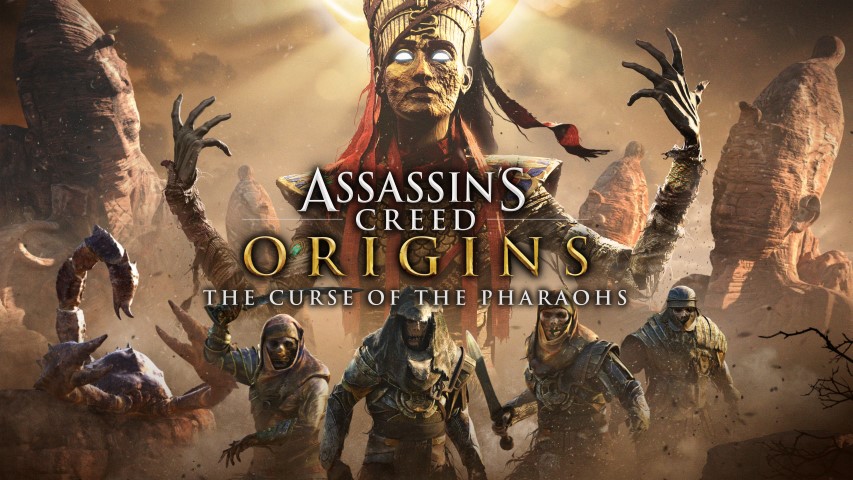 L'esordio di Assassin's Creed: Origins è dietro l'angolo: il 27 ottobre il gran debutto su Pc, PS4, PS4 Pro, Xbox One (e poi il supporto il 7 novembre ad Xbox One X, ndr). Ubisoft ha così diramato la lista dei contenuti post lancio, inclusi il season pass (a pagamento, come facile intuire) e gli aggiornamenti supplementari gratuiti per tutti.
I giocatori potranno continuare ad esplorare l'enorme e mistico Antico Egitto grazie ad una serie di novità post-lancio che includono svariate ore di storia e missioni inedite, eventi a tempo ed oggetti personalizzati.
SEASON PASS
DLC 1 – The Hidden Ones: Questa espansione si concentra sulla storia e si basa sulla crescita della Confraternita, portando i giocatori anni dopo gli eventi di Assassin's Creed: Origins e mettendoli di fronte alle ostili forze Romane in una nuova regione. Questa espansione amplierà il livello massimo, permettendo ai giocatori di far progredire ulteriormente il proprio personaggio. Disponibile da gennaio 2018.
DLC 2 – The Curse of the Pharaohs: In questa espansione incentrata sulla mitologia Egizia, i giocatori combatteranno contro faraoni non morti ed esploreranno un nuovo e mistico reame. Durante il viaggio, incontreranno famigerate bestie egiziane al pari dei guerrieri di Anubi, scorpioni e molto altro, mentre investigano la causa della maledizione che ha riportato in vita i faraoni. The Curse of the Pharaohs aumenterà ulteriormente il livello massimo e introdurrà nuove abilità. Disponibile da marzo 2018.
Pacchetti Horus e Centurione Romano: Due esclusivi contenuti aggiuntivi che includono nuovi outfit, armi, scudi e montature. Disponibile da novembre 2017.
Un pacchetto di 500 Crediti Helix. Disponibile al lancio del gioco.
Un'esclusiva arma rara, la Lama della Calamità. Disponibile al lancio del gioco.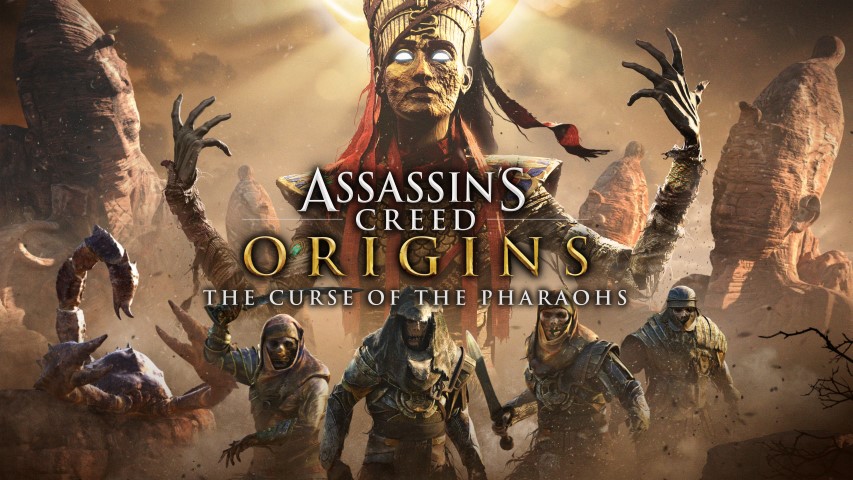 Il Season Pass è incluso in Assassin's Creed: Origins Gold Edition, ma è anche acquistabile separatamente al costo di 39,99 euro.
CONTENUTI GRATUITI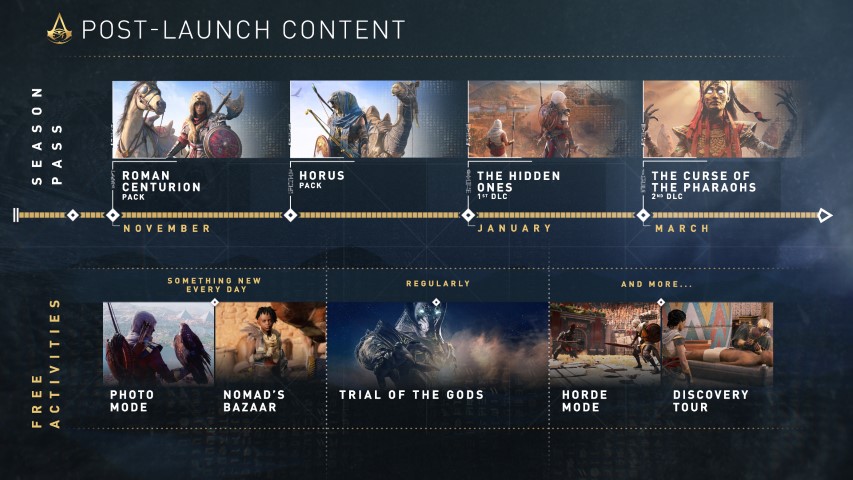 Inoltre, sarà disponibile una vasta gamma di contenuti gratuiti ricchi di nuove sfide, per tutti i giocatori a partire dal lancio del gioco, tra cui:
Prova degli Dei: Battaglie epiche contro gli Dei egizi che si svolgono durante eventi speciali, i giocatori vincitori riceveranno premi prestigiosi. La prima Prova degli Dei sarà disponibile 15 giorni dopo il lancio del gioco.
Il Bazaar del Nomade: Un mercante vagante dà ai giocatori le missioni quotidiane da completare per ottenere misteriosi premi esotici. Disponibile al lancio del gioco.
Photo Mode: I giocatori potranno immortalare e condividere la bellezza del paesaggio egiziano e rimanere affascinati dagli scatti degli altri utenti. Disponibile al lancio del gioco.
Modalità Orda: I giocatori combatteranno le orde di nemici nell'Arena dei Gladiatori. Potranno confrontare i loro punteggi con i loro amici e sfidarli in modo asincrono. Disponibile all'inizio del 2018.
Discovery Tour: Questa nuova modalità educativa (ne avevamo parlato qui) trasforma il mondo di Assassin's Creed: Origins in un museo vivente e darà a tutti la possibilità di conoscere di più sull'Antico Egitto attraverso visite guidate da storici e egittologi. Disponibile all'inizio del 2018.
Assassin's Creed: Origins è una nuova visione della serie con elementi tipici dei giochi d'azione e gdr, che consentiranno ai giocatori di aumentare il proprio livello, ottenere bottini e scegliere le abilità per personalizzare il proprio Assassino. Inoltre, potranno sperimentare un nuovo sistema di combattimento, che consentirà di attaccare e difendersi da più nemici contemporaneamente, oltre a equipaggiare armi rare per affrontare boss unici e potenti.
Un'esperienza narrativa rinnovata garantirà anche la massima libertà nella scelta e nel completamento delle missioni, ognuna delle quali offrirà una storia emozionante e intensa, ricca di personaggi interessanti e obiettivi significativi. Con un intero scenario da scoprire, dai deserti alle oasi, dal Mar Mediterraneo fino alle tombe di Giza, i giocatori dovranno districarsi tra fazioni pericolose e creature selvagge, mentre esploreranno questo vasto territorio imprevedibile.
L'articolo Assassin's Creed: Origins ed i contenuti post lancio sembra essere il primo su IlVideogioco.com.