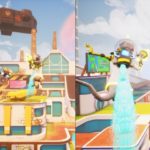 Mario Party incontra Splatoon e da vita ad un gameplay "aerotrasportato" in un mix che fonda collaborazione e competizione chiamato The Otterman Empire.
È questo, infatti, il titolo annunciato dalla software house indie Tri-Heart Interactive che arriverà su Steam (Pc), Xbox One e Switch ad inizio dell'anno prossimo. Il gioco invita a prendere da uno a tre amici e divertirsi in diverse modalità cooperativa.
Scegliete la vostra lontra (si proprio così, ndr) personalizzate il vostro jetpack, aggiungete un'arma di potenza spettacolare e tuffatevi in una festosa esplosione multiplayer locale con obiettivi in ​​rapido cambiamento ed aree buffe, ambientato in un universo tentacolare in cui le lontre regnano sovrane.
The Otterman Empire presenta un'intensa azione multiplayer a schermo condiviso (split screen), che confonde i confini tra sparatutto e giochi di società. Gli appassionati sono spinti da jetpack, aggiungendo una nuova accattivante svolta per sparare contro il gameplay mentre intensificano il divertimento frenetico di dieci volte. Ogni round di due minuti richiede un nuovo obiettivo con regole e dinamiche di gioco uniche. Gli obiettivi generati casualmente e i drop di rifornimento mantengono i giocatori in punta di piedi e garantiscono che nessun gioco di The Otterman Empire sia mai uguale.
Le campagne per giocatore singolo e quelle in cooperativa invitano anche i fan a lavorare insieme o a volare da soli di fronte al male, come tutto ciò che si frappone tra lo scienziato squilibrato, Tiko, e la sua distruzione dell'impero. Con un'enorme varietà di sfide in un'intera galassia, modalità campagna intense e coinvolgenti mettono il destino del mondo nelle zampe dei giocatori.
The Otterman Empire è stato un progetto guidato dalla comunità, ampiamente testato e perfezionato con l'aiuto di una base di fan fiorente e dedicata che ha fornito feedback in ogni fase agli sviluppatori.
Kieran Rogers, managing director di Tri-Heart Interactive, ha detto:
Lavorare con la community è stato un grande colpo d'occhio per noi sviluppatori. Uscire dal cancello come" sviluppatore di giochi guidato dalla comunità "ha influenzato le scelte che abbiamo fatto in ogni fase del processo. Avere una comunità affiatata che è tanto investita nel gioco tanto quanto noi, ci offre una prospettiva più ampia su un progetto a cui siamo così vicini e ci ha aiutato a creare un gioco di cui siamo davvero orgogliosi.
CARATTERISTICHE DEL GIOCO
Otto modalità multiplayer locali dinamiche tra cui il frenetico, Squiditch, il detonatore esplosivo e la pratica del tiro a segno.
Modalità campagna avvincente con una grande varietà di sfide in un'intera galassia.
Dieci personaggi completamente personalizzabili con una gamma di caschi, jetpack e antenne da sbloccare per rendere davvero unica la tua lontra.
Otto pianeti lussureggianti e dettagliati tra cui l'enorme stazione di base vulcanica, la base di pescivendolo, il parco giochi tecnologico, Ottopolis ed i templi ricoperti di vegetazione di Lontra.
Una combinazione unica di competizione e collaborazione che offre una serie di sfide con risultati imprevedibili.
L'articolo Annunciato lo sparatutto The Otterman Empire proviene da IlVideogioco.com.