Manca meno di una settimana al cinque maggio quando su Steam ci sarà l'esordio di Chronicle of Innsmouth dopo essere stata approvata su Greenlight.
Il gioco, sviluppato PsychoDev un team indipendente formato da due appassionati originari di Salerno Umberto Parisi ed Amedeo Vasaturo, è un'avventura punta e clicca ambientata nel mondo di H. P. Lovercraft (Howard Phillips Lovecraft). in esclusiva Windows con possibilità – laddove il gioco dovesse andare forte – di versioni per Mac e dispositivi mobile.
Noi de IlVideogioco.com abbiamo provato il gioco in anteprima e vi scriviamo le nostre Prime Impressioni su questa che è stata una vera e propria sorpresa: il cosiddetto fulmine a ciel sereno e per di più realizzato da un team indie alla sua prima esperienza assoluta. Buona lettura.
OMAGGIO AI PUNTA E CLICCA DI UNA VOLTA
La realizzazione del gioco è stata confezionata con Adventure Game Studios ed il titolo offre una grafica in Pixel Art che omaggia volutamente in classici di una volta ed in particolar modo a The Secret of Monkey Island, pietra miliare delle avventure grafiche punta e clicca che di certo non ha bisogno di ulteriori presentazioni
L'interfaccia di gioco è, in sostanza, quella che vediamo nella stragrande maggioranza delle avventure con una parte dedicata ai verbi per le azioni da fare e l'altra occupata dall'inventario in modo da poter usare con massima semplicità e naturalezza gli oggetti ed interagire con gli ambienti dove possibile.
Tornando all'aspetto visivo, il titolo è stato settato ad una risoluzione di 320X200 ma non per questo mancano i dettagli. Tutt'altro. Ogni ambientazione ha la sua storia, il suo perché e le sue sfumature nonché i suoi tocchi di classe sia statici che in termini di animazioni. Sono presenti anche dei flashback e molti i punti tetri. Un arazzo di pixel ben congegnato che rende davvero bene l'atmosfera. Laddove non arriva l'alta definizione la si percepisce molto bene in Chronicle of Innsmouth.
Si perché si parla pur sempre di un'ambientazione di un particolare racconto di Lovercraft, ossia "L'ombra di Innsmouth" e le ambientazioni sono rese davvero bene grazie ad un lavoro artistico che ci è sembrato comunque ispirato nonostante la fattura amatoriale. Bene anche le musiche con dei brani interessantissimi (in particolare quella negli esterni dell'hotel YMCA…) ed orecchiabili.
DIALOGHI SPENSIERATI IN UNA STORIA CUPA
L'azione ci porta nel bel mezzo dell'Inghilterra con il nostro protagonista, un ragazzotto biondo da poco diventato maggiorenne e con l'aspirazione di diventare un temib… no, scusate, quello è Monkey Island… E tra dialoghi più o meno spensierati ci si ritrova in una storia dalle tante sfumature cupe infarcita da luoghi e personaggi misteriosi nonché inquietanti.
Innsmouth è una cittadina una volta fiorente adesso avvolta misteriosamente nel nulla. Un posto ombroso e cupo al punto da essere cancellata dalle cartine geografiche e di avere informazioni, praticamente dei cenni didascalici, su alcuni libri trovati in biblioteca. Un postaccio oscuro dove non passa più la ferrovia ma proprio per questo capace di attirare la nostra attenzione e quella di altri brutti ceffi.
Narrativamente, abbiamo un canovaccio quasi spensierato in un contesto decisamente più serioso. Le due tonalità diametralmente opposte si abbracciano molto bene nella dinamica del gameplay che ovviamente alterna enigmi più o meno logici a dialoghi ai quali bisognerà senza dubbio fare molta attenzione.
L'atmosfera lovercraftiana è resa molto bene dal lavoro artistico ma è la storia che da quasi spensierata diventa via via sempre più ricca di interesse e di tensione. Al punto che il personaggio può anche morire (il Game Over appare anche in una schermata tra quelle di presentazione, ndr).
CONCLUSIONI
Chronicle of Innsmouth è l'opera prima di PsycoDev. Si tratta di un'avventura grafica punta e clicca ad ambientazione Lovercraftiana che però strizza l'occhio a The Secret of Monkey Island (alcune citazioni sono estremamente palesi e fanno comunque la loro figura) con una storia seria, cupa ma dalle tantissime sfumature divertenti grazie ad un protagonista molto scanzonato in grado di fare il bello ed il cattivo tempo.

Il gameplay ci è parso di spessore con buoni enigmi che si incastonano in una trama ben strutturata con un contesto tecnico ben realizzato (anche se chi vi scrive avrebbe preferito la possibilità di giocare anche a risoluzioni un po' più alte come, ad esempio una più "moderna" ma pur sempre fascinosa 640×480). Il gioco, inoltre, offre una lunga sfida (tra dialoghi, enigmi ed esplorazione) si possono toccare anche le 13 ore. Chronicle of Innsmouth è in doppia lingua: italiano ed in inglese grazie al lavoro di Ross Moffat (Mandle).

Il gioco ha tutte le carte in regola per essere tra le sorprese di quest'anno e potrebbe dare – se non altro per la sua storia e per la passione con il quale è stato sviluppato – una nuova alternativa a chi ama le avventure grafiche punta e clicca rivitalizzate recentemente dall'esordio trionfale di Thimbleweed Park dei maestri Ron Gilbert, Gary Winnik e David Fox. Ovviamente, fatte le dovute proporzioni, siamo su universi diversi ma questo progetto amatoriale trasuda tanta passione già apprezzata dagli utenti di Green Light, piattaforma per gli indie che hanno promosso il progetto in arrivo la settimana prossima.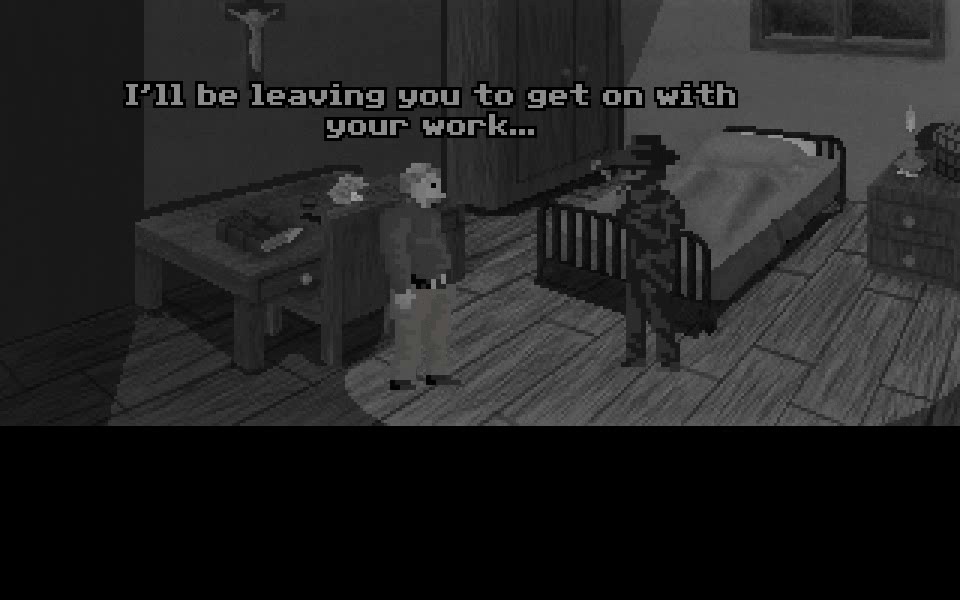 PREGI: Un'avventura grafica punta e clicca vecchio stile ben fatta. Atmosfera davvero ben riprodotta. Ottima colonna sonora. Dialoghi simpatici. Buona trama e ritmo narrativo.
DIFETTI: Avremmo preferito anche risoluzioni maggiori.
L'articolo Chronicle of Innsmouth tra una risata ed un'indagine seriosa l'omaggio a H. P. Lovercraft sembra essere il primo su IlVideogioco.com.
Continua la lettura di Chronicle of Innsmouth tra una risata ed un'indagine seriosa l'omaggio a H. P. Lovercraft →