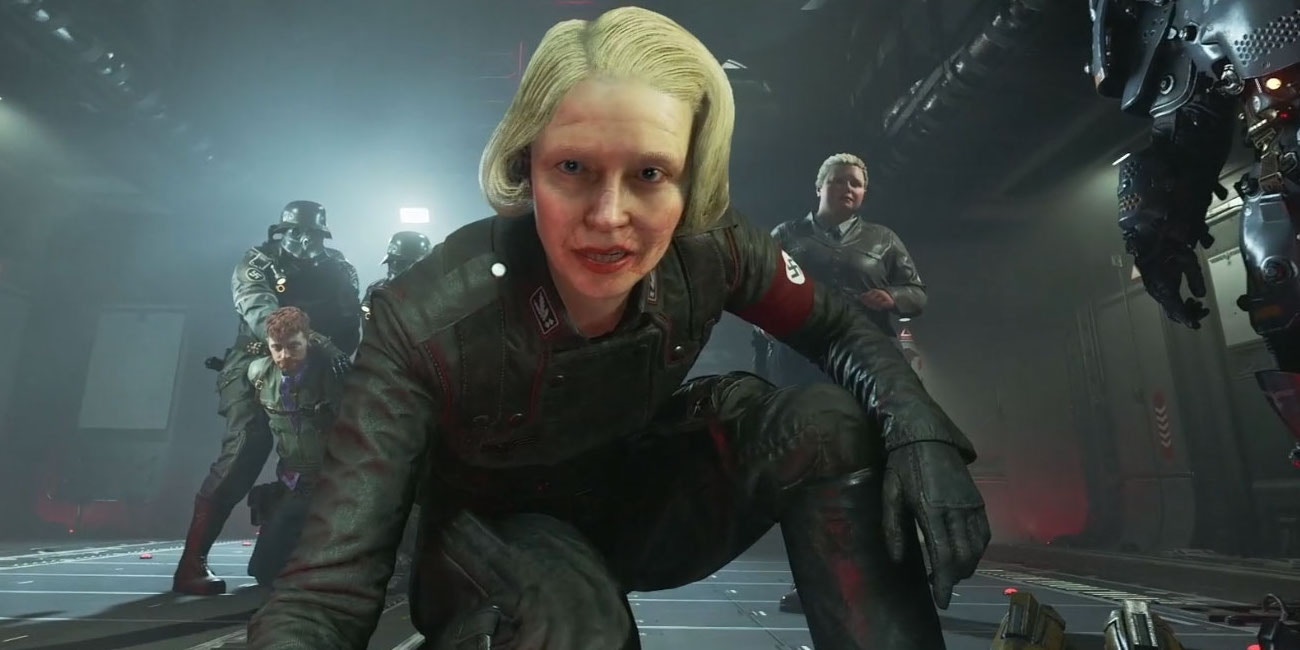 Di Massimo Reina
In un periodo nel quale si discute ogni giorno sull'opportunità o meno di sviluppare titoli incentrati prevalentemente sul single player, è bello sapere che esistono team come MachineGames capaci di creare degli sparatutto frenetici e coinvolgenti, ma dotati anche di una narrativa d'impatto.
Dopo l'ottimo The New Order, il publisher Bethesda ha pensato bene di puntare su un seguito affidandolo proprio alle mani sapienti del sopra citato sviluppatore. Wolfenstein II: The New Colossus è stilisticamente simile al titolo che lo ha preceduto, ma meglio rifinito sia in quelle meccaniche già presenti e riproposte, sia in quelle piccole novità che sono state implementate per rendere ancora più avvincente l'esperienza di gioco. Il risultato, ve lo anticipiamo subito, è uno dei migliori fps degli ultimi anni.
NAZISTI MADE IN USA
Wolfenstein II: The New Colossus riparte da dove si è fermato New Order. B.J. Blazkowicz  è ancora vivo, ma è stato in coma sei mesi a bordo del Martello di Eva, stato dal quale si risveglia proprio mentre è in corso un attacco da parte di Frau Engel. Sfiancato da settimane di incoscienza, il nostro eroe è costretto ad agire seduto su una sedia a rotelle ed a farsi strada tra i nemici in un nuovo contesto che è il trionfo dell'Ucronia.
Da qui ha inizio una lunga avventura che porterà il giocatore ad affrontare decine e decine di nazisti, androidi e mostruosi super soldati, armati di tutto punto grazie a un arsenale non esagerato ma efficace a cui si unisce un sistema di potenziamenti semplice ma ben stratificato.
Questi prevede infatti che per migliorare un abilità basta portare a termine alcune sfide, così che se si eliminano una dozzina di nemici tramite una bella raffica di mitra il personaggio cresce in mira e danni, mentre se esegue un certo numero di eliminazioni furtive migliora le sue capacità di agire nell'ombra e dunque i parametri legati allo stealth. Perché Wolfenstein II: The New Colossus permette anche questo, di scegliere l'approccio che più piace all'utente in molte sequenze di gioco: quando le munizioni scarseggiano e non si può fare qualche "rambata", meglio agire in silenzio. Ovviamente il titolo di Bethesda e MachineGames dà il meglio di sé durante le numerose sparatorie a viso aperto. In questi casi il ritmo si fa molto alto, almeno se paragonato a quello di altri giochi analoghi o al predecessore, complice pure il rinnovato dual-wielding delle armi. A proposito, se volete una rinfrescata sui gingilli da usare per abbattere i nostri nemici mortali, qui c'è la guida.
POCA VARIETA'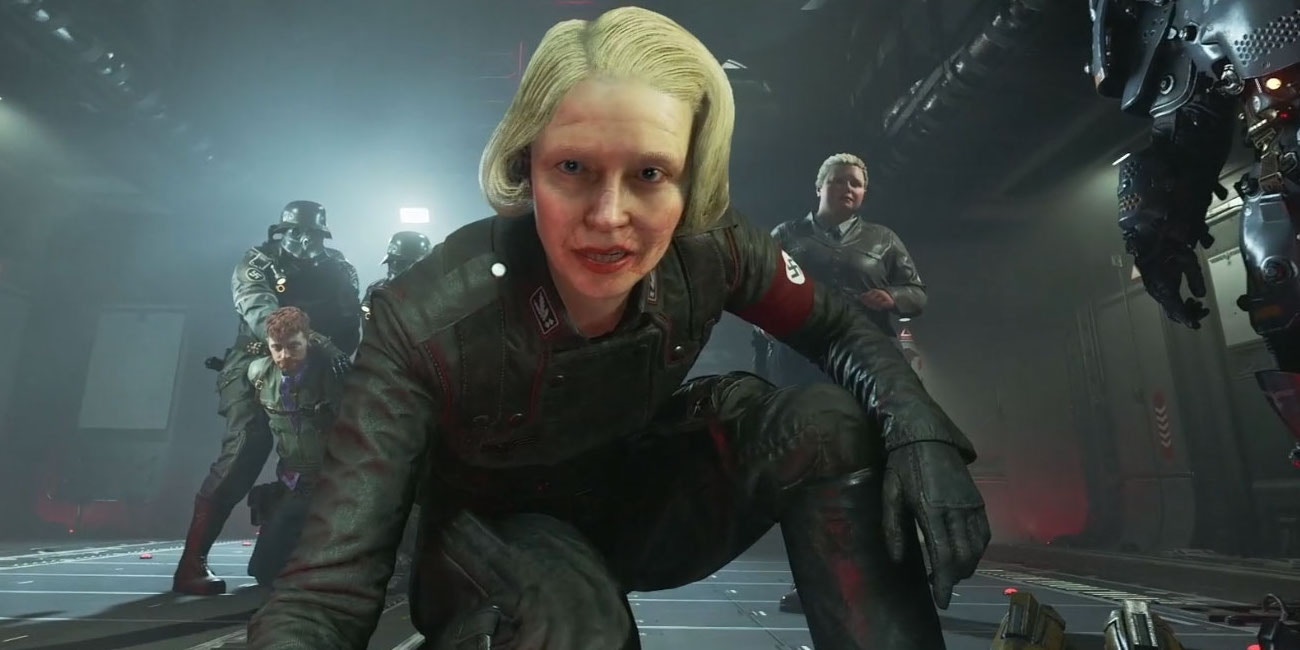 Di fatto , visto anche un livello di difficoltà tarato verso l'alto (si può comunque scegliere all'inizio a che grado di complessità giocare) diventa fondamentale sfruttare anche le arene nella loro interezza per venire a capo degli scontri, muovendosi e cercando quando possibile un punto ideale dal quale controbattere.
Però senza rimanere fermi nello stesso punto, visto che il gioco non premia di certo questa tipologia di videogiocatori, specialmente quando si affrontano avversari come i  comandanti, che possono chiamare dei rinforzi e rendere ostiche le aree all'inizio più facili da superare popolandole di soldati corazzati, mezzi pesanti e droni. Peccato solo che questi nemici pecchino in varietà, e alla lunga siano sempre gli stessi, chi più, chi meno.
Wolfenstein II: The New Colossus non ha un comparto online, un'assenza che se da un lato non inficia sulla qualità generale del prodotto, dall'altro poteva essere una gradita aggiunta a un pacchetto comunque molto ricco sotto diversi punti di vista.
Tecnicamente il gioco è davvero molto curato. Forse l'unica pecca risiede in una certa ripetitività di stanze in alcuni ambienti, ma in generale MachineGames ha confezionato un titolo in grado raggiungere i 60fps fissi su console, senza eccessivi compromessi in termini di qualità grafica. Texture, effetti di luce, particellari, scenette di intermezzo, tutto contribuisce a rendere quanto più particolareggiato e vivo possibile il mondo di questo Wolfenstein II: The New Colossus, e a raccontarne e svilupparne la trama. Allo stesso modo si comporta il settore audio, dove tutto agisce in funzione di quanto avviene sullo schermo, con una colonna sonora capace di sottolineare al meglio i vari momenti, dai dialoghi più drammatici alle fasi più prettamente d'azione.
COMMENTO FINALE
Wolfenstein II: The New Colossus è uno dei migliori sparatutto in soggettiva mai realizzato. E questo non solo per la giocabilità ben bilanciata o per un ottimo comparto tecnologico, ma anche per l'attenzione che riserve alla modalità giocatore singolo, per la quale mette a disposizione un'avventura molto carina e ben strutturata, dalla dura complessiva di circa 14 ore.
Pregi
Avventura divertente e ben concepita. Grafica e audio di ottima fattura. Giocabilità soddisfacente e stratificata il giusto.
Difetti
Poca varietà di nemici. Manca la componente online.
L'articolo Wolfenstein II: The New Colossus, Recensione Pc sembra essere il primo su IlVideogioco.com.