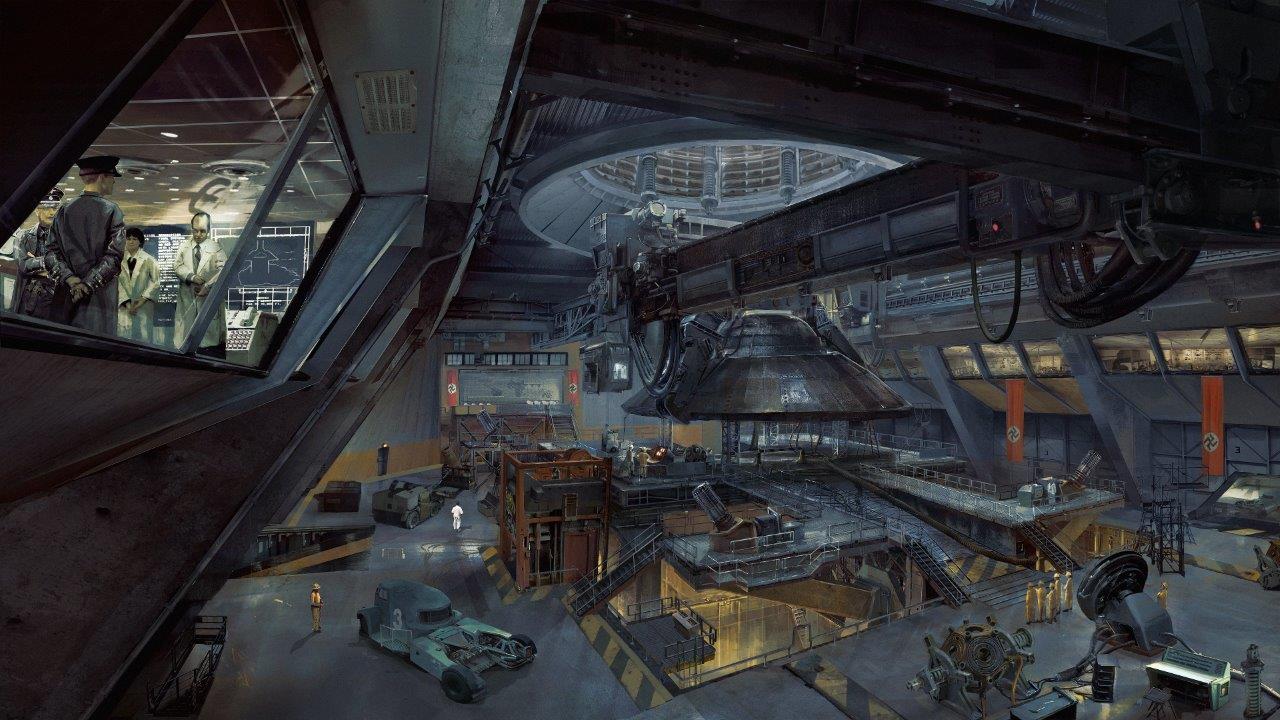 Pochi giorni all'esordio di Wolfenstein II: The New Colossus che arriverà il 27 ottobre su Pc, PS4 ed Xbox One.
Bethesda ha così pubblicato un focus sulle ambientazioni più suggestive dell'fps in cui la storia ha preso un percorso alternativo da quello che abbiamo studiato sui libri di scuola. Un mondo dove i nazisti hanno invaso gli Usa.
Ecco le immagini con tanto di commento:
Area 52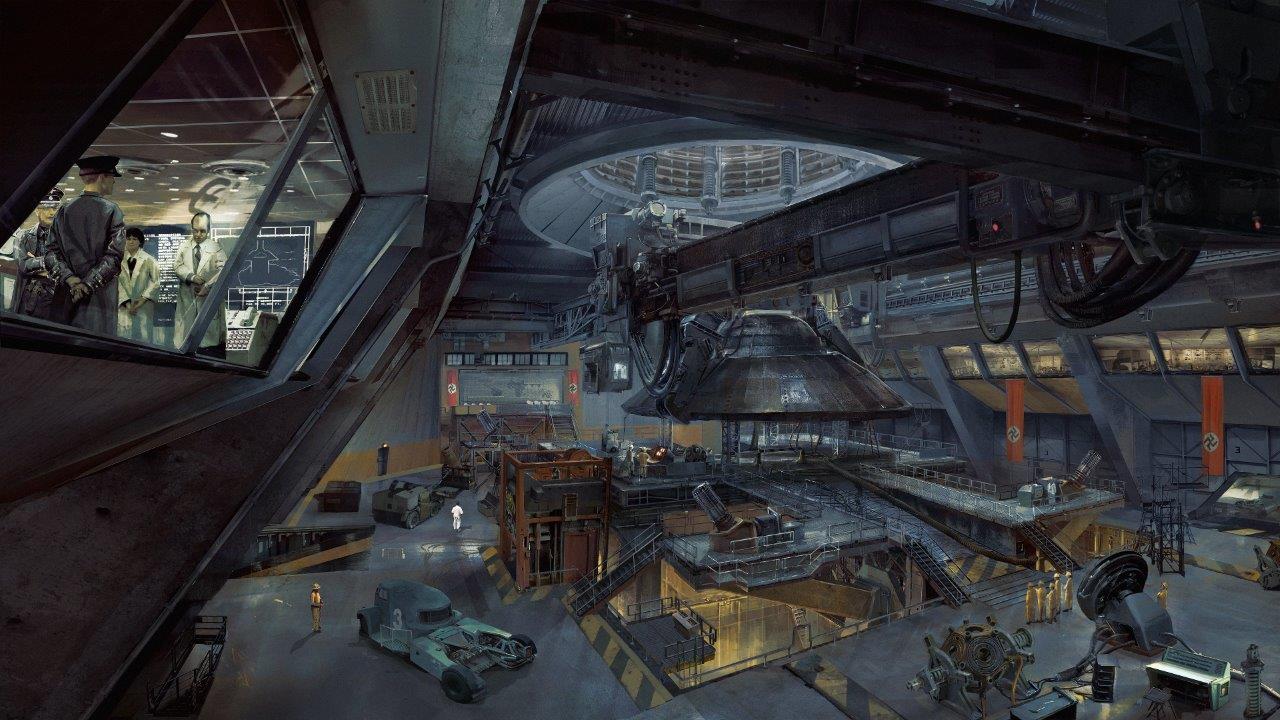 Nell'ultimo gioco di Wolfenstein i giocatori verranno portati in diversi ambienti nazisti. Una delle località più esotiche è il complesso segreto dell'area 52, situata in profondità sotto la città di Roswell. Essendo parte di un vasto sistema di tunnel sotterranei e di strutture di ricerca, il comparto possiede molte tecnologie segrete naziste ed equipaggiamento sperimentale.
The Ausmerzer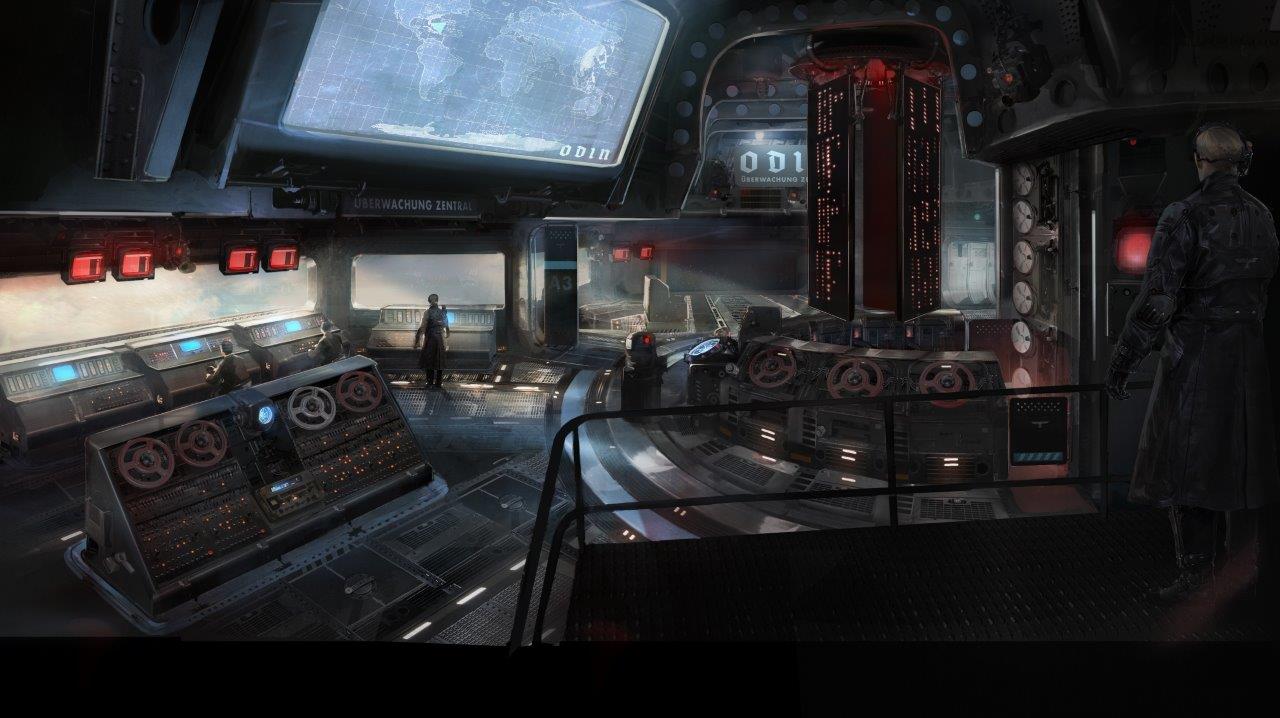 L'Ausmerzer è una grande nave volante a cui ci riferiamo come fortezza volante. Questa "bestia" è comandata dal generale Engel e durante il gioco, avremo modo di familiarizzare meglio con questa nave volante. Questa immagine raffigura una delle aree di comando conosciuta con il nome di stanza di controllo e sicurezza Odin. Quando abbiamo progettato la parte di tecnologia per Wolfenstein II ci siamo ispirati molto ai computer e alla tecnologia esistente negli anni '50 e '60.
Truppe Ausmerzer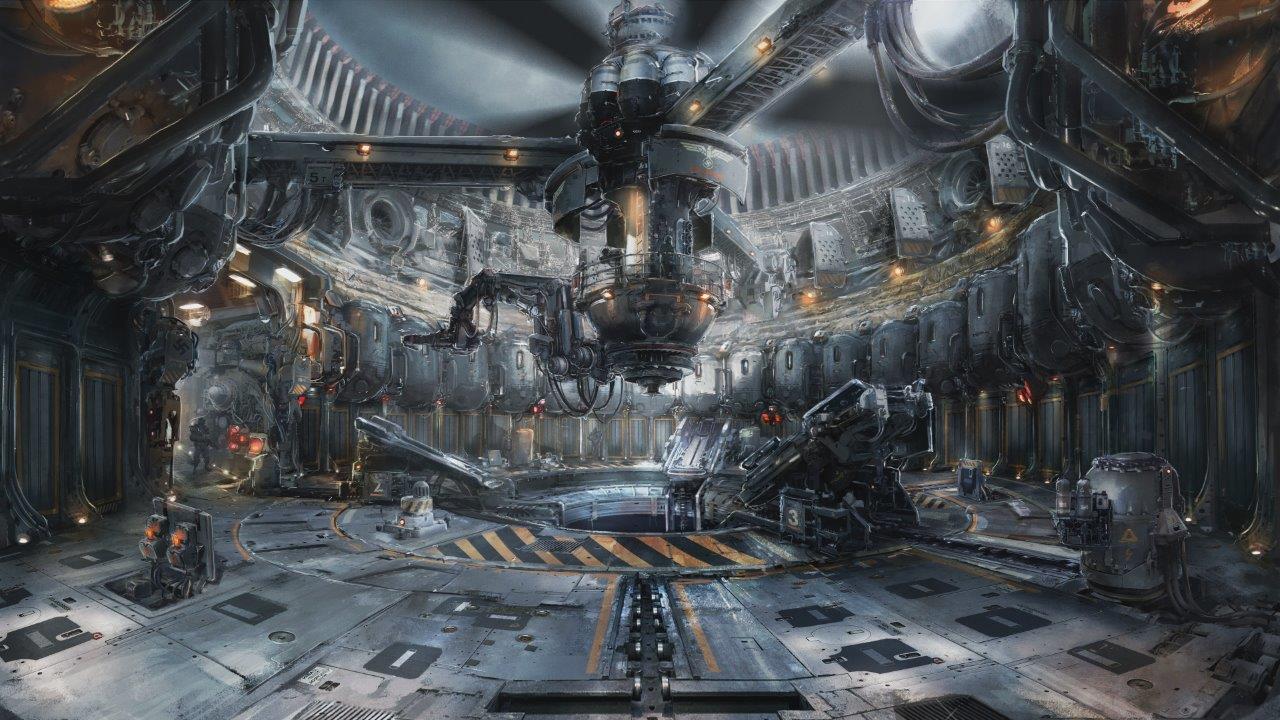 Questa immagine ci mostra una zona di trasporto dei Supersoldati. Un gigantesco braccio meccanico sta depositando delle capsule contenenti al loro interno i Supersoldati. Le capsule vengono trasportate in diverse aree dell'Ausmerzer oppure distribuite sul terreno sottostante.
La stanza di B.K. e Anya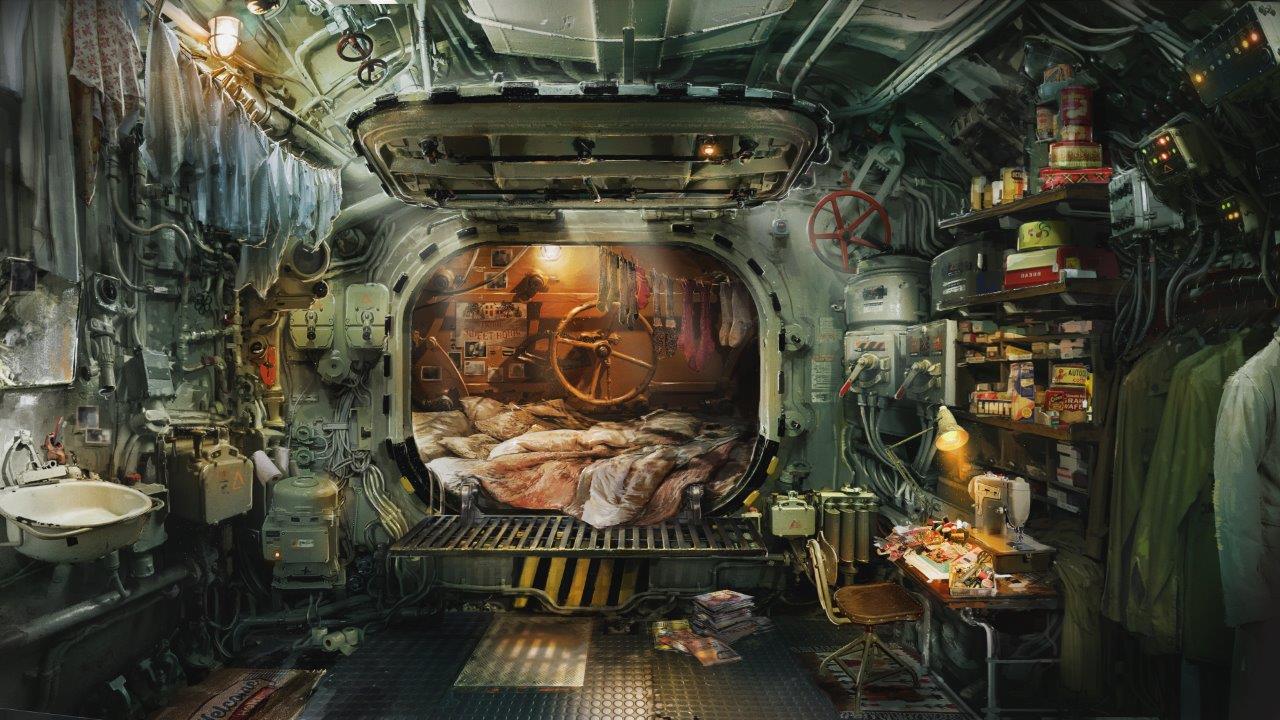 Il sottomarino che costituisce la base della resistenza, base del nostro giocatore, possiede in esso diverse stanze assegnate ai vari personaggi principali. Questa stanza in particolare è per BJ e Anya. La stanza era un ex portello per lo smaltimento dei rifiuti nucleari. Molto tempo è stato speso per cercare di dare a ogni stanza un carattere e un'identità, in modo da rendere ogni zona il più interessante possibile.
Manhattan post-nucleare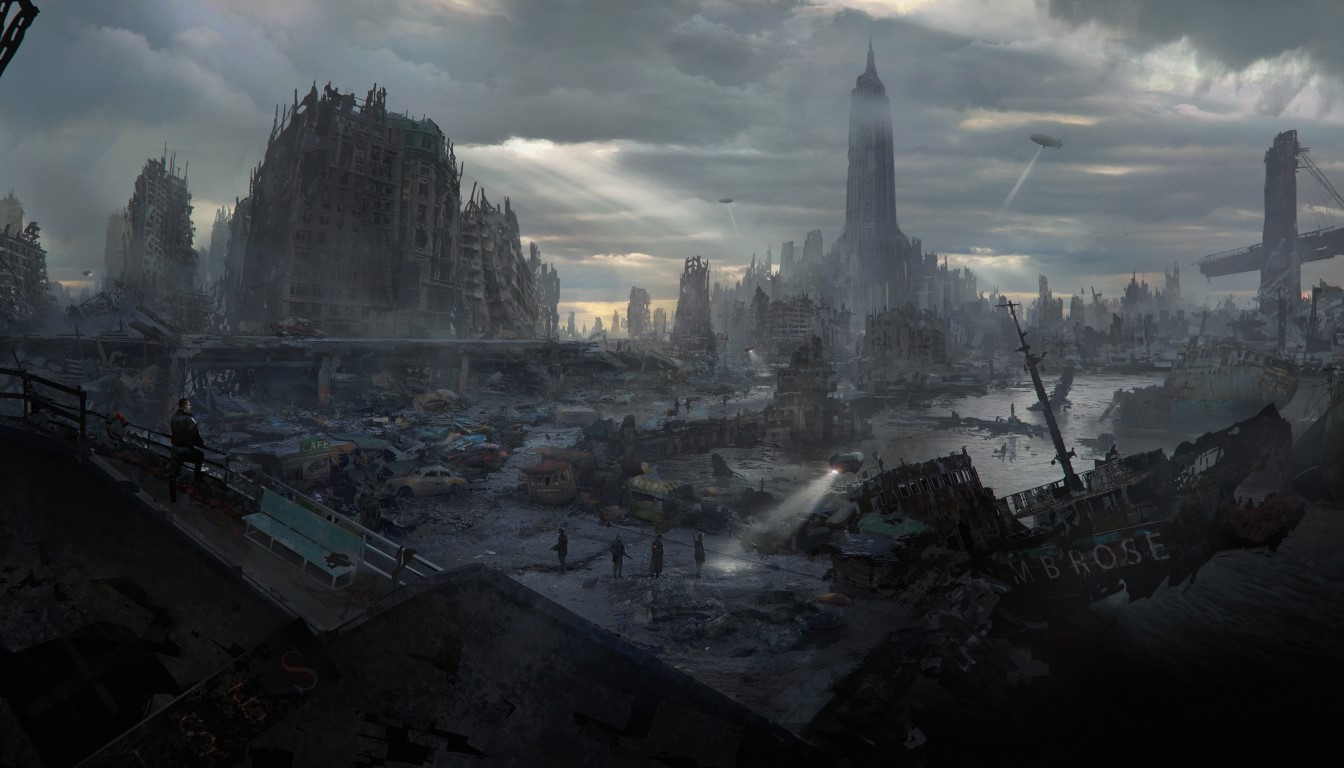 Una sezione del gioco sarà ambientata in una discarica nucleare, questa terra desolata sorge sulle rovine di quella che una volta era Manhattan. Atomizzata dai nazisti, oggi non è altro che un vasto deserto di strutture metalliche piegate e contorte e sagome di cemento fuso. Questa è l'immagine che vi mostra l'ambientazione.
La strada di Roswell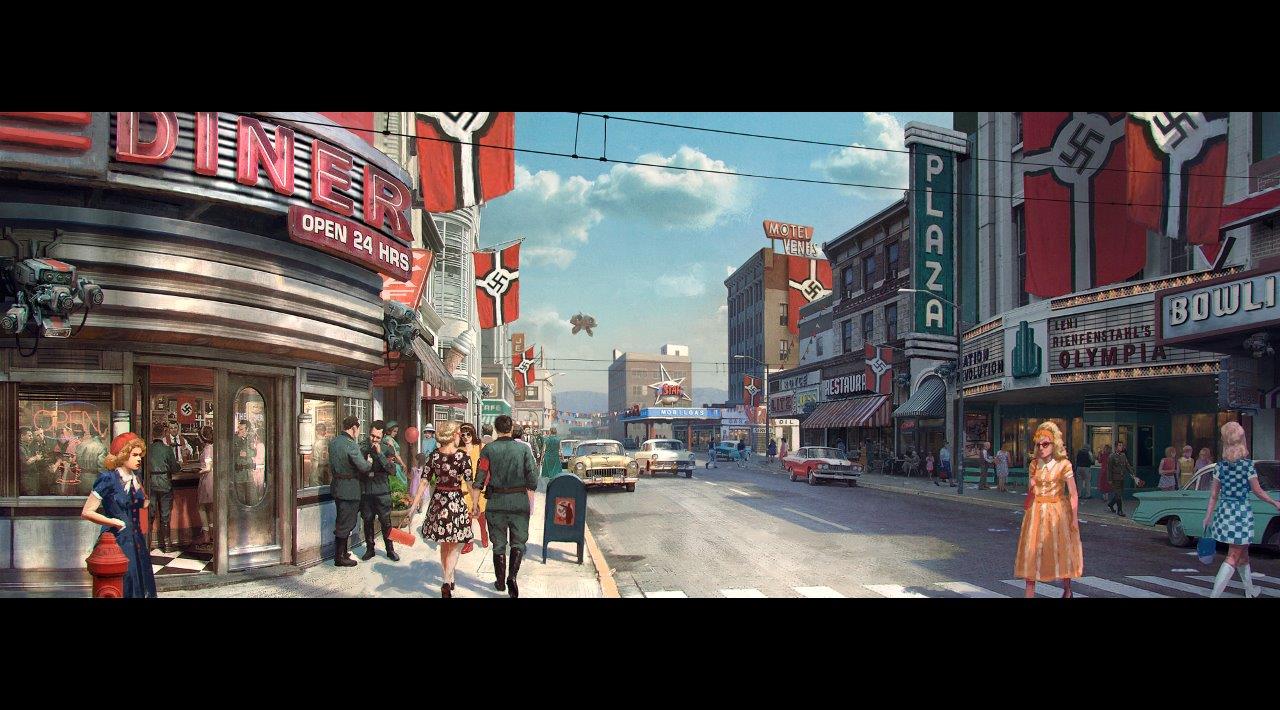 In questo gioco abbiamo un mix surreale. Il classico sogno americano con cielo azzurro e Diners, le classiche macchine americane e ragazze sorridenti che camminano per la strada. Ma c'è qualcosa di strano in questi ambienti. I caccia nazisti stanno ruggendo nel cielo, in lontananza si intravede una parata nazista e le ragazze sorridenti di prima stanno camminando insieme ad ufficiali tedeschi. Nel gioco, quest'America particolare, popolata da nazisti, ci farà vivere momenti davvero surreali.
Assalto al Martello di Eva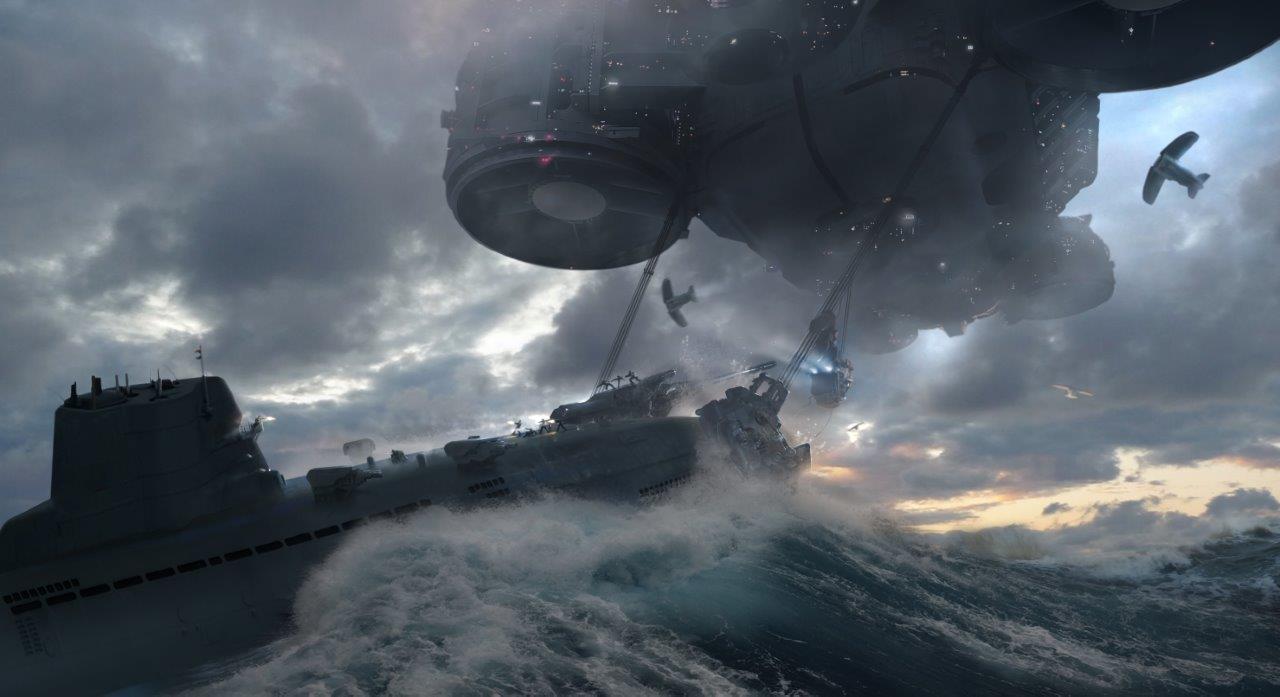 Questa è la prima immagine che abbiamo sviluppato mostrando la fortezza aerea Ausmerzer mentre attacca il sottomarino gigante della resistenza.
Distilleria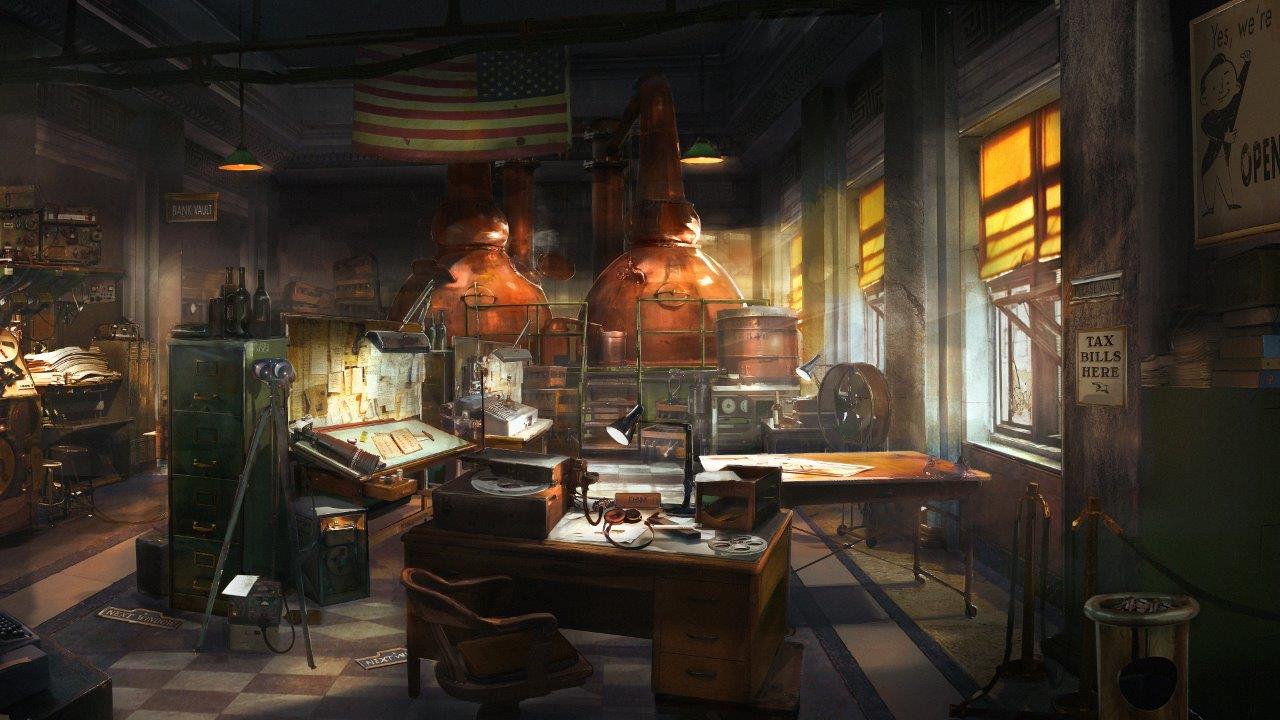 Durante il gioco incontreremo molti nemici, ma ci faremo anche un sacco di amici. Nel ghetto che una volta era New Orleans, BJ sta collaborando con un pittoresco uomo chiamato Horton. Questa immagine mostra l'area in cui Horton e il suo equipaggio hanno il loro nascondiglio, una distilleria, costruita in un vecchio stabilimento bancario abbandonato.
Lincoln Memorial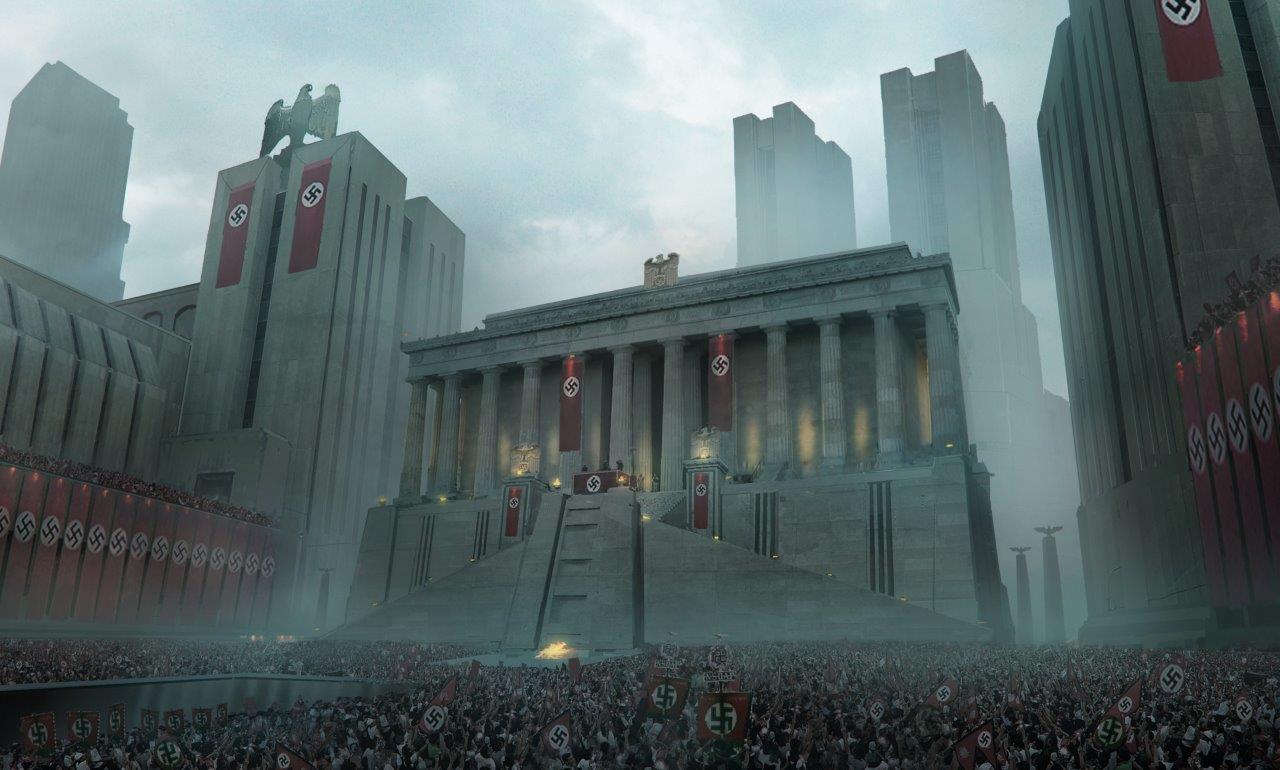 I nazisti hanno deturpato diversi punti di riferimento della città e uno di questi è il Lincoln Memorial. Immortalato in una scena perversa, ora il monumento rappresenta ideali totalmente diversi. Si tratta di un'immagine davvero brutale.
Soggiorno
Nel nascondiglio della resistenza, il sottomarino chiamato Martello di Eva, ci sono molte stanze da esplorare. Una di quelle più importanti è quella del Kreiseu Club, zona comune per il relax, dove è possibile giocare a biliardo oppure semplicemente parlare con i membri della resistenza per conoscere meglio il mondo. Questa stanza si trova in uno scompartimento che un tempo ospitava un siluro gigante. Ora è stato completamente ristrutturato in modo da renderlo accogliente.
Manhattan Hotel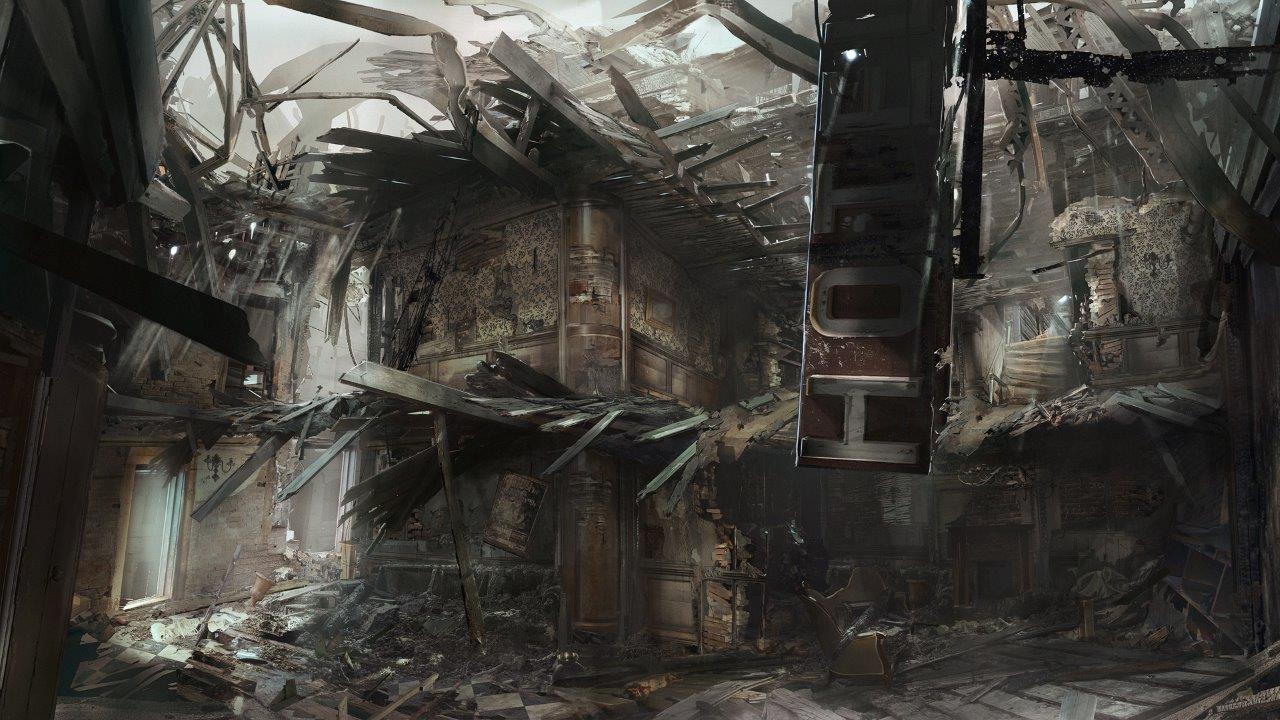 Attraverso la mappa di Manhattan il giocatore potrà imbattersi in diversi luoghi e comprendere l'orrore che ha vissuto la città. Questa immagine rappresenta un Hotel esploso.
Panorama di New Orleans
La città di New Orleans è stata trasformata in un ghetto gigante. Un enorme muro è stato costruito intorno alla città, mentre l'interno è stato lasciato a marcire. Quando il nostro giocatore giungerà qui, sarà in corso un attacco nazista su larga scala con lo scopo di eliminare tutti i sopravvissuti. Questa immagine mostra la fuga dal grande muro.
Set Lab Workshop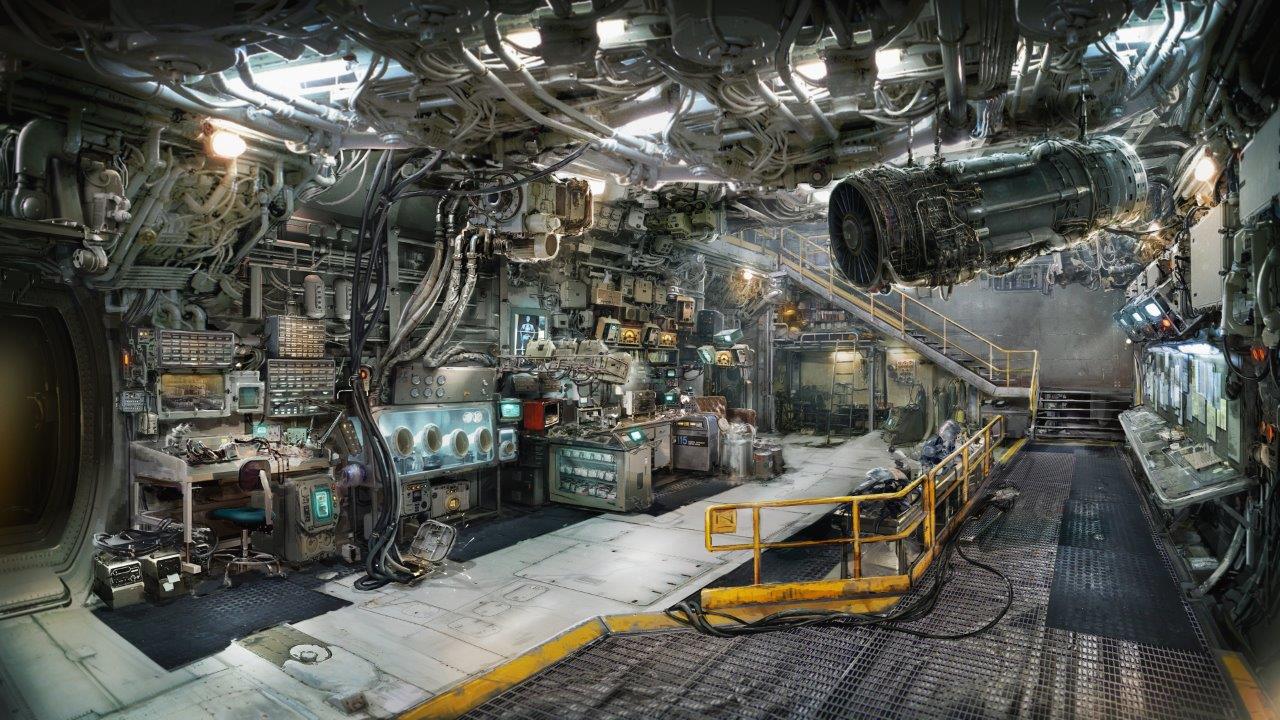 Uno dei personaggi che conosceremo meglio in questo gioco è Set. Questa volta avrà il suo laboratorio supertecnologico, dove lavora incessantemente su attrezzi e armi sperimentali.
Camera di Super Spesh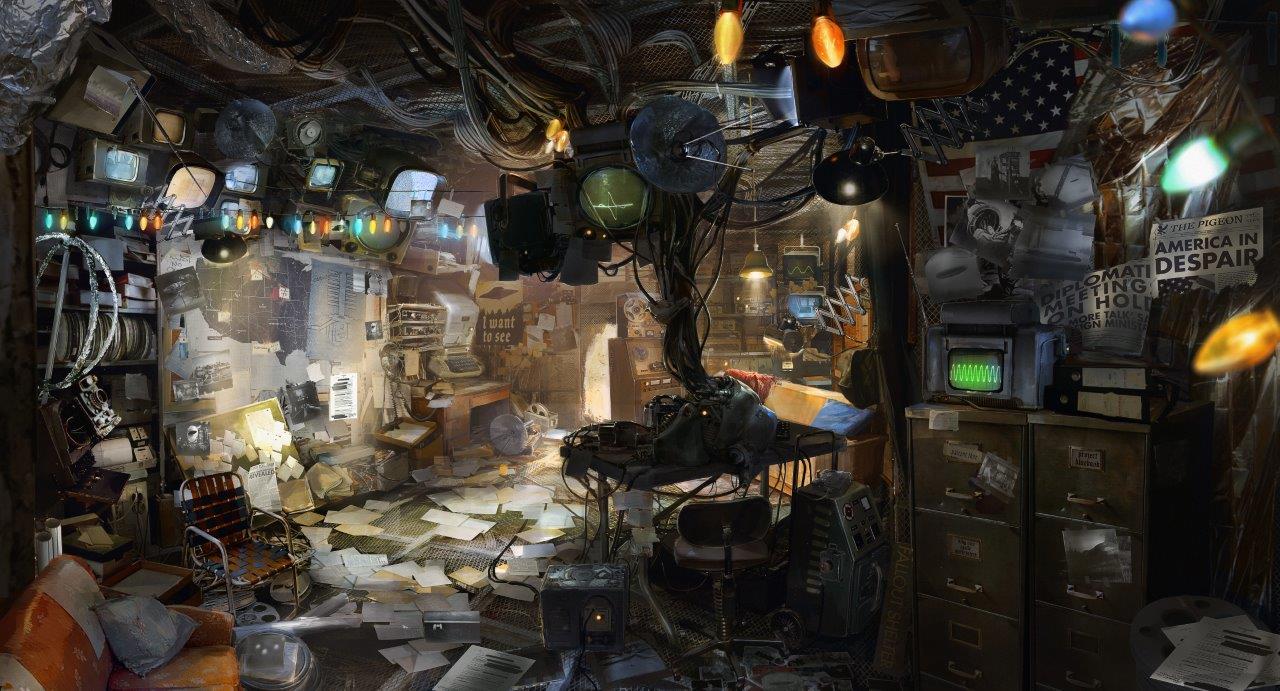 Un personaggio piuttosto eccentrico che incontreremo è Super Spesh. Nel seminterrato sotto il suo Diner, ha creato la propria base. Spesh è un teorico della cospirazione, che utilizza moltissimo alluminio. Questa immagine è stata una sfida divertente da realizzare.
L'articolo Wolfenstein II: The New Colossus e le ambientazioni sembra essere il primo su IlVideogioco.com.