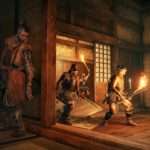 Sekiro: Shadows Die Twice è il nuovo titolo di From Software che è stato presentato all'E3 2018. Ambientato nel Giappone di fine 1500, in pieno periodo Sengoku. A quel tempo, un'era violenta percorsa da conflitti brutali e in bilico tra la vita e la morte dilaniava la terra del Sol Levante.
I giocatori affronteranno straordinari nemici in un mondo oscuro e perverso. Scatenate protesi letali e potenti abilità ninja unendo azione furtiva, movimento verticale e combattimenti viscerali in un'avventura sanguinolenta.
Vendicatevi. Riscattate il vostro onore. Ecco la clip in italiano del gioco in arrivo ad inizio 2019 sotto il marchio Activision per Pc, PS4, Xbox One. Buona visione.
CARATTERISTICHE
Uccisioni ingegnose – From Software vuole proporre il meglio del combattimento di classe in questo frenetico gioco di azione e avventura con nuovi meccanismi.
L'esplorazione è fondamentale – I giocatori sperimenteranno il brivido dell'esplorazione e della scoperta in Sekiro: Shadows Die Twice come mai prima d'ora. Attraverso l'esplorazione si possono scoprire nuovi oggetti, incontrare nuovi personaggi e incontrare nemici nascosti.
Armati – Sekiro: Shadows Die Twice gameplay è incentrato sul combattimento con la spada, arricchito da una varietà di attacchi che integrano o modificano il modo in cui un giocatore combatte. Raggiungere la padronanza strategica delle tecniche e abilità del "Sekiro" o del "lupo con un braccio solo", dagli strumenti protesici, dalla scherma alla furtività e all'aggancio del rampino non è un'impresa facile. Per superare le difficoltà e tenere sotto controllo ogni situazione, i giocatori devono scoprire, integrare e utilizzare una varietà di nuovi strumenti quando si dirigono verso il combattimento.
Lupo con un braccio solo – Giocate come uno shinobi di grande talento al servizio di un giovane signore cresciuto in isolamento. Dopo aver sofferto la sconfitta per mano di un oscuro samurai Ashina che cerca l'eredità unica del tuo maestro, voi due siete separati. Nel profondo delle montagne, in un tempio in rovina, ti risvegli al tuo destino. Dovete riprendere il vostro padrone e vendicarvi del vostro nemico a tutti i costi.
Hard to the core – Si tratta di un gioco hard-core degno di questo nome dal software. Miyazaki ha progettato Sekiro: Shadows Die Twice. I fan di From Software troveranno il gameplay avvincente, ma divertente e gratificante. La qualità del combattimento, il livello di sfida, i nemici e i boss creativi sono qualcosa che si può trovare solo nei giochi di From Software.
Mondo rivisitato – Questa rivisitazione dell'estetica giapponese fonde un mondo appassito, ma vivido, del Giappone dell'era Sengoku del tardo 1500, mentre l'era degli Stati belligeranti si avvicina alla sua fine. Testimone un mondo messo in ginocchio da un costante spargimento di sangue; un mondo devastato sull'orlo della distruzione. Esplorate questi ambienti, ricchi del design intricato di FromSoftware e ricchi di segreti da scoprire.
L'articolo Trailer di presentazione ufficiale di Sekiro: Shadows Die Twice proviene da IlVideogioco.com.
Fonte: Trailer di presentazione ufficiale di Sekiro: Shadows Die Twice