Rievocare un mito come il Commodore 64 non è una cosa semplice. Le operazioni nostalgia rischiano di fallire, di essere stucchevoli o di essere fraintese.
E con un mito come l'8 bit di casa Commodore nato nel lontanissimo 1982, un anno incredibilmente denso di eventi in ogni campo (da quello sportivo, Mundial vinto in Spagna, la scomparsa di Villenevue a Zolder, o ancora l'eccidio Dalla Chiesa, la guerra delle Falkland e tanto altro), la possibilità di sbagliare è dietro l'angolo. Basta un nulla per ricevere le ire funeste degli appassionati della prima ora.
Dopo avervi proposto uno speciale sul THEC64 Mini, uscito sul mercato a fine marzo, siamo pronti per dire la nostra in questa recensione. Come già abbiamo anticipato, si tratta di una riproduzione che sta nel palmo di una mano che permette di giocare a 63 giochi, più il Basic ma anche di tanto altro grazie all'eccellente possibilità di aggiornare il firmware e, soprattutto, di caricare tramite USB, altri titoli.
IL SISTEMA OPERATIVO
Analizziamo il sistema operativo che gira sotto emulazione. Questa parte è senza dubbio la parte migliore del pacchetto perché permette di giocare senza problemi a tutti i titoli presenti e di caricarne altri a proprio piacimento.
Acceso il THEC64 Mini, si accede ad un menu di facilissima fruizione. User Friendly si dice adesso anche perché la scienza è in inglese. Semplice, immediato, stabile (gira sotto Linux) ci propone una navigazione semplice che si basa sulla selezione dei titoli da giocare.
Nondimeno è possibile andare a visionare e scegliere tra opzioni supplementari. Il software permette di selezionare vari effetti grafici ma anche se decidere di far girare il tutto su formato Pal o NTSC, o in formato 4:3 e così via.
È presente anche una tastiera virtuale, comoda per certi aspetti ma piuttosto lenta (ovviamente) per inserire i comandi sul Basic mentre è utile per utilizzarla nei giochi che richiedono l'utilizzo della keyboard.
L'utilità della tastiera virtuale è palese quando vogliamo caricare un gioco esterno per inserire i comandi necessari. Ma chiaramente una tastiera fisica, che si può collegare tramite USB, sarebbe molto più comoda. Tra le caratteristiche supplementari del software in dotazione anche quella di poter mettere in pausa i giochi, salvare la propria partita e riprenderla quando lo si desidera.
Una cosa che ci è piaciuta tantissimo è il caricamento dei giochi: immediato. Non dovremo aspettare i fastidiosissimi tempi di caricamento che ricordiamo anche con affetto perché accompagnati dai loader, ovvero da musiche che aiutavano ad "ammazzare" l'attesa. A proposito di loader, il menu principale è accompagnato da un brano scritto dall'ottimo Matt Gray. Prima o poi scriveremo qualche articolo su questo musicista famosissimo per aver scritto colonne sonore di classici su C64.
Sul THEC64 Mini, si seleziona il gioco e dopo qualche istante lo si può già utilizzare. Discorso diverso per i titoli fuori line-up. Bisognerà aspettare il caricamento dell'immagine in D.64. E per i dischi con più giochi la procedura è più lunga e complessa. Vi risparmiamo i passaggi perché li abbiamo descritti nel nostro speciale a questo nostro link.
Insomma, a livello software, tutto funziona alla grande ed anche la visione dei giochi a 720p è tanta roba. Ricordiamo che i titoli C64 girano ad una risoluzione di 320×200. In sostanza quattro volte più grandi dell'originale ed alla medesima velocità.
Questo grazie all'emulazione che risultato essere davvero ben fatta e piuttosto pulita con possibilità aggiuntive di cui abbiamo appena parlato che al giorno d'oggi sono una cosa normale ma che appaiono avveniristiche se pensiamo che stiamo parlando di una macchina di 36 anni fa. Una soluzione simile a quanto adottato nel recente passato da Nintendo che è scesa in campo in prima persona per riproporre il NES e SNES Classic Mini.
L'HARDWARE SOTTO IL COFANO
Quando intervistammo Paul Andrews, a capo del progetto the THEC64 Mini, gli chiedemmo qualche accenno sull'hardware. Abbottonato ci rispose cordialmente che era una cosa simile a quanto visto sulle mini classic Nintendo.
Questo serve sostanzialmente a supportare un emulatore potente, flessibile e di far girare i giochi al massimo in qualunque configurazione scelta tra le opzioni proposte. Ed è incredibile che per far girare al meglio titoli su una macchina datatissima ci sia bisogno di questo:
CPU: Dual-Core ARM Cortex-A7 1GHz
FPU: standard ARM VFPv4-D32 FPU Floating Point Unit
SIMD: NEON (ARM's extended general-purpose SIMD vector processing extension engine)
GPU: Mali400 MP2
VPU: Cedar Engine (Video Processor Unit for audio and video hardware decoding or encoding)
HDMI-transmitter: HDMI CEC (Consumer Electronics Control)
RAM: 256 MB
ROM: 256 MB
Intanto questa è la situazione. Ma va più che bene perché permette di emulare tutto. Anche gli ultimi giochi usciti di recente. Peccato che, al momento, il software legga soltanto immagini disco (file con estensione D.64) e non le cartucce. Ma siamo certi che i prossimi aggiornamenti firmware possano ovviare a questo problema.
ASPETTO E DOTAZIONE
Il THEC64 Mini riproduce in linea di massima il caro vecchio "biscottone" di colore beige. Gli sviluppatori parlano di una grandezza di circa la metà rispetto all'originale. Riteniamo che il Commodore 64 fosse un po' più grande del doppio.
Per quanto concerne la tastiera, è risaputo che quella del THEC64 Mini sia soltanto decorativa ed in più no ha neppure i comandi Basic raffigurati nei tasti oltre ai caratteri tradizionali che sono riprodotti. Molti ritengono questa scelta un oltraggio ma a nostro avviso ci sembra un'esagerazione. Tra l'altro, aggiungiamo noi, con una tastiera così piccola, verrebbe malissimo scrivere.
Il THEC64 Mini presenta una porta HDMI per il collegamento alle tv moderne, una micro USB per il cavo d'alimentazione ed è un peccato che manchi l'alimentatore in dotazione. Poco male, basterà un comunissimo 5V ad un 1P e si potrà alimentare il dispositivo.
Ci sono inoltre due porte USB. Tre sarebbero state anche meglio ma pazienza. Queste permettono di agganciare il joystick in dotazione, del tutto simile visivamente al Competition Pro, una tastiera (consigliata) o un altro joystick. Speriamo che gli aggiornamenti futuri permettano anche il supporto a joypad moderni. Il motivo è presto detto: la nota dolente è senza dubbio questa.
Esteriormente simile, come detto, al Competitition Pro, con alcuni pulsanti supplementari per la navigazione nei menu e per attivare la pausa, il salvataggio e l'uscita nei vari giochi. Purtroppo, però, dà un enorme senso di fragilità. Senza microswitch e con la sensazione che la leva possa staccarsi se si gioca opportunamente a titoli che richiedono una sollecitazione continua, il joystick è la cosa meno bella del THEC64 Mini.
NELLA CONFEZIONE
La console THEC64 MINI (ovviamente)
Un joystick classico
Un cavo HDMI
Un cavo USB per l'alimentatore (adattatore USB AC non incluso)
CARATTERISTICHE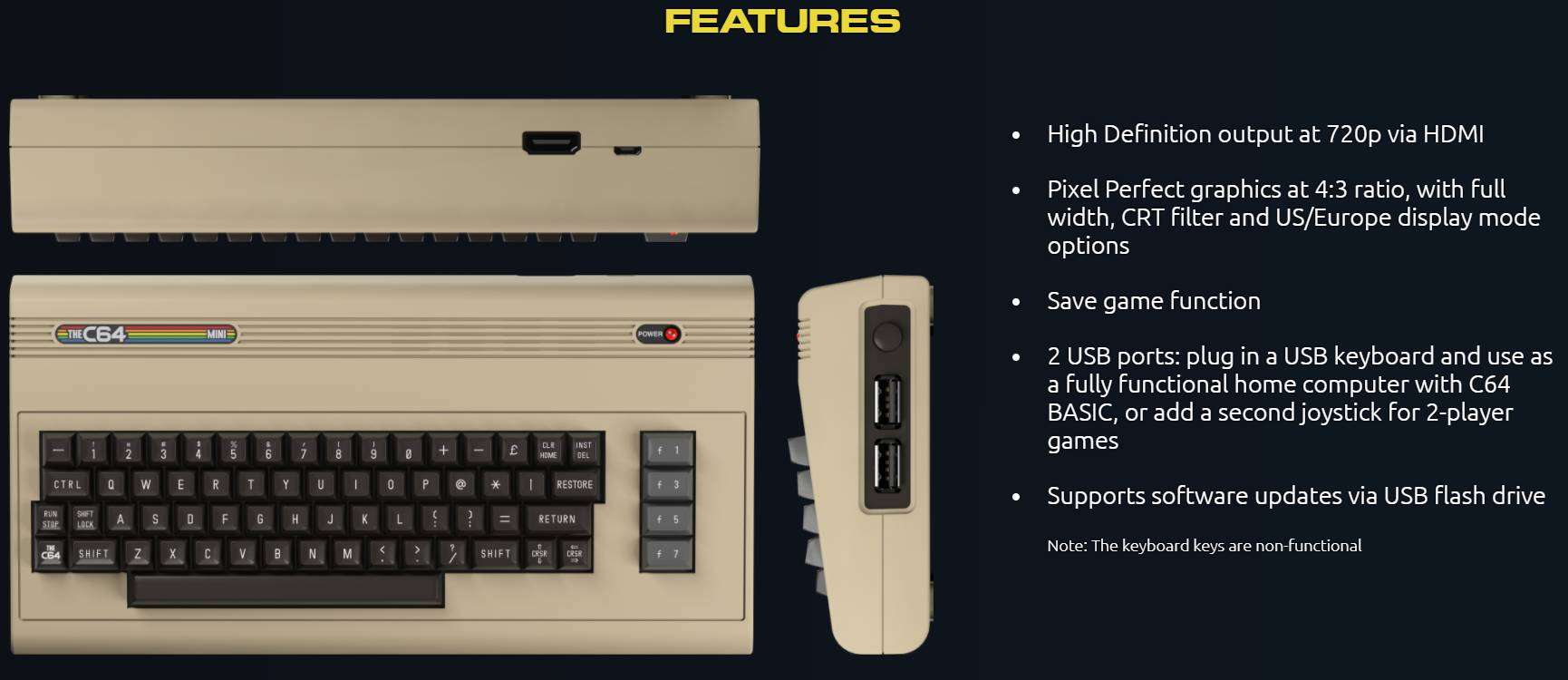 Funzionamento accurato C64
Modalità di visualizzazione NTSC & PAL (60 & 50 Hz)
Opzioni filtro pixel (nitide, CRT, emulazione scanline)
Pixel grafica perfetta
Funzioni salva & ricomincia
2 porte USB: collega una tastiera USB e avrete un computer pienamente funzionale oppure aggiungete un secondo joystick per giocare in compagnia
Firmware aggiornabile con chiavetta USB
63 giochi pre-installati con possibilità di aggiungerne altri tramite chiavetta.
LA LINE-UP DI GIOCHI PRESENTI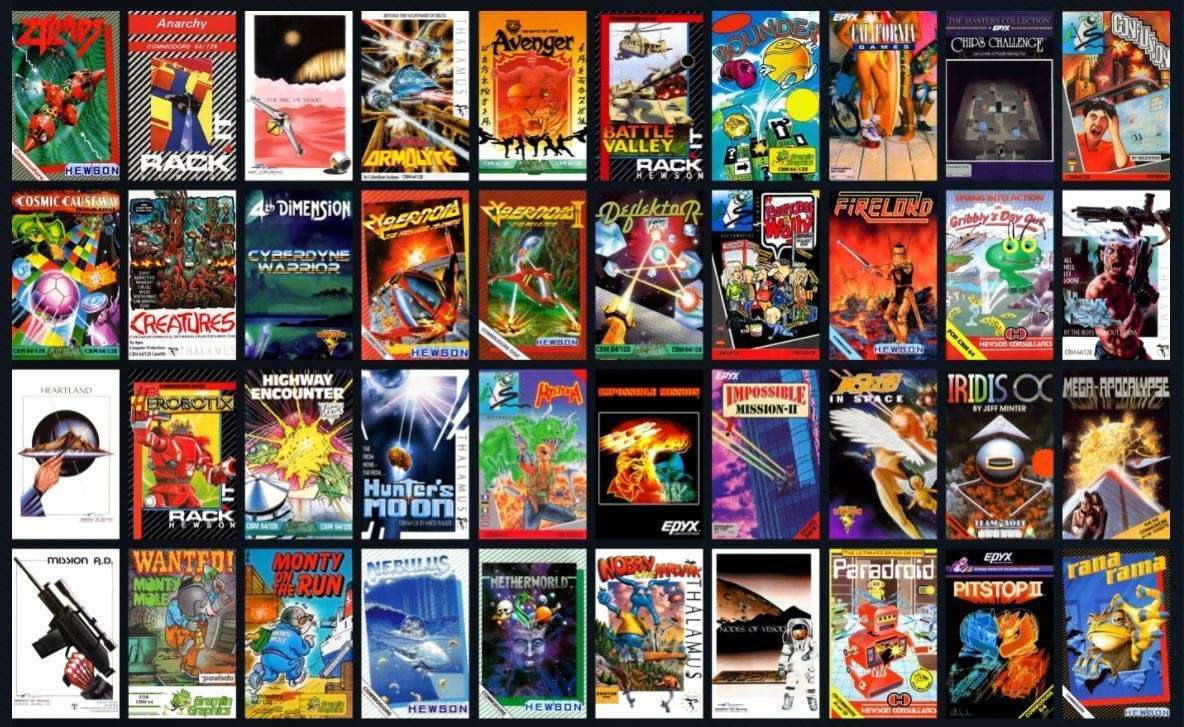 Prima di concludere la nostra recensione è giusto accennare ai titoli offerti. Come già scritto nello speciale, troviamo alcuni big accompagnati da altre vecchie glorie magari non famosissime ma di discreto livello. Il problema dei diritti d'autore, materia vasta e sempre in evoluzione, ha limitato molto la presenza di altri big.
Purtroppo quando in una lista di 63 giochi, che è comunque vasta rispetto a quanto proposto dalla concorrenza, mancano alcuni capolavori quali i due Turrican, la saga The Last Ninja ed altri classicissimi, rimane l'amaro in bocca e si ha la sensazione che qualche cosa in più si sarebbe potuta fare. Anche se probabilmente il costo di 79,99 euro proposto al pubblico si sarebbe dovuto elevare di qualche euro per ammortizzare i costi di alcune licenze "pesanti".
Quello che c'è è comunque espandibile come già più volte ripetuto in passato. E questa caratteristica sopperisce alla grande alle tante mancanze.
Ma è anche giusto ricordare cosa ci sia precaricato. Armalyte è uno dei migliori shoot'em up per l'8 bit di casa Commodore ed è presente. Troviamo i due Cybernoid che artisticamente parlando sono delle vere e proprie perle capaci di sfruttare l'hardware del C64 al meglio grazie a forme e palette di colori splendide ed alle musiche di Jeroen Tel, uno dei maghi del SID.
Troviamo alcuni titoli di Thalamus come Creatures, eccellente action platform che fu uno dei titoli più amati dell'ultimo periodo del C64 ad inizio anni '90. C'è pure Hawkeye e troviamo l'altrettanto eccellente Rubicon.
In lista dei classici griffati Epyx: Winter Games per le Olimpiadi invernali, Summer Games II (ma perché non anche il primo? Ndr) per i Giochi Olimpici estivi, ma anche multieventi divertentissimi quali California Games e World Games.
C'è Uridium, altro titolo che non ha bisogno di presentazioni. Speedball 1 e 2 si fanno notare assieme ai due Impossible Mission, due tra i titoli più iconici di sempre per l'8 bit di casa Commodore ed in grado di alzare le quotazioni di questa line-up.
Ci fa piacere segnalare anche Pit-Stop e Boulder Dash così come di Avenger, il seguito del vecchissimo The Way of the Tiger.
E tanti altri: la lista la trovate in seguito. Daremmo un 7,5.
Alleykat
Anarchy The Arc of Yesod
Armalyte
Avenger
Battle Valley
Bounder
Boulder Dash
California Games
Chip's Challenge
Confuzion
Cosmic Causeway
Creatures
Cyberdyne Warrior
Cybernoid
Cybernoid II
Deflektor
Everyone's a Wally
Firelord
Gribbly's Day Out
Hawkeye
Heartland
Herobotix
Highway Encounter
Hunter's Moon
Hysteria
Impossible Mission
Impossible Mission II
Insects in Space
Mega-Apocalypse
Mission A.D.
Monty Mole
Monty on the Run
Nebulus
Netherworld
Nobby the Aardvark
Nodes of Yesod
Paradroid
Pitstop II
Ranarama
Robin of the Wood
Rubicon
Skate Crazy
Skool Daze
Slayer Snare
Speedball
Speedball 2
Spin Dizzy
Star Paws
Steel Stormlord
Street Sports Baseball
Summer Games II
Super Cycle
Temple of Apshai
Trilogy Thing on a Spring
Thing Bounces Back
Trailblazer
Uchi Mata
Uridium
Who Dares Wins II
Winter Games
World Games Zynap.
COMMENTO FINALE
Il THEC64 Mini non è soltanto una buona operazione nostalgia. Quello che ci viene proposto è un dispositivo che ha in dotazione un eccellente emulatore ed un hardware sufficiente a far girare tutto lo scindibile del vecchio Commodore 64 al quadruplo della risoluzione originale ed alla stessa velocità. È un lavoro oscuro, magari non percepito da moltissimi, quello che permette di far girare vecchie glorie su televisori moderni. Ed è bene ricordare che tali TV offrono risoluzioni infinitamente più elevate rispetto a quella originale del Commodore 64 (320×200).

Ciononostante quanto riprodotto in televisori giganti rimane piacevole anche se le "rughe del tempo" (in questo caso i pixel) sono evidenti e ci fa scendere più di una lacrima.

Ad ogni modo, nostalgia canaglia a parte, ci è piaciuto ed abbiamo apprezzato tantissimo il software che fa girare tutto. L'interfaccia semplice, e l'immediatezza d'utilizzo. I giochi in dotazione sono tanti ed almeno una dozzina sono dei veri e propri big. Altri sono vecchie glorie ma possiamo accontentarci visto che è possibile, ed è questa la carta vincente, caricare le immagini disco (i file con estensione .D64) tramite chiavetta USB. La procedura di caricamento del gioco singolo esterno è semplice, ma se si vogliono caricare più giochi le cose si complicano. Gli sviluppatori stanno lavorando a questo e chissà che non possano anche "sbloccare" altri tipi di file come ad esempio le cassette o, ancor meglio, le cartucce. O, aggiungere direttamente loro altri giochi.

La facilità d'utilizzo, le opzioni supplementari di salvataggio o di aggiungere alcuni effetti grafici fanno il resto. Il THEC64 Mini si comporta bene. In modo quasi impeccabile. Pazienza per la tastiera figurativa (gli integralisti insorgono ancora), ma è possibile collegarne una USB funzionante per utilizzare al meglio anche il Basic. Già, perché si può programmare in questo famoso linguaggio. Bisogna ricordare la presenza anche di una tastiera virtuale: utile (benché non comodissima) per alcuni giochi che richiedono l'utilizzo della keyboard, decisamente macchinosa se si vuole utilizzare il Basic.

Bisogna comunque pensare che non si tratta del nuovo Commodore 64 ma di un dispositivo (con hardware datato ma sufficiente a riprodurre tutto lo scindibile vecchio e nuovo per il C64) che ripropone in chiave moderna questa macchina emulandola egregiamente e permettendo, ci ripetiamo, di riprodurre tutti i giochi ad una risoluzione nettamente superiore a quella originale.

Tutto oro quel che luccica? No, il joystick in dotazione è mediocre. Fragile, a tratti impreciso, senza microswitch, si ha quasi paura ad utilizzarlo a dovere in giochi dove viene richiesto con il risultato che non ci si diverte. Speriamo che tra gli aggiornamenti software o direttamente dagli sviluppatori, possano uscire anche prodotti ufficiali in grado di dare un'alternativa valida.

Bene le due porta USB ma una terza sarebbe stata ancora più gradita. Per il resto, se non si ha la pretesa di avere un C64 reale e soprattutto se si considera questo dispositivo per quello che è, ossia come una riproposizione, allora potete guardare con benevolenza al THEC64 Mini che si propone come una chiave moderna del mitico 8bit che fece sognare (e fa ancora sognare) milioni di appassionati in tutto il mondo.

I pregi sono tanti, i difetti possono essere migliorati e gli sviluppatori stanno lavorando per limare il tutto. Se amate la storia e volete ripercorrerla il THEC64 fa per voi e pazienza che per caricare i file esterni tramite USB (formattata in FAT 32, mi raccomando, ndr) bisogni armeggiare un attimino. Diversamente, passate oltre.
L'articolo THEC64 Mini, Recensione sembra essere il primo su IlVideogioco.com.
Fonte: THEC64 Mini, Recensione