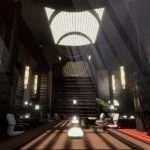 Il vincitore del premio Bafta Young Game Designer, Dan Smith ed il produttore Ripstone Games, annunciano la data di uscita di The Spectrum Retreat per Pc, PS4 ed Xbox One.
Il rompicapo narrativo in prima persona sarà disponibile a partire dal prossimo 10 luglio su PS4, tre giorni dopo farà esordio su Pc ed Xbox One mentre arriverà più avanti, nel corso dell'estate, su Nintendo Switch
In The Spectrum Retreat, i giocatori devono esplorare un albergo immacolato e inquietante, The Penrose, risolvendo una serie di ingegnosi rompicapi basati sui colori, il tutto cercando di svelare i motivi dietro alla loro permanenza nell'albergo, in apparenza eterna.
Come ospite stimato, l'esistenza è stata incorporata nei corridoi e nelle stanze per gli astanti del The Penrose. Attraverso l'esplorazione di questo albergo in stile art déco, inizierai a svelare i misteri sia del The Penrose che delle incertezze relative al tuo soggiorno attuale. Il tuo desiderio di scoprire la verità è ostacolato da una serie di enigmi in prima persona basati sui colori, da sfide fisiche impegnative e dalla crescente paura di esporre le tue vere intenzioni.
Ecco il trailer di lancio. Buona visione.
L'articolo The Spectrum Retreat arriverà il mese prossimo proviene da IlVideogioco.com.
Fonte: The Spectrum Retreat arriverà il mese prossimo