Electronic Arts e Maxis hanno ufficializzato il lancio mondiale di The Sims 4 Season. Questa è disponibile per Pc e Mac.
I Sims potranno così vivere l'effetto di tutte e quattro le stagioni decorando le proprie case per le vacanze natalizie o coltivando la propria passione per il giardinaggio nei mesi più caldi.
Gli agenti atmosferici influenzeranno le scelte di Sim, le loro relazioni e le loro attività quotidiane. I giocatori scopriranno tanti nuovi modi di divertirsi con i propri Sims e vivere storie divertenti durante tutto l'anno.
"L'espansione The Sims 4 Seasons offre agli appassionati nuove opportunità di raccontare le proprie storie nel gioco – spiega Grant Rodiek, senior producer – Il clima e il passaggio delle stagioni sconvolgono la vita dei Sims, che potranno sguazzare nelle pozzanghere dopo i temporali primaverili, raccogliere in miele delle api in autunno, fare a palle di neve nei mesi più gelidi e partecipare a tantissimi giochi e nuove sfide. Questo è il mio pacchetto preferito, il nostro team era entusiasta di creare finalmente un'espansione tanto desiderata dai fan. Non vediamo l'ora di scoprire come il clima influenzerà le abitudini dei giocatori".
Oltre al meteo imprevedibile, The Sims 4 Seasons include anche un calendario di festività che i Sims potranno celebrare con gli amici e la famiglia. Durante la Festa del Raccolto, i Sims potranno incontrarsi e godersi un banchetto degno di un re. Per la Festa d'Inverno, la visita di Padre Inverno illuminerà la giornata anche del peggior guastafeste. Dopo aver festeggiato il Nuovo Anno, i protagonisti potranno vivere l'atmosfera di un appuntamento romantico nel Giorno dell'Amore. I giocatori potranno inoltre inventare la propria festività e scegliere come meglio festeggiarla: con un calendario così pieno, sarà un anno davvero impegnato per i Sims.
Ogni stagione porterà con sé divertenti novità: l'autunno porterà mucchi di foglie in cui giocare, mentre il gelo invernale sarà perfetto per destreggiarsi sulle piste di pattinaggio su ghiaccio tra piroette, torsioni e naturalmente cioccolate calde. Per affrontare con il giusto stile la soffocante calura estiva i Sims potranno indossare splendidi costumi da bagno, perfetti per rinfrescarsi in piscina. Ad ogni cambio stagione, i nostri personaggi potranno esplorare i paesaggi esterni per provare a guadagnare nuovi Stemmi di talento.
Dopo aver evitato i fulmini dei temporali e sguazzato sotto gli acquazzoni primaverili, i Sims potranno coltivare i propri giardini creando rigogliosi bouquet, composizioni floreali e consegnarle in tutta la città come veri flower designer. I più curiosi potranno analizzare le piante, svolgere ricerche scientifiche e diventare famosi botanici. Per ogni nuovo hobby ci saranno nuovi outfit, strumenti da utilizzare e sfide da accettare.
CARATTERISTICHE
Primi appuntamenti

Parliamo del calendario, che ne dite? Include tutte le festività imminenti, ciascuna con le proprie tradizioni da completare. Più tradizioni completerà il vostro Sim, più sarà felice durante le festività. Mentre consulterete il calendario, vedrete poi l'agenda dell'unità familiare del vostro Sim che vi segnalerà per esempio quando dovrà recarsi al lavoro. Date inoltre una sbirciata alle previsioni del tempo, in modo che i Sims possano organizzarsi in anticipo. Per completare il tutto, anche i compleanni dei Sims saranno indicati sul calendario. Non c'è Sim che non adori la torta di compleanno!
Il meteo e i suoi effetti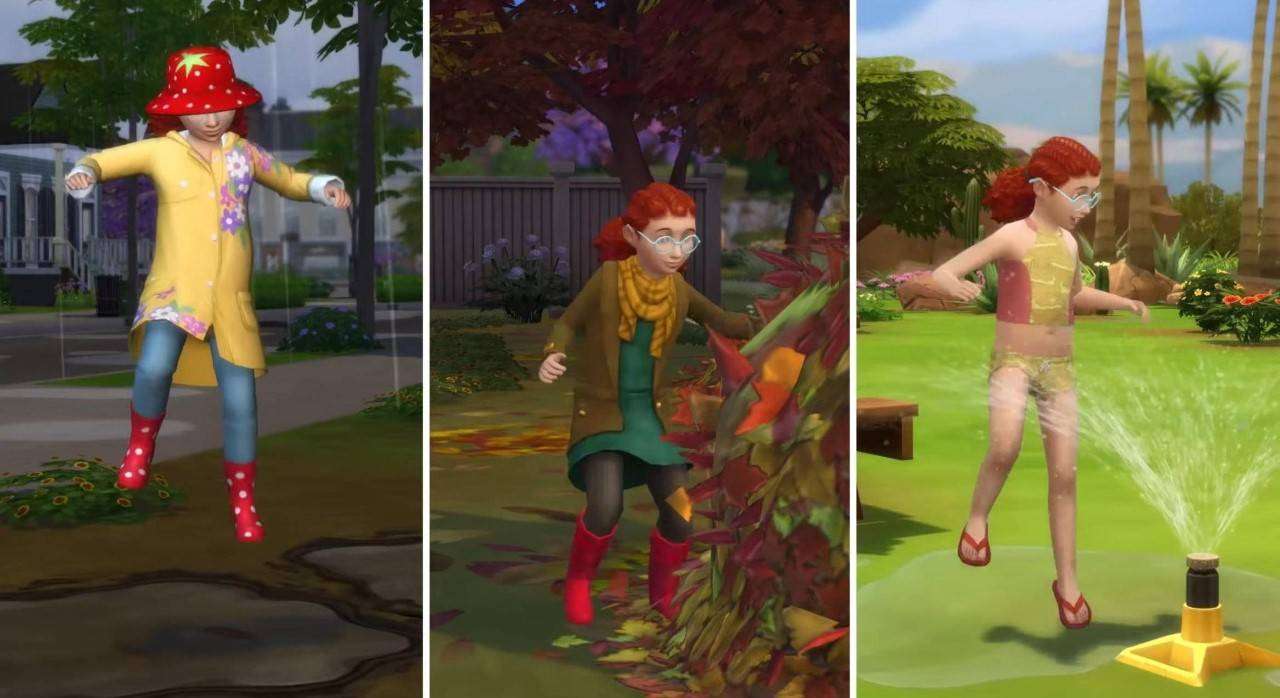 Stagioni porta con sé, beh, le stagioni! Ciascuna ha le proprie caratteristiche ed è divertente a modo suo. Di seguito riportiamo un riepilogo delle stagioni.
Primavera
Il periodo primaverile è caratterizzato da pozzanghere, fango, pioggerelline e temporali. Quando inizia a piovere, armate i Sims di ombrelli e impermeabili. Ricordate che i temporali tendono a rendere particolarmente tesi i Sims. Non mancate di consultare le previsioni del tempo prima di organizzare quel barbecue in cortile. La primavera è anche caratterizzata dai fiori!
Estate
Il caldo sta diventando molto intenso? Iniziate a fare scorta di tè freddo e costruite una bella piscina, perché nel mondo dei Sims il caldo dell'estate arriva prima che riusciate a dire "tuffo a bomba"! Anche più piccoli si divertiranno a sguazzare nella nuova piscina per bebè. Consiglio prezioso: quando la temperatura aumenta, non mancate di far indossare abiti estivi ai vostri Sims o rischieranno un colpo di calore!
Autunno
Quando inizia a soffiare una brezza gelida, sapete in quale periodo dell'anno vi trovate. Che il tempo dei maglioni abbia inizio! Il Festival del raccolto si svolge in autunno, quando i Sims chiamano a raccolta gli amici e i familiari più stretti per celebrare la gratitudine con un pasto grandioso. Decorate le case dei Sims per questo giorno speciale, passatevi l'un l'altro gli antipasti, preparate uno stupendo dessert e celebrate con tutta la famiglia.
Inverno
Avete fatto caso a quella nevicata leggera? Dev'essere inverno nonché il periodo della festività più sentita in assoluto: il Festival invernale. Prendete il pacchetto dedicato alle festività per iniziare a decorare la casa; vedrete che diventerà magnifica! I vostri Sims possono dare regali, accendere il caminetto e prepararsi a una visita da parte di Babbo Inverno! Non dimenticate di coprire bene i vostri Sims con cappelli, cappotti e guanti o rischieranno di pagare un prezzo molto alto. (musica drammatica in sottofondo) Sapete però cosa non è per nulla drammatico? Il pattinaggio su ghiaccio! Costruite una pista di pattinaggio per concedervi un po' di divertimento nevoso. I vostri Sims potranno perfino imparare piroette e acrobazie spettacolari.
L'articolo The Sims 4, ecco l'espansione Season proviene da IlVideogioco.com.
Fonte: The Sims 4, ecco l'espansione Season