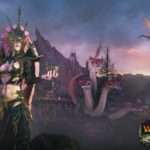 Si intitola The Queen & The Chrone ed è il primo legendary lords pack per Total War: Warhammer II. Lo strategico di Creative Assembly e SEGA si arricchirà dal 31 maggio con questo nuovo dlc.
Il contenuto sarà giocabile sia nella campagna Eye of the Vortex che in Mortal Empires. Introdurrà nuove unità d'élite, nuove quest, oggetti magici e alberi delle abilità, tutti incentrati attorno a Queen Alarielle the Radiant e Crone Hellebron.
UN PO' DI STORIA
In tutte le terre di Avelorn, la presenza stessa di Everqueen Alarielle porta grande gioia e tranquillità ai paradisi degli Elfi. Eppure, attraverso il Grande Oceano nelle oscure terre di Naggaroth, si muove qualcosa di malvagio. La Hag-Queen, Crone Hellebron, in una tempesta di rabbia e gelosia, conduce un esercito omicida di Elfi Oscuri, per estinguere ogni bellezza dal mondo.
Solo in questo momento di grave pericolo Alarielle entrerà sul campo di battaglia, perché solo lei può sconfiggere questa oscurità e difendere Ulthuan dalle depredazioni malvage.
Guardiamo queste fiere rivali mentre radunano i loro eserciti nel nuovo trailer:
Oltre a questa nuova uscita (dal 31 maggio), un nuovo importante aggiornamento di contenuti aggiungerà la gara di Norsca alla campagna Mortal Empires, oltre a molto, molto altro ancora.
ULTERIORI DETTAGLI
Due nuovi Lord leggendari… 
… con nuovi oggetti magici, catene degli incarichi e menu delle abilità
Nuovi obiettivi e meccaniche della campagna
Nuovo tipo di Eroe per gli Alti Elfi
Nuovo tipo di Lord per gli Elfi Oscuri
Nuove unità da battaglia per entrambe le razze
16 Reggimenti della Fama d'élite
Contesto 
È solo quando incombe un grave pericolo che la Regina Eterna Alarielle, l'incarnazione vivente della dea Isha, decide di scendere in battaglia. Il suo eterno dovere è uno solo: difendere l'Ulthuan e i suoi abitanti dagli atti malvagi degli impuri. Al suo grido di guerra non hanno risposto soltanto le Ancelle e le Sorelle dell'Avelorn, ma anche gli spiriti della foresta!
Nel frattempo, Naggaroth è teatro di atti scellerati. Nella sua Har Ganeth, Hellebron la Decrepita è inquieta e indice una Notte della Morte: gli schiavi vengono liberati per le strade e massacrati a migliaia. Questo bagno di sangue amplifica i poteri di Hellebron oltre ogni immaginazione e gli Stregoni Fuoco Funesto e le Sorelle del massacro accorrono sotto il suo stendardo. L'ora in cui gli Asur pagheranno per la loro eterna infedeltà è vicina… molto vicina!
Nuovi Lord leggendari
Alarielle la Radiosa
Il potere di Alarielle, la Regina Eterna degli Alti Elfi dell'Avelorn, è la natura stessa. Mentre attraversa i territori degli elfi, porta grande gioia al suo popolo, migliorando l'ordine pubblico e contrastando la corruzione. Tuttavia, è anche soggetta al Tormento del mondo mortale: con il diffondersi del Caos nel mondo, la sua potenza in battaglia si affievolisce. Solo riducendo e infine sconfiggendo il Caos le sue armate torneranno forti come un tempo.
Alarielle è una maga dal sapere plurimo, capace di controllare la Magia della Vita e l'Alta Magia. Può scegliere di intraprendere la ricerca del suo oggetto leggendario, la Stella dell'Avelorn, e può essere potenziata per cavalcare un Destriero Elfico, un Destriero con barde di ithilmar e una Grande Aquila. Può anche reclutare unità degli Spiriti della Foresta, come Driadi, Treekin e Uominialbero.
Inoltre, Alarielle possiede una meccanica della campagna unica chiamata "Difensore dell'Ulthuan". Il dovere sacro della Regina Eterna è assicurarsi che i territori interni ed esterni della patria degli Alti Elfi restino liberi dal dominio nemico. Fintanto che restano liberi, conferiscono potenti benefici, ma se degli invasori dovessero decidere di insudiciare l'Ulthuan con la loro presenza, gli Asur perderanno fiducia in Alarielle, scatenando tutta una serie di effetti negativi.
Alarielle ha accesso a un rito speciale: l'evocazione di Lileath. Una volta attivo, questo rito conferisce vari benefici alle Ancelle, alle Sorelle dell'Avelorn e alle Driadi.
Hellebron la Decrepita 
La regina strega Hellebron governa le forze di Har Ganeth, una fazione di Elfi Oscuri particolarmente sanguinari. Può indire periodicamente una Notte della Morte, sacrificando schiavi in una nottata di atroci massacri, per rinvigorire i suoi poteri. Se non dovesse celebrare regolarmente queste notti, Hellebron ne risentirà. Ogni qual volta viene annunciata una Notte della Morte, gli Elfi Oscuri nelle vicinanze intraprendono il Viaggio di Sangue e formano un esercito alla mercé di Hellebron, la quale in seguito godrà dei proventi delle loro scorrerie.
Hellebron gode di riduzioni notevoli nelle spese di mantenimento di Streghe, Carnefici di Har Ganeth e Sorelle del massacro, che può inoltre migliorare con il suo speciale menu delle abilità. Può scegliere di intraprendere una missione per le sue armi leggendarie gemelle, la Spada della morte e la Lama maledetta, e può essere potenziata per cavalcare un Destriero Oscuro, un Calderone del Sangue e una Manticora.
Hellebron, infine, ha accesso a un nuovo rito speciale degli Elfi Oscuri: il Sacrificio per Drakira. Una volta attivo, questo rito conferisce benefici quando si combattono gli Alti Elfi, a scapito delle relazioni diplomatiche con loro, e dona un bonus di rango alle Megere della Morte e alle Streghe.
UNITA' UNICHE
Sorelle dell'Avelorn (Alarielle)

Totalmente leali ad Alarielle, le Sorelle dell'Avelorn sono combattenti dal duplice ruolo, tanto abili con la spada quanto con l'arco. Con i loro Archi dell'Avelorn eseguono attacchi magici a base di fuoco e, come molte altre unità degli Alti Elfi, dispongono di un'eccellente Prodezza Marziale.
Guerrieri Ombra (Alarielle)

La prima (e forse ultima!) avvisaglia che il nemico ha della presenza dei Guerrieri Ombra è una raffica devastante di frecce tra le sue fila. Grazie agli attributi Schieramento d'avanguardia e Caccia, ma anche ai loro archi, possono neutralizzare i nemici da lontano mentre restano nascosti. Potendo restare nascosti in movimento, sono anche Maestri delle Imboscate in qualsiasi terreno mentre sparano in qualunque direzione.
Sorelle del massacro (Hellebron)

Queste crudeli gladiatrici della morte brandiscono temibili fruste avvelenate. Provocano paura, sono soggette a Maestria omicida e, quando perdono in mischia, possono attivare il potenziamento "Il processo delle lame" per migliorare le loro capacità di combattimento.
Stregoni dell'Apocalisse (Hellebron)

Questa cavalleria magica d'élite si sposta molto rapidamente e in mischia infligge danni magici e da veleno. Queste unità, inoltre, sono soggette a Prodezza omicida e possono lanciare due incantesimi infusi: Morbo dell'Anima e Dardo Fatale minore.
Eroe unico: Ancella (Alarielle)

Le Ancelle sono il braccio destro di Alarielle. Hanno a disposizione diverse specializzazioni nei loro menu delle abilità: influiscono su diplomazia, commerci e influenza; rafforzano le loro difese in battaglia; infine possono diventare abilissime tiratrici.
Lord unico: Incantatrice Suprema (Hellebron)

Hellebron può schierare dei nuovi Lord per guidare le sue armate. Le Incantatrici Supreme possono dominare i saperi del Fuoco, dell'Oscurità, dell'Ombra, delle Bestie e della Morte. È possibile assegnargli Nomi Potenti per donargli nuove abilità e potenziarle per fargli cavalcare creature quali il Destriero Oscuro, il Naggaronte, il Pegaso Oscuro, la Manticora e il possente Drago Nero.
Reggimenti della Fama:
Avelorn (Alarielle) 
I Discendenti di Mathlann (Lancieri) 
Abilità passiva: "Aura di Protezione" (con mana > 50%, applica un tiro salvezza alle unità vicine)
Difesa esperta contro le cariche
Compagnia dei Chiomapura (Leoni Bianchi di Chrace) 
Abilità passiva: "Guardiano"
Effetto da contatto: "Fendi corazza"
Custodi della Fiamma (Guardie della Fenice) 
Attacchi magici
Marchio di Asuryan (le entità si incendiano alla morte e infliggono danni ai nemici vicini: nuova interpretazione del tratto "Colpo Mortale" degli Sventratori)
I Cavalieri della Tempesta (Guardie del Mare di Lothern) 
Causano paura
Schieramento d'avanguardia
Sparano in movimento
I Grigi (Guerrieri Ombra) 
Abilità: "Coltre di Loec" (aumenta la velocità e riduce notevolmente il raggio di individuazione nemico per tutta la durata dell'abilità)
Attributo: Cecchino (capacità di sparare e restare nascosti)
Guardie di Corte della Regina Eterna (Sorelle dell'Avelorn) 
Incoraggia
Abilità: "Stendardo dell'Avelorn" (aumenta la velocità di ricarica dei Venti della Magia)
La Stirpe del Fuoco (Principi Drago) 
Bonus vs grandi
Attacchi infuocati
Araldi del Vento (Predoni dell'Ellyrion – Archi) 
Velocità aumentata
Statistiche corpo a corpo superiori
Har Ganeth (Hellebron) 
Gli Hellebronai (Lance del Terrore) 
Attacchi venefici
Difesa esperta contro le cariche
Sorelle del destino cantato (Streghe) 
Lame della Regina del Sangue (Carnefici di Har Ganeth) 
Abilità passiva: "Guardiano"
Abilità passiva: "Furia"
I Dardemoni (Scheggenere – Scudi) 
Effetto da contatto: "Rompiscudi" (i tiri a distanza di questa unità riducono la probabilità del bersaglio di bloccare i tiri a distanza)
Portata estesa
Mietitori di Slaanesh (Stregoni dell'Apocalisse) 
Incantesimo infuso: "Parola del Dolore"
Incantesimo infuso: "Ladro di Anime"
Cavalieri dell'Artiglio di Ebano (Cavalieri del Terrore) 
Unità non soggetta a Furia come gli altri Naggaronti
Prodezza omicida migliorata in Maestria omicida
Brivido di Sontar (Idra da Guerra) 
Effetto da contatto: "Morsa congelante"
"Alito di Fuoco" con "Soffio di gelo" che infligge più danni e applica l'effetto da contatto "Morsa congelante"
Araldi del Corvo (Cavalieri Oscuri) 
Cavalcano dei Pegasi Oscuri.
L'articolo The Queen & The Crone in arrivo su Total War: Warhammer II sembra essere il primo su IlVideogioco.com.
Fonte: The Queen & The Crone in arrivo su Total War: Warhammer II