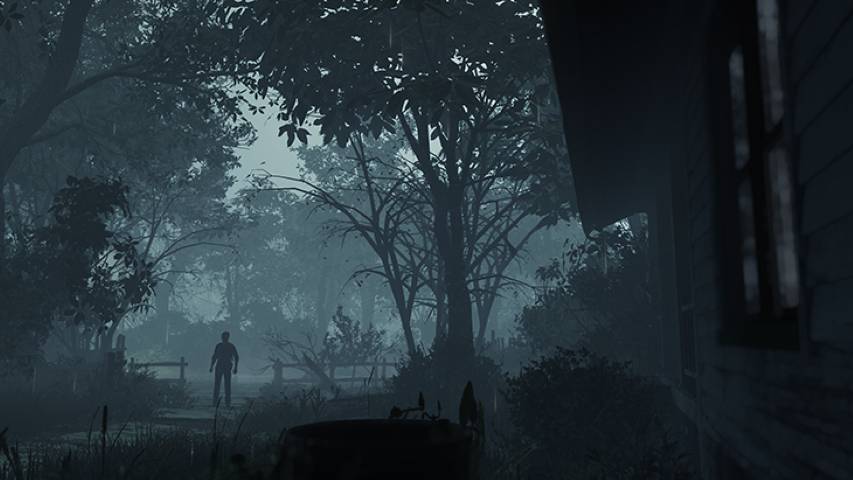 La creazione di Union in The Evil Within 2 è protagonista di un nuovo approfondimento di Bethesda sul gioco che debutterà venerdì 13 ottobre su Pc, PS4 ed Xbox One.
Un focus molto intenso sulla ambientazione del nuovo capitolo del survival horror che ha ben impressionato.
The Evil Within 2 trasporta gli appassionati in un mondo pieno di orrori inimmaginabili, in cui la morte e lo smembramento vi attendono dietro ogni angolo. Ma non è sempre stato così. Ciò che inizialmente doveva essere un ambiente idilliaco è stato trasformato in una visione distorta di una cittadina americana.
Questo è successo perché l'intera cittadina di Union è stata creata nello STEM usando una mente pura e incontaminata come base (o Nucleo): Lily, la figlia di Sebastian Castellanos. Ma quando Lily scompare nello STEM, il mondo virtuale perde il suo Nucleo e la distruzione ha così inizio. Toccherà a Sebastian trovare sua figlia e portarla fuori dallo STEM, prima che il sistema collassi mentre sono al suo interno.
Sebastian riesce ancora a vedere i resti della Union originale: case pittoresche allineate lungo strade semplici, un piccolo ristorante, un'autofficina, un centro informazioni, una chiesetta, un negozio di alimentari… luoghi normali di una cittadina tranquilla. Ma anche prima della scomparsa di Lily, Union necessitava di manutenzione: semplici lavoretti come ritinteggiare le tavole di legno sverniciate delle case. L'aspetto di Union era intenzionale fino al minimo dettaglio. Persino il leggero stato di usura era voluto dalla Mobius.
"Le persone inserite nello STEM devono restare attive perché il dispositivo possa funzionare –  spiega il direttore gioco John Johanas – perciò la Mobius ha optato per un tipico stile americano leggermente dismesso. È per questa ragione che Union non ha un aspetto splendente e immacolato nemmeno prima che inizi a collassare. La necessità di manutenzione è ciò che mantiene le persone nello STEM motivate e attive".
LA MENTE DI UN BAMBINO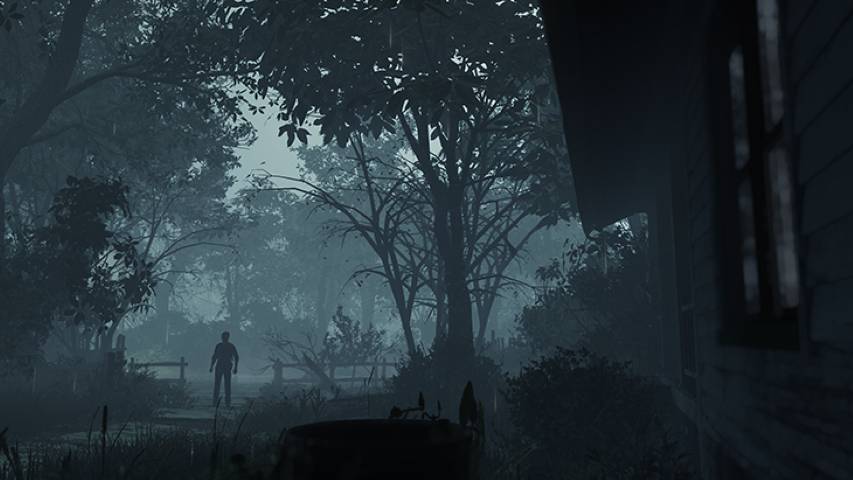 Ma la Mobius non ha pensato solo a questi piccoli dettagli quando ha creato Union. Anche la decisione di usare Lily come Nucleo è basata sugli errori commessi in passato. Union era popolata di persone provenienti dal mondo reale, trasferite nella realtà creata dalla mente di Lily. La Mobius riteneva che solo la mente di un bambino potesse garantire la stabilità di un mondo del genere.
"Qualcuno con forti tendenze psicopatiche sarebbe in grado di distorcere il mondo per perseguire i propri scopi e desideri – afferma Johanas, riferendosi al mondo creato per il primo gioco – perciò il Nucleo di questo mondo doveva essere un bambino innocente e la figlia di Sebastian si è dimostrata la candidata ideale".
Ma cosa succede se persone con "tendenze psicopatiche" riescono in qualche modo a entrare nello STEM? Non appena Lily scompare e il mondo resta senza Nucleo, il collasso ha inizio. E il collasso è esattamente ciò che ha spianato la strada a persone come Stefano e Theodore (di cui parleremo nelle prossime settimane) per creare i propri regni distorti usando Union come base.
"Sebastian dovrà affrontare nemici dalle personalità molto diverse tra loro, ognuno abbastanza potente da influenzare l'intero mondo virtuale – chiarisce l'autore Trent Haaga – Solo individui dalla forte personalità possono ottenere un tale controllo e ognuno di loro desidera acquisire ancora più potere nello STEM".
Johanas prosegue:
"Union è una sorta di dominio neutrale che funge da base per ciò che il mondo dovrebbe essere. È stata creata usando la mente di Lily come Nucleo. La sua psiche è la colonna portante di questo mondo. Ora che è scomparsa, il mondo collassa, pezzo dopo pezzo. Individui come Stefano e Theodore approfittano di questo stato per creare i regni distorti che scoprirete nel corso del gioco".
A CACCIA DI FANTASMI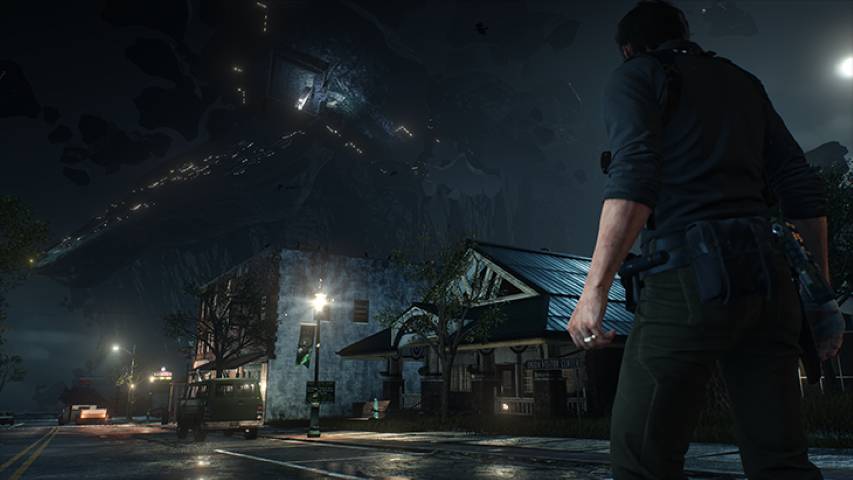 Il mondo stesso non è solo una tela bianca su cui gli antagonisti dipingono ciò che vogliono. È già pieno di storie e misteri nel momento in cui arrivate. Grazie al comunicatore di Sebastian e alle mappe molto grandi, potrete scoprire di più su ciò che vi circonda rivivendo gli avvenimenti del passato, ma ognuno di essi è legato a qualcosa di terribile che Sebastian dovrà combattere o affrontare ricorrendo alle sue abilità strategiche.
Gli sviluppatori di Tango hanno voluto inserire nel gioco la quantità giusta di eventi del genere, per costringere i giocatori a non abbassare la guardia e a desiderare di scoprire di più sull'ambiente di gioco.
"Quando si crea un mondo bisogna disseminare la mappa di eventi, in modo che raggiungendo un certo luogo venga innescata una determinata risposta del mondo di gioco – afferma il produttore esecutivo Shinji Mikami – quindi bisogna stabilire la quantità perfetta di eventi che generino il giusto livello di tensione per un gioco di questo genere. Non si sa quale sia la quantità giusta finché non si procede con la creazione. Si avvia una serie di cicli in cui si crea qualcosa, si prova, si perfeziona e si ricomincia da capo".
Pochi eventi del genere e il mondo di gioco sembra vuoto. Troppi rischiano di sovraccaricare il giocatore creando una tensione costante senza fornire un attimo di respiro. Bisogna trovare il giusto equilibrio perché tali eventi abbiano l'impatto desiderato. Non sarete mai al sicuro a Union, ma gli eventi generano un tipo diverso di tensione rispetto a ciò che si prova esplorando un corridoio buio. Solitamente raccontano storie sul mondo di gioco che non avreste conosciuto ignorandoli (cosa che sarete assolutamente liberi di fare qualora preferiste seguire solo la missione principale).
"Esiste una missione secondaria che si incontra piuttosto presto nel gioco, quando si esce dal primo rifugio e si ha per la prima volta la possibilità di esplorare Union – dice l'autore Trent Haaga – rileverete un punto di risonanza sul comunicatore e ascolterete una conversazione del passato tra due soldati, che parlano di come tutto stia andando per il verso sbagliato. Potete seguire il segnale attraversando tutta la prima mappa, il che contribuisce in modo sostanziale ad apprendere ciò che la gente faceva quando Union ha iniziato a collassare. È un piccolo arco narrativo che potete seguire mentre esplorate la zona e rilevate altri segnali".
Johanas aggiunge:
"Ognuno di questi segnali vi condurrà a un evento connesso, ma vi aiuteranno anche a esplorare la zona. Ascoltando i soldati parlare scoprirete di più su ciò che vi circonda, come i luoghi in cui trovare oggetti e risorse di cui potreste aver bisogno".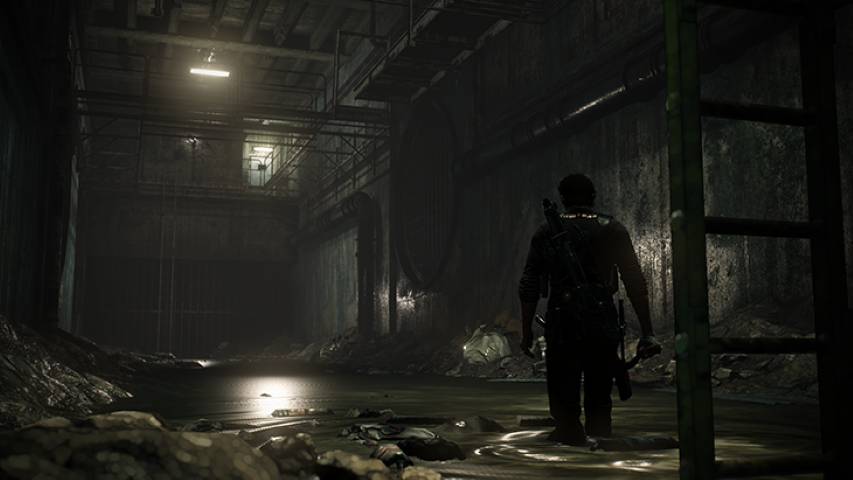 Questi eventi forniscono al giocatore delle ricompense. Nel caso dell'esempio di Haaga scoprirete di più sulla storia di Union e troverete dei rifornimenti. Vi sono poi eventi come la casa del flashback (di cui abbiamo già parlato) in cui non troverete risorse, ma vi immergerete in situazioni alienanti esplorando la fragile psiche di Sebastian.
"La casa del flashback è forse il mio evento preferito – conclude Johanas – è il punto esatto in cui abbiamo iniziato a sviluppare la meccanica del teletrasporto. Vedete due luoghi diversi alternarsi nel mondo di gioco mentre intorno a voi accadono cose incomprensibili e non riuscite a distinguere ciò che è reale da ciò che non lo è. Non sapete se siete davvero nel passato o in una realtà alternativa. Volevamo che l'esperienza fosse bizzarra e terrificante per il giocatore così come lo è per Sebastian. La casa del flashback è stata uno dei primi eventi sviluppati e ha stabilito il tono narrativo che abbiamo scelto per raccontare il trauma di Sebastian".
L'articolo The Evil Within 2, Bethesda ci parla della creazione di Union sembra essere il primo su IlVideogioco.com.
Fonte: The Evil Within 2, Bethesda ci parla della creazione di Union